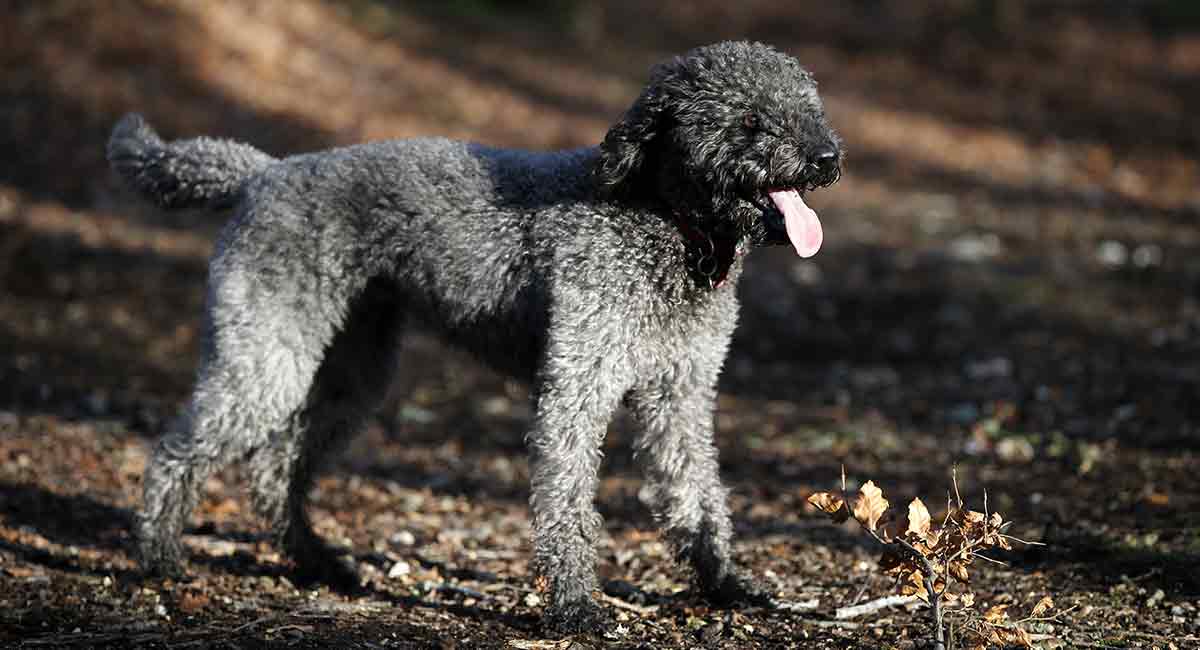 Silver Labradoodle sounds like a special breed right off the bat! We already know that the silver Labradoodle is a beautiful dog just by the sound of his name!
Of course, all Labradoodle dogs are adorable, and with personality to match, it's no wonder this crossbreed is taking the dog world by storm!
A combination of two of the world's favorite purebreds, the Labradoodle is a smash hit amongst doggy lovers near and far.
If you have your sights set on the silver Labradoodle, then this article is for you.
Join us as we learn all about the silver Labradoodle, what makes this crossbreed's color so unique, and how you can possibly get your hands on one!
What Is A Silver Labradoodle?
The silver Labradoodle as the name suggests, is a Labradoodle that has a grey or silver coat.
Sometimes known as a grey Labradoodle, the silver Labradoodle is a mixed breed, crossed between a purebred Labrador Retriever and a purebred Poodle.
Importantly, both the silver Labradoodle parents must be carriers of the recessive silver-haired gene.
Yes, that's right. It all comes down to genetics. Well, not just genetics. There is also a bit of chance thrown in. You see, Labradoodle colors can vary quite a bit.
For example, the purebred Labrador comes in three standard colors: chocolate, black, and yellow.
The Poodle also comes in three colors: white, black, and apricot.
As we said, the gene that makes a silver Labradoodle silver is a recessive gene. This means both parent breeds must carry and pass on this recessive gene in order for their offspring to inherit a silver coat color.
If either purebred parent passes on a dominant gene to their Labradoodle offspring instead, then the dominant gene will win. As a result your Labradoodle will not be silver.
So, just how rare is the silver Labradoodle? Let's see.
Is the Silver Labradoodle Rare?
While not completely uncommon, the Silver Doodle could be considered one of the rarer doodle crosses in regard to coat color, especially since the genes that create this shade are recessive.
According to renowned veterinarian Lynn Buzhardt, a dog's coat color is determined by two foundation colors. These foundation colors are the root of any and all colors that stem from them.
Both doggy parents of your Silver Doodle will have to carry and then pass on the recessive genes that make the silver coat color.
This is because, dominant genes are, well, dominant! They will win out over recessive genes.
Okay, so now that we have explained how silver Labradoodle genetics work, let's take a look at the background of the Labradoodle himself and discuss how you can increase your odds of calling a Silver Doodle yours.
How Did the Silver Labradoodle Come to Be?
As we mentioned above, the Labradoodle is a cross between the Labrador Retriever and the Poodle.
This is a mix between two intelligent, affectionate, and energetic breeds who also both happen to be family favorites around the globe!
The combination of the two has led to overwhelming popularity in the Labradoodle mix. Consequently, getting your hands on a Labradoodle isn't all that difficult if you know where to look!
On the other hand, figuring out how to get a silver Labradoodle can be a bit trickier.
Silver Labradoodle genetics, as we discussed, mean that both the Labrador Retriever and the Poodle need to carry and pass on the recessive genes that lead to silver coats.
But don't worry. There are silver Labs and Labradoodles who turn out silver due to both their parent breeds carrying the gene. So, it is possible.
To get a Silver Labradoodle, most experts recommend going through reputable breeders who specialize in the color and who are also careful not to sacrifice the quality of their pups.
We will touch more on how you can go about finding responsible breeders for the silver Labradoodle further down.
For now, let's talk about the grooming maintenance of a Labradoodle and how it may vary when dealing with a silver Labradoodle dog.
Grooming A Silver Labradoodle – Are Silver Dogs Higher Maintenance?
The Labradoodle's coat can come in a number of different shades, lengths, and textures, and that is because this dog is the crossbreed offspring of two very different parent breeds.
The Labrador, for example, has a dense, double-layered coat that sheds often, lies flat to his skin, and is weather resistant.
The Poodle, on the other hand, has a thick, curly coat that sheds much less and produces less allergy-inducing dander, making him an excellent choice for those who suffer from allergies.
Unfortunately, there is no way to determine what type of coat you are going to get with the first-generation crossbreed like a Labradoodle, and this is one of the reasons that the practice can be somewhat controversial.
However, for the most part, grooming your Labradoodle is going to require consistent brushing to keep mats and tangles at bay as well as occasional baths.
But what about the silver Labradoodle? Will grooming maintenance be more difficult?
The only thing that may be different when it comes to grooming a silver Labradoodle is that lighter colored dogs can be more prone to tear staining and can show dirt easier.
If you have a very light-colored silver Labradoodle, you may want to invest in a high-quality tear stain remover that will not irritate your Labradoodle's eyes or coat.
Your Labradoodle will also need to have his nails trimmed or ground down regularly. This will keep them from breaking or cracking. Additionally his floppy ears will need to be checked and cleaned often. This will keep water and debris from building up and causing ear infections.
What is the Average Size and Weight of a Silver Labradoodle Dog?
The silver Labradoodle size will typically depend on the size of his parent breeds. Again, it is all up to genetics and chance.
On average, the Labrador Retriever stands around 21.5 to 22.5 inches tall and can weigh between 55 and 80 pounds.
The Poodle, on the other hand, comes in three sizes: standard, miniature, and toy.
Your typical Labradoodle is a cross between the Standard Poodle, who is 15 inches or taller and weights 40 to 70 pounds, or a miniature Poodle, who is 10 to 15 inches and weighs only 10 to 15 pounds.
And yes, depending on the size of your silver Labradoodle's purebred parents, he could be anywhere between those weights and heights.
So, how do you prepare yourself? If at all possible, the best way to get an idea of just how big your silver Labradoodle puppy will get will be to find out how big his parents are.
What Does A Silver Labradoodle Look Like?
Is your Silver Labradoodle going to be shiny and silver like his name suggests? In some cases, yes!
A quick Google Images search will show you a variation of silver and grey Labradoodle shades, and they are all beautiful.
However, not all silver Labradoodles are going to share the same shade, pattern, or even coat type.
Some silver Labradoodles will be lighter than others and some will be darker. Others will have patches of different colors on their chest or paws.
However, for the most part, your Silver Labradoodle will have a silverfish coat that can be pale or deep charcoal.
He will also have floppy ears, brown eyes, a dark nose, and a long tail.
Lifespan and Health Concerns for A Silver Labradoodle
Since the Silver Labradoodle is a crossbreed, determining any specific health concerns is going to be difficult.
We should note that there is some debate regarding crossbreeds and whether or not they are healthier than purebreds.
With that being said, we think it is best to do your research whenever you are preparing to get a new dog or puppy.
Looking into the background and health of your new dog's parents is a great way to help you stay on top of his health.
We also recommend that you have your silver Labradoodle health screened.
Some of the most common health issues your Labradoodle could face will be those that affect his parent breeds.
The Labrador, for example, is most prone to hip and elbow dysplasia, obesity, Bloat, ear infections, and heart disease.
The Poodle can be most prone to progressive retinal atrophy, epilepsy, thyroid issues, hypoglycemia, collapsed trachea, Bloat, hip dysplasia, and elbow dysplasia.
If you are worried about your Silver Labrador suffering any of the above inheritable health issues you can always have him health screened.
Keep in mind that reputable breeders will have already health screened their litters. They will be able to provide you with certificates proving that your puppy is healthy and ready to go home with you.
What is the Silver Labradoodle Temperament Like?
Labrador Retrievers are friendly and outgoing while Poodles are athletic and proud.
Both breeds are affectionate and eager to please and will need plenty of exercise every day to stay happy and healthy.
Best of all, both breeds are incredibly intelligent!
With that being said, you can expect your silver Labradoodle to share many of these wonderful traits.
He is surely going to be a family-friendly dog who does excellent with children and enjoys partaking in any family activity or outing he is invited on!
However, a prospective owner should note that the silver Labradoodle comes from two parent breeds with hunting pasts. As a result, he could be prone to taking off after squirrels or rabbits just out of instinct.
This crossbreed will be the safest walking on a leash and will thrive in homes with owners who are able to offer him a good, long walk each day and lots of free play time in a securely fenced backyard.
The silver Labradoodle is also going to be a social dog who will enjoy the company of his family.
A lonely Labradoodle or a Labradoodle who is not consistently trained, socialized, and exercised can become bored, depressed, and even destructive.
Should I Get A Silver Labradoodle?
If you are in the market for a family-friendly dog who is as clever as he is adorable, then the silver Labradoodle may just be the perfect match for you!
However, keep in mind that the silver Labradoodle is harder to find than many other colored Labradoodles, so finding him may take some research and patience.
You should also remember that this crossbreed requires plenty of daily exercise. He will do best in homes with owners who can offer him loads of attention, socialization, training, and love.
Choosing A Silver Labradoodle Puppy
To find the healthiest silver Labradoodle puppy possible, we suggest doing plenty of research and making sure you go through a reputable source.
If you plan on going through a breeder, remember that most responsible breeders will have health screened their puppies. They should be able to offer you certificates proving they are healthy.
Silver Labradoodle puppies don't come cheap. Most Labradoodle puppies, regardless of color, can cost anywhere from $500 to over $1500.
However, if you would prefer to rescue your silver Labradoodle, you may have to exercise some patience.
This crossbreed's color is harder to come by than most, and you may be waiting to find one in a shelter.
However, if you are lucky enough to come across a silver Labradoodle in need of a good home, you'll be happy to know that adoption fees are usually around $50 to $300.
We hope this article has helped you decide if this beautiful crossbreed would be right for you!
Do you see a silver Labradoodle in your future? Tell us in the comments!
And read about other interesting colored breeds like the white English Bulldog, here!
References
Nathan B Sutter and Elaine A Ostrander, Dog Star Rising: The Canine Genetic System, Nature Reviews Genetics, Volume 5, pages 900-910
Carol Beuchat Ph.D., The Myth of Hybrid Vigor in Dogs…Is A Myth
Purebred Vs Mutt-Common Objections to Mixed Breed Dogs
Lynn Buzhardt, DVM, Genetics Basics – Coat Color Genetics in Dogs, VCA Hospitals,
A. Ruvinsky, J.Sampson, The Genetics of the Dog, Chapter 4, Page 81, Genetics of Coat Colour and Hair Texture
S. M. Schmutz, T. G. Berryere, Genes Affecting Coat Colour and Pattern in Domestic Dogs: A Review, Animal Genetics,
Tiffani J Howell, Tammie King, Pauleen C Bennett, Puppy Parties and Beyond: the role of early age socialization practices on adult dog behavior, Volume 6, pages 143-153
Get Pippa's free dog training tips delivered to your inbox