What is a dog clicker used for, and how can it help me train my dog?
A dog clicker is a device used to make a sound, which you use to tell your dog what they did to please you.
It is a tool used by positive reinforcement trainers, who teach their dogs to be obedient without any force.
Dog training with kindness is incredibly popular because it allows you to bond with your dog through training.
And it really works.
Even if it sounds complicated to start with, once you get to grips with using a clicker, you will find dog training so much simpler.
Dog Training Terms
Language can be really off putting when you are learning something new.
And when dog owners or traditional trainers discover positive reinforcement they can find themselves drowning in a sea of words they've never heard before.
Or old familiar words thrown into a completely new context.
And one of those words is CLICKER.
What is a dog clicker?
A dog clicker is a small plastic box, with a button on the top.
It can be square and boxy, or designed to fit neatly between your fingers.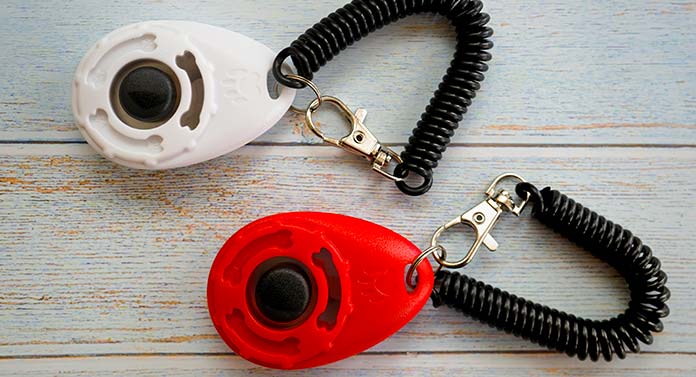 The button is normally round, but that can be differently shaped too.
And it's placement on the box depends on its design.
When you push the button on a clicker it makes a sharp CLICK sound.
Some models have a volume tab too.
This means you can have a soft quiet click, or a loud decisive one.
Why volume control?
Dogs from loud family homes are usually completely unphased by random noises.
But plenty of even well socialized dogs are unsettled by a sudden sound that seems to come from nowhere.
Clickers should be part and parcel of rewarding your dog for doing something you want them to do.
So if the sound is scary, they aren't going to work properly.
That's where volume control comes in.
If your dog is a little on the timid side, you start using your clicker on the lowest volume.
This way the sound isn't intimidating.
Then you can up the volume when they are used to hearing it, and associating it with positive experiences.
What is a dog clicker used for?
A dog clicker is used to tell the dog exactly which thing it was that they did that made you happy.
It's sometimes referred to as an Event Marker, because we use it to exactly mark an event!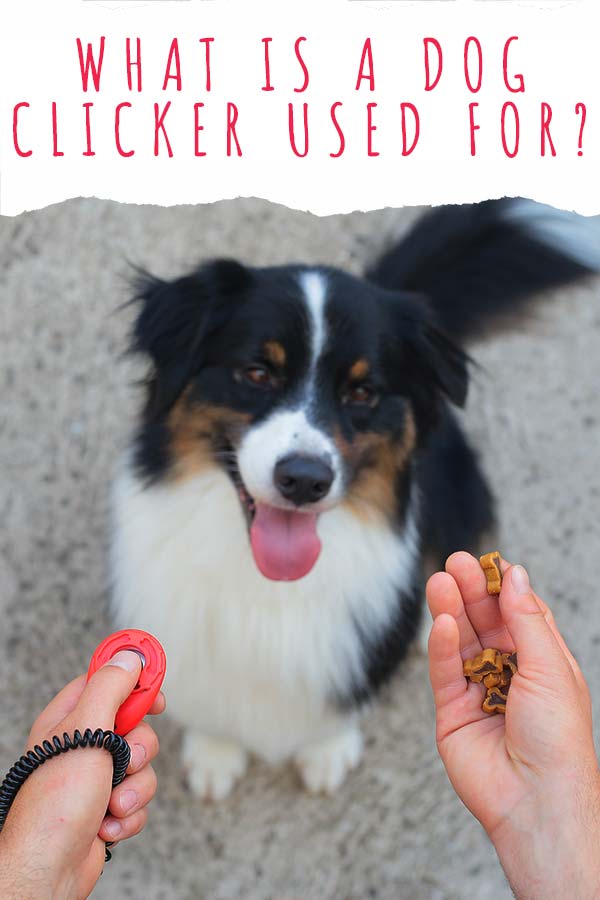 Let's take a basic obedience situation, like teaching sit.
One way to teach sit is to capture the moment that the dog's bottom goes onto the floor, and reward them for it.
But your dog might not sit for long enough for you to hand them a treat.
By the time they've got it in their mouth they are up again with their paws in your lap.
And have no idea what they are being rewarded for.
With a clicker you can mark the exact moment their rump hits the ground.
CLICK
And then deliver the treat at your leisure.
Charging the Clicker
Some dog trainers like to 'charge' the clicker before they use it in training.
This involves getting the clicker in one hand and some treats in the other.
And feeding a treat at a time to the dog, clicking as they receive it.
You can hand feed the treats, or throw them for your dog to pick up one at a time.
This helps the dog to associate the sound with something rewarding happening.
However, this is optional because most dogs learn quickly to associate the noise with the event and the subsequent reward anyway.
But can hypothetically speed up the process a little.
Why is it helpful?
Clickers allow us to be precise, and to give more information to the dog than we could without one.
This is especially useful when you want to train them to do more complicated sequences of events.
Or to capture the moment they do something you like, which is tricky for them to keep doing.
Like sitting still and staying.
If you want your dog to sit for longer you begin by marking very short sits, and allowing gradually longer durations to build up.
When they have done the period you want, you click to mark the behavior, give a release cue.
Like 'okay!' or 'done!'.
And throw a treat behind them.
To get the treat they need to stand up and turn around, allowing you to prepare to start the sit/stay again in a moment.
How to train a dog with a clicker
A brilliant introduction to training with a clicker can be found in our Foundation Skills online dog training course.
This course is designed for complete beginners to clicker training.
It takes you through the process in simple steps and straight forward exercises.
You can find out more about the Dogsnet online training courses here.
And learn simple clicker training techniques for avoiding bad behavior here:
Readers Also Liked
Get Pippa's free dog training tips delivered to your inbox