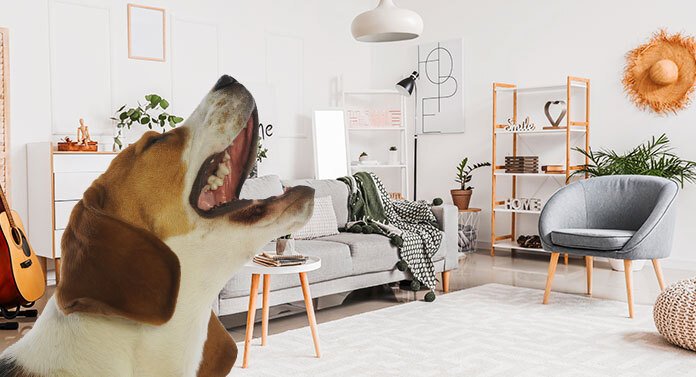 My Beagle barks when left alone and it's driving me crazy! What can I do?
Living with a dog that yells dramatically for you every time you leave them alone can get old quite quickly.
As adorable as they are to be around usually, it puts a dampener on any relationship to have to listen to the kind of noise an upset Beagle can deliver.
But fortunately, there are some things you can do to help restore the peace.
And the solution depends on when and why your dog is objecting to being alone.
My Beagle barks when left alone – help!
Many dogs vocalise their opinions, but few do so with the power, longevity and feeling that a Beagle can.
New Beagle owners, and their neighbors, can find their yowling sobs of dismay quite a shock.
But there are things you can do to reduce the volume, and even stop the noise completely.
Especially if the route of the issue is being alone.
What sets off your dog?
The way that you deal with your dog's barking, will depend upon the cause.
Because there are different ways of being alone.
The context matters.
Some dogs are happy being alone in the car, but can't cope at home.
Others are fine home alone for a while, but will bust a gut crying if you go for more than an hour.
So before we dive in, let's clarify two things:
The circumstances that cause your dog to bark
Whether the amount of time your dog is being left is reasonable
How long is it reasonable to leave a dog alone on a regular basis?
New puppies need companionship for most of the day.
Here is a rough guide to how long it's okay to leave a dog alone during the day:
8 – 10 weeks: 30 minutes
10 – 12 weeks: 1 hour
12 – 16 weeks: 2 hours
16 weeks to 6 months: 3 hours
6 months plus: 4 hours
Unless it's on a rare, one-off occasion, no dog should be left alone for more than 4 hours during the day.
If you work full time, for example, then you will need to make arrangements for their care if you are out of the house for longer stretches than this on a regular basis.
My Beagle barks when left alone….
In another room
In the crate
At night
In the car
For work
My Beagle barks when left alone in another room
Dogs love to be together, and Beagles are no exception.
In fact they might be more likely than some dogs to hanker for your company, due to having been historically bred to be worked in groups.
But sometimes you need to leave them in one room while you pop into another.
Or go upstairs. Or take a solo trip to the bathroom!
Click for Quiet
Arm yourself with a clicker, to mark those gaps in the noise, and a whole bunch of tasty treats.
If your dog is mad for his kibble this will do fine. If he needs more motivation then try roast chicken pieces or cut up sausage.
Head towards the door as though you are going to leave the room.
If your dog stays quiet, click! Then give him a treat.
Now head closer to the door. If he's quiet, click and treat.
You are now going to leave the room. You won't go far, you'll be waiting just outside his view, ready to click and treat when he's quiet.
Walk through the door and close it. Wait for a second, then if he's quiet, click and return to give him a treat.
Leave again.
Repeat, leaving a gap of 2 seconds, then 5, then 10. Building up the increments between clicking and treating slowly.
If your dog howls, don't worry. Just wait for the smallest gap in noise, then click and treat.
You might have to stay at this stage for a little while if the habit is very ingrained, but don't worry, you will get there!
Just don't be tempted to build up the gaps between clicks until your dog is ready.
My Beagle barks when left alone in the crate
If your dog is howling when left alone in the crate then you have three choices:
Click for quiet
Start to crate train from the beginning again
Ditch the crate
Crate training
Dogs that are crate trained learn to love their cosy dens.
But if you bypass training and go straight to the crate, you can end up with a dog that is very unhappy in it.
Crate training is the process of getting your dog not only used to the crate, but associating it with fun things.
Take the time to hide toys and treats in there during the day when they aren't looking.
Initially only close the door for a few seconds at a time, and built up their containment gradually.
And if your pup has negative associations with the crate by now, you'll have to go slow as slow.
But crate training at night can and does work, even for dogs that have learned to dislike being left in there.
Ditch the crate?
We love dog crates, as a comfy bed and as a training aid. But there are exceptions to every rule.
If your problems with the crate have been going on for a while and your dog is getting really upset, then it might be best just to change things up.
Two good alternatives to the crate are a puppy play pen or a safe zone.
If you have space for a pen and can track one down that your Beagle can't escape from, then this is a good compromise as you can contain your dog without trapping them in such a small space.
A safe zone on the other hand is simply a room in your house where they are unable to do any damage.
So a kitchen with a wipe clean floor and no soft furnishings, for example.
My Beagle barks when left alone at night
You have three options again when it comes to dealing with your dog barking when you leave him for the night.
Click for quiet
Ignore him
Bring him into your bedroom
Click for quiet
This is my preferred method for dealing with dogs that bark when left alone at night.
Follow the instructions given earlier, and do this several times during the day before you do it at bed time too.
However, if the howling persists then you have two choices. Give up and let them come to bed with you, or ignore the noise. There are pros and cons to both.
Ignoring a barking dog
Beagles are incredibly loud, and very persistent when it comes to barking.
This method is not for the faint of heart, and should not be used if your dog is genuinely in distress.
For ignoring to work, it's vital that you never return to them while they are making a noise.
Any sign of you, even your footsteps on the stairs or in the corridor, will reinforce that barking.
First, warn any nearby neighbors what you are about to do (preferably while handing over a tasty gift of some kind).
At bedtime follow your usual routine. Take up their water bowl an hour before bed, then take your dog out for a pee just before you retire.
Close the door, and go to your room.
Be prepared that to begin with the howling will get worse, and it will be very loud.
If it works, you'll have one or two awful nights, and then no more issues.
But, if your dog's barking habit is very ingrained, or they suffer from separation anxiety, this method might not be worth the upset.
Sharing a bedroom!
Not everyone wants a dog sharing their room. And to be honest, if you are leaving him in another space of the house right now it's probably because that's your ideal.
But it is worth considering in extreme cases, and where it's practical.
You can also do this for a short period of time to attempt to break the cycle of screaming.
When the habit is knocked on the head you might have more success with Click for Quiet and potentially even ignoring the noise.
My Beagle barks when left alone in the car
Some dogs get very vocal when you leave them in the car. Even if it's just to pump gas, or drop a parcel at someone's door.
To break this habit, park somewhere remote where you won't feel embarrassed by their noise.
You can now use an adapted version of click for quiet.
Leave all the windows open, but make sure your dog is secured in a car crate or tethered using a doggy seat belt.
This is important, as they won't be able to hear the clicker otherwise.
The alternative is to reinforce the silence by opening the car door.
Stand beside the vehicle with your hand on the door handle.
As soon as they are quiet for a second, open it and deliver a treat.
Then shut the door again.
Next time, wait for two seconds of quiet.
Build up a few seconds at a time.
And remember, never open the car door while she's barking!
My Beagle barks when left alone while i'm at work
Combining working full time with dog ownership can be tough. You might need to make some big compromises in order to succeed.
Some dogs will happily sleep for most of the day, and greet you with a wagging tail when you return. But most won't be happy left for a full working day.
And even those which appear happy will have spent a considerable portion of the day needing to pee.
Barking habits often start when people are at work because the dog is being left for too long.
The solutions to this include
A dog sitter
Doggy daycare
Working from home
Regular visits home
These all involve a level of compromise, and most involve some expense.
But it will be worth it to have a happy, and quiet, companion!
Get Pippa's free dog training tips delivered to your inbox