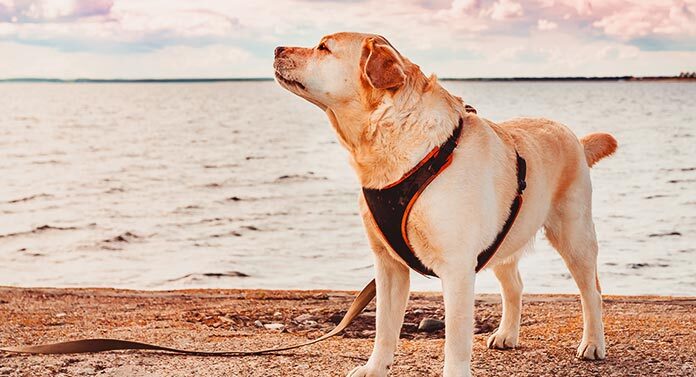 Harnesses are on the up, and collars are losing popularity. But why are dog harnesses better than collars?
Is it a passing fashion trend, or do they provide something that collars don't?
Dog harnesses are often associated with modern dog trainers, but they are actually the best choice for pet owners too.
Because they do what a collar does, but they do it better!
Why are dog harnesses better than collars?
Fifteen years ago you'd have been unlikely to see a single harness on a trip to the dog park.
Today, they are everywhere.
Especially in dog training schools, where modern positive methods are the focus.
And there are several reasons that dog trainers today prefer them to the traditional dog collars we used to see.
Safety
Comfort
Lower risk
Convenience
Training
The same job, but better
A dog harness can perform all the essential functions that you want from a collar.
You can use it to attach your pup's ID tag, containing their legally required information.
And you can clip a leash onto it for those trips down to the dog park.
But this piece of doggy equipment goes a lot further than just the basics.
Safety
A dog collar only wraps around the neck.
It's secured at a single point, and needs to hang relatively loosely so as not to cause friction.
Slim headed dogs can potentially slip traditional collars over their heads if they are not well fitted.
Meaning that there is the possibility of them losing the leash at an unexpected moment.
This can be disastrous if you are in the wrong location, or your dog doesn't have a solid recall.
A dog would have to be a miniature Houdini to get out of a harness!
Comfort
A well-fitted collar shouldn't rub or cause discomfort. However, many collars do.
It's not a wonderful feeling wearing a tie or tight necked sweater all day. We certainly wouldn't want to sleep in one at night.
And there is no anatomical reason to think that a dog isn't also mildly irritated by having something strapped around a sensitive area of their body either.
And this is likely to be exacerbated when you clip on a leash.
Pulling on the leash
Many dogs are not taught successfully to walk on a loose leash, and as a result the entire time they are out are pulling their collar into the front of their neck.
Not only can this be very uncomfortable, but it can actually cause physical damage to the neck.
A harnesses is a great thing to use when you are walking a dog that is in training, and has not yet learned not to pull.
However, it's worth mentioning that some harnesses can have similar issues, albeit in a less vulnerable area.
Dog harnesses rubbing?
It's really important to choose your dog harness carefully. An ill-fitting or badly designed harness will rub.
The area you'll normally find chaffing is around the back legs.
Make sure you get a well fitted version, and don't be afraid to try a few carefully and return them if they aren't right for your dog.
However, unlike a collar you can completely avoid this issue by picking the right brand.
Convenience
Dog harnesses give you a lot more options than collars.
A dog collar attaches in a single way, at the neck.
The weight of the clip carries the leash to hang straight down between their front paws, if they aren't pulling.
The power of the dog leaves it behind their neck, and the pressure on the front of their neck, if they are.
Harnesses don't have neck attachments. They instead have a back clip, front clip, or both.
Our favorite harnesses have both.
With a back and front attaching harness you have the option of using both attachment points simultaneously.
This allows you to use two leashes. Which sounds complicated, but is actually a useful training tool.
Training
Long line dog training is central to a lot of modern dog training in early obedience.
It is a long leash that drags along the floor.
You don't pick it up unless the dog makes a choice you don't want them to be rewarded for.
Most of the time it is being trailed behind them.
The most important part being, that they are not aware of the leash or its potential to stop their undesirable choices being carried out.
If you attach this leash to the collar, it is likely to trail between their front legs and risk tripping them up.
It's obvious to them that they are wearing it, because it's getting in their way.
And if you have to pick it up to stop your dog in full flight, their neck will be pulled.
Attach a long leash to a back clip on a harness and it trails out the way of their feet, and can securely stop them without causing a whiplash style impact.
Why are dog harnesses better than collars
Dog harnesses are better than dog collars because they provide a safer, more convenient, comfortable alternative.
They can do the same job, but more effectively.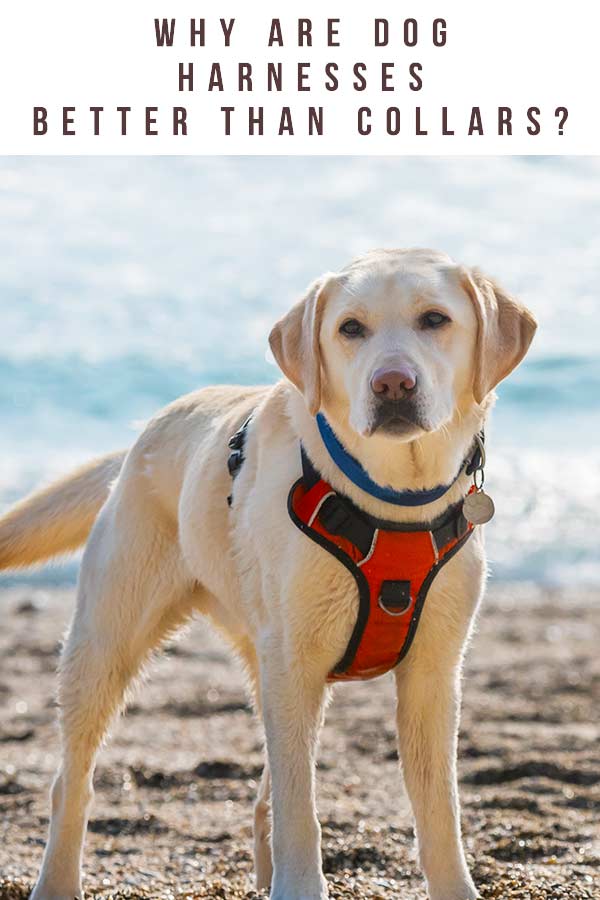 Get Pippa's free dog training tips delivered to your inbox