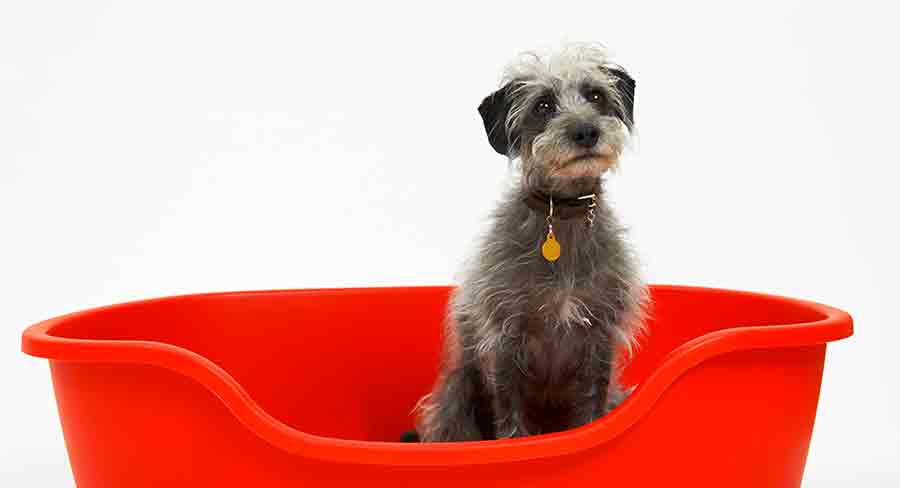 There is no official miniature Lurcher dog breed. Lurcher dogs of all sizes are a mixed breed. They are a cross between a sighthound and another working breed, most often a herding or terrier type. Because of this, some Lurcher dogs will naturally be smaller than others. It will all depend on the genetic influence of the parent breeds. If your heart is set on a smaller Lurcher dog, you may be able to find a breeder that specializes on the lower end of the size scale.
Miniature Lurcher dogs can be quite different to one another depending on their parent breeds. So, to find out more about their potential temperament and health issues, you must make sure you are aware which breeds were used. Make sure you only choose reputable breeders that health test dogs before breeding.
What is a Miniature Lurcher Dog?
Like the standard Lurcher, the miniature Lurcher dog is not an AKC accepted breed. In fact, when most people say "miniature Lurcher dog", they simply mean Lurchers that fall towards the smaller end of the size scale. Lurchers are crossbred. So, their size and overall appearance will vary hugely depending on their parents. This means two Lurchers can look very different to one another. One may fall in the large dog breed category, but others could be as small as a whippet – or even smaller!
Lurchers are a British breed, and aren't yet that common in America. But, you may be able to find some breeders in the US who specialize in this mix. To maximise your chances of getting a small or "miniature" Lurcher dog, find a reputable breeder that uses smaller parent breeds. Or, choose a female puppy, as female dogs tend to be smaller than males as adults.
How Big is a Lurcher Dog?
As we know, the Lurcher is a mixed breed. Its parents could be any combination of a sighthound breed and another working breed. So, there's a huge scope for variety within the breed. This means it's actually very hard to predict a Lurcher dog's size. Some may be as small as a Whippet, from around 18 to 22 inches tall, weighing 25 to 40 pounds. But, others may be considerably larger, reaching up to 30 inches tall and weighing up to 100 pounds. It will entirely depend on the parent breeds used.
Lurchers are not an official breed. Neither are miniature Lurcher dogs. So, there is no official breed standard that regulates the size of either type. Generally, smaller Lurcher dogs will still be sold as "Lurchers" rather than "miniature Lurcher dogs". This is because there can be so much variation in the Lurcher breed anyway.
Ways a Breeder Might Create a Miniature Lurcher Dog
It's possible to find a breeder that will specialize in a smaller or miniature Lurcher dog variety. They will usually do this by choosing smaller sighthounds and working breeds to combine. For instance, the Italian Greyhound and the Whippet are two of the smallest sighthound breeds. A breeder may combine them with a small or medium terrier or herding breed, such as:
Border Collie
Australian Cattle Dog
Border Terrier
Cairn Terrier
Bedlington Terrier
Wire Fox Terrier
And more.
Some breeders will combine multiple breeds over generations to create their lurchers. Two of the most popular dogs for Lurcher mixes are Greyhounds and Border Collies, but this can result in quite a large dog. So, speak to breeders if you're looking for something smaller. Or, consider choosing a female puppy. The parent dogs used will provide a good estimation of your puppy's adult size.
Miniature Lurcher Dog Health
The health of a miniature Lurcher dog will also vary depending on the parent dogs used. Choose a reputable breeder to minimise the risk of hereditary health problems. The best breeders will test dogs before breeding to ensure they are only producing puppies from the healthiest dogs. And, they will be happy to show you evidence of this health testing when you visit the puppies in person.
Because so many different breeds can be used to create a Lurcher, it is difficult to predict general health issues that apply to all Lurcher dogs. For a better idea, research the health issues common in the parent breeds used. Here are some common health issues in working dogs and sighthounds that could pose a problem for miniature Lurcher dogs and larger Lurchers.
Hip and elbow dysplasia
Hair loss
Adverse drug reactions/multidrug sensitivity
Collie eye anomaly
Brachycephaly (if flat faced terriers are used)
Dental problems (common in miniature and toy breeds)
Miniature Lurcher Puppies
It may take you some time to find a miniature Lurcher dog, since it's more common for breeders to breed larger purebred dogs together, such as the Greyhound. However, due to size variation in the Lurcher dog, it's definitely possible to find one that is smaller. Speak to breeders about what you're looking for and make sure that you see evidence of health testing, as well as meeting the puppies and the mother dog. Choosing a reputable breeder that prioritises health over all else can save you a lot of potential heartache in the future.
To maximise your chances of picking a small puppy, choose miniature Lurcher dogs that were bred from two small parents. If there are females in the litter, they will often grow to be smaller than their brothers. You may even be able to find a reputable breeder that specializes in creating smaller Lurcher varieties. If you're struggling to get started on your search for a miniature Lurcher dog puppy, we have plenty of resources that can help.
Similar Breeds
Lurchers of all sizes aren't that popular in the USA. They're much more common in the UK. If you're struggling to find Lurcher puppies or breeders near you, there are plenty of other dogs to consider instead. Perhaps one of the breeds common in creating the Lurcher mix would be better for you? Here are some popular examples:
Miniature Lurcher Dog – A Summary
Although the miniature Lurcher dog is not an official breed, it's still possible to find small Lurchers. It may be harder to find one in America, but you may get lucky! You can also consider looking in rescue centers if you're struggling to find a breeder. Sadly, many Lurchers are given up when owners don't realise how much work they can be! Make sure you're prepared to dedicate plenty of time to exercise, training, and socialization, even if you find a smaller Lurcher.
Do you have a small or miniature Lurcher dog at home? We would love to hear about them! What breeds were used to create your companion?
References and Resources
Get Pippa's free dog training tips delivered to your inbox