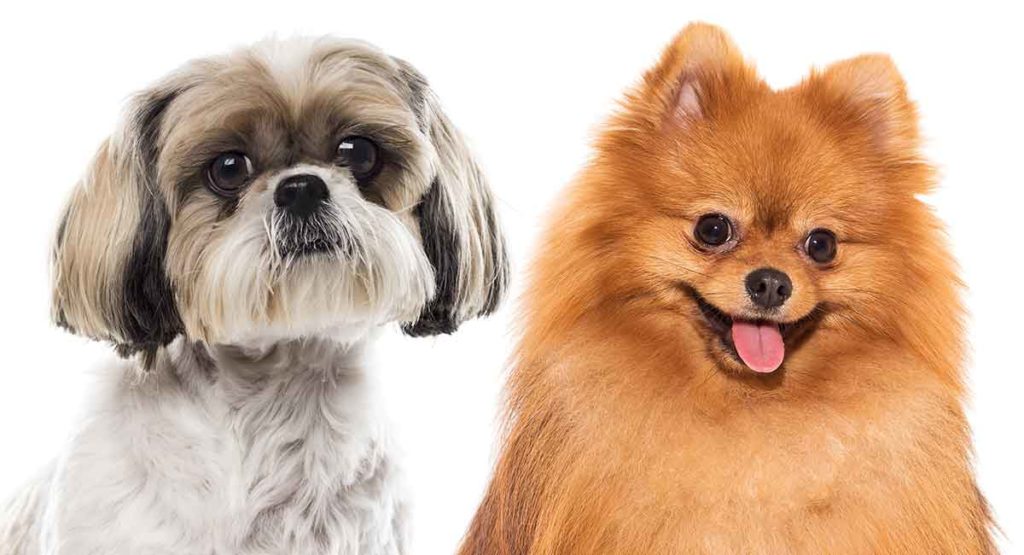 The main differences between a Pomeranian vs Shih Tzu are:
Size – Even the little Shih Tzu looks big compared to the tiny Pomeranian!
Coat – The Pomeranian's coat is fluffy, and the Shih Tzu's coat is flowing, but both need a lot of grooming.
Personality – The headstrong Pom is less easily motivated during training than the Shih Tzu and more reserved around strangers.
But of course there are lots of more subtle differences between these two regal dogs – let's take a closer look.
Pomeranian vs Shih Tzu History
It's only fitting that we should start with these two breeds' history.
Both the Pom and the Shih Tzu have a very lengthy heritage with both breeds' legacies dating back hundreds of years.
The Pomeranian originated in Eastern Europe, in Pomerania (modern-day Poland and Germany). The breed became popular when Queen Victoria began keeping and breeding Pomeranians, and they remain quite popular today.
The Shih Tzu originated in ancient China, where it is thought to have resulted from a mix of Lhaso Apso and the Pekingese. Tibetan breeders developed the Shih Tzu, which would later become a favorite lapdog of Chinese empires and noblemen.
So, both the Pomeranian and Shih Tzu have a long – and royal – history. And even today, these toy breeds certainly treat their owners like royalty, whoever they are.
Today, the breeds fare quite well. The Pomeranian is currently the 23rd most popular dog in America, while the Shih Tzu is 20th (according to the latest AKC data).
Pomeranian vs Shih Tzu Appearance
Both breeds are toy varieties, which means they are quite small. With that said, the Pomeranian is far smaller than the Shih Tzu.
This is one of the biggest differences to consider; the Pom is usually 3 to 7 pounds, while the Shih Tzu is 9 to 16 pounds.
Both are obviously small breeds, but the Pomeranian is one of the smallest in the world. This has implications for handling training, which we'll come to in a bit.
The next biggest difference is in coat style and length. The Pomeranian has extremely puffy, light fur that makes it look quite like an adorable little fluff ball!
The Shih Tzu, on the other hand, has long, flowing hair, which will reach the ground if not trimmed.
Both breeds require quite a bit of grooming, but their coat styles could not be more different.
Pomeranian vs Shih Tzu Temperament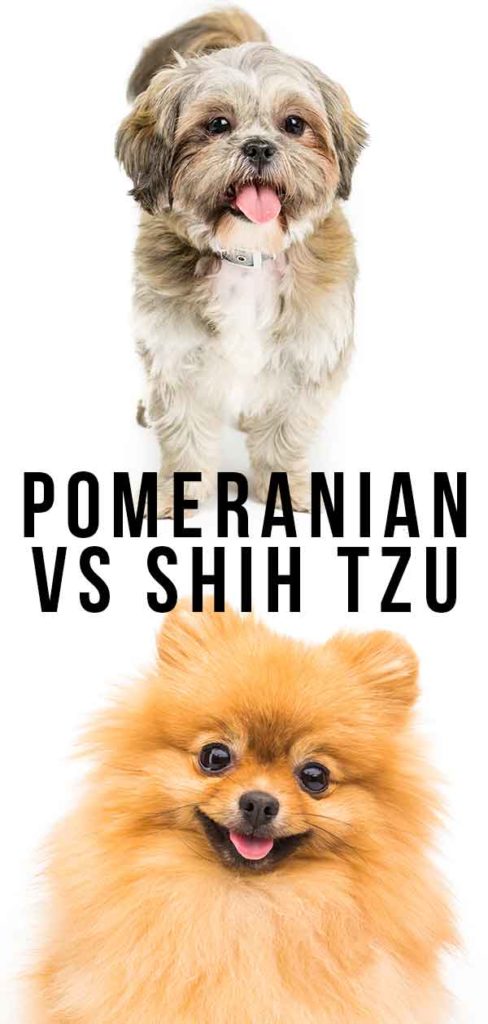 The temperament of the Shih Tzu vs Pomeranian is somewhat similar. Both breeds are very affectionate, energetic little dogs. And they both certainly behave like they are far bigger than they actually are!
Both are also fairly dependent on their humans and like to have a lot of attention. Neither likes to be left alone for extended periods of time, so are suited to households with someone at home the majority of the time.
Shih Tzus tend to be a little more sociable and trusting of strangers, while Pomeranians can take longer to warm up. This also means that Pomeranians make for fine watchdogs, while Shih Tzus may not.
The Shih Tzu can sometimes get bored or tired of attention, and may nip or become aggressive to show you they've had enough. So, they may not be the best breed choice for households with small children.
The Pomeranian, too, should not be left unsupervised around small children, mainly due to its small size and delicate nature.
If you're a new dog owner, it's likely that the Shih Tzu may be a bit easier to handle and train. In contrast, the Pomeranian is quite bold and less easily motivated to learn new commands.
Like all small breeds, it's important to socialize Pomeranians and Shih Tzus properly rather than relying on taking them out of unusual or unfamiliar situations.
This will make them more calm and confident adult dogs in the long term.
Both breeds also have a tendency to bark – and this is particularly pronounced with the Pomeranian.
Pomeranian vs Shih Tzu Training
Training and early socialization are quite important with both the Pom and the Shih Tzu. Both can have a stubborn streak that may impede your progress but are intelligent enough to reward patient owners and learn even the most difficult of tricks.
Positive reinforcement training is the best way to teach any dog new commands.
The Pomeranian can grow bored quickly, so try to keep training sessions short and fun.
Socialization from a young age is very important. The Pomeranian in particular needs tons of socialization with other dogs and people, as they tend to be a bit less outgoing.
Both breeds are energetic and playful and enjoy active games and training sessions.
Potty training should be addressed as soon as possible. Poms and Shih Tzus are small dogs with small bladders to match, so it's not unusual for them to go on having accidents inside the home for longer than larger breeds.
Pomeranian vs Shih Tzu Exercise
Both the Pomeranian and Shih Tzu are moderate energy breeds. However, since they are so small, they do not require a ton of exercise.
One or two walks per day, coupled with some indoor play, should be sufficient for either breed.
There are a few things to keep in mind to ensure that your dog stays healthy.
For Pomeranian owners, remember that your Pom is a very small, very delicate breed. This means that they can be injured easily, by other dogs or by children.
So, it's important to keep your dog out of harm's way by avoiding situations that could pose a risk. This means avoiding dog parks and ensuring children are not left alone with your dog.
For the Shih Tzu, some of the same considerations should also be kept in mind, although this breed has a somewhat more sturdy build than the Pom.
However, the Shih Tzu may have other exercise-related risks. This is a flat-faced breed, which can lead to some problems during exercise.
Flat faced dog breeds can easily overheat and may have trouble breathing during heavy exercise. They are also not strong swimmers.
So, Shih Tzu owners should take care to keep exercise moderate (particularly on hot days) and to keep dogs out of water unless closely supervised.
Pomeranian vs Shih Tzu Health
Looking at Pomeranian vs Shih Tzu lifespans, the expectations are fairly similar. The Pomeranian has an expected lifespan of 12-16 years, while the Shih Tzu ranges from 10 to 18 years.
Both are prone to certain genetic health concerns. The Pomeranian has a fairly small breeding pool, which increases its risk for genetic conditions.
Joint problems including luxating patellas are common, as are hip and elbow dysplasia. Eye problems and skin disorders are also relatively common for the Pomeranian.
The Shih Tzu has a brachycephalic, or flat, face. This leads to all sorts of health concerns, unfortunately.
Shih Tzus routinely suffer from brachycephalic conditions like breathing problems, dental problems and issues controlling heat.
Shih Tzus also need quite a bit of grooming, as their hair is quite long and grows quickly.
In general, both dogs have the potential for health concerns, but the Shih Tzu's brachycephaly is the most concerning.
Which Breed Makes A Better Pet?
Both breeds can make for good companion dogs in the right situations.
Both are loving, energetic and beautiful breeds that can make for fantastic lapdogs for the right owners.
For households with small children, we do not recommend either breed. The Pom is simply too small and delicate for kids, while the Shih Tzu can become aggressive if mishandled.
For households without someone at home most of the time, we can't recommend either breed. Both the Shih Tzu and Pomeranian need a lot of attention and won't do well with an owner who works full time outside of the house.
The Shih Tzu often winds up having more health problems, which can be expensive to treat over time. On the other hand, the Pomeranian tends to bark more, which can be an issue for some.
In the end, both of these breeds have pros and cons. When comparing the Pomeranian vs Shih Tzu, it's important to closely consider each before making an informed decision.
If you do choose either of these breeds, make sure you choose a name to match!
Or perhaps you'd like to take a look at our comparison between the German Shepherd and Golden Retriever!
---
References and Resources
Packer et al. 2015. 'Impact of Facial Conformation On Canine Health'. PlosOne
Gough A, Thomas A, O'Neill D. 2018, 'Breed Predispositions to Disease In Dogs and Cats'. Wiley Blackwell
Evaluation of surgical treatment of medial patellar luxation in Pomeranian dogs, Wangdee et al. Vet Comp Orthop Traumatol 2013.
Incidence and Genetic Aspects of Patellar Luxation in Pomeranian Dogs in Thailand, Soontornvipart et al, The Veterinary Journal.
Duffy D et al. Breed differences in canine aggression. Applied Animal Behaviour Science 2008
Adams VJ, et al. 2010. Results of a Survey of UK Purebred Dogs. Journal of Small Animal Practice.
Get Pippa's free dog training tips delivered to your inbox