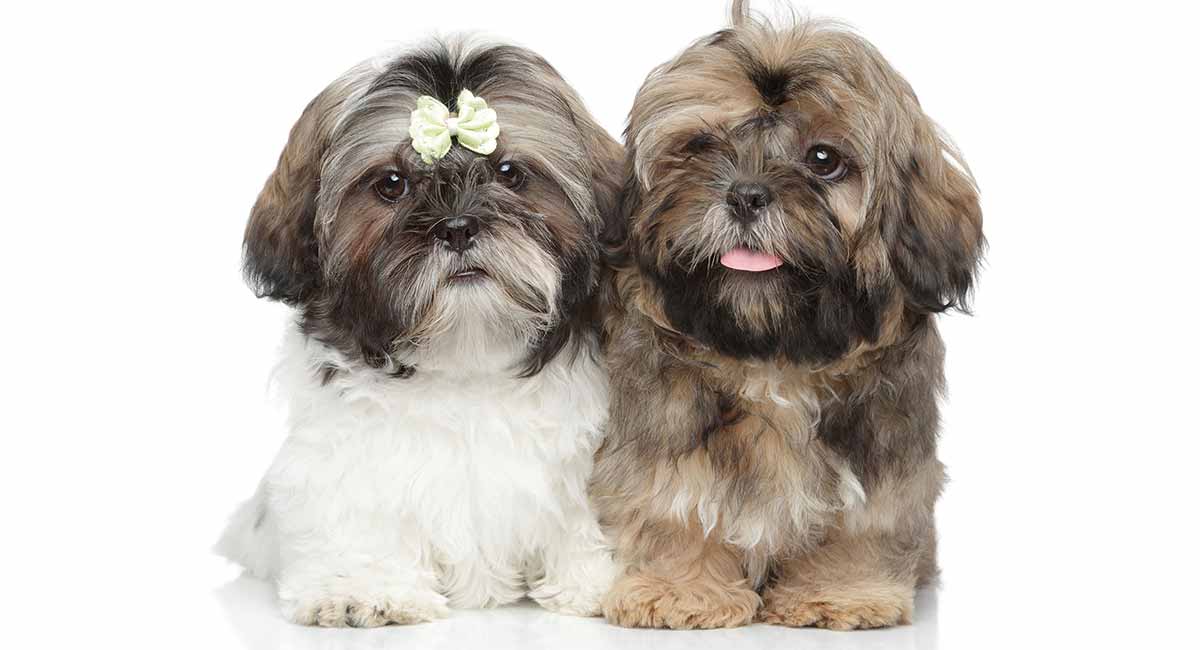 There are hundreds of great Shih Tzu names to choose from. From cute options, cool choices, or even tough names!
Let's find out which one will be best for your pup:
Our Favorites for 2019
Our best Shih Tzu names are
Gizmo
Shadow
Ollie
Riley
Tyson
Hunter
Hazel
Bella
Kona
Romeo
Tucker
Jackson
Ziggy
Pipsqueak
Daisey
Rocky
Emma
Brutus
Nixie
Major
Ranger
Choosing a Shih Tzu Name
But if you're looking for even more inspiration, keep reading!
If so, chances are you're about to get a new Shih Tzu puppy or rescue dog.
And this means that congratulations are in order!
Naming your new puppy or rescue is fun and exciting, but did you know that naming your new dog is also an important part of the bonding process?
Perhaps you already have a few names in mind, or maybe you are totally stumped.
Either way, this article is sure to thrill you.
But before we take a look at some of the best Shih Tzu names around, let's talk more about the importance of naming your Shih Tzu.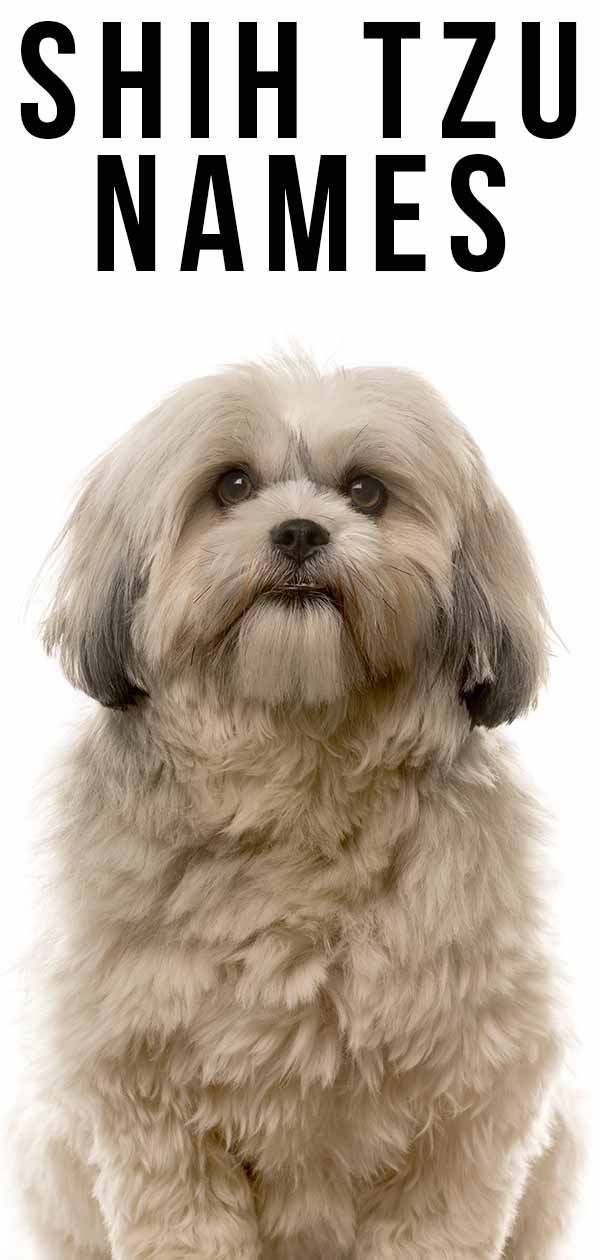 Naming Your New Shih Tzu
Before you decide on some fun, cute, or silly names, it's important to think about the long term.
Keep in mind that the name you choose for your Shih Tzu is going to be a name you repeat often and every day.
Make sure the Shih Tzu name you decide on is something you are comfortable repeating in public.
This includes the dog park, the veterinarian's office, and any other place you may go with your Shih Tzu pal.
You should also consider your pup.
Learning a Name
Most dogs can learn their names in as little as two weeks.
But they seem to latch on quicker to names with two syllables like Bailey.
As opposed to names with only one syllable like Max or three or more syllables like Dalilah.
And remember, when teaching your Shih Tzu his or her name, positive reinforcement is always the best and most effective way of teaching!
All right, now that you're primed on the importance of dog naming, let's talk about some perfect Shih Tzu names!
Most Popular Shih Tzu Names
These are great names for the dog owner who loves to stay up with trends.
And we must say, they are also pretty adorable.
Take a look for yourself!
Abby
Milo
Angel
Bo
Oreo
Sammy
Moose
Oliver
Olive
Coco
Rusty
Josie
Tyson
Marley
Oscar
Brady
Penny
Winston
Nikki
Toby
Molly
Layla
More Popular Ideas
But what if you are looking for gender-specific names?
Keep reading for some beautiful names perfect for your ladylike Shih Tzu!
Female Shih Tzu Names
While there are no real rules when it comes to looking at names for your Shih Tzu, this is a list of Shih Tzu girl names.
Of course, that doesn't mean you can't name your male dog one of these adorable female Shih Tzu names.
And we won't be surprised if you fall in love with our Shih Tzu puppy names female list.
It's pretty darn precious.
Rosie
Lady
Lexi
Holly
Izzy
Morgan
Jasmine
Annie
Lilly
Lola
Phoebe
Sadie
Casey
Dakota
Lacey
Maggie
Below is a list of twenty rough-and-tumble Shih Tzu boy names just for you.
Male Shih Tzu Names
These male names are way too cute, and we must admit, we love boy names for girl dogs too.
So whether you're in need of some Shih Tzu male puppy names or you just like the way Shih Tzu male dog names roll off the tongue regardless of the sex of your dog, we've got you covered!
Here are some of our favorite Shih Tzu names for boys!
Bandit
Cody
Jasper
Mac
Gus
Teddy
Frankie
Duke
Mickey
Wyatt
Loki
Lucky
Charlie
Chase
Bruno
Louie
Keep reading, because we are about to put some swaggy in your Shih Tzu's waggy.
Cool Names
Ready for some crazy cool sounding names?
We can't get over the ridiculous swagger of each and every one of the cool names below.
If your Shih Tzu is basically Elvis reincarnated, then you're in luck.
We think these might be perfect for that too-cool-for-school Shih Tzu of yours.
Roxy
Axl
Presley
Elvis
Cali
Murphy
Lex
Jax
Diesel
Dixie
Bentley
Stella
Leo
Luna
Chance
Harley
Boomer
Macy
If cool isn't your thing, that's fine.
We've got tons of adorable names coming right up!
Cute Shih Tzu Names
Let's face it: Shih Tzu dogs are super cute.
So it comes as no surprise that you may want to look at some super cute Shih Tzu names to match.
And if you have a Shih Tzu mix, like a Shih Poo or Corgtzu, for example, you may be looking for some cute puppy names.
Well, look no more and get ready to go gaga over this list of way-too-cute Shih Tzu dog names!
Bear
Gigi
Sparky
Maya
Cooper
Peanut
Rudy
Mocha
Simba
Pebbles
Scooter
Gracie
Teddy
Maddie
Rufus
Lucy
If you're still not sold on the cute factor, maybe you'll be sold on the funny factor.
Keep reading!
Funny Names
While Shih Tzu dogs are super cute, they are also known for their funny personalities and playful dispositions.
These little comedians deserve names as hilarious as they are, don't you think?
With that in mind, we've compiled a list of twenty hysterical names to keep you and your friends and family laughing.
See for yourself!
Riff-Raff
Sniffy Longdroppings
Squishy
Mary Puppins
Pup-Tart
Madam Dog
Dumbledog
Joan of Bark
Andy War-howl
Fleasy E
Sir Barkington
Queen of Barkness
Meatloaf
Lady Paw Paw
Dee-Oh-Gee
Flat-Faced Finn
Snoop-Dogg
Toodle Lou
Pup-Sicle
Ewok
Tough Names
Shih Tzu dogs are on the smaller side, but that doesn't mean they aren't badass!
Your tough Shih Tzu deserves a name as hardcore as he or she is.
Danger
Thor
Storm
Rocco
Zelda
Ghost
Phantom
Ajax
Fang
Buck
Beast
Jet
Villain
Ryder
Knox
Unique Names
If you are looking for a name that is totally out of this world and completely off the wall, then you've found the right list.
This is the perfect list of names for the dog parent who is all about standing out, being unique, and never going with the flow.
Ajay
Fletcher
Shiitake Mushroom
Cedar
Saskia
Avalon
Feather
Pudge
Vanilla
Xander
Autumn
Cricket
Moon
Kodiak
Summer
Raisin
Walnut
Sparrow
Ember
Chinese Shih Tzu Names
It's no secret that Shih Tzu dogs have Chinese ancestry.
So why not pay homage to your dog's incredible past by picking out some Chinese names?
Take a look at this list of beautiful and meaningful Chinese dog names for Shih Tzu dogs.
Chun Hua (Spring Flower)
Lee (Plum)
Lian (Dainty)
Dong-Mei (Winter Plum)
Ming-Hua (Elite)
Gan (Bold)
Jia (Beautiful)
Liko (Protected by Buddha)
Ping (Stable)
Dao (Sword)
Yingzie (Brave)
Ru (Scholar)
Heng (Eternal)
Bing (Soldier)
Hui (Kind)
Ji (Lucky
Jie-Rui (Quick Minded)
Hilin (Intellectual)
Zhenzhen (Precious)
Mei (Beautiful Flower)
Kuai (Clever)
Xin (New)
Lin (Beautiful Jade)
Hao (Smart)
Lok (Happiness)
Yue (Moon
Shu (Gentle)
Quan (Fresh Water Spring)
Xue (Snow)
Ah Lam (Peace)
Fun Facts About Shih Tzu Dogs!
As we mentioned above, Shih Tzu dogs hail from China.
But did you know that Shih Tzus were once royal dogs coveted by Chinese emperors?
Bred as companion dogs, these little comedians are quick to steal the heart of any who come across their path!
What do you think?
Do you like our names? Which ones are your favorite?
Don't be shy! We would love to hear from you, so leave us a comment in the comments section below.
More Shih Tzu Reading
Now you've found the perfect name for your Shih Tzu, read our other great Shih Tzu guides for more useful information!
References
Juliane Kaminski, Josep Call, Julia Fischer, Word Learning in A Domestic Dog: Evidence for "Fast Mapping", Science, Issue 5677, Pages 1682-1683
Mary B. Harris, Some Factors Influencing Selection and Naming of Pets, Psychological Reports,
Ai Kutsumi, Miho Nagasawa, Mitsuaki OHTA, Nobuyo OHTANI, Importance of Puppy Training and Future Behavior of the Dog, Journal of Veterinary Medical Science
Ian Dunbar, Before & After Getting Your Puppy: The Positive Approach to Raising a Happy, Healthy & Well-Behaved Dog, Chapter 1, What's Important to Know Right Away
Brian Hare, Michael Tomasello, Human-Like Social Skills in Dogs?, Trends in Cognitive Sciences, Volume 9, Issue 9, Pages 439-444
Emanuela Prato-Previde, Deborah Mary Custance, Catrina Spiezio, Francesca Sabatini, Is the Dog-Human Relationship an Attachment Bond? An Observational Study Using Ainsworth's Strange Situation, Behaviour, Volume 140, Pages 225-254
Get Pippa's free dog training tips delivered to your inbox