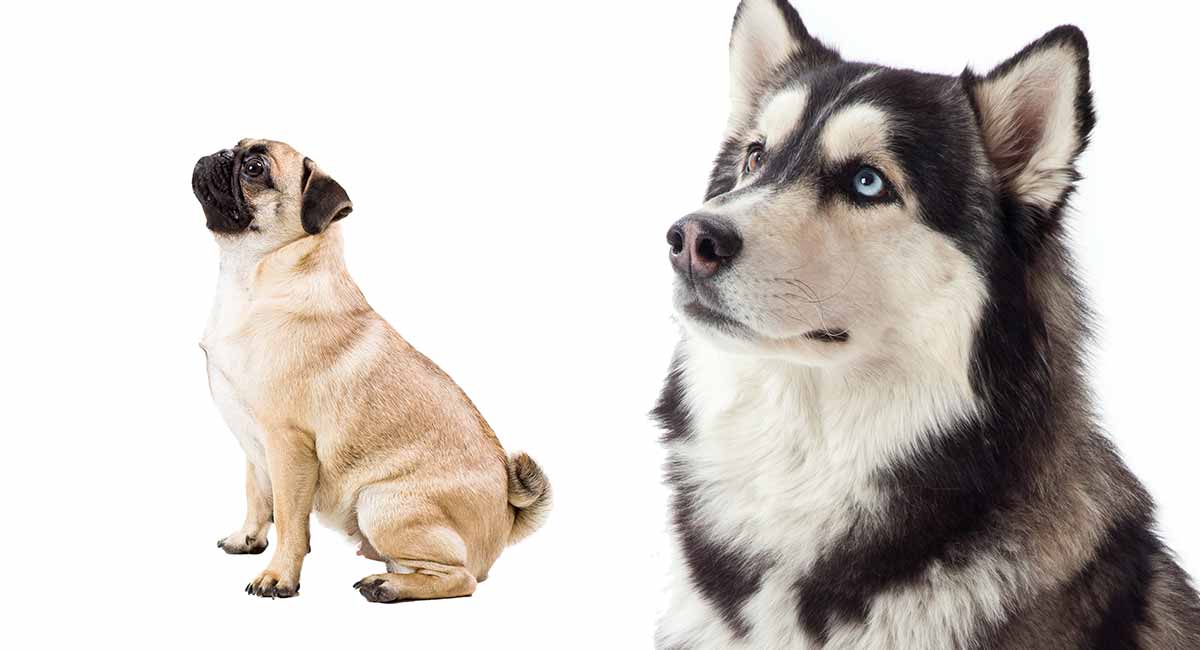 A Husky Pug mix is a dog with a Siberian Husky mother and a Pug father.
Husky Pug mix dogs are also known as Hugs!
But due to their incredibly contrasting parentage, the actual nature of a Hug is very difficult to predict.
Siberian Huskies and Pugs are popular breeds for many reasons. They're both friendly, beautiful, and adaptable to different lifestyles and family sizes.
Combining these two breeds seems like a good idea, but is it?
Where Does the Husky Pug Mix Come From?
The Hug is a relatively new mix, as most 'designer dogs' are. It's hard to pinpoint when this mix originated, but it is likely in the last few decades.
The parent breeds have storied histories dating back thousands of years.
Siberian Husky Origins
The Siberian Husky breed originated in northeastern Asia many centuries ago.
Husky ancestors were companions and working dogs used by the Chukchi people for long-distance sled travel throughout the Arctic.
Siberian Huskies became popular by winning sledding races in the early 1900s. In 1925 they gained national attention when a 150-strong team of Huskies brought antitoxins to a community in Alaska vulnerable to a diphtheria outbreak.
Siberian Huskies are still used as sled dogs but are also popular family companions.
Pug Origins
It's estimated that the Pug breed has flourished since 400 B.C.
The breed's official history can be traced back at least 2,000 years. Pugs were treasured companions of Chinese Emperors, and only obtainable as a gift.
In the 1500s, Dutch traders introduced Pugs to Europe were they instantly gained popularity. The breed became a mascot of Holland's royal House of Orange and according to legend, a Pug saved the life of the Prince of Orange during war.
Once Pugs arrived in England, their popularity spread even more.
Purebred vs. Mixed Breeds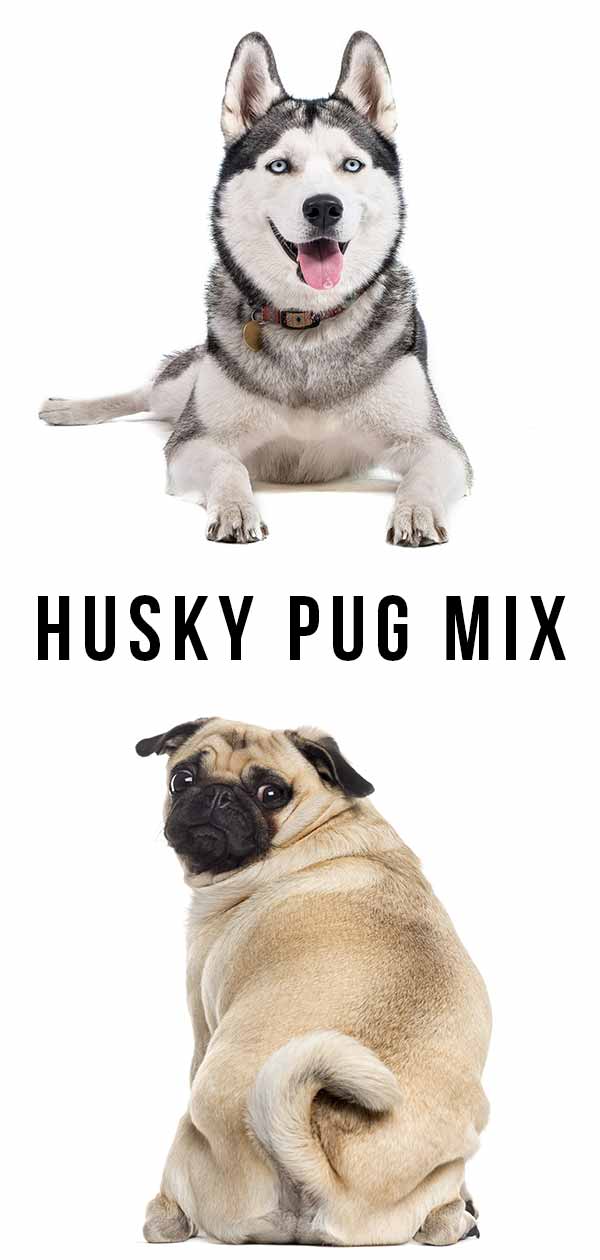 The rise in 'designer breeds' initiated a debate about the health of mixed breed versus purebred dogs.
The reality is, a dog's health depends on several factors, including the breed's general health.
If a breed is unhealthy due to conformational issues, very small gene pool, or inheritable health issues, then a purebred dog from that line will likely be unhealthy.
In addition, mixing unhealthy breeds may also result in unhealthy puppies.
Beyond the breed's health, parents selected for breeding should also have healthy genetics. This is information that a responsible breeder should have available for you.
We have an entire article dedicated to this debate that will give you more information: Purebred vs. Mutt.
Husky Pug Mix Appearance
Huskies and Pugs have very distinct appearances. Can you imagine what a mix of the two would look like?
Mixed breed puppies inherit features from both parent breeds, so it's hard to predict certain characteristics.
Let's look at the parent breeds to see what a combination of a Husky and a Pug might result in.
Size and Body Type
The Siberian Husky is a medium-sized dog that stands 20 to 23.5 inches tall and weighs 35 to 60 pounds. Its body is designed to be quick, graceful, and powerful.
A Pug stands 10 to 13 inches tall and weighs 14 to 18 pounds. Its body is compact but muscular.
A Hug could inherit the larger size of the Husky, be petite like a Pug, or fall anywhere between the two.
You won't know until they finish growing what a Hug dog's adult size will be.
Muzzle and Eye Appearance
Muzzle length differs greatly between these breeds, and it's likely that a combination will result in a muzzle length in between a Husky's and a Pug's.
Be aware that the shortened, flattened muzzle of a Pug causes several health issues that will be covered more in-depth below.
If a Hug inherits a shorter muzzle, it may be at risk for these issues as well.
A Husky's almond-shaped eyes are brown, blue, or a combination of both. A Pug's eyes are large, round, and brown.
A Husky Pug mix can have brown, blue, or mixed eyes. They're likely to take on some of the large size of the Pug's eyes.
Coat Appearance
Siberian Huskies can be one of 17 fur-color variations and combinations of black, white, red, sable, brown, gray, copper, and tan.
Their fur is notably fluffy, as it was intended to keep them warm in Arctic temperatures.
Pugs are either fawn with a black face mask or all black. Their fur is smooth and glossy.
A Hug inherits any of the fur color options from its Husky mom. Its fur length can resemble either parent, so it may be fluffy, short-furred, or in between.
A Hug may also inherit a Pug's signature deep brow wrinkles.
Husky Pug Mix Temperament
As with physical characteristics, a Hug inherits its temperament from both parents.
Siberian Huskies are naturally friendly, which makes them poor watchdogs. They're energetic and athletic.
Huskies are great with small children and other dogs.
Pugs are agreeable and charming. They mix well with all family types. Pugs love to play, even though they are often thought of as low energy.
A Hug mixes a working dog with a companion dog. So, it will love to chase and run but also be a great lounging partner.
Both breeds are highly social and don't like to be left alone for long periods of time.
It's likely that a Hug will not like this either and need social interaction throughout the day.
Training Your Husky Pug Mix
Training and socialization are important for any type of dog, including the Hug!
Pugs are easy to train but sensitive to loud voices. While Huskies are notoriously stubborn and challenging to train. They're also known as runners and escape artists.
A Hug might inherit some of the Husky stubbornness, making training challenging.
You'll need to dedicate time and patience to train a Hug and our training guides will help you.
Hug Exercise
Huskies and Pugs love to play! Huskies are athletes with a ton of energy and willingness to play. While Pugs excel at agility training as they are quick and lively.
So, daily walks and playtime are vital to a healthy and happy hug.
However, because of the Pug's flat face and shortened muzzle—a feature called brachycephaly—exercise and play are risky for Pugs and Pug mixes.
If a Hug has a short muzzle, you'll need to be extremely careful not to overheat or over-exercise it.
This can be frustrating for a Husky mix dog with a strong instinct to run for long distances, and this frustration could boil over into unwanted and destructive behavior.
In addition to closely monitored outdoor play and walks, a Hug needs mental stimulation indoors so that it does not become bored.
Husky Pug Mix Health
Puppies can inherit health problems from either parent. The breeds are also susceptible to illnesses and injuries due to conformation issues.
Testing parent dogs for inheritable disorders is an absolute must for any responsible breeder. Puppies can also be checked for certain health issues.
You'll want to check for test results as recommended by each breed's national club.
A Hug is at risk for several very serious health issues as they can inherit any issues of the parent breeds listed below.
Siberian Husky Health Issues
The Siberian Husky breed is fairly healthy. The main inheritable diseases they are prone to can impact their eyes:
A closer look at Siberian Husky health issues is here.
The Siberian Husky Club of America recommends a yearly eye examination, beginning at 12-months of age. Results should be registered with the Siberian Husky Ophthalmic Registry.
Although uncommon in Siberian Huskies, the Club recommends screening for hip dysplasia.
Pug Health
Unfortunately, the Pug breed is very unhealthy. We do not recommend purebred or mixed Pugs for this very reason, including the Hug.
Decades of selective breeding for desired physical characteristics has resulted in numerous issues.
Common Pug health issues are listed below. A more detailed look at these issues is in the Pug Dog Breed Information Center.
Dry eye
Proptosis – displacement of the eyeball, usually due to trauma
Entropion – a condition in which the eyelid rolls inward
Corneal ulcers
Pug Dog Encephalitis (PDE) – a fatal inflammatory disease unique to Pugs
Hemivertebrae – deformed spinal vertebrae
Hip dysplasia
Luxating patellas
Pug myelopathy – incoordination of rear limbs which may progress to paralysis
Brachycephalic airway syndrome.
The Pug Dog Club of America recommends the following health screenings:
Hip dysplasia
Patellar luxation
Annual eye examination
PDE
More information about these screenings is available through the Canine Health Information Center.
Breed Lifespans
A Husky lives 12 to 14 years while pugs live an average of 11 years.
So, if healthy and well-cared for, a Hug can live up to 14 years.
Grooming
A Hug's coat will be fluffy like a Husky, sleek like a Pug, or somewhere in the middle.
You'll need to brush a Hug once a week to manage shedding and keep its skin in good condition.
Feeding
Pugs are prone to obesity, which leads to other health problems including breathing issues.
This means that a Hug may become obese as well.
Rather than depending on weight alone, this guide will help you determine if your dog is overweight.
You can minimize obesity risk by monitoring feedings and limiting treats.
Do Husky Pug Mixes Make Good Family Dogs?
We don't recommend dogs with brachycephaly due to the health implications that come along with it. Unfortunately, this extends to the Husky-Pug mix.
Whether purebred or mixed, continuing to breed brachycephalic dogs like Pugs endangers the health of future generations.
If you're set on a Husky Pug mix, carefully research and select a responsible and reputable breeder.
Choosing an adult Hug is also another option. This will give you a clear picture of any health risks that the Pug mix might have.
While there are several serious health risks to consider, Hugs are excellent family companions.
Rescuing a Husky Pug Mix
Adopting a full-grown Hug is a great option. You'll know its size, physical features, and temperament.
Its heritage may be unknown but rescuing a dog from a shelter gives it a second chance at life.
Husky Pug Mix Rescues
There are not specific rescue organizations for Hugs, so one that caters to its parent breeds is a good place to start your search.
Add your rescue center in the comments!
Finding a Husky Pug Mix puppy
You'll be able to find a Hug breeder in your area or nearby with an internet search.
While we don't recommend Hugs because of Pug health issues, if you're determined to find one please research the breeder thoroughly. Ask questions about health screenings and parent dogs.
Avoid puppy mills or stores, as they don't use best breeding and health care practices for their animals.
Raising A Husky Pug Mix Puppy
Once you bring your Hug or similar mixed-breed pup home, you'll want to start training it right away.
Puppy care can be challenging. Luckily, we have several guides to help you through this adorable life stage.
Husky Pug Mix Products and Accessories
Our experts are always searching for the best dog products. Here are some recommendations for a Hug:
Pros and Cons of Getting A Husky Pug Mix
Pros:
Unique coloration
Playful companion
Friendly family dog
Cons
Numerous health issues
May be difficult to train
Risk of obesity
Similar Hug Mixes and Breeds
Because of the Pug breed's poor health, cannot recommend a Hug and suggest considering another option:
Is A Husky Pug Mix Right for Me?
A Hug is a high-risk mixed breed option due to the Pug breed's health issues.
Unfortunately, we cannot recommend them as pets at this time.
References and Resources
The Siberian Husky Club of America 
Haeussler & Korb, 'Glaucoma', The American College of Veterinary Ophthalmologists, 2018.
'Canine Inherited Disorders Database', University of Prince Edward Island.
'Brachycephalic Syndrome', American College of Veterinary Surgeons.
Liu, Nai Chieh. Et al. 'Conformational risk factors of brachycephalic obstructive airway syndrome (BOAS) in pugs, French bulldogs, and bulldog', 2017, PLos One.
Sines, Daniella. 'Bracycephalic breeds and their respiratory problems', 2014. Veterinary Nursing Journal.
Get Pippa's free dog training tips delivered to your inbox