The best dog food for Pitbulls is one containing a high-quality source of meat as the first ingredient, a minimum of 25% protein, and healthy fats.
Some Pitbull breeds are prone to allergies. But, there are many specialist diets available on the market to help owners exclude allergenic ingredients.
Let's take a look at the options available to you.
Products included in this article were carefully and independently selected by the Dogsnet team. If you decide to make a purchase from one of the links marked by an asterisk, we may earn a small commission on that sale. This is at no extra cost to you.
Best Dog Food for Pitbulls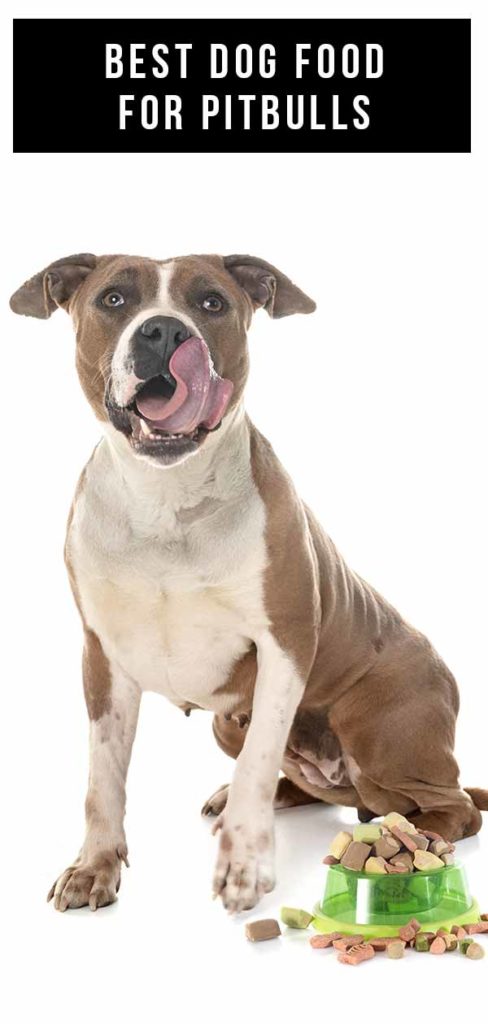 There is no one Pitbull breed.
These dogs range from 30 to 70 lbs. And all of these short-haired, muscular dogs are known for their strength and stamina.
They were originally bred to fight. So, they're often viewed as vicious and dangerous.
But, this characteristic only tells part of the Pitbull story. They're also playful, friendly, and affectionate.
Sensitivity
Another thing Pitbull breeds share is their susceptibility to allergies and sensitive stomachs.
So there's plenty to consider before you fill your Pitbull's bowl.
What is the Best Dog Food for Pitbulls?
Pitbulls are muscular dogs with lots of energy.
They need food that is specifically formulated for their size and activity levels.
And like any dog, their nutritional needs will change as they get older.
Puppies have a fast metabolism and need more calories per pound of bodyweight than adult dogs do.
They also need to be fed more often when they're still growing.
Meals should be given three or four times a day for Pitbull puppies. But, by adulthood, you can reduce this to twice daily.
Importance of Protein
Protein is the most important ingredient and should make up approximately 25% of your Pitbull's diet.
Choose a brand that lists a high-quality source of meat as the first ingredient. This will ensure healthy bone growth and development.
Healthy fats are important for providing energy and also help to keep their short coat glossy.
Best Dry Dog Food for Pitbulls
Dry dog food is a popular choice.
It's convenient, readily available, and usually the most cost-effective option.
But, some dry foods contain lots of fillers.
Make sure that whole meat sources rather than meat by-product or grains are listed as the first ingredients.
You also want to avoid brands that contain artificial ingredients, preservatives, or additives.
Bully Max High-Performance Super Premium Dog Food
Bully Max High Performance* is recommended for both puppies and adult dogs
It contains 30% protein, 20% fat, and 535 calories per cup.
This brand claims you'll feed your dog up to 50% less food.
Natural Ultramix Grain-Free Red Meat Recipe With Raw Bites
Natural Ultramix* has a grain-free formula and features real pieces of fruits and veggies in every bowl for natural fiber to aid in digestion.
It boasts 38% protein with beef listed as the first ingredient. Plus, it's also rich in fatty acids and antioxidants.
Best Wet Dog Food for Pitbulls
Wet dog food often contains a higher proportion of protein and fewer carbohydrates than dry dog food.
It also tends to have more flavor and it decreases the risk of dehydration.
On the downside, it's typically more expensive and messier.
Canned foods also tend to be higher in fat and calories and may contribute to dental decay in dogs.
Natural Balance Limited Ingredient Diets Chicken & Sweet Potato Formula Wet Dog Food
This chicken and sweet potato recipe* is made from limited ingredients.
That includes premium protein and carbohydrate sources for complete and balanced nutrition.
It's grain-free and without fillers to support healthy digestion and a shiny coat and skin.
Blue Buffalo Blue Wilderness Beef & Chicken Grill Canned Dog Food
Protein-rich beef and chicken are the first ingredients in this wet dog food*.
This excellent option is enhanced with vitamins and minerals.
Plus, it contains no chicken or poultry by-product meals, artificial preservatives, corn, wheat, or soy.
Best Dog Food for Pitbull Puppies
It's important to feed a Pitbull puppy a specifically formulated diet for their unique nutritional needs.
Since they have a lot of growing and playing to do, puppies require more protein and calories than adult dogs.
But, you'll need to be careful. Too much protein can result in an unbalanced ratio of calcium to phosphorus.
If this ratio is out of whack, a puppy's bones grow too quickly and it can result in abnormal joint development.
This can cause them problems later in life, as Pitbull breeds are prone to hip and elbow dysplasia.
Taste of the Wild Grain Free Premium High Protein Dry Dog Food High Prairie Puppy – Roasted Venison & Bison
This puppy food* has real roasted bison and venison listed as the first ingredients.
Nutrient-rich and highly digestible. This food includes vitamins, minerals, and probiotics.
But no grain, corn, wheat, filler, artificial flavors, colors, or preservatives.
ORIJEN Dry Dog Food, Puppy, Biologically Appropriate & Grain Free
The smaller kibble size is tailored for a puppy's smaller mouth.
This high-protein formulation* has a diversity of fresh and raw meats.
Including fresh, free-range chicken and turkey, whole wild-caught fish, and cage-free eggs.
Meat-packed and protein-rich, this diet is formulated with 38% protein and 16% carbohydrates to help support growth and development.
Best Dog Food for Senior Pitbulls
As your Pitbull ages, their dietary needs will change once again.
Older dogs are typically less active. This means they require fewer calories to avoid unwanted weight gain.
Obesity can be a problem for Pitbull breeds.
It puts excess stress on their joints. But can also cause a lot of other health problems too. And compromise their quality of life.
Food for senior dogs should reduce the fat content, but contain omega-3 fatty acids from fish sources to maintain healthy joints.
AvoDerm Natural Advanced Senior Health Dry Dog Food, Grain-Free, Lamb Recipe
Specially crafted for senior dogs, this food* supports joint, eye, and brain health.
As the name suggests, the AvoDerm brand is made with avocados and promotes healthy skin, coat, and immune system.
ORIJEN Dry Dog Food, Senior, Biologically Appropriate & Grain Free
This blend is rich in protein to promote lean muscle mass in senior dogs.
It boasts a diversity of fresh and raw meats, with 85% meat inclusions, 15% veggies, and fruits, and no grain, tapioca, or plant protein concentrates.
Pros and Cons of Specialist Dogs Foods
Other than specialist foods for puppies, older dogs, and those based on breed size, there are also breed-specific brands.
At this point, there is no scientific research that shows any difference in nutritional requirements between different dog breeds.
But, there are other specialized foods that can help with specific health problems. Such as allergies and sensitive stomachs.
Unfortunately for Pitbull breeds, they suffer from both of these conditions.
Best Dog Food for Pitbulls with Sensitive Stomachs
Stomach sensitivity is not uncommon for Pitbull breeds.
Vomiting, passing gas, nausea, and diarrhea are all signs that something is not quite right.
These could also be signs of something more serious, such as internal organ problems. So, it's best to seek advice from your veterinarian.
Pitbulls are also at risk for the life-threatening condition known as bloat.
Since these dogs have a tendency to not chew their food properly, you may want to give them smaller, more frequent meals.
It's also important not to exercise a dog immediately before or after eating to prevent bloat.
Taste of the Wild Grain Free Premium High Protein Dry Dog Food
This grain-free formula* is also protein-rich for lean, strong muscles.
It boasts a highly digestible recipe with no grain, corn, or wheat, which can reduce the risk of tummy upset.
Probiotics also contribute to digestive health and support a healthy immune system.
Hill's Science Diet Dry Dog Food, Adult, Sensitive Stomach & Skin, Chicken Recipe
Made with natural ingredients, this dry food* promotes digestive health while nourishing skin.
And is formulated to be highly digestible for optimal nutrient absorption.
It is also a source of prebiotic fiber to support a balanced gut microbiome.
Best Dog Food for Pitbulls with Allergies
Pitbulls are prone to food-related allergies that often manifest as skin conditions.
Common Pitbull allergens include soy products, wheat, corn, and dairy products.
CANIDAE Grain-Free PURE Dry Dog Food
This choice has only 7 to 10 ingredients. So, this grain-free dog food* is formulated for dogs with sensitive stomachs.
Real animal or fish protein is listed first.
This recipe includes other ingredients such as sweet potatoes, peas, lentils, or chickpeas.
But never corn, wheat or soy, which are common canine allergens.
Wellness Core Natural Grain-Free Dry Dog Food Original Turkey & Chicken
Premium proteins and real vegetables are the highlights of this formulation.*
It is also grain-free with no wheat, corn, soy, meat by-products, artificial colors, flavors or preservatives.
Best Dog Food for Pitbulls
Pitbulls are fairly healthy breeds. Feeding them a proper, nutritional diet is the best thing you can do to keep them fit and active for a long time.
Their needs change as they go through different stages of life. And this means their nutritional requirements will change too.
Do you have a Pitbull? Tell us all about their unique diet in the comments below.
Affiliate link disclosure: Links in this article marked with an * are affiliate links, and we may receive a small commission if you purchase these products. However, we selected them for inclusion independently, and all of the views expressed in this article are our own.
Want More Guides?
If you've enjoyed reading this review guide, we have plenty of other great articles you'll love. Take a look at some of them below:
References and Further Reading
Get Pippa's free dog training tips delivered to your inbox