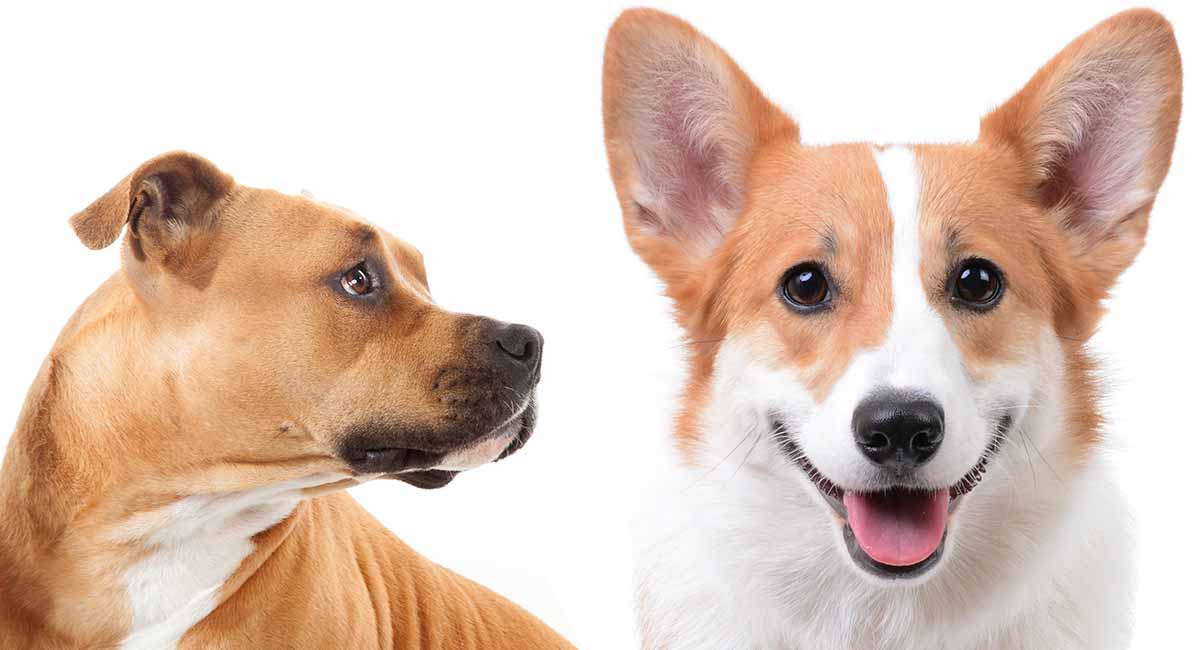 The most common Pitbull Corgi mix is between the American Pitbull Terrier or American Staffordshire Terrier and the Pembroke Welsh Corgi.
But, a mix could also use other types of Pitbull, or the Cardigan Corgi!
No matter which breeds used, there is no way of knowing what your puppy will inherit from each parent until it arrives! So, your Pitbull Corgi mix will be unique.
Generally, they are loving, loyal, and clever. But socialization is vital to reduce any potential for aggression.
Products included in this article were carefully and independently selected by the Dogsnet team. If you decide to make a purchase from one of the links marked by an asterisk, we may earn a small commission on that sale. This is at no extra cost to you.
Your Pitbull Corgi Mix
The Corgi is a small herding dog with short legs and a bold temperament.
There are two breeds of Corgi. These are the quite rare Cardigan Corgi, and the more common Pembroke Welsh Corgi.
Pitbulls dogs were developed from a mix of various old British bulldog and terrier breeds. The best-known pitbull breed is the American Pitbull Terrier.
A combination of the Pembroke Corgi and American Pitbull Terrier produces one of the most distinctive "hybrid" dogs. It often has a squat body, mismatched head, and a hardy temperament.
Where Does the Pitbull Corgi Mix Come From?
Unlike some crossbreed dogs (most notably the Labradoodle), the Pitbull Corgi mix doesn't have a notable origin story.
Accidental matings may have been taking place for decades. But deliberate pairings are more likely to be part of the recent trend for "designer dogs" or mixed parentage.
Pitbull Corgi mix pictures are often shared online due to their varied and often unusual appearance, fuelling further interest.
Fun Facts About the Pitbull Corgi Mix
A Corgi Pitbull called Picasso was a brief internet celebrity in 2017 after a sanctuary shared pictures of his extremely lopsided features. He went on to serve as a therapy dog.
Pitbull Corgi mixes are often nicknamed Corgi-Pits. So let's find out a little more about what to expect from this breed.
Pitbull Corgi Mix Appearance
The Corgi is 1 of 20 breeds of dog with a genetic condition called asymmetric dwarfism (aka "chondrodysplasia"). Other breeds include the Dachshund and Basset Hound. This problem leads them to have unusually short legs.
This trait is genetically dominant and so inherited by any offspring. But the legs of crossbred dogs might not be quite so short as those of purebred Corgis.
A puppy with one Corgi and one Pitbull parent will tend to be small in stature. But they would be robust in build and typically over 30 pounds in weight.
The Pitbull Corgi's head may resemble either parent. It is not uncommon to have a classic Pitbull head attached to a small Corgi-like body!
Coat color and pattern and all other traits are highly variable, as different things can be inherited from either parent. Corgi-Pits' hair is typically short but might include a feathered tail.
Corgi-Pits can also inherit a natural bobtail from their Corgi parent.
Pitbull Corgi Mix Temperament
There is no objective data on the temperament of this mix.
Corgis are considered an aggressive breed by some. Their herding background would incline them to be bold.
Corgi temperament may also include a tendency to bark. Plus, they can attempt to "herd" other animals or small children by nipping at their heels.
They are also bright, loyal, and even cuddly with their preferred people.
Pitbulls are usually docile, affectionate, and even clownish in nature. But, their past life as pit fighting dogs means that some are still prone to aggression against other dogs.
Since their pit fighting days, Pitbulls have been used in dramatically different ways. They are popular nanny dogs because they are so gentle with children. But are also used as illegal fighting dogs and aggressive status symbols by criminal gangs.
The Good and Bad
These two extremes bear testament to the impact of good and bad dog breeding. Luckily, there are many good pitbull breeders today dedicated to rehabilitating the breed.
Alas, a Pitbull Corgi mix isn't guaranteed to inherit only the best qualities of both dogs. What they will actually receive is a random mix of qualities from either dog. So, the exact combination might not be clear until they are grown up.
Training Your Pitbull Corgi Mix
Socialization is important for all dogs to familiarize them with normal experiences. This includes meeting new people and animals, traveling, and attending veterinary exams.
Successful socialization teaches a puppy to see new experiences as opportunities for fun and adventure. Rather than seeing them as threatening or scary.
A Pitbull Corgi mix dog needs to be socialized with other dogs. This will reduce the chance of them reacting aggressively to other dogs when they grow up.
They enjoy lots of positive and rewarding experiences with pups of all ages and sizes.
If your Corgi-Pit will be living with children or other pets, or receive visits from children and other animals, socializing them should include lots of praise and rewards for not herding them.
For older dogs, care should be taken that they look to you as their owner for security, direction, and praise. Positive reinforcement training should be used including the teaching of basic commands such as sit, stay and come.
Exercise Needs
A Corgi Pitbull will tend to be physically strong, intelligent, and outgoing. They will generally respond well to training and enjoy more advanced games and activities such as agility trials.
The Corgi Pitbull's shorter stature may mean that exercise should be moderate to avoid over-exertion. But each dog will vary in their tolerance for extended exercise, especially with the appropriate conditioning.
These dogs may be small but they are alert and curious and will need an active and engaging lifestyle. Smart dogs left to get bored are far more likely to become destructive or attempt to escape to pass the time!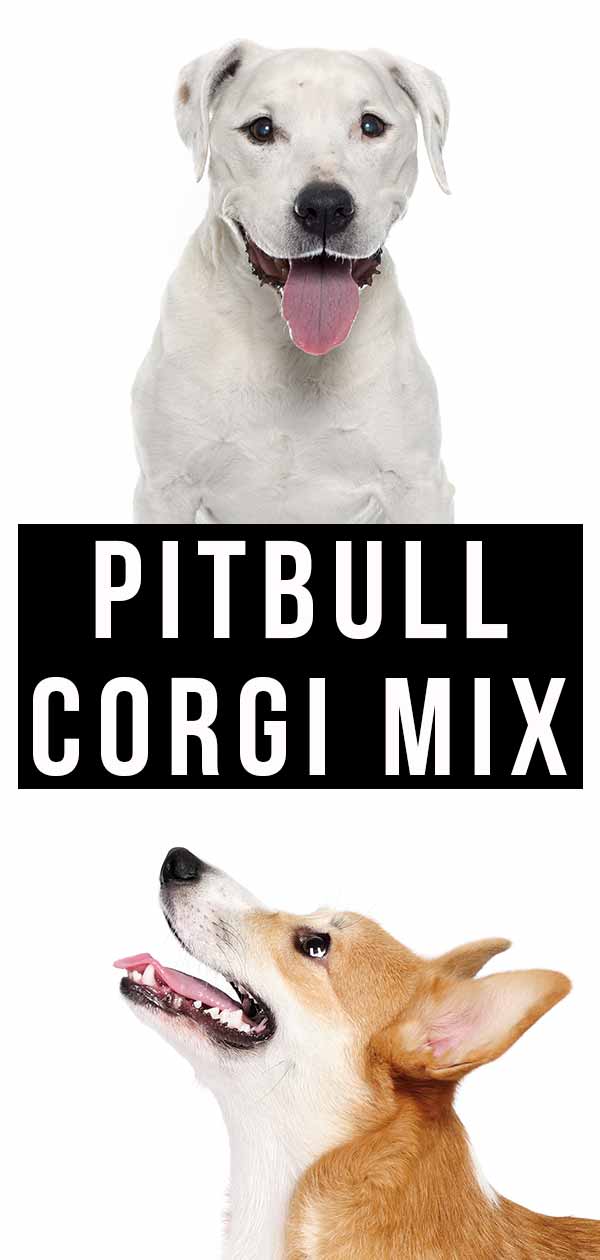 Pitbull Corgi Mix Health
You can expect a Pitbull Corgi to have the typical lifespan of a small or medium-sized dog (10–12 years).
While spontaneous dwarfism is typically seen as a defect, the trait in Corgis is not associated with significant health problems.
But, any dog with an unusually long back and short legs has an increased risk of Intervertebral disc disease (IVDD) and dislocation of the hip or elbow. Ask your vet whether your dog's conformation places them at risk.
Pitbulls are often healthy. But they show some genetic predisposition to hip and elbow dysplasia and hypothyroidism.
Crossbreeding can lower the risk of some hereditary conditions. But it's not guaranteed. You should monitor your puppy's health and carry out regular veterinary wellness visits to check for signs of any disease or disorder.
Regular dental care and avoiding obesity is also important.
Do Pitbull Corgi Mixes Make Good Family Dogs?
The Pitbull Corgi is well suited to households with older children. Especially where lots of people are on hand to provide interaction, stimulation, and exercise throughout the day.
But, their herding instincts may kick in with smaller children. So, care should be taken to manage interactions with children and small dogs or other animals.
Rescuing a Pitbull Corgi Mix
Dogs of all types, including unusual mixes, end up in rescue shelters.
Often this is due to their previous owners' circumstances changing beyond their control and forcing them to give up a much-loved and well-raised pet.
When you adopt an older Pitbull Corgi mix, the rescue agency will be able to tell you about the Pitbull and Corgi traits they have. This would have been impossible to predict when they were a puppy.
If your dog has a foster carer, they can be a valuable source of information about the mix's personality and any situations your new dog finds challenging.
Finding a Pitbull Corgi Mix Puppy
Researching and selecting a new puppy is not a process that should be hurried. Due to their relative rarity, you may need to search widely and wait for an appropriate Pitbull Corgi mix puppy to become available.
While Pitbull Corgi puppies often have an unusual and engaging appearance, this should not be the main factor in selecting a new puppy.
Do not adopt dogs whose health needs or temperament is not a good fit for your family.
Raising A Pitbull Corgi Mix Puppy
A Pitbull Corgi puppy will thrive in a somewhat active household with enough available time to keep them entertained.
Proper care and training should be used. This will stop their intelligence and energy being misdirected into excessive barking, guarding, chewing or herding behavior.
Structured socialization, such as puppy class, may be beneficial.
Pitbull Corgi Mix Products and Accessories
The Pitbull Corgi has a few special care needs.
If your dog has a long back, you might consider using a harness for walking rather than a collar. For example, the Rabbitgoo Dog Harness No-Pull Pet Harness*.
And they will often inherit the dense coat of the Corgi. If so, they will benefit from being combed with a slicker brush such as this one by Hertzko*. This can help reduce shedding or the build-up of matted hair.
Using a non-snagging brush and getting your puppy used to grooming while young will avoid problems later!
Take a look at our guide to Pitbull food to find a healthy brand to feed your hybrid.
Pros and Cons of Getting A Pitbull Corgi Mix
While relatively small, the Pitbull Corgi is not a "toy" dog. They are unlikely to be a good choice for a sedentary or overly mild-mannered owner.
If you are seeking a slightly unusual dog with a strong personality, the Pitbull Corgi may be a perfect choice.
Similar Pitbull Corgi Mixes and Breeds
Because of the dominant genetics of the Corgi breeds, all Corgi mixes tend to have a similar look to their bodies and legs. Their appearance varies mainly in their head shape and coat color or pattern.
You might consider a range of Corgi crosses.
Healthier Options
Plus, we also recommend Pitbull mixes with other breeds that don't have such long backs as the Corgi.
Pitbull Corgi Mix Rescues
To the best of our knowledge, there is no shelter or rescue with a focus on the Corgi Pitbull.
But they may be found in rescues for either parent breed and in the general shelter and rescue population.
Be cautious in accepting breed labels assigned to dogs of unknown parentage as these tend to be inaccurate.
Is A Pitbull Corgi Mix Right For Me?
The Corgi Pitbull is a mix-breed with a quirky appearance.
They can be strong-willed. But with appropriate training they will be a loyal and adaptable companion.
Do you already own a Pitbull Corgi mix?
Tell what you think of this mix in the comments box down below!
Affiliate link disclosure: Links in this article marked with an * are affiliate links, and we may receive a small commission if you purchase these products. However, we selected them for inclusion independently, and all of the views expressed in this article are our own.
You'll Also Love…
If you love reading about mixed-breed dogs, you might also like to take a look at the some of our other breed guides. Just click the links below for more!
References and Resources
Get Pippa's free dog training tips delivered to your inbox