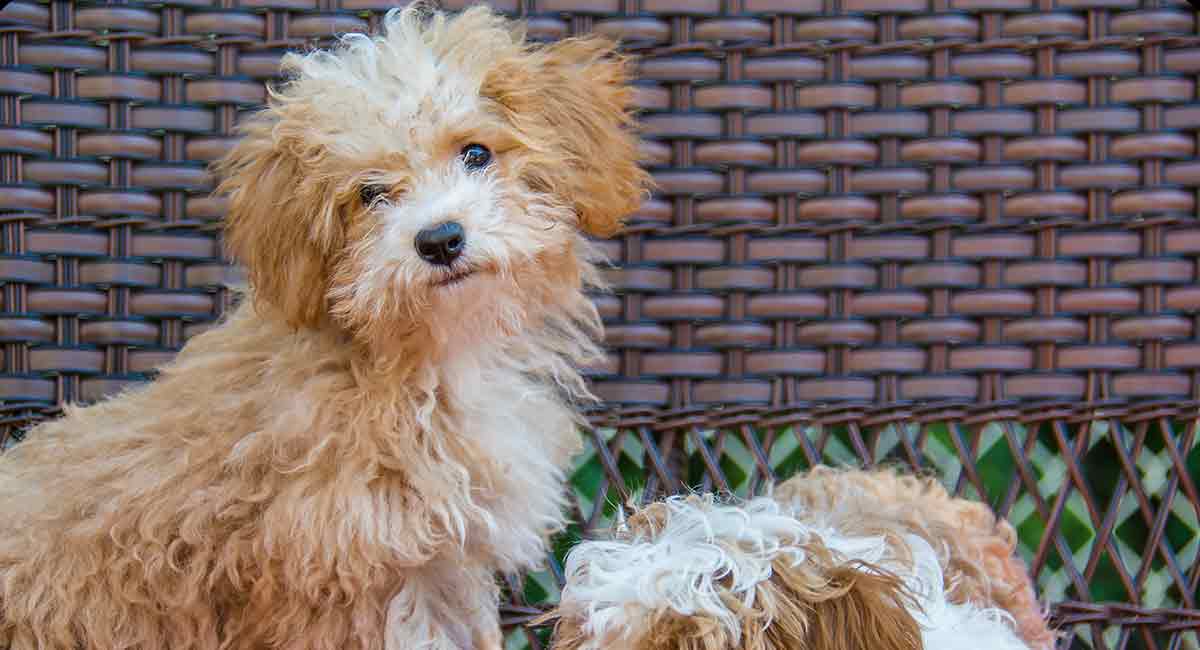 The Havapoo dog is a cross between the Havanese and Poodle breeds.
Havapoos are typically small to medium in size, with long, soft coats.
These mixed breed canines are smart, amiable and eager to please.
But the results of crossbreeding can sometimes be surprising too.
Where Does the Havapoo Come From?
The Havanese breed shares ancestors with small white dogs such as the Bichon Frise and Maltese.
The breed originated in Havana, Cuba—as you may have guessed from its name—and has a guesstimated arrival in the 1600s.
It was previously called the "Havana silk dog."
The charming lapdog became a favored companion of Cuban aristocrats. Havanese is the national dog of Cuba.
The Havanese breed arrived in America in 1959 with Cuban refugees.
Where Does the Poodle Come From?
Although Poodles are the national dog of France, the breed originated in Germany about 400 years ago.
"Poodle" comes from the German word for puddle—"pudelin"—as this breed was used for duck hunting.
Poodles are skilled retrievers and swimmers, and their infamous coat style serves an important purpose.
Hunters shaved Poodles' legs, neck and tail to increase swimming efficiency.
The remaining fur served as protection from cold waters.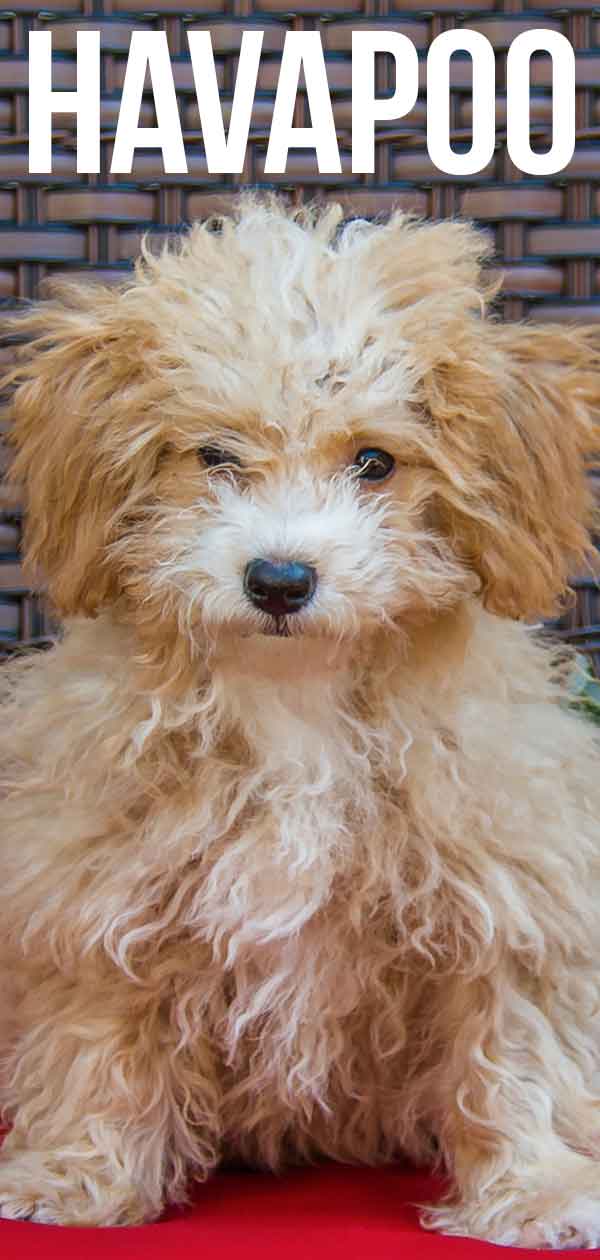 Purebred vs. Mutt Debate
Like most mixed, or designer, breeds the Havapoo's origins are not well-documented.
She originated in the United States, likely within the last two to three decades.
Designer dogs are a combination of breeds for desirable physical or behavioral traits.
With this comes a debate about purebred and mixed breed health.
Many believe that because of the health issues associated with purebred dogs, a mixed breed would be less vulnerable to inheritable diseases.
The answer to this debate is not entirely clear, as numerous factors impact a dog's health, including genetics and environmental factors.
You can take a more thorough look at this debate in our "Purebred vs. Mutt" article.
Fun Facts About the Havapoo
The Havapoo mix is relatively new to the scene, but the parent breeds have been beloved for hundreds of years.
Both Ernest Hemingway and Charles Dickens had Havanese pups as companions.
Poodles have been an icon of opulence for centuries and have had numerous notable owners.
Walt Disney, Lucille Ball, Jackie Kennedy, and Weird Al Yankovic—to name a few—have all had Poodle pets.
In 1988, John Suter attempted to compete in the Iditarod dog sled race with a team of standard Poodles.
Unfortunately, they had to be dropped off at an early checkpoint due to frozen feet and matted-hair.
A rule has since been since put in place to restrict participating breeds.
Havapoo Appearance
A Havapoo's appearance is a mix of traits from both parents.
It can be hard to predict the outcome. But generally speaking, a Havapoo is likely be small to mid-sized and fluffy.
Havapoo Size
Havanese pups weigh 7 to 13 pounds and stand 8.5 to 11.5 inches tall.
Poodles are bred in three sizes: Standard, Miniature and Toy.
The Havapoo is usually created with Miniature Poodles, but Standard Poodles can be used as well.
Miniature Poodles weigh 10 to 15 pounds and stand 10 to 15 inches tall.
Standard Poodles weigh 40 to 70 pounds and stand over 15 inches tall.
A Havapoo weighs anywhere between 12 and 45 pounds (the larger weight results from a standard Poodle parent).
She will be 8 to 15 inches tall.
Havapoo Coat
Havanese pups have a light, silky coat that can grow long and wavy. They have a wide variety of colors, including:
black
browns
gold
red
silver
white
blue
and combinations of the colors listed above.
Poodles have a thick, curly coat that is uniform or shaded in a variety of colors, including:
blues
grays
silver
browns
apricots
creams.
The resulting Havapoo coat is long, dense and curly. Coloration is very hard to predict, but there is a large range of options.
Havapoo Temperament
A Havapoo puppy's temperament will depend on its parents.
Responsible breeders are careful to choose parents with desirable personality traits.
Poodle Temperament
Poodle temperament varies with their size.
Standard Poodles are regarded as intelligent, loving and obedient.
They can be shy with strangers and outgoing with familiar people.
Standard Poodles are known to be sensitive to loud or scolding voices.
Miniature Poodles are also shy around strangers. But they are a more fearful, which can lead to aggression.
Other than the distaste of strangers, Miniature Poodles share the rest of their personality traits with their larger counterparts.
And even the skepticism around strangers can decrease with socialization and training.
Havanese Temperament
Havanese are intelligent, outgoing and affectionate dogs. They are also known to be sensitive, like Standard Poodles.
A mix of these two temperaments results in a playful, loving dog that is eager to learn.
Havapoos are known to be social and affectionate.
Luckily, they don't seem to inherit the Miniature Poodle's distrust of strangers.
They may have some of the sensitivity of the parent breeds, so try not to raise your voice around a Havapoo.
As with any breed, a Havapoo should be socialized with humans and other animals at a young age.
This will foster positive personality traits.
Training Your Havapoo
Just like both parent breeds, a Havapoo is intelligent.
In fact, Poodles are regularly ranked among the most clever dog breeds in the world.
Training should be fairly easy with a Havapoo, as it will be eager to please.
Patience is key, especially due to their sensitive nature.
Consistent training using positive reinforcement leads to successful training with a Havapoo.
Our training guides help you through this important process.
In addition to training, make sure a Havapoo gets frequent exercise.
It's an active mixed breed with some moderate energy requirements.
Havapoos need daily walks and adequate playtime.
Since some Havapoos are smaller, make sure not to over exercise them, especially on hot days.
Havapoo Health
A Havanese-Poodle mix's health depends on her parents' health.
Responsible breeders screen for health issues and try to avoid passing any to offspring.
Regular veterinary care is important for ensuring a long, healthy life for a Havapoo.
Here are some common health issues for both parent breeds that may potentially be inherited by offspring.
Poodle Health Issues
The Poodle breed is considered genetically healthy and diverse.
However, Poodles are still susceptible to a number of inherited disorders.
Our Standard and Miniature Poodle guides cover many of these disorders in more detail.
Havanese Health Issues
The Havanese breed also remains genetically diverse and healthy, yet offspring are still at risk for inheriting several health issues.
Cataracts: Loss of transparency of the eye lens
Cherry eye: Prolapse of the third eyelid
Chondrodysplasia: Abnormal growth of cartilage and bone resulting in skeletal dwarfism
Deafness
Hip dysplasia: Abnormal development of hip joint resulting in arthritis or lameness
heart murmurs
Legg-Calve-Perthes disease: Condition causing hip joint degeneration and arthritis
Liver shunt: Causes blood to bypass the liver leading to a buildup of toxins in the bloodstream
Obesity
Patellar luxation: Dislocation of knee joints
Havapoo Health Issues
Havapoos will be at risk for any of the disorders listed above.
A responsible breeder screens potential parents to ensure that these disorders are not passed on to puppies.
Commonly seen health issues in Havapoos include:
Cataracts
Deafness
Legg-Calve-Perthes disease
Hypothyroidism
Patellar luxation
Hip dysplasia
Heart problems
Obesity
Health and Genetic Screening
Health and genetic screening of parent dogs and their offspring are vital to ensuring the health of future generations.
The Canine Health Information Center and Havanese Club of America recommend the following tests for Havanese:
Hip dysplasia
Eye examination
Patellar luxation
Congenital deafness
The Poodle Club of America has a more extensive list of testing recommendations.
Some are specific to Miniature or Standard Poodles.
Reputable breeders should use these tests to screen Havapoo parents and puppies.
Expected Life Span
Havanese have an expected life span of 14 to 16 years.
Poodles can live for 10 to 18 years.
A mix of the two breeds has an expected life span of 10 to 18 years.
Havapoo Grooming
The thick, curly coat of a Havapoo requires regular grooming. Brushing multiple times a week prevents mats and tangles.
The parent breeds shed minimally, and so will a Havapoo.
Owners with minor dog allergies might consider a Havapoo thanks to its low-shedding fur.
If your Havapoo inherits Poodle ears, you'll also want to know how to clean his ears to prevent infections.
Havapoo Feeding
High-quality dog food is more than enough to keep a Havapoo healthy.
A Havapoo may be prone to obesity.
Use healthy treats as training aids and avoid sharing table scraps with your Havapoo to keep its weight healthy.
Do Havapoos Make Good Family Dogs?
Havapoos make an excellent family companion. They're small, fun and relatively easy to care for.
A family should be ready to provide daily exercise and companionship for a Havapoo.
They'll also need to work together to ensure proper training and socialization.
Finding a Havapoo Puppy
We don't recommend purchasing a Havapoo from a pet store or irreputable breeder.
There's a very good chance that it will not only be overpriced, but also unhealthy.
An internet search can lead you to a breeder with a good reputation.
Be sure to inquire about the parent dogs to get a clear look at potential health issues with a Havapoo puppy.
Our Puppy Search guide will help you find a perfect companion.
Raising a Havapoo Puppy
Raising a Havapoo puppy requires time, patience and a lot of energy.
Our Puppy Care guide informs and prepares you for these adorable stages of a Havapoo's life.
Early training and socialization starts a Havapoo off on the right foot.
Havapoo puppies are petite and can be delicate.
Supervision around small children and larger pets is highly recommended.
Havapoo Products and Accessories
We've researched some of the best products for Havapoos and their parent breeds. Here are some recommendations:
Pros and Cons of Getting a Havapoo
Cons
Potential health problems
Requires exercise and play
Needs regular grooming
Pros
Cute appearance
Charismatic
Easily trainable
Similar Havapooes and Breeds
Curious about similar mixed breeds? Here are some to check out:
Rescuing a Havapoo
Adopting a Havapoo from a shelter or rescue organization is something to consider.
Older Havapoos may need a loving home, which takes out some of the challenging puppy work.
Rescued dogs may have uncertain health and behavioral issues.
This shouldn't dissuade you from rescuing but should prepare you for any potential issues.
Havapoo Rescues
Rescue organizations dedicated to Havapoos may be difficult to find.
Poo-Mix Rescue is a good place to start.
Search organizations that specialize in the parent breeds for a better chance of finding a Havapoo in need of a good home.
Feel free to add your Poodle or Havanese rescue organization in the comment section below.
United States 
Canada
United Kingdom
Australia
Is a Havapoo Right for Me?
Havapoos make wonderful pets.
If you are looking for an intelligent, loveable companion that may need socialization training, you're in luck.
There are health issues that should be taken into consideration.
However, a Havapoo can be a healthy, active dog and live more than a decade.
References and Further Reading:
Farrell, L.L., et. al., 2015, "The Challenges of Pedigree Dog Health: Approaches to Combating Inherited Disease," Canine Genetics and Epidemiology
Gurthie, M., 2018, "Havanese — A Complete Guide to the Cuban Pint-Sized Pup," The Happy Puppy Site
"Havanese," American Kennel Club
Lubin, G., 2017, "Here Are the 'Smartest' Dog Breeds, According to a Psychologist," Business Insider
Pedersen, N., et al., 2015, "The Effect of Genetic Bottlenecks and Inbreeding on the Incidence of Two Major Autoimmune Diseases in Standard Poodles, Sebaceous Adenitis and Addison's Diseases," Canine Genetics and Epidemiology
"Poodle," American Kennel Club
Riffee, C., 2018, "Miniature Poodle—The Clever and Curly Companion," The Happy Puppy Site
"The Standard Poodle," 2016, The Happy Puppy Site