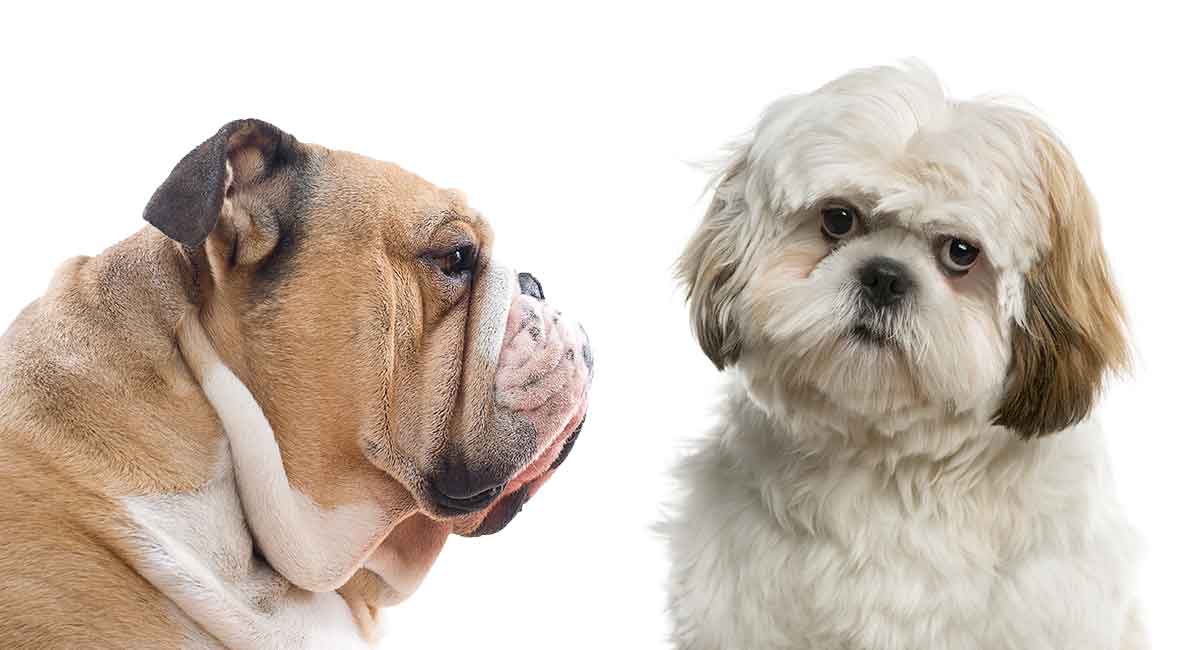 The Bulldog Shih Tzu mix combines the chunky Bulldog and the long-haired Shih Tzu.
They look very different at first glance, and there can be a lot of variation among Bulldog Shih Tzu mix puppies.
The qualities a mixed breed dog inherits from each parent might only become apparent when they are grown up.
Where Does the Bulldog Shih Tzu mix Come From?
As what's known as a mixed breed, the Bulldog Shih Tzu mix doesn't have a long history like the parent breeds.
As a result, it can be tricky to predict exactly how one of these puppies might turn out.
The best thing to do is to find out more about both the Bulldogs and the Shih Tzu as separate breeds.
So first, let's take a look at the Bulldog and Shih Tzu breeds.
Shih Tzu History
The Shih Tzu, whose name translates as "lion dog" hails from ancient China, where the breed was created by breeders working for the Chinese Emperor.
Two Tibetan breeds, the Pekingese, and the Lhaso Apso are thought to be the forebears of the Shih Tzu.
For many centuries, no one outside of China knew that this little breed of dog existed.
By the 1930s, the Shih Tzu became known outside of China, and by 1969 they had been included in the stud book of the American Kennel Club.
Bulldog History
As the name of this breed implies, the Bulldog was bred to bait bulls. This was once thought of as a sport in 13th Century Britain.
When this practice was banned in 1835, the breed was in danger of dying out. Bulldog enthusiasts worked to create a dog more suited to a family environment.
The Bulldogs appearance has changed significantly since then. For example their muzzles became far shorter. They were accepted into the American Kennel Club in 1886.
Now we know a little more about the history of both these breeds, let's take a closer look at the result of breeding them together to create the Bulldog Shis Tzu mix.
This is what's known as a mixed breed, and this process of crossing two pedigree breeds can cause debate.
Purebred or mixed breed?
Mixed breed dogs are also sometimes called "designer" dogs. These dogs are the result of breeding two different pedigree dogs together.
Designer dogs tend to provoke reactions.
One of the arguments in favour of mixed breeds is that it helps to create what's called "hybrid vigor".
This refers to the fact that mixing the gene pools of different pedigree breeds usually results in an increase in the health of any resulting puppies.
However, there are supporters of pedigree dogs whose opinions differ. They say that by limiting breeding to closed registers and selective breeding, it's easier to guarantee the temperament and health of purebred pups.
Bulldog Shih Tzu mix Appearance
As a mixed breed, it can be hard to predict the appearance of your Bulldog Shih Tzu mix. The best thing to do is to become familiar with the average size, weight, and height of both the parent breeds.
This will give an idea of what you can expect with your mixed breed pup.
Shih Tzu Appearance
Shih Tzus belong to the toy category, and as such they're pretty dinky! They have a high head-carriage, and sturdy body.
They usually weigh between 9 – 16 pounds, and stand at a height of 9 – 10.5 inches tall.
Shih Tzu Coat
The coat of the Shih Tzu is one of their most distinctive features. Their double coat is thick, long, and often reaches all the way to the ground if allowed to grow!
In terms of color, there is a huge variation within this breed. In fact, the breed standard mentions that all colors are permissible.
Bulldog Appearance
Bulldogs belong to the non-sporting group, and are medium sized, but super chunky.
Males weigh up to 50 pounds, and females slightly lighter at 40 pounds.
Both males and females stand at 14 – 15 inches high.
Bulldog Coat
The coat of a Bulldog is short and fine. Again, there are many permissible colors, although not unlimited like the Shih Tzu. Colors mentioned in the Bulldog breed standard are:
Fallow
Fawn
Brindle (fawn or red)
White
Red
Any combination of these colors is allowed. In terms of markings, these can include black mask or tips, ticking, piebald, and white markings.
Combined Appearance
Due to the difference in appearance of these two breeds, it can be difficult to predict exactly how any mixed puppies may turn out. It's possible for them to inherit any combination of their parent's appearance.
So if you love the long and luxuriant coat of the Shih Tzu parent dog, be aware that your puppy could end up with the short coat of their Bulldog parent.
Bulldog Shih Tzu mix Temperament
As with many of their other characteristics, you'll likely find that the temperament of your Bulldog Shih Tzu puppy will be a blend between the two parent breeds.
The Shih Tzus temperament is usually laid-back yet friendly. They enjoy human company, but on their own terms.
One thing to bear in mind is that it's very important to socialize your Shih Tzu correctly. They can have a tendency to be a little snappy, or growl, when they want to be left alone.
One study found Shih Tzu bites were more frequent in children aged three and under. It does mention that this could be due to children provoking aggressive behaviour, but it's certainly worth noting this increased risk.
Bulldogs are calm, confident and friendly. They have a definite playful streak, but they can be stubborn too! Despite the Bulldogs past as a baiting breed, they're generally thought to be a non-aggressive breed.
Shared Traits
Both breeds enjoy spending time with their families, and don't like being left alone for long periods of time.
Given that the parent breeds temperaments are similar, this means your pup is also pretty likely to share these characteristics.
Training Your Bulldog Shih Tzu mix
Don't let the laid-back temperament of the Shih Tzu fool you, as they can be a challenge to train. Because of their small size, some owners allow these little dogs to become slightly spoilt!
Bulldogs can also be strong-willed and stubborn, meaning you'll need to keep up regular training sessions.
These traits can lead to a dog which is ultimately harder to manage. We recommend using positive, rewards-based training to build up a good relationship with your pup.
Training: Where to Start
Socialization is vital for any breed, but particularly Shis Tzu mixes.
Crate training is a good way to make sure your pup has a safe place to hang out, either when you're out of the house or have visitors.
As both the Bulldog and Shih Tzu have a brachycephalic face shape, it's vital you don't exercise them too much in hot weather. This can cause them to overheat, and have trouble breathing.
Swimming is also a no-no for your mixed breed puppy, as their face shape makes it impossible for them to swim effectively.
Bulldog Shih Tzu mix Health
As we've touched on briefly, it's very important to be aware that both the Bulldog and the Shih Tzu have flat, or brachycephalic face shapes.
This leads to a wide range of health issues including:
Brachycephalic ocular syndrome
Overheating
Dental issues
We highly recommend reading our full article on brachycephaly in dogs for more information.
In addition to the problems caused by their brachycephalic face shape, Bulldogs and Shih Tzus can suffer from a range of other health issues.
Other Health Issues
Bulldog Shih Tzu Mix Lifespan
By taking a look at the average lifespan for each of the parent breeds, we can get an idea of how long a mixed breed puppy can be expected to live.
Bulldogs live for an average of 6 – 8 years, and Shih Tzus for 10 – 18 years.
Bulldog Shih Tzu Mix Grooming & Feeding
The grooming requirements of your Bulldog Shih Tzu mix puppy will depend on the sort of coat they inherit from their parents.
If they end up with the long coat of the Shih Tzu, they will need brushing daily, plus a bath once a month. You may opt to have their long coat trimmed, which makes daily maintenance much easier.
If your pup has the shorter coat of the Bulldog, a quick brush once a week will be enough to keep them looking sleek.
Feeding
Because of their brachycephalic face shape, if you choose to feed kibble to your Bulldog Shih Tzu puppy, you'll need to make sure they can pick it up.
Kibble which is triangular, or oddly shaped, is easier for flat-faced dogs than rounded kibble.
You'll also need to brush their teeth daily.
Do Bulldog Shih Tzu mixes Make Good Family Dogs?
While the temperament of a Bulldog Shih Tzu mix puppy may be adorable, there's plenty of other considerations to bear in mind.
The combined health issues of both parent breeds, means your pup is very likely to suffer from a range of health complications.
While they may look cute, veterinarians agree that BOAS can not only affect the quality of life of your dog, but it can be life threatening.
Added to this, your pup may also end up suffering from Intervertebral Disc Disease. This means could be looking at some very costly vets bills.
Due to these health problems, we wouldn't recommend bringing a Bulldog Shih Tzu mix pup home to join your family. But, there is another option.
Rescuing a Bulldog Shih Tzu mix
Choosing to rescue an older Bulldog Shih Tzu mix is an excellent idea.
You can still enjoy the attributes of this mix without encouraging further breeding.
While you won't find any dedicated rescue centers for this mix, you can register your interest with rescue centers in your local area.
They may well have a Bulldog Shih Tzu dog looking for a loving forever home.
Finding a Bulldog Shih Tzu mix puppy
If you do have your heart set on a Bulldog Shih Tzu mix puppy, it's so important to do your research.
Talking to a breeder is a good idea. You can make sure you meet the parent dogs of any litters you're interested in. Also, you can get a better idea of how your pup may look like when fully grown.
Any reputable breeder will be happy to speak to you about the health tests they carry out.
Mixed breeds are becoming more popular due to their wide range of appealing characteristics.
Pros and Cons of Getting A Bulldog Shih Tzu Mix
Here's a few pros and cons to help you make up your mind.
Pros:
Loving personality
Doesn't need much exercise
Cons:
Potential for major health issues
Doesn't like being home alone
Similar Bulldog Shih Tzu Mixes and Breeds
The Staffordshire Bull Terrier is a good alternative, or consider the Border Terrier.
Another healthier option is the Husky Poodle Mix. And another interesting mix to look at is the Pitbull Corgi mix!
Or you could take a look at the Australian Shepherd Corgi mix!
Bulldog Shih Tzu mix Rescues
We couldn't find any rescue centers dedicated to this particular mix, but try those that focus on the parent breeds, including:
USA:
UK:
Canada:
If you know of any others, please mention them in the comments and we'll add them to our list!
Is A Bulldog Shih Tzu mix Right For Me?
Usually, mixed breeds are known to be healthier than their pedigree counterparts.
In this case, unfortunately, the Bulldog Shih Tzu mix is a bit of an exception to that rule.
The wide range of health issues these dogs are likely to suffer from means that it's kinder to consider a different breed, or rescue an older dog.
References and Resources
Brachycephaly in dogs: what it means to be a brachycephalic puppy. The Happy Puppy Site.
Hendricks. (1992). Brachycephalic Airway Syndrome. Veterinary Clinics of North America: Small Animal Practice.
Itoh, et al. (2008). A retrospective study of intervertebral disc herniation in dogs in Japan: 297 cases. Journal of Veterinary Medical Science.
Ramgopai, et al. (2018). Dog bites in a U.S. county: age, body part and breed in paediatric dog bites.
Stafford. (2011). Opinions of veterinarians regarding aggression in different breeds of dogs. New Zealand Veterinary Journal.
Ryan et al. (2017). Prevalence of thoracic vertebral malformations in French Bulldogs, Pugs, and English Bulldogs with and without associated neurological deficits. The Veterinary Journal.
Screw Tails and Hemivertebrae. The Happy Puppy Site.
Houston et al. (2004). Canine urolithiasis: a look at over 16,000 urolith submissions to the Canadian Urolith Centre from February 1998 to April 2003. The Canadian Veterinary Journal.
Emmerson. (2014). Brachycephalic obstructive airway syndrome: a growing problem. Journal of small animal practice.
Get Pippa's free dog training tips delivered to your inbox