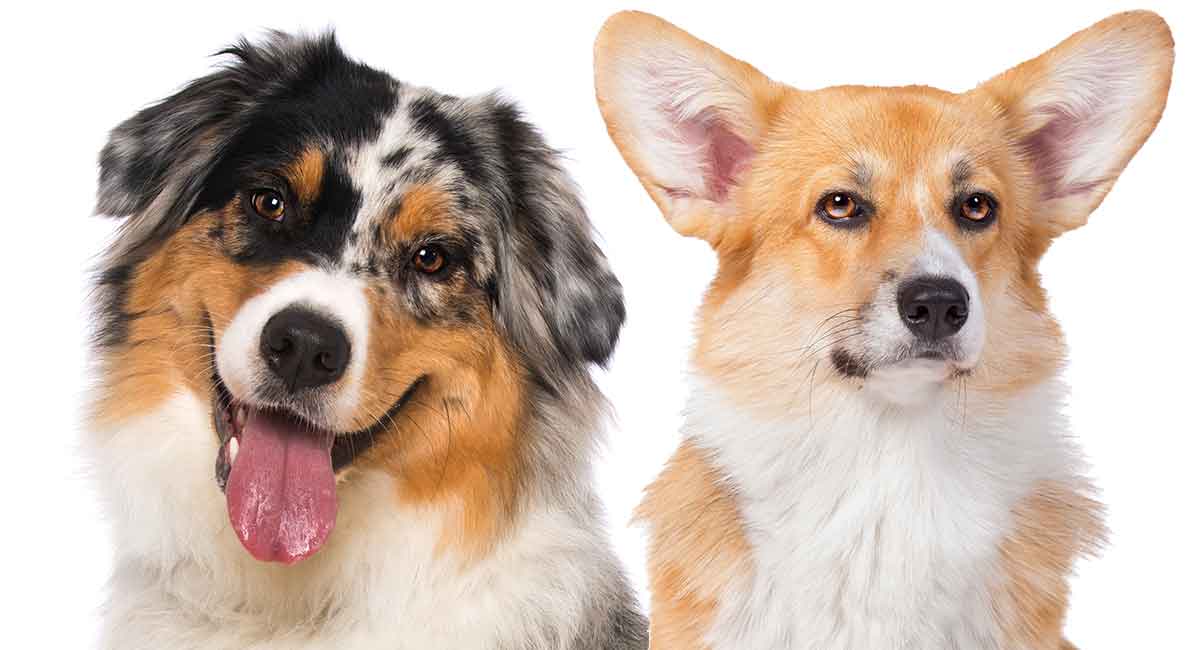 The Corgi Australian Shepherd mix is charming, social, and a sharp-minded ball of high-octane doggy energy. This family dog lives for fun and active adventures with its human pack.
Despite this dog's many charms, it's important to point out right away that the Corgi Australian Shepherd mix is not for everyone.
Before bringing this cute pup into your home, there are a few issues you need to consider, particularly relating to its health and training needs.
So let's dive in and look at the Corgi Australian Shepherd mix, and see if we can shed some light on whether this is the right dog for you.
Where Does the Corgi Australian Shepherd Mix Come From?
This breed was developed from two well known breeds: a Corgi and an Australian Shepherd. Let's take a closer look at where each of these came from
Corgi History
The Corgi is an ancient breed. While we know it was popular throughout Europe, we're unsure of when it gained its distinct breed characteristics.
This small yet fierce dog was bred to herd cattle. Corgis nipped at a cow's heels and darted quickly out of the way. It's not all that surprising then that the Corgi is nimble, brave and approaches life with lots of energy.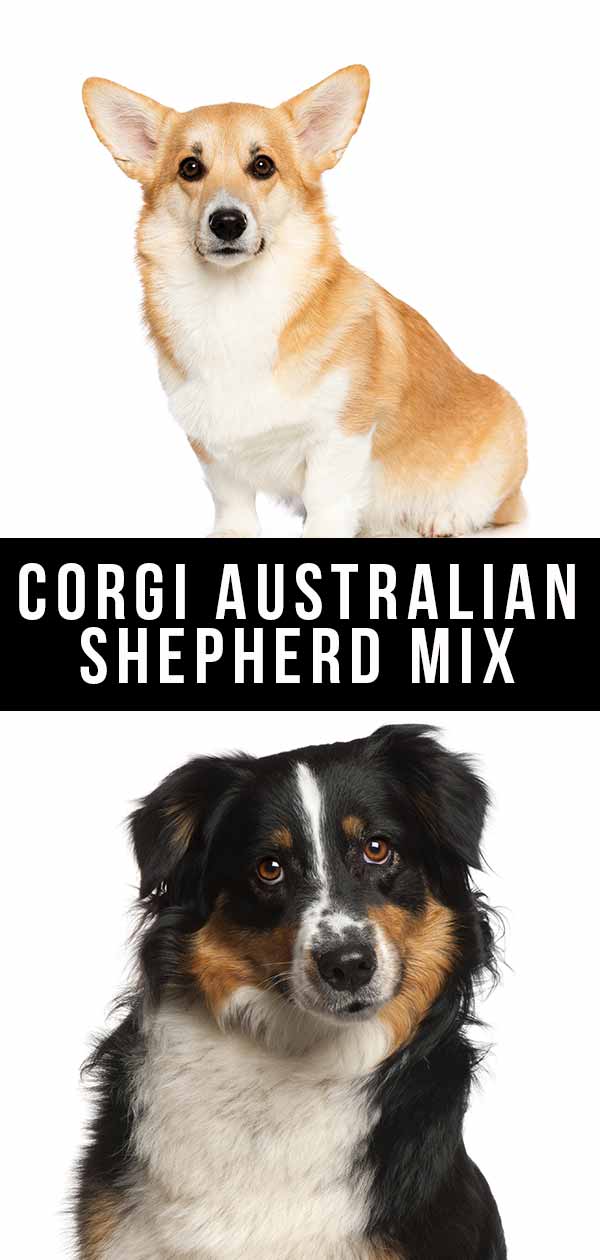 Australian Shepherd History
The Australian Shepherd is a medium sized dog with a history as a European herding breed. Admired for its sharp mind and unwavering obedience, these dogs were later used extensively by ranchers in California in the 1800s.
Like the Corgi, the Australian Shepherd is an agile and brave dog. It also brings a tireless work ethic and a rugged, burly physicality.
Combine these two strong breed ingredients together, and you get the Corgi Australian Shepherd mix. A mentally tough, active and willful dog that forms a strong bond with its human family.
Fun Facts About the Corgi Australian Shepherd Mix
Here are two odd facts about the Corgi Australian Shepherd mix's parent breeds. These are fun conversation pieces when people ask about where this adorable breed came from!
According to Welsh legend, Corgis are an enchanted dog, greatly revered by fairies and elves. Legend has it they were even used as noble steeds to carry fairies and elves into battle. That has to be a good conversation opener!
Australian Shepherds don't actually come from Australia. Californian herders of the 1800s simply assumed they were an Australian breed.
In truth, they hail from the Pyrenees Mountains in Europe. They owe their unique hardiness to an ancient breed of herding dog known as the Pyrenean Shepherd.
Corgi Australian Shepherd Mix Appearance
The Corgi Australian Shepherd mix is a small dog, standing from 10 to 13 inches tall. The healthy range of weight for this breed is between 20 and 30 pounds.
Shape
The Corgi Australian Shepherd mix usually has a slightly rounder head than a Corgi. It will also likely have longer legs. This is no doubt a result of the breed's Australian Shepherd ancestry.
Coat Type & Color
The mix breed always has a double coat, like both of their parents. Grooming can be a little more work than single coat dogs. The coat is usually full (just inviting a friendly scruff) and typically will be a combination of black, white and brown.
Defining Characteristics
The Australian Shepherd Corgi mix is an unusual yet attractive dog. It's undeniably cute without seeming fragile. It is small but athletic with a work drive that puts much larger dogs to shame.
But, whilst we can predict some qualities, like their double coat, and make generalizations about other features with confidence, it's important to remember that crossbreed offspring of two different pedigrees can have highly variable looks.
Be prepared for a Corgi Aussie mix to turn your completely upend your expectations as they grow into their looks!
Corgi Australian Shepherd Mix Temperament
Watching the Corgi Australian Shepherd mix at play, it only takes a moment to see that tough, headstrong personalities can come in small packages. This is not a lapdog.
Like both their parents, the Corgi Australian Shepherd mix is sure to be very active. So, your family will need to be similarly active to keep up with this dog's play demands. You can bet that if this mix gets bored, they'll let you know about it!
It's unlikely a Corgi Australian mix will be happy cooped up in a small apartment. They'll push their boundaries, seeking bigger challenges, different places to explore and new games to keep their sharp minds ticking over. If you're unable to deliver such stimulation, they'll likely go and find it for themselves.
If you can keep up, this mix is likely to be a perfect fit. Both parent breeds settle in well to households with older children who can help you provide the hours of engagement they need.
Coming from two strong herding breeds, the Corgi Australian Shepherd mix will need extra supervision around small children and other pets. It is likely that they will try to round up anything small and running. They may do this by blocking their way, barking and nipping at their heels.
Training Your Corgi Australian Shepherd Mix
For generations, the Corgis and Aussies most prized for breeding were those which could work confidently alongside their human handlers and learn a wide range of commands.
This means their mixed breed offspring are also likely to possess a quick mind which readily seeks out cues from its human owners. They're going to be responsive, adaptable and charmingly observant.
So, you might assume the Corgi Australian Shepherd mix is a snap to train. Unfortunately, the training process is not always straightforward.
While their prodigious intelligence most definitely works in the breed's favor, their headstrong personality and tendency for boredom might mean you'll need to be creative.
Training Tips
Here are some important foundations for teaching any highly active herding breed:
Work with, rather than against, your dog's temperament and personality.
Start training only when your dog has been well-exercised.
Always give bucketloads of positive reinforcement when warranted.
Strive to find fun and creative ways to keep training fresh and interesting.
Corgi Australian Shepherd Mix Health
It's unlikely an active dog of this breed will become obese. But, in older age you may have to manage their diet for weight control.
There are various health problems a Corgi Australian Shepherd mix may experience in his lifetime. Here are the most prevalent conditions.
Drug sensitivity
The breed may be susceptible to allergic reaction to certain drugs or drug combinations.
Spine problems
Owing in large part to the breed's Corgi ancestry, Corgi Australian Shepherd mix dogs are more susceptible to a couple of spinal issues.
These are intervertebral disc disease (spinal disc damage) and degenerative myelopathy (a more serious spinal degenerative condition which can ultimately cause paralysis).
Eye problems
The breed may experience cataracts and other ophthalmic conditions. These are typically most pronounced later in life.
Hip and elbow dysplasia
Both parents are prone to inherited malformation of the hip and elbow joints. This can progress to painful arthritis and lameness in the affected limbs.
Good breeders will be candid about incidences of any of these problems in their puppies' family tree.
They will also show you the result of hip and elbow assessments and eye exams for both parents.
Lifespan
Based on the observed life expectancy of their parents, the lifespan of a Corgi Australian Shepherd mix is typically between 12 and 15 years.
Grooming & Care
Throughout this dog's life, you'll need to pay close attention to grooming its coat. This coat may be prone to becoming tangling and matting.
Also, because the breed is both small and unusually brave, it's important to keep these dogs safe from encounters with much larger animals. They aren't good at assessing their own limits!
This is a longer-backed dog. As a result, caution needs to be taken to ensure its spine is not twisted or wrenched during play or when picked up.
It's also important to make sure a Corgi Australian Shepherd mix isn't given free rein to leap from a height to the ground. They're a fearless dog and may have a tendency to take physical risks their little bodies aren't ideally suited to handle.
Do Corgi Australian Shepherd Mixes Make Good Family Dogs?
Corgi Australian Shepherd mixes can make great family dogs. Their loyalty, friendly demeanor and love of play can make them a perfect addition to an active family.
But, to reiterate the earlier point, these are not lap dogs. This breed needs to be active. So the first question to ask yourself is if you have the lifestyle to match this dog's demanding temperament. It'll likely also help if you've had prior obedience training experience.
The Corgi Australian Shepherd mix is quick to learn. But they can leave a novice dog trainer feeling out of their depth!
There's also the health of this breed to consider. If you opt to find your puppy through a breeder, it's important to ask the breeder questions about the health and disposition of their dogs. Be sure to check (and gain certificated paperwork) that the puppy is free of genetic problems.
You're also entitled to meet the puppy's parents, and it's always a good idea to do so. Visually checking their condition may give you some important clues about potential health issues their progeny may one day face.
Rescuing a Corgi Australian Shepherd Mix
Finding a rescue is always a good option. There are so many beautiful dogs out there in need of a home. So finding your next furry family member in a shelter is an ethical and compassionate move your family should definitely consider.
Getting started with your rescue operation is simple. All you need to do is google for dog shelters in your area and inquire if they currently have a Corgi Australian Shepherd Mix in need of a new home.
Finding a Corgi Australian Shepherd Mix puppy
Provided you're happy to wait a little (after all, this is a family member you'll likely have in your lives for years to come!) finding a Corgi Australian Shepherd mix puppy should not pose a challenge. Like most mixes, this is a popular type of dog. With just a little planning and research, you're likely to be spoiled for choice.
The key is to ask questions and pay close attention to what breeders and shelters are (and aren't) telling you. If you can understand a puppy's temperament and physical condition before making a final decision, you're more likely to make good choices.
And of course, avoid buying puppies from pet stores and puppy mills at all costs. You don't know what you're getting, and the puppy mill industry causes misery and hardship among doggy kind.
Staying ethical gives you the greatest chance of having a happy and healthy furry addition to your home.
Raising A Corgi Australian Shepherd Mix Puppy
These fluffy little guys are headstrong and active! Be sure you're the best parents you can be by informing yourself.
Pros and Cons of Getting A Corgi Australian Shepherd Mix
Cons:
The Corgi Australian Shepherd Mix is prone to some congenital health problems, most notably spinal conditions and hip dysplasia.
They're also headstrong and demanding. So, they're not ideal for less active people, those inexperienced with training dogs, or people with limited indoor and outdoor space.
Pros:
This is a smart and loving dog with a lot of energy.
They also have a great temperament with older kids.
Similar Corgi Australian Shepherd Mixes and Breeds
If you're unsure this mix is a good fit for your family, take a look at these alternatives:
Border Collie-Australian Shepherd mix
Husky Australian Shepherd mix
Pomeranian Australian Shepherd mix
Boxer Australian Shepherd mix
Corgi Australian Shepherd Mix Rescues
Here are some shelters where you may, from time to time, find a Corgi Australian Shepherd Mix. But there are many shelters. If you know of other rescues that should be added to this list, please help our community out by dropping their details in the comments thread below.
USA
UK
Canada
Is A Corgi Australian Shepherd Mix Right For Me?
Which brings us to the most important question! Is a Corgi Australian Shepherd mix right for you and your family? Of course, there's no simple answer here.
For so many of us, knowing when you've met your new best friend is as much a matter of forming an emotional connection as it is of carefully weighing the pros and cons.
But, if you are considering a Corgi Australian Shepherd mix, it's important to consider some of the health, activity and training challenges you will likely face.
If you feel these are issues you're ready to face hand-in-paw with your pet, then a Corgi Australian Shepherd may be right for you.
Do you already live with a Corgi Aussie mix dog? Tell us about them in the comments box!
References and Resources
Get Pippa's free dog training tips delivered to your inbox