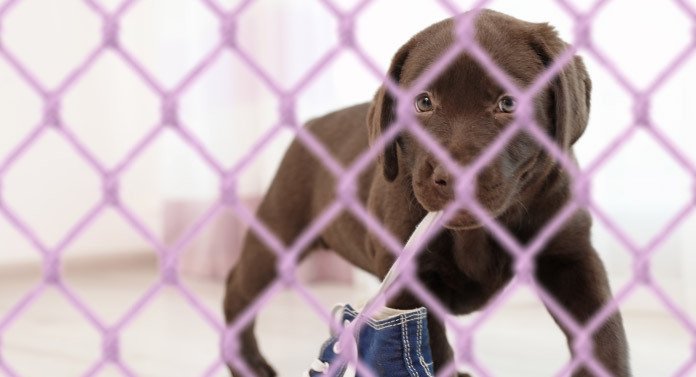 Working out how to potty train a puppy while working full time is a real challenge.
But it's one that you can get to grips with, as long as you have the right planning, schedule and help.
Once your puppy is older and you have everything in place, working around a dog can be easier than you'd think.
But at this early stage it's crucial to ease them into being left, and to never leave them alone for too long.
How to potty train a puppy while working full time
It's important to have a great plan in place if you plan to raise a puppy when you work full time.
This will involve working from home, doggy day care, or a dog sitter/quick visits home for a while.
Your method of potty training your puppy will depend on which of these options you are choosing for your new arrival.
How to potty train a puppy while working full time from home
Working from home can cause some unexpected problems, because these two very different parts of your life aren't always compatible.
If you have a flexible boss and schedule, then you can use standard potty training methods when you work from home.
These involve letting your puppy out at very frequent intervals, close supervision, and crate training.
This is by far the quickest way to get a puppy clean in the house, but it also demands quite a lot of your time.
Which when you are meant to be working, just isn't always possible.
Time management
One option is to ask about working flexible hours.
If you have an understanding boss and rota that isn't constrained by meeting times, then this allows you to effectively elongate your working day.
You won't be doing more work, but will be making up the time lost to puppy care and supervision.
Can't shape your working day around your puppy?
Then your best bet is to act in the same way that you would if you were only able to pop home periodically.
Potty training a puppy while working full time nearby
If you live near to your home, you might be planning to pop in throughout the day to take care of your puppy.
Or to have a friend or relative do the same.
This set up can work well when your puppy is a few months old.
But they will still need you to stay home for an absolute minimum of two full weeks when they first come home. Ideally four.
An eight to twelve week old puppy will need to be let out for a pee at approximately every two hours.
And again after each meal.
But many can only go for twenty minutes between pees when they first arrive home.
Tiny puppies need company and reassurance, as well as pee breaks too!
By three to four months, they are more settled and a little more able to hold their bladder.
You will be able to leave them for two to three hours at this point, as long as they are in the right place.
Puppy pads, playpens and crate time
When you can't be with, or supervising, your puppy, you need a good set up.
An area that they can't hurt themselves in, and where they can relieve themselves hygienically.
You will need:
A puppy playpen
A puppy crate
Veterinary bedding
Puppy pads
Some owners worry that puppy pads are bad for potty training, but while this method can be a little slower it's no less useful.
And essential in fact, if you have to be away from them for an hour or more at a time.
Crate training
Don't shut your puppy inside the crate until they are crate trained.
This means spending time getting them used to their cosy den, which is covered in detail in our online Puppy Parenting course.
But you can leave an open crate in a puppy playpen without crate training.
Line the crate with veterinary bedding, as it fits perfectly and is easy to wash.
And cover the floor of the playpen in puppy pads.
Your puppy is unlikely to pee in her bed if she has access to a separate area.
This setup will allow your puppy to be safe and comfortable when you are gone, and you can focus on potty training during the time you are together.
Potty training a puppy that goes to doggy day care
Doggy day cares vary hugely.
Some are essentially big outdoor kennels, with fields for exercising and shelters for harsh weather.
Others are entirely indoors, and set up more like a family home. With kitchens they can access, as well as artificial grass.
And their approach to dog care varies too.
Ask them lots of questions
Some doggy day cares will be happy to get on board with your potty training routines, but many will sadly just not have the time to do so.
In this case you'll need to agree between you what approach to take.
If they are largely outdoors they might not mind that your pup isn't potty trained yet, as it won't matter where he does his business.
Then when you get home it's important you follow a careful potty training routine.
This means a tight schedule and lots of supervision when you and your dog are together in the mornings, evenings and weekends.
And a solid plan for crate training at night too.
Along with trying to relax about what happens in day care!
How to potty train a puppy while working full time
When you work full time, it can be hard to balance life with a puppy. But it is not impossible.
You just need to be prepared to dedicate yourselves to their schedule and routine for a while when you are together.
And to have a rock solid plan for supervision in place when you are not.
The general do's and don'ts of puppy potty training still apply.
And as long as you are ready for some hard work for a little while, your puppy will be just as well house trained as the next dog in a few short months.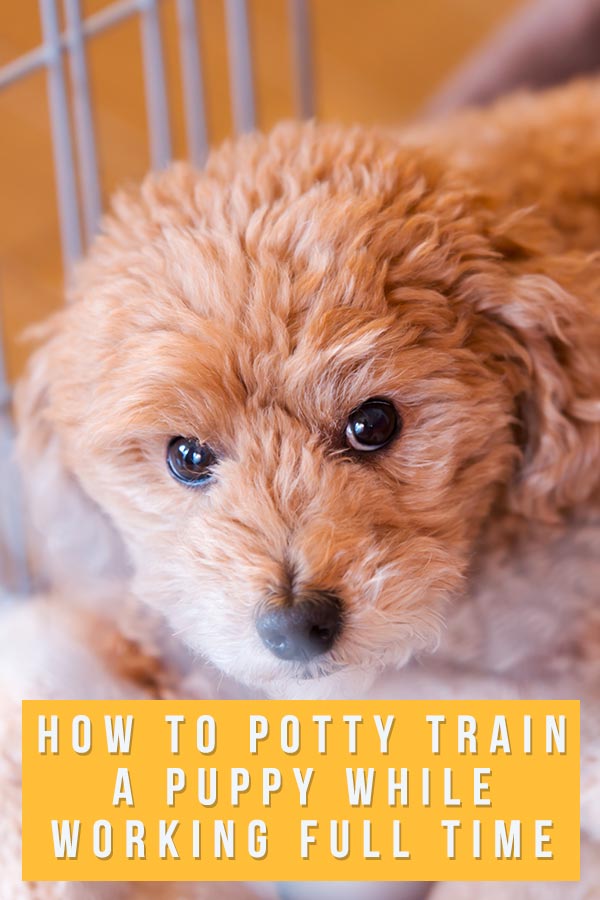 Get Pippa's free dog training tips delivered to your inbox