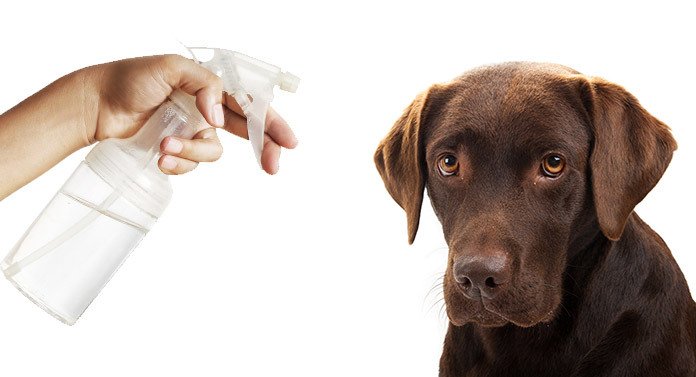 Can you use a spray bottle to train a dog? Is it an effective and kind method of teaching them?
You can use a spray bottle to train a dog not to do certain things, in close proximity to you, in limited circumstances.
But as a general training tool, we really don't recommend it.
There are far more effective ways to train a dog.
Let's take a look at the issues with using a spray bottle.
How do spray bottles work in dog training?
A spray bottle is used by some people in dog training as a punisher.
A negative consequence intended to make a behavior less likely to be repeated.
The dog does something that you don't like, so you take a bottle and spray them with a short burst of water.
This is meant to deter them from doing it again, because it's unpleasant.
In order for it to work, the dog has to find the experience upsetting enough that it's not worth risking it being repeated.
Pros and cons of trying to train a dog with a spray bottle
The cons of trying to train with a spray bottle vastly outweigh the pros, but it is not without its benefits when compared with some methods.
Pros
One of the least harmful forms of punishment used in dog training
Can't physically hurt the dog
Requires little knowledge or time on the part of the owner
Cons
Only works nearby
It functions upsetting your dog
Dogs get used to it
Only used to stop a dog doing something, not to teach him to do something
The potential benefits of using a spray bottle to train a dog
If you are wedded to the idea of traditional training, where the dog is taught to obey through fear of negative consequences then a spray bottle is one of the milder options out there.
It is not possible to physically hurt your dog with it like a shock collar does, and it is probably more annoying than scary to most dogs.
To use it to teach a dog not to do something all you need to do hypothetically is to spray them with it when they do that thing.
Which makes doing it again far less appealing, when they realise that will be the result.
Unfortunately, any of these potential benefits are massively outweighed by the downsides.
The problems with using a spray bottle to train a dog
A spray bottle can only deter a dog from doing something when they know you are nearby, and that you are holding that bottle.
It works to deter them from doing the thing you don't like, because they don't like it.
But while being sprayed with water is surprising and unpleasant, it's not that bad.
Which means that either the dog will decide it's worth the risk, or that they will simply get used to it.
Some dogs even like playing with the jet of water…
On the flip side, if they don't like it then what you are doing to stop your dog is upsetting them.
This makes them associate being with you with something unpleasant.
And could decrease the trust they have for you and the bond they maintain with you as a result.
It's hard to relax in someone's company when you don't know when they might whip out a spray bottle and squirt you.
Sensitive dogs that are upset by being sprayed, might well actually be a little frightened too.
Which no one wants for their valued companion.
Do spray bottles work?
Aside from the unpleasant implications of punishment in dog training, another issue with a spray bottle in particular is its limitations.
It can only be used when the dog is near you, and it can't encourage them to do a thing you want them to do.
Only to not do something specific.
There are a million ways to get 'sit' wrong – standing up, sitting down, lifting their butt up.
And only one way to get it right.
Rewarding them for the correct action is far simpler than correcting every way of getting it wrong.
Can you use a spray bottle to train a dog?
Technically speaking you can use a spray bottle to train a dog not to do certain things.
But, I don't think you should.
There are much better ways to train a dog.
Methods that are more effective, work in a broader range of scenarios and don't involve scaring or upsetting your friend.
What should you use instead?
The very best way to train is by using positive reinforcement.
To increase the likelihood of a behavior being repeated, by letting the dog know exactly what made you happy, and rewarding them accordingly.
In clicker training you identify the behavior you liked for your dog by marking it with a 'CLICK' sound from a little metal or plastic box.
You then follow that marker up with a treat, to motivate your dog to want to do it again to earn another reward.
Training with kindness instead of fear is brilliant, for several reasons.
Unlike punishment based methods, these make your dog even more attached and bonded to you.
They make training a pleasure for you both.
And we learn faster and more effectively when we are encouraged when we get something right, rather than discouraged when we get it wrong.
Where to start training
If you've never trained using positive methods before, then our online Foundation Skills course is a great place to begin.
You'll learn how to use the clicker to teach your dog some simple games using a mat.
When you've got to grips with the techniques, you will have the knowledge you need to go off on your own.
You will be able to apply the skills you've learned to any other dog training skill you can imagine!
Can you use a spray bottle to train a dog
It is entirely possible to use a spray bottle to teach your dog not to do something.
But using it to train them to follow your commands in general is just not possible.
Fortunately, there are some great modern methods we can use to train our dogs.
And they use fun, and not fear, to get a much better result.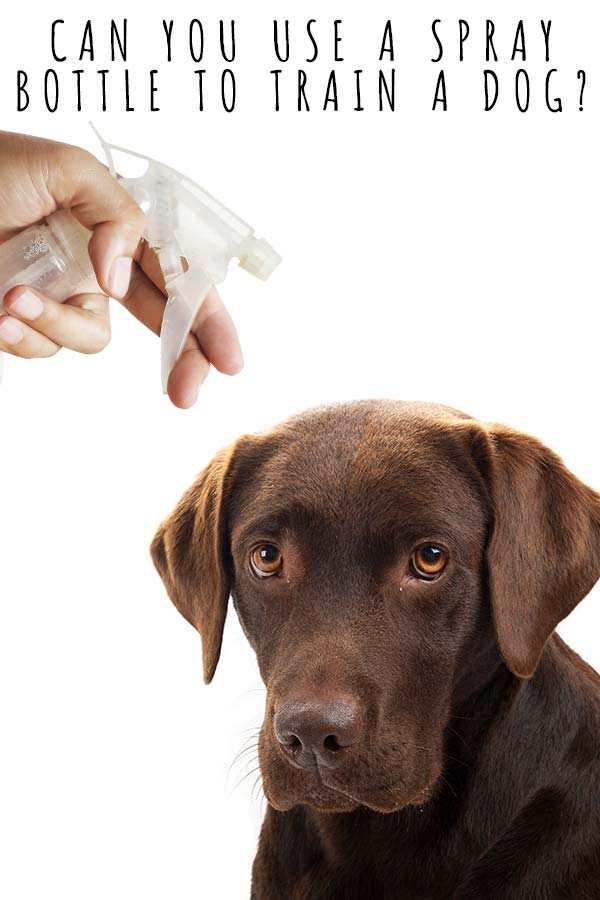 Get Pippa's free dog training tips delivered to your inbox