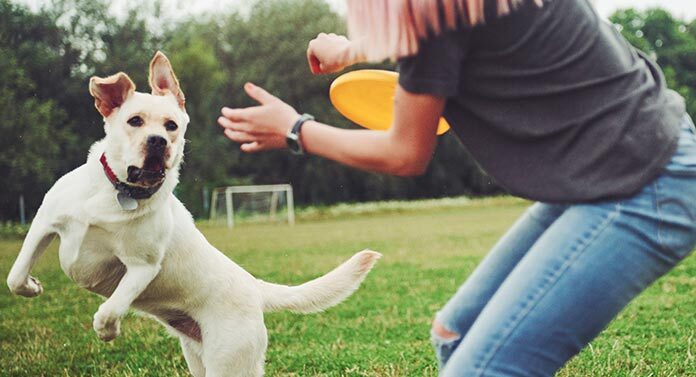 The most playful dogs breeds – who invite their human family to play games the most often – are members of the Sporting group.
This includes Labradors, Golden Retrievers, German Shorthaired Pointers, and Cocker Spaniels.
But all dog breeds are playful in their own way, and seek out human play partners to a degree.
Playful Dog Breeds List
All domestic dog breeds engage in play behavior, especially as puppies.
These fifteen dogs are among the most fun-loving of all.
We'll meet them all properly in a moment.
But since all dogs play, how did we differentiate the most playful dog breeds?
Playful Dogs
All mammals are playful as infants. But domestic dogs are one of the few species which remain playful as adults too.
This is likely to be the result of selective breeding by humans for dogs which remained endearingly puppyish throughout their lives.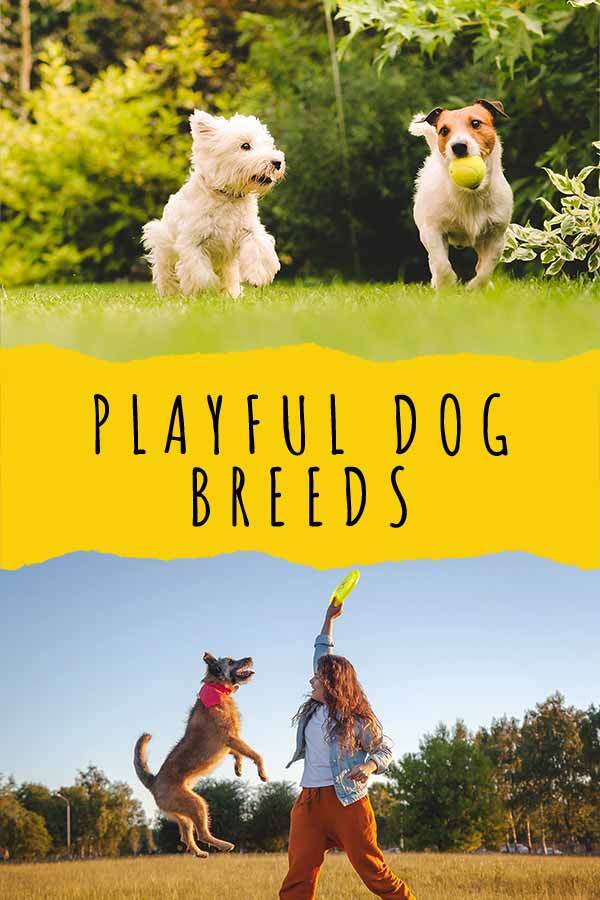 When dogs play, it's not just frivolous behavior. It improves their motor skills and creates social bonds with people and other dogs too. And it makes them feel good!
When dogs play with their owners, they behave in a distinct way from how they play with each other.
They also find playing with humans and other dogs uniquely rewarding in their own separate ways.
Which means getting a second dog to keep your playful first dog company doesn't mean your first dog will demand any less of your attention!
Playing With Your Dog
Dogs are more attentive and obedient when we make time out to play with them.
Differences in human and canine body language mean we're not always accurate at recognizing each other's invitations to play though!
Puppy parents often misinterpret ferocious growling, biting and full-body play as early and alarming signs of aggression. When in fact, they're completely normal puppy play behaviors.
And us humans often invite our dogs to join in a game by patting our legs or the floor, which alas means very little to our dogs!
Dogs looking to play usually brace their front legs out in front of them, with their butt up in the air – known as a play bow. They might bounce their front paws up and slap them back down again, to show you how keen to get started they are!
This study found that making a sudden quick movement towards your dog, or bending at the waist in a bow of your own are effective ways of inviting them to play.
What Sets Apart The Most Playful Dog Breeds?
Playfulness is partly learned and partly innate.
Puppies' play instincts can be reinforced while they are puppies – research indicates that puppies who get to 'win' in games find them especially satisfying, and try to initiate new games more often.
In domestic dogs, some personality traits, such as being especially playful, may have a distinct genetic basis in some breeds.
And what's more, new research published from Sweden indicates that breeding choices by humans have created groups of dogs which are more likely to want to play with humans than others.
The sporting group, which includes Labrador Retrievers, Golden Retrievers, German Shorthaired Pointers, Vizslas, Springer Spaniels and Cocker Spaniels are significantly more likely than dog from the other AKC groups to seek us out and invite us to play with them.
So needless to say, all these breeds have made our list of the most playful dog breeds.
In descending order of playfulness, the other dog groups go
Herding dogs (such as shepherd dogs, Corgis and the Belgian Malinois)
Terriers
Hounds (including Beagles and Dachshunds)
Working dogs (which include Rottweilers, Boxers and Huskies)
Non-sporting dogs (a motley collection of breeds including the Poodle, Boston Terrier, and Chow Chow)
and Toy dogs (everything small, from Pugs to Yorkshire Terriers)
Needless to say, several breeds from the Sporting Group have made our 'Most Playful' list.
But which other dogs have joined them?
Alaskan Malamute
Since this list is alphabetical, we're not starting with one of the fun-loving Sporting breeds, but a surprise entry from the Working group.
The Alaskan Malamute started out as one of the first Arctic sled dogs. Historically, they worked in packs, dragging sleds across the ice and snow for days at a time.
So they are naturally inclined to seek out company, and they have energy in spades to play games.
They are popular pets due to how willingly they give affection to their human families.
Their thick double coat is ideal for spending lots of time outdoors in cold climates, but if you're lucky enough to live somewhere warm you'll need to work out how you're going to help them
Belgian Malinois
The Belgian Malinois belongs to the Herding group of dog breeds – the 2nd most likely group to initiate games and play time with their owners.
In fact, being somewhat slow to emotionally mature and retaining a puppy-like playfulness throughout their lives is a trait of many herding and livestock guardian breeds.
Belgian Malinois are clever dogs who love to be kept occupied.
Which means they will always be happy to join you in a game of your choosing, and they'll never want to wait too long until the next play time.
This means they're best suited to households where someone can dedicate a lot of time to training and exercising them.
Boxer
According to the team in Sweden, the Working group of dog breeds is among the least likely to try and initiate play with people.
But the roguish Boxer is certainly an outlier within the group!
Boxers are famous for their love of clowning around and taking part in games. Even as adults and senior dogs, they still retain a bit of silliness which makes popular and charming pooches.
Their iconic looks often include 'fierce' looking cropped ears. But we're glad to see that this is falling out of fashion, and their natural soft floppy ears are becoming more common.
Boxers are somewhat prone to hip dysplasia, so all breeding dogs should be health tested for this.
Cocker Spaniel
At last, our first breed from the high spirited Sporting group (blame the alphabet, not the article).
Cockers were originally hunting dogs, and today there are two distinct types – the American Cocker Spaniel which loves a pet life, and the English Cocker Spaniel which still closely resembles their working ancestors.
Cocker Spaniels pack a lot of energy into a small body. They only weigh 30lbs on average, but this doesn't mean they're suitable for apartments or city dwelling.
They need lots of exercise and training everyday!
And playing structured training games is a great way to channel their mental energy into something constructive.
English Springer Spaniel
The English Springer Spaniel was originally bred to help people hunt birds.
They are exceptionally quick and enthusiastic learners, which means they love playing games with their family.
They have extraordinary stamina too, so this breed is best suited to households with very active, outdoor lifestyles.
Once you're home again, their medium-long wavy coat will need regular washing and brushing to get rid of the mud and debris.
All in all, this breed demands a lot of time and commitment – but you'll be rewarded a thousand times over in love and affection.
German Shorthaired Pointer
German Shorthaired Pointers, or GSPs, are a multi-purpose hunting dog from the Sporting group.
They have bagfuls of energy, and need lots of vigorous exercise everyday. Playing games with them is a perfect way to achieve this!
They're large dogs weighing 40-60lbs, and they're popular not just for their infectious and fun loving spirit, but their trademark liver roan coats.
Their short, tight coat is relatively low maintenance compared to other dogs in the Sporting group. If you love a more grizzly look, the German Wirehaired Pointer might be more up your street.
This breed's prey drive means they're best suited to home without other small animals already resident.
Golden Retriever
The glorious Golden Retriever needs no introduction.
Although, they've been loved and loyal pets for so many families that it's easy to forget they were once sporting dogs, used to retrieve game during hunts.
Many Golden owners say their dogs are like puppies at heart for their whole life. Even as adults, they never turn down an opportunity to play with people or other dogs.
Despite having a long coat which sheds copiously, thousands of people would never be without one, and this has earned them a top 3 place in the AKC's most popular breed rankings for many years.
Goldens suffer high rates of hip and elbow dysplasia, and thyroid disease, so only choose a puppy from health tested parents.
Labrador Retriever
The iconic Labrador Retriever is the most popular dog in America.
So it's hardly surprising that they're a fabulous breed in lots of ways.
Labs are incredibly people-focussed and motivated to "work" with their person.
Obviously, lots of Labs are kept primarily as companion dogs now. But their love of doing things with people is unabated, and one of their favorite ways to express it is through playing games.
In fact, even gun dog training with one of the Sporting breeds like Labs, Goldens, GSPs and spaniels really feels more like playing games to them!
Miniature Bull Terrier
Now let's take a look at some small playful dog breeds.
Smaller dogs are a great choice for people who plan to travel with their dogs, have concerns about lifting or controlling larger breeds, or who can't manage long hikes.
But playful small breeds like the Miniature Bull Terriers still need lots of engagement throughout the day to meet their emotional need for interaction and stimulation.
These quirky looking dogs have personalities to match – they are energetic, cheeky, and fond of silliness.
All white is a popular color for Miniature Bull Terriers, which is also linked to hereditary deafness. Choosing a dog with a colored coat will avoid this.
Miniature Schnauzer
The Miniature Schnauzer is another small playful dog breed.
They're popular with families for their exuberant personality, compact size, and low shedding coat.
Whilst you won't find their fur left behind on the sofa, you will need to schedule regular trips to the groomer, or learn how to tame it into a tidy clip yourself.
Mini Schnauzers are clever little dogs, and enjoy playing training games.
They also tend to be somewhat yappy, and enthusiastic little watchdogs.
Pomeranian
Continuing in the small theme, the friendly, fluffy Pomeranian is a great example of a dog which would rather stay home and play lots of games than go for long walks.
The largest Pomeranians are just 7 inches tall and 7lbs. But their enthusiasm and zest for life is huge!
These little dogs are well suited to small homes, as long as you have a big basket of toys and lots of time to play with them.
They have been companion dogs for most of their history, so they thrive on being close to people.
This also makes them somewhat prone to separation anxiety if they have to spend extended periods alone.
Schipperke
Next a playful dog breed you might not have heard of before.
The Belgian Schipperke (pronounced skipper-key or shipperk depending where in the world you are) was originally used as a watchdog, and to keep rat populations down.
They actually look very similar to Pomeranians, but twice the size and always black.
They have lively minds, and like to be kept occupied – which is where their love of play time comes in!
Left to their own devices, they're prone to finding their own fun, often at the expense of your property.
Schipperkes are notable for their long life expectancy – 13 years on average.
Shetland Sheepdog
The lovely, long coated Shetland Sheepdog is also known as a Sheltie.
Their fur gives the impression of great volume, but actually there's rarely more than 25lbs of actual dog underneath it all!
These little dogs have lively, intelligent personalities, and lots of owners enjoy putting their playfulness to good use by taking part in obedience and agility trials.
They are prone to problems with their teeth and thyroid gland, so look for puppies from health checked parents, and invest in a toothbrush!
Shih Tzu
Shih Tzus are another playful dog breed from the Toy group.
They know they're small, but they don't let it stop them joining in with fun and games whenever they see an opportunity!
Compared to the smallest toy dogs, which are also fragile and vulnerable to injuries, the Shih Tzu is somewhat stockier and more robust.
This sometimes means they are a better choice for families looking for a small dog.
Despite being small however, they are at risk of hip dysplasia, so all breeding dogs ought to be screened for early symptoms.
Vizsla
It's only fitting that the last dog on our list should be another member of human-loving, ultra playful Sporting group.
Vizslas started out as hunting companions, and are famous for how closely they bond to one special human.
That human had better have lots of energy too, because this dog has a powerful work ethic and will solicit attention from you all day long.
They're a fun companion for dog sports, and they're perfect for keeping runners and cyclists company.
At home, they are sensitive and affectionate, but sometimes struggle to cope with being left alone.
Unusual Playful Dog Breeds List
Still haven't seen a breed which looks right for you?
These dogs are a little less well known, but they all share a love of high jinx and mischief:
American Eskimo
American Hairless Terrier
Barbet
Bolognese
English Cocker Spaniel
Entlebucher Mountain Dog
Havanese
Icelandic Sheepdog
Italian Greyhound
Portuguese Podengo
Playful Dog Breeds Summary
All dogs like to play as puppies, and some carry that playfulness with them throughout their whole lives.
People probably made breeding choices in favor of dogs who retained puppylike qualities for their whole life quite early on in the process of domestication.
Dogs from the Sporting group – who historically worked closely alongside a human handler – are especially playful, and the most likely to approach people and try and get them to join in a game.
But there are playful breeds from every dog group, and a breed for every type of owner!
What About Your Dog?
Are they the life and soul of the party?
How do they let you know when they want to play a game?
What signal do you give them, to invite them to play with you?
Let us know in the comments box down below!
References and Further Reading
Rooney et al. A comparison of dog–dog and dog–human play behaviour. Applied Animal Behaviour Science. 2000.
Rooney et al. Do dogs respond to play signals given by humans? Animal Behaviour. 2001.
Bradshaw & Rooney. An experimental study of the effects of play upon the dog–human relationship. Applied Animal Behaviour Science. 2002.
Ward et al. Partner preferences and asymmetries in social play among domestic dog, Canis lupus familiaris, littermates. Animals Behaviour. 2008.
Duffy & Serpell. Dog breed and their behavior. Domestic Dog Cognition and Behavior. Springer. 2014.
Sommerville et al. Why do dogs play? Function and welfare implications of play in the domestic dog. Applied Animal Behavior Science. 2017.
Kolm et al. The link between selection for function and human-directed play behaviour in dogs. The Royal Society Biology Letters. 2020.
Get Pippa's free dog training tips delivered to your inbox