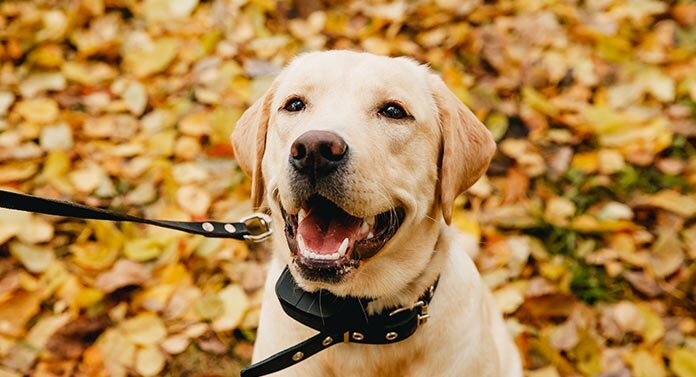 A dog shock collar is recommended by some people as a training aid.
But new research published in July 2020 adds to the growing volume of evidence that they just don't work.
Shock collars aren't just bad at stopping existing unwanted behaviors. They actually increase the possibility of new unwanted behaviors developing.
And the latest study, from the University of Lincoln, demonstrates that they're no good for teaching desirable new behaviors either.
In this article, we take a look at the evidence about electronic dog shock collars, and why it's best to leave them well alone.
What Is A Dog Shock Collar?
A dog shock collar fits like a standard dog collar. But it has a box attached, with two metal prongs protruding from it that rest against the skin on a dog's neck.
The dog's handler uses a remote control to trigger a static electric shock from those prongs to the dog's skin.
The remote control usually allows the handler to adjust the strength and duration of the shock.
Some collars can deliver shocks up to 6,000 volts – enough cause lasting burns and damage to the skin, as well as significant pain.
Why Do People Use Them?
Some dog owners and even professional trainers use electronic shock collars to punish unwanted behaviors.
Such as barking, chasing smaller animals, straying too far from their owner, and taking a long time to respond to instructions.
They choose a shock collar because
they've been told it works by someone else who seems credible,
or they seen someone else use them apparently successfully,
or they think it's a 'safe' way of punishing their dog without the dog associating the punishment with the person delivering it, and learning to avoid them.
But do they actually work?
Do Electronic Dog Collars Work?
People resort to shock collars for broadly two reasons:
To try and make an unwanted behavior stop.
To teach a new, sought after behavior.
There has already been a lot of research into the first one, so let's take a look at that first.
Do Shock Collars Stop Unwanted Behavior In Dogs?
Some dog owners and trainers try to deter dogs from performing unwanted behaviors by pairing the behavior with a shock.
Their reasoning goes, that the shock counteracts the self-rewarding quality of activities like chasing smaller animals, or digging in the yard.
Once the dog associates these actions with pain, rather than pleasure, they will stop being motivated to carry them out.
However, controlled studies of how dogs learn have revealed that shock collars are inefficient at stopping unwanted behaviors.
There are two good reasons why:
1. It's inaccurate
If the shocks aren't applied with pinpoint accuracy, in a way that means the dog can clearly connect them to performing a specific behavior, their use causes a significant increase in the level of the stress hormone cortisol.
This includes using a shock collar to try and punish the absence of a sought-after behavior, such as failing to responding to their recall cue.
And forcing a dog into a state of induced high stress is not conducive to teaching them anything.
2. It can make the target unwanted behavior worse
Research at the University of Pennsylvania has demonstrated that using punishments to discourage aggressive behavior actually provoked more aggressive behavior in at least one quarter of cases.
Further more,using an electronic shock collar can trigger the onset of new problem behaviors, and make other existing behavior problems worse!
Shock Collars Trigger And Increase Unwanted Behaviors
Over the past twenty years, a substantial volume of evidence has been compiled by researchers, demonstrating that the use of electronic collars actually makes dog behavior worse.
Training with shock collars and other physical punishments makes dogs less playful, more fearful of strangers, and more clingy to their owners.
All of the following problem behaviors have been found to increase when dog owners rely on punishment in dog training:
barking
growling
nipping
humping
anxiety
over-excitement
and eating non-foodstuffs.
And despite the shock being delivered remotely, controlled studies of training with and without shock collars has found that dogs made to wear them come to associate the presence of their owner with pain and stress.
This damages the dog-human bond, and ultimately starts to have a negative effect on behavior like recall, which depends upon the dog being motivated to be near to their owner.
Can Shock Collars Be Used To Teach New Behaviors?
Now let's look at the second application of electronic shock collars – teaching new behaviors.
Researchers at the University of Lincoln have just published new research comparing dog training with an electronic collar to dog training using positive reinforcement techniques like the ones we use in our Dogsnet Training Courses.
The dogs included in their study were divided into three groups:
1st group – using shock collars
The first group of 21 dogs were taught a sit command and a recall command by a trainer approved by the Electronic Collar Manufacturers Association.
These trainers used electronic shocks as well as leash pressure as negative reinforcement techniques. They were also free to use edible treats as positive reinforcement.
2nd group – control
The second group (also 21 dogs) were taught the same commands by the same trainers, without using an electronic collar.
The trainers were still free to use leash pressure as a negative reinforcement, and treats as a positive reinforcement.
3rd group – using positive reinforcement
And the final group of 21 dogs we taught sit and recall commands by trainers from the Association of Pet Dog Trainers UK, using positive reinforcement techniques only.
All 63 dogs had been referred to the researchers because they exhibited behavioral problems. Such as chasing, poor recall, and aggressive behavior towards other dogs.
The results
A previous study by members of the same team had already found that the dogs in group 1 were more tense, yawned from anxiety more often, and were more withdrawn from their environment.
But did they learn any more successfully?
The answer is no.
After 150 minutes of training over 5 days, the dogs being trained using positive reinforcement techniques performed the new behaviors quicker and more reliably than the dogs in either group.
This adds to and expands on previous research, which indicated positive reinforcement techniques are more effective for teaching a new behavior than punishment or combined techniques.
Why does training training with positive reinforcement work better than training with punishment?
Simple – training a dog with punishment only tells them what not to do.
It doesn't give them any information about what they should do instead.
So they end up trapped in a miserable cycle of trial, error and guess work. Which is an inefficient and demoralizing way of learning.
Whereas positive reinforcement works by making the behaviors we want very rewarding for our dog too.
So they're highly motivated to perform them again, and they're confident and happy in the knowledge that they know exactly what our cues mean.
People don't really like using shock collars either
No one wants to hurt their dog, or feels good about doing it.
And previous research has indicated that dog owners are also less confident of how to use shock collars effectively than positive reinforcement.
Which suggests choosing shock collars over rewards makes us stressed out and miserable too.
This is compounded by the worry that using a shock collar might actually be cruel to our dogs.
So let's turn to that next.
Are Electronic Dog Collars Cruel?
We've established that electronic collars are ineffective. But are they actually harmful?
If all else appears to have failed, is it possible to try using a shock collar, and either achieve the result you need at long last, or else walk away with nothing lost for having tried?
And if you do succeed with shock collar training, does that make using them ok? Is using them successfully the same as using them humanely?
No, it isn't
There are no two way about this, the evidence that shock collars are cruel just cannot be ignored.
Applying a shock through a collar causes:
lowering of body posture
high pitched yelps
barks and squeals
avoidance
redirection aggression
tongue flicking
yawning
and withdrawal from the environment.
That all suggest stress, fear and pain.
These responses are at risk of being overlooked by trainers because they can be very brief. But they are present nonetheless, and the feeling of fear and pain is very real for the dog.
In 2017, a review of 17 studies into aversive training methods found that they jeopardize both the physical and mental health of dogs.
And on our Labrador Site, professional trainer Liz London describes the injuries she has witnessed on dogs as a result of using electronic collars.
But training with an electronic collar doesn't just pose a welfare problem because it is physically painful.
The emotional pain it causes them can also manifest as further unwanted behaviors. Which ultimately lead to exasperated owners abandoning their dog, or surrendering them to an animal shelter.
Are Shock Collars Legal?
Due to the welfare concerns surrounding the use of electronic dog collars, they are increasingly being outlawed across the world.
The European Society of Veterinary Clinical Ethology, which promotes scientific progress in veterinary behavior medicine, has strongly opposed the use of shock collars in dog training.
And at the time of writing Denmark, Norway, Sweden, Austria, Switzerland, Slovenia, Germany, have outlawed their use.
As have Quebec, and parts of Australia and the UK.
However, they remain legal in the U.S.
Electronic Dog Collars – Summary
An electronic dog collar is a particularly cruel form of punishment.
And the latest research from the UK adds yet more weight to the argument against using them.
Not only do they cause physical and mental harm to dogs. Now the latest research shows that they are less effective than positive reinforcement for securing training outcomes.
And they're frequently responsible for making undesirable behaviors worse, or even triggering new ones.
So if you're battling against unwanted behaviors from your dog, don't resort to a shock collar.
Find a positive reinforcement based solution, or ask a force-free trainer to come and help you.
References and Further Reading
China et al. Efficacy of Dog Training With and Without Remote Electronic Collars vs a Focus on Positive Reinforcement. Frontiers in Veterinary Science. 2020.
Rooney et al. Training methods and owner–dog interactions: links with dog behaviour and learning ability. Applied Animal Behavior Science. 2011.
Ziv. The effects of using aversive training methods in dogs—a review. Journal of Veterinary Behavior. 2017.
Masson et al. Electronic training devices: discussion on the pros and cons of their use in dogs as a basis for the position statement of the European Society of Veterinary Clinical Ethology. Journal of Veterinary Behavior. 2018.
Cooper. The Welfare Consequences and Efficacy of Training Pet Dogs with Remote Electronic Training Collars in Comparison to Reward Based Training. PLOS One. 2014.
Herron et al. Survey of the Use and Outcome of Confrontational and Non-Confrontational Training Methods in Client-Owned Dogs Showing Undesired Behaviors. Applied Animal Behaviour Science. 2009.
Hiby et al. Dog Training Methods – Their Use, Effectiveness and Interaction with Behaviour and Welfare. Animal Welfare. 2004.
Schalke. Clinical Signs Caused by the Use of Electric Training Collars on Dogs in Everyday Life Situations. Applied Animal Behavior Science. 2007.
Schilder. Training Dogs with Help of the Shock Collar: Short and Long Term Behavioural Effects. Applied Animal Behaviour Science. 2004.
Get Pippa's free dog training tips delivered to your inbox