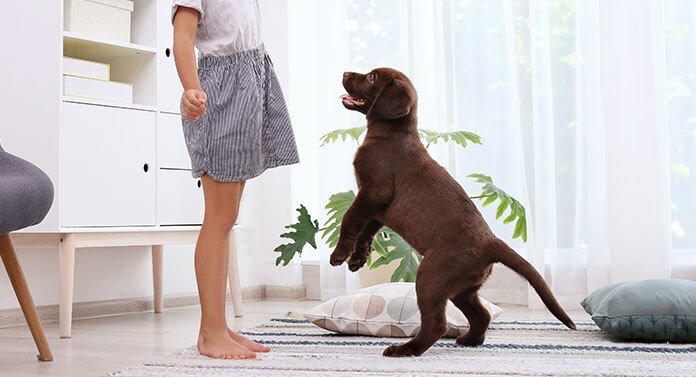 A puppy jumping up and down might look cute initially, but as they grow it can quickly become troublesome.
They can knock things over, catch skin with their teeth, and ruin your clothes.
What starts as an adorable part of puppyhood can get old pretty quickly.
Fortunately, there are things you can do to help them learn to keep their paws on the ground.
Why is my puppy jumping up and down?
Is your pup a canine pogo stick? Barely spending any time with all four paws on the ground?
This behavior is quite natural, but doesn't fit well with our modern human households.
To help your puppy to stop jumping up and down, we first need to look at why they are doing it in the first place:
Attention
Over excitement
Trying to grab clothes
Attempting to bite
Puppy jumping up and down for attention
It's easy to bustle about your day as a puppy scampers around your feet, giving them a good scratch every time they ask you for attention.
But puppies are small and we are tall. So the way they get our attention is by jumping up.
They greet us by elevating their paws, and getting their faces nearer to ours.
Their mode of lifting themselves higher is to put their furry feet onto your legs.
And most dog loving people instinctively respond to this action with at the very least eye contact or speaking to the dog, and often with a bit of a fuss.
Accidentally rewarding your puppy for jumping up
It's really easy to reinforce behaviors that you don't want.
And we're often not aware that what we are doing is actually rewarding to the dog.
Something as simple as pushing your dog back down from your leg can be very rewarding for them.
They like to be touched, even if we don't think of this as a pleasant thing in the circumstances.
Your squeals of frustration at having your trousers muddied or torn can be equally well received by your puppy.
Making him all the more likely to jump up and down again later.
Over excitement
Puppies, like us, tend to behave better when they are calm.
After a period of play, or the excitement of something new or tasty coming their way, they are more likely to jump up and down.
When they are wound up their tendency to keep their paws on the floor goes out the window.
They want to incite us to play and join in the fun, and will attempt to do so by bouncing around, and on, us.
Puppy trying to grab your clothes
You might not have realised it before bringing home a miniature furry crocodillian, but your clothes are awfully tempting targets.
Tassels, tags, drapes and floaty edges are very appealing to our pups.
The best way around this problem is to avoid it. 
This means altering your wardrobe for the first few weeks they are home.
Either by tucking in or tightening garments, or not wearing the same style for a while.
Puppy's attempt to bite fingers
Likewise, your dangling fingers are a common target for puppy attacks. 
Even when you are standing up!
This isn't a sign of aggression or anything to worry about. But puppies do sometimes jump as a part of their natural biting behavior.
We've got lots of advice on how to combat biting in puppies here. 
And like with this jumping issue, the key is often prevention.
How to stop your puppy jumping up and down
Stopping your puppy jumping up and down can be achieved by a combination of preventative actions and pro active training.
From this moment onward make a promise to yourself that you will:
Ignore them completely if they put their paws on you
Stay calm
Put them into their crate or playpen if they get over excited
Tuck loose fitting clothes in tighter
Start training them to stay on the ground
Many of these things will only need to be temporary, while your puppy is young and still learning his house manners.
And the training part will be great fun for you both, as well as helping him to remember to keep his feet on the floor.
Four on the floor
This is one of my favorite games to play with a dog of any age. It's simple, effective and very rewarding for both of you!
The aim of the game is for the puppy to keep all four paws on the floor.
And to help them do that, we reward them with some tasty treats when they are doing so.
The potential problem with Four on the Floor is that you can create something called a Behavior Chain.
An unintentional chain of events that leads to your puppy jumping up and down even more, not less.
Because when you reward your puppy for removing their feet from you and putting them onto the floor, you are potentially teaching them 'if I jump up then get down, I get a treat'
So to get their treat, they jump up so that they can jump down again.
Fortunately, we can get around this problem by giving them a stream of treats. 
How to play
When your puppy puts her paws on your leg, wait
Do nothing until she is on the ground
Say 'YES!' in an excited voice, or click your clicker
Give her a treat, then another immediately after. Repeat with ten treats
WAit for her to put her paws up again, then remove them
Say 'YES!' or click
Give a stream of ten treats, one at a time but this time with a tiny half second gap
Each time you repeat this process, leave a tiny bit of a longer gap between the treats in the stream.
Your puppy will begin to associate keeping their feet on the ground with rewards.
And as you are no longer accidentally rewarding her for jumping up, or inciting her to do so, she'll soon have her paws on the floor more of the time.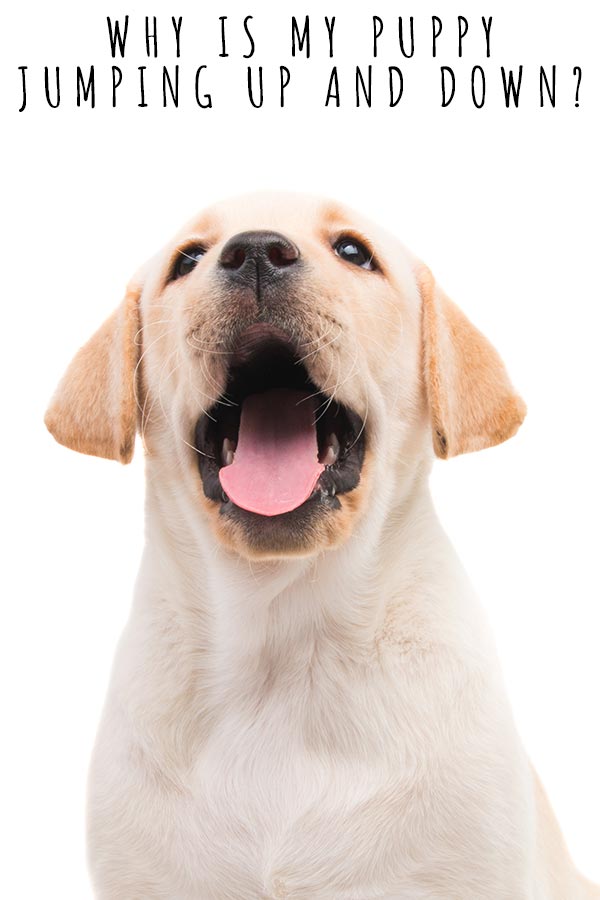 Get Pippa's free dog training tips delivered to your inbox