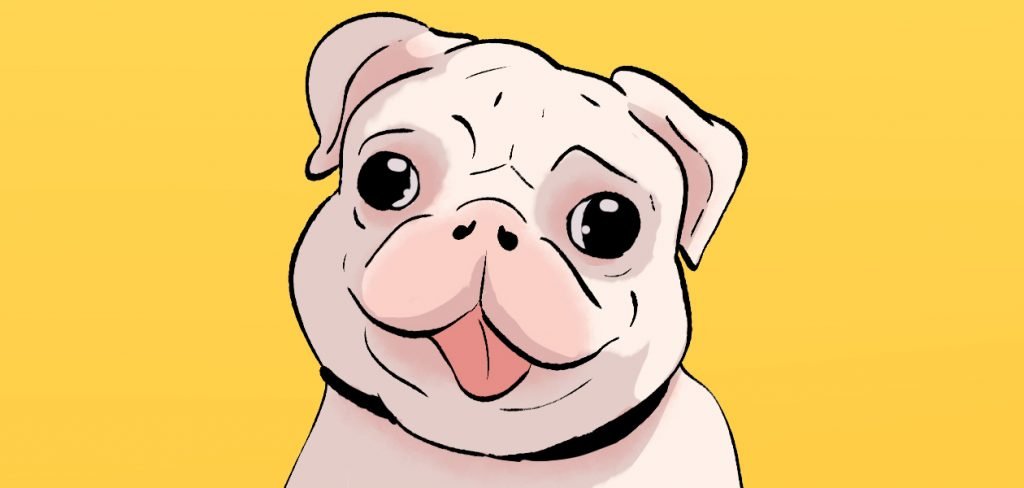 The white Pug has a beautiful coat color that is increasingly popular with new owners. But it can be pretty hard to come by.
An all white Pug can be the result of breeding for a paler coat, albinism, or mixed breeding.
This type of Pug will need the same care as any other shade. But, depending on what has caused their white coat, they may have additional care needs.
It's important to make sure white Pug puppies are right for your family before bringing one home.
White Pug Contents
There's a lot to learn about the white colored Pug! But let's get started by looking at what you can expect from this breed in general.
About the Pug
Pugs are small dogs that grow up to around 13 inches tall. As adults, they will usually weigh between 14 and 18 pounds.
Pugs are friendly, affectionate, and loyal. They don't need a lot of space at home, which is great news for people living in apartments or cities.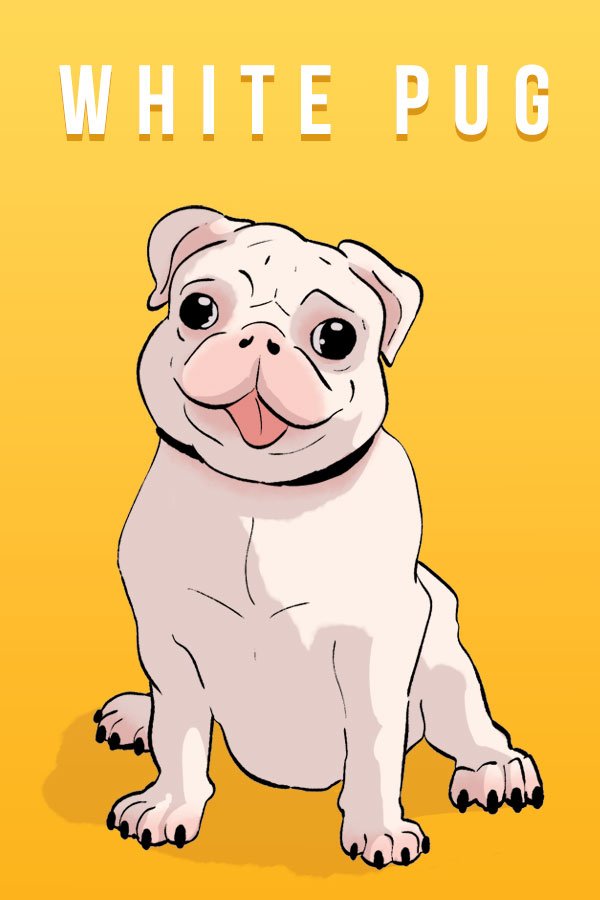 These small dogs have always been popular lap dogs, with modern celebrities and 18th Century royalty alike.
But, back then, Pugs were quite different! Pug ancestors had much longer muzzles than their modern counterparts.
This shortened face shape has been achieved through generations of breeding for a certain appearance.
Their flat faces are popular for their 'cute' human-like appearance, but come with a number of health issues. We will look more at this later on.
Pug Breed Standard Colors
There are only two standard coat colors that are accepted by AKC for the Pug breed. These are black and fawn.
Black Pugs are black all over. They will have no other markings.
But fawn Pugs have black markings. This includes a mask on their face and black ears.
Any color other than fawn or black is disqualified from dog shows by the AKC. But, this doesn't mean that other colors don't exist.
Which brings us to the white Pug.
What is a White Pug?
White fur color is not an accepted color by AKC. So, you won't be able to show a white Pug.
Pugs with white fur could have white fur all over. Or, they could have the same dark face mask as fawn Pugs.
Some breeders will purposely breed pale fawn Pugs to create light colored, or white, Pug puppies.
But, this striking fur color can also occur in albino Pugs. Albinism brings with it a number of health issues, so shouldn't be pursued intentionally.
You might find white mixed breed Pug puppies, but their temperament and looks may differ from the traditional Pug.
Read on to take a closer look at each of these variations of the white Pug.
Purebred White Pug
Many people like to choose purebred dogs because their appearances and temperaments are predictable. Breed standards have been developed over generations of dogs to achieve this.
Some breeders try to introduce the white fur color into their Pugs by breeding pale fawn dogs together.
This means that the resulting puppies are still purebred. So, they are likely to have the same temperament, general looks, and health issues as any other Pug.
However, there is a danger here to be aware of. Disreputable breeders may attempt to get this coat color regardless of the health of the Pugs they are breeding from.
So, above all else, it's important to ensure you are choosing a reputable breeder. Even if this means getting a slightly darker shade.
Fur can also get darker as your dog gets older. So very pale puppies may end up more yellow or fawn-colored as they age.
Albino Pug
Pugs that suffer from albinism will have white coats. Albinism is characterized by a complete lack of pigment.
White Pugs that are albino will often have pale eyes and pink noses. They will not have any black coloring on their faces.
Some people might think this looks cute, but albino Pugs have additional needs that you should consider before bringing this dog home.
Albino Health
Pugs with albinism can suffer from problems relating to their eyes. This includes blindness, vision impairment, and small eyes.
Albino Pug eyes can be more sensitive to sunlight. So be careful taking an albino dog out on bright days.
Thanks to this lack of pigment, albino Pugs may also have more sensitive skin. So, you will need to be careful when they're exposed to sunlight.
Albino white Pugs can easily be sunburnt. This also puts them at a higher risk of cancer and tumors.
Mixed Breed White Pug
A third way to achieve a white Pug is to choose a mixed breed. Breeding a Pug with another dog can introduce a new variety of colors into their genes.
However, you can't predict the traits that a mixed breed puppy will inherit. So, a mixed breed Pug might not have the white coat you're after.
But they also might not have other qualities associated with a normal Pug, such as their small appearance or their friendly temperament.
Choosing a mixed breed with a longer snout can help to avoid issues associated with flat faces in Pugs.
But, again, not all Pug mixes will have longer snouts.
So, you may find a mixed breed white Pug or black and white Pug. But, you won't be able to predict certain other characteristics until your puppy has grown up.
White Pug Health
We've looked briefly at the additional health concerns associated with albinism in dogs.
If you're choosing a mixed breed white Pug, you need to look at the health issues that both parent breeds are prone to, as your puppy can be prone to any of these.
So for now, we will look at the health concerns of the Pug breed.
Brachycephalic Airway Syndrome
Brachycephalic Airway Syndrome is the collective term for a number of breathing problems in Pugs. These problems are all associated with the flat face that has been bred into these dogs.
Pugs' soft palates obstruct their airways, making it harder to breathe.
This means Pugs often experience a shortness of breath. They can also struggle to exercise, or overheat easily if they exercise too much or in hot weather.
They are prone to heat stroke, which can result in death in extreme cases.
For dogs who are really suffering, surgery may be the only option.
Dental Issues
Pugs have been bred to have substantially shorter muzzles than they used to. But, they still have the same number of teeth.
So, Pugs are likely to experience very overcrowded teeth. This means you will need to invest time in making sure your Pug's teeth are properly cleaned.
Eye Problems
Brachycephalic dogs have flatter skulls, which results in larger appearing eyes.
However, their eye sockets are just more shallow, meaning their eyes are more likely to bulge out.
Protruding Pug eyes are more vulnerable to scratches and damage. Bulging eyes also make it harder for your dog to close his eyelids, which can result in ulcers and infections.
These problems and more are collected under the term Brachycephalic Ocular Syndrome.
Screw Tails and Hemivertebrae
Pugs have screw tails, which are linked to hemivertebrae – malformed bones in the spine.
This puts pressure on the nerves in their spinal cord, causing pain, paralysis and incompetence.
Other Pug Problems
The above problems are linked to facial conformation, so cannot be tested for in Pugs. All Pugs are likely to suffer from these issues to some extent.
But, there are some other health issues that can be tested for. These are:
Hip dysplasia
Heart problems
Legg-calve-perthes disease
Slipping kneecaps
Make sure to see any possible health certificates when choosing a puppy from a reputable breeder. And try to meet the pup's parents if possible.
White Pug Puppies Health
On average, regular Pugs tend to cost between $600 and $1500 in the USA. Prices may vary depending on if the pups are meant for shows, or where you are in the country.
So what about the white Pug price?
Because white Pugs are harder to come by than your regular black or fawn Pugs, you might find some breeders inflating their prices massively.
It's important to be cautious of breeders marketing their white Pug puppies as 'rare' or 'special'.
Some bad breeders breed puppies for 'rare' or uncommon colors, regardless of health problems, in order to make themselves a profit.
This can result in unhealthy puppies being sold under the ruse of being as healthy as possible, at a much higher cost to you than normal.
Finding White Pug Puppies
So how should you go about finding healthy white Pug puppies?
Treat your search like you would for any other puppy. Go to a breeder with a list of questions, and make sure to see where the puppies are being kept.
If possible, take a look at the parents and ask to see any health certificates.
You might even be able to find a white Pug in a rescue center.
Remember, it's more important to choose a healthy puppy than to choose one based on color. Your priority should be your dog's health and comfort.
You can find local breeders by searching online or in local papers. You should try to find reviews where you can!
Similar Breeds
For some reason, the Pug might not be right for you. Perhaps you're worried about contributing to demand for a dog with such an unhealthy conformation, or perhaps their temperament just isn't the right match for you.
Either way, take a look at some similar breeds below.
White Pug Summary
Do you have a white Pug? Or are you still searching for your perfect puppy?
What do you think of this snowy coat color?
References and Resources
Get Pippa's free dog training tips delivered to your inbox