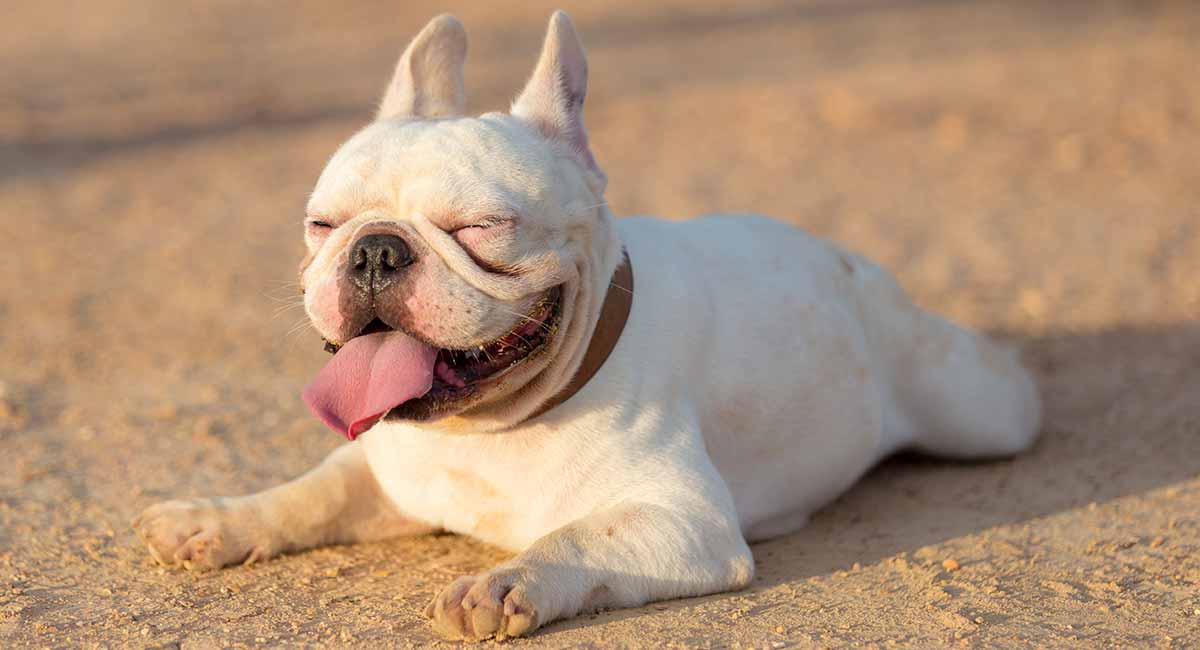 A white French Bulldog is the same breed as a patterned or colored Frenchie.
But a white French Bulldog inherits one of two possible genetic combinations which both cause white fur.
However, whilst both produce white fur, under their skin, not both colors are created equal!
Plus, white Frenchies suffer from the same health issues as other colors. This includes bracycephalic problems, which we will look at more later.
White French Bulldogs
The French Bulldog is a favorite of many, ranking fourth on the American Kennel Club's list of most popular dog breeds in 2018.
Lovers of the breed will likely pick a Frenchie puppy based on whatever color they fancy most. But what if there's more to a color than meets the eye?
In this article, we will discuss how white coloring affects a French Bulldog's genetics, temperament, health, and grooming needs.
What is a White French Bulldog?
Believe it or not, there's more than one type of 'white' Frenchie in terms of genetics and how the dogs are sold.
For the most part, you will see 'off-whites' and piebald whites. We say off-white only because piebald white tends to be brighter. And we need a term to differentiate them.
Extreme piebald coloring is often associated with deafness so the differences between the two whites definitely matter.
So, how do you tell off-white and extreme piebald Frenchies apart?
Off-white Frenchies will have dark noses, lips, and eye rims. While, extreme piebald Frenchies often have pink in their eye rims, noses, and lips.
Be aware, that these areas may not be fully pink as they may have splotches of black mixed in.
Still, off-white Frenchies won't have any pink at all in these areas. So pink patches are still a good indicator that the dog is piebald.
White French Bulldog Genetics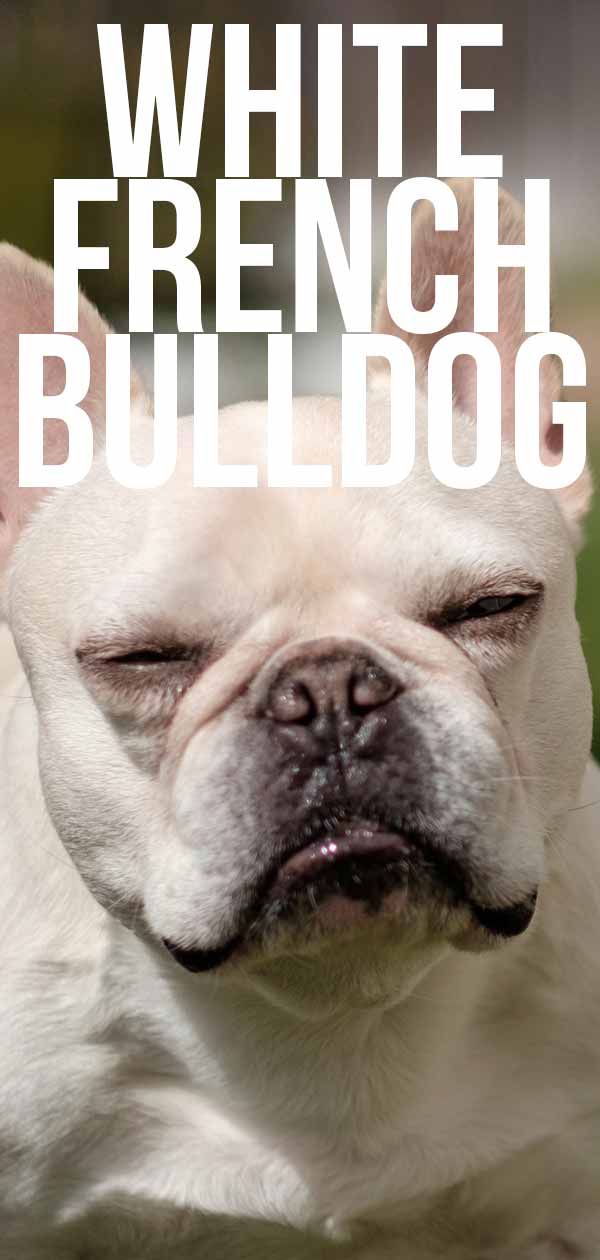 One of the major differences between piebald and off-white Frenchies is in their genes.
Scientists don't know exactly what causes a white coat. But they have some ideas. In the case of Frenchies, there are a couple of possibilities.
Off-white Frenchies may be a result of genes at the E locus, which codes for red pigmentation. ('Locus' is the name for any specific location in an animal's genetic code, where the genes for a particular trait will be stored.)
Scientists believe there are other genes that modify red to lighten it (in this case to white). Although they haven't yet identified which genes do so.
There is also speculation that dogs with recessive genes for red (e/e) and agouti coloring (a/a) will have both red and black shades blocked from appearing in the coat, resulting in white fur.
Piebald vs. White French Bulldog Genetics
Piebald Frenchies get their color from genes on the S locus. White dogs that are a result of these genes are often referred to as extreme piebalds.
This is because many piebald dogs actually have patches of color. Whereas extreme ones may not.
Furthermore, extreme piebalds tend to have two copies of the piebald gene. Whereas spotted piebalds only have one.
Unfortunately, the S locus is associated with some health issues, which we will discuss later.
White coloring can also be the result of double merle or albinism. But these are unlikely in a French Bulldog.
White French Bulldog Temperament
Researchers have found that color is sometimes linked to some temperamental traits in dogs.
However, studies about this are few and far between, with most in reference to English Cocker Spaniels. These studies found a link between aggression and coat color.
Golden ECSs were the most likely to be aggressive, followed by blacks, with parti-colors showing the fewest instances.
Such studies have not yet been done on the French Bulldog. So we can't say that a white Frenchie will be different in temperament from Frenchies of other colors.
Therefore, let's talk about Frenchie temperament as a whole.
Frenchie Temperament
French Bulldogs love people and can be quite affectionate. As such, they are not commonly aggressive, though aggression can occur in any dog that is not properly socialized.
They usually get along with dogs, too. But remember that every dog is different. And just like people, dogs don't always want to be friends with every one of their peers.
Because Frenchies can't do much physical exercise, they need mental exercise all the more.
A bored dog is often a naughty dog, and Frenchies will benefit from short training sessions as well as games for mental stimulation.
Since they are intelligent dogs, it's better that they spend their time doing something constructive.
White French Bulldog Health
So we've learned that white coloring is somewhat of a mystery. But the E locus and S locus seem to take part in creating white colors.
Unfortunately, if white fur is a result of extreme piebald coloring (S locus), then there is an increased risk of deafness.
In a study about conditions in French Bulldogs, of those that suffered from deafness, 79% were white or had white in their coat.
Though the study does not say if these dogs were extreme piebalds or not, there has long been a link between piebald whiteness and hereditary congenital deafness. So keep this in mind when purchasing any white dog.
Health Testing
Luckily, there are ways to test the hearing of both adult dogs and puppies. The BAER test is used to determine if a dog suffers from a hearing impairment, and it can be done on dogs older than 35 days.
Aside from this color-related problem, a white French Bulldog can face a number of issues. But, some of these can be avoided through health testing.
The Orthopedic Foundation for Animals (OFA) recommends that French Bulldogs undergo testing for the following prior to breeding: hip dysplasia, patellar luxation, autoimmune thyroiditis, and juvenile cataracts.
Frenchies should also get eye examinations and cardiac evaluations.
Issues related to Body Structure
Some health issues can be avoided via testing but the French Bulldog has a number of problems relating to its body structure.
Firstly, French Bulldogs may suffer from a type of dwarfism called chondrodystrophy which can put dogs at risk for intervertebral disk disease (IVDD).
Dogs with IVDD have discs that formed abnormally during growth.
Eventually, these discs can herniate into the spine and cause inflammation or hemorrhaging to cause a lot of pain and neurological dysfunction.
This condition has a high mortality rate and often requires costly surgeries or medical care.
Breeders can test for it and attempt to breed French Bulldogs with chondrodysplasia instead (a similar type of dwarfism, but it does not carry the risk of IVDD).
Whether it's one condition or the other, all French Bulldogs are dwarfs.
White French Bulldog Mating
The French Bulldog's stature is not exactly a good thing even though some people find it cute. Because of their body structure, French Bulldogs cannot effectively mate.
Instead, artificial insemination must be used. In addition, most Frenchies cannot give birth naturally and require C-sections.
White French Bulldog Facial Structure
Unfortunately, French Bulldogs are also flat-faced dogs with short noses that hardly protrude out from the skull.
Many people find this to be adorable. But sadly, this facial structure can cause serious problems.
Flat-faced breeds are prone to suffering from brachycephalic airway syndrome.
There are a number of abnormalities that fall under this term, and a brachycephalic dog could experience one or a number of them which are:
Elongated soft palate
Stenotic nares
Laryngeal collapse
Extended nasopharyngeal turbinates
Hypoplastic trachea
Everted laryngeal saccules
Most of these have to do with the body parts that make up the dog's head, especially in the nose, mouth, and throat. All of these inhibit a dog's ability to breathe.
White French Bulldog Breathing
There are a few signs of brachycephaly that you may notice in a French Bulldog.
Many of these dogs have trouble breathing, which is evident as they can be noisy and wheeze or snort. Noisy breathing is typically worse during and after exercise.
Some dogs are more severely affected by this and may even pass out from exercise. In general, these dogs really can't do much in terms of physical activity.
Similar breeds that also suffer from this problem includes the Boston Terrier.
Other Effects
You may also notice these dogs breathe through their mouths because they have trouble breathing through their noses.
Furthermore, they are poorly suited to hot, humid climates as too much panting can actually cause their airways to swell, a life-threatening issue.
Other symptoms include coughing, retching, gagging, and even vomiting.
The effects of brachycephalic airway syndrome are sad. But what's more unfortunate is that they are due to human intervention and avoidable.
Because of this, we cannot recommend French Bulldogs as pets as we feel it is important to consider ethics when breeding dogs.
White French Bulldog Grooming
White French Bulldogs have the same short coat as any other French Bulldog.
So, the grooming is relatively easy meaning you can get by with brushing once a week to keep fur clean and sleek.
Pay attention to the folds in the French Bulldog's face as they need to be kept clean to avoid skin problems such as dermatitis.
You should also brush your Frenchies teeth daily and keep their nails trimmed down. This is especially important since Frenchies can't exercise enough to wear them down naturally.
Nails that are too long can be uncomfortable or even painful.
Your White French Bulldog
White French Bulldogs are usually extreme piebalds or an off-white color that researchers believe results from genes on the E locus interacting with other unknown genes.
Knowing whether a white Frenchie is an extreme piebald or an off-white is important, as piebald spotting has been linked to deafness.
One of the main giveaways of piebalds is that they will have pink in their lips, eye rims, or noses. These areas do not have to be completely pink for the dog to be an extreme piebald.
Aside from this color-related issue, the breed as a whole can suffer from chondrodystrophy, a type of dwarfism that can lead to intervertebral disc disease.
Frenchies are also flat-faced dogs, which means they regularly suffer from brachycephalic airway syndrome.
Luckily, these medical issues don't get Frenchies down. They remain happy-go-lucky, affectionate dogs whose intelligence may surprise you.
Should You Buy a White French Bulldog?
Despite the French Bulldog's agreeable personality, we cannot recommend that you go out and purchase a white French Bulldog or any French Bulldog for that matter.
We believe it is unethical to breed a dog whose body is structured in such a way as to handicap it for the rest of its life.
If you really want a French Bulldog, we suggest you rescue one from a shelter rather than purchase from a breeder. Breeders will keep producing brachycephalic dogs like Frenchies for as long as people continue to buy them.
Other Frenchie Information
If you're considering bringing a French Bulldog into your family, it's really important to find out everything about the breed.
This can help you decide whether they will really suit you, or whether a different, healthier breed would be better.
Take a look at some of our Frenchie articles below for more help.
References and Resources
"Congenital Deafness." Orthopedic Foundation for Animals.
American Kennel Club.
"French Bulldog Health Panel." University of California – Davis, Veterinary Medicine.
Pérez-Guisado, Joaquín, et al. "Heritability of Dominant–aggressive Behaviour in English Cocker Spaniels." Applied Animal Behaviour Science, vol. 100, Nov. 2006, pp. 219–227.
"Recommended Tests: French Bulldog." Orthopedic Foundation for Animals.
Schmutz, Sheila. "White Coat Color in Dogs."
Strain, George. "The Genetics of Deafness in Domestic Animals." Frontiers in Veterinary Science, 8 Sept. 2015.
Vincent, Mayousse, et al. "Prevalence of neurological disorders in French bulldog: a retrospective study of 343 cases (2002-2016)." BMC Veterinary Research, vol. 13, no. 212, 5 July 2017.
Williams, Krista, and Cheryl Yuill. "Brachycephalic Airway Syndrome in Dogs." VCA Hospitals.
Get Pippa's free dog training tips delivered to your inbox