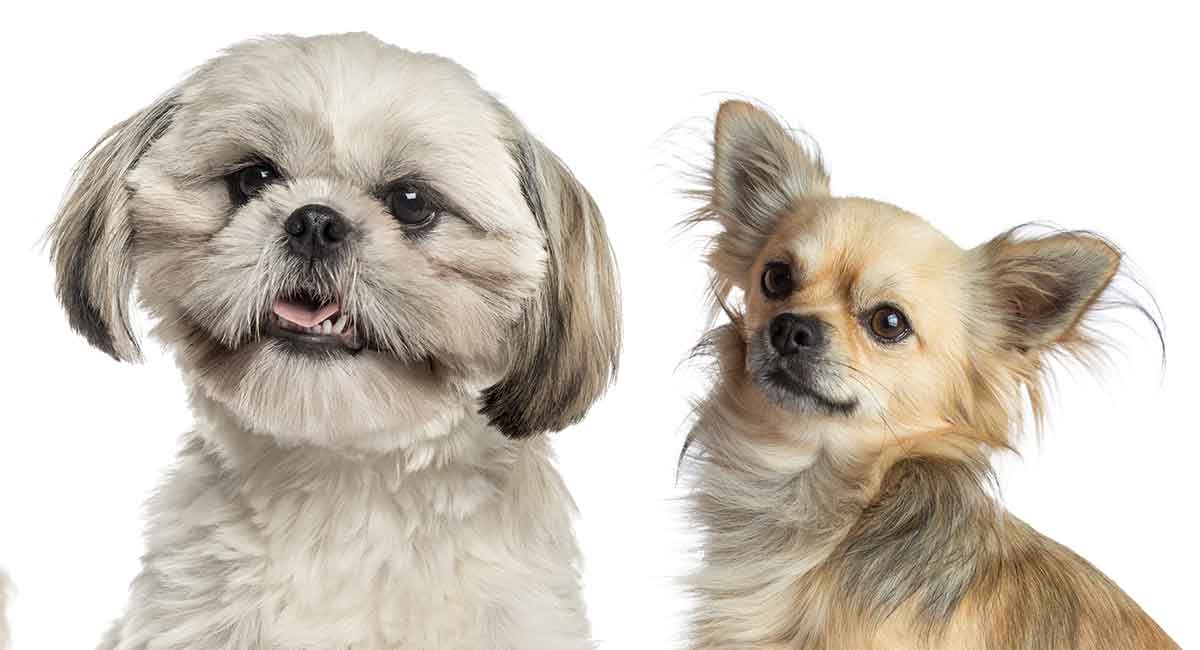 What the Shih Tzu Chihuahua mix lacks in size, she more than makes up for in personality.
Her energy levels are impressive, and she is very protective of her family.
But the Shih Tzu Chihuahua mix's tiny size and shape also make her more prone to some specific health problems.
Read on to find out more about this adorable little dog.
Where Does The Shih Tzu Chihuahua Mix Come From?
The Shih Tzu Chihuahua mix is a hybrid of two small, and very cute, dogs, the Shih Tzu and the Chihuahua. This dog is often referred to as the Shichi.
Specifics are lacking on the exact origin of this dog, but she may have first been introduced in the last 10-20 years somewhere in the United States.
This dog was bred for the sole purpose of satisfying people who love small and cute dogs.
The Shih Tzu breed originally comes from Tibet. They descend from Pekingese and Lhasa Apso dogs, and are regarded as a toy dog breed.
The tiny Chihuahua is considered to be the smallest of the recognized dog breeds. It is believed that this dog descended from a small, mute dog known as the Techichi, kept by the Toltec people of Mexico as far back as 9th century AD.
The Shih Tzu Chihuahua Mix Vs. Purebred Debate
Those who favor purebreds claim the advantage of predictability in terms of physical characteristics and behavior of the dog. Control of genetic outcome is touted as the main benefit of purebred dogs.
Hybrid vigor, a result of having more diverse genetics among mixed dogs, is the main advantage claimed by those who prefer mixed breed dogs.
The Shih Tzu Chihuahua mix is no doubt fancied more by the latter group.
But in reality it is better to evaluate dogs on an individual basis rather than lump them into black and white categories.
This mix deserves such a treatment, not the least of which is because of how great a dog she is and how big her personality is – a comical contrast to her small size.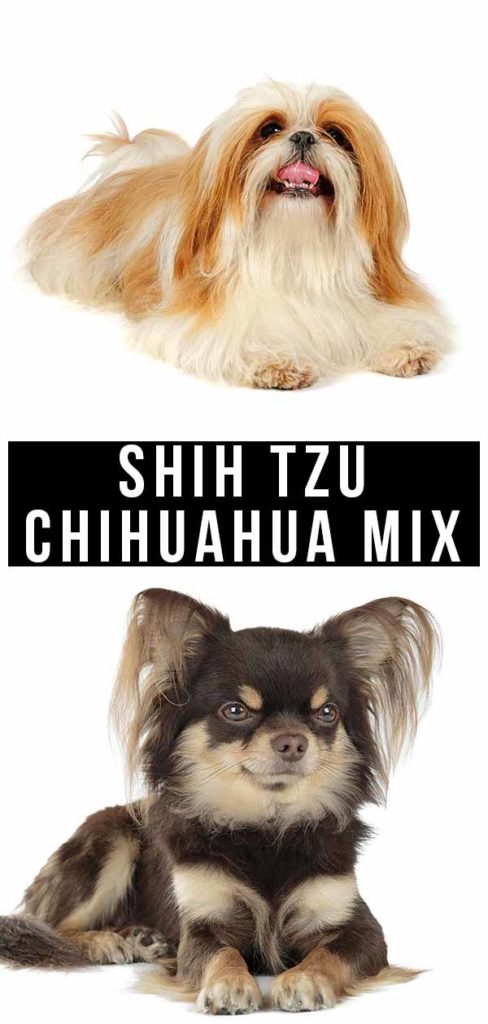 Fun Facts About The Shih Tzu Chihuahua Mix
A Shichi named Teddy was named Britain's most handsome crossbred pooch in 2018.
The 2008 movie Beverly Hills Chihuahua is a comedy that tells the story of a pampered pet Chihuahua named Chloe that goes missing and gets caught up in the dog underworld.
Shih Tzu Chihuahua Mix Appearance
This tiny dog is at most 10 inches tall, with a weight between 5 and 18 pounds. They have a very round head, and their ears either stick straight out or hang down.
Because of their tiny size, they are frail dogs and definitely not robust.
Their coat colors can be a black, brown, cream, white, or a combination of these.
The coat length can resemble that of a Chihuahua and be short, or take after the Shih Tzu parent more and be longer with a medium-length, with a soft and wavy structure.
Shih Tzu Chihuahua Mix Temperament
This is a loyal, enthusiastic, and playful dog, bursting with lots of personality.
They're not shy about using their high-pitched bark when they see a suspicious stranger nearby. They can also be quite aggressive, which is very much a Chihuahua trait.
They have lots of energy and are far from being a quiet and docile dog.
Needless to say, with a long heritage as companion dogs on both sides, they crave attention.
Since their ancestors were selected for loving human company above all else, these dogs aren't famous for learning new commands quickly. Nor are they easily motivated to follow instructions.
Training Your Shih Tzu Chihuahua Mix
Their eagerness to be active, and their loyalty, means that training sessions can be enjoyable for this dog.
Positive training methods work best here. Use a combination of praise, patience, and rewards for success.
Early socialization works well for all dogs. Have this dog be involved in the company of people and pets outside the family.
The small size of these dogs means they don't need a great deal of exercise. Around 20 minutes of activity a day can be accomplished with a short walk or jog. Playing a game such as fetch or flyball is also good exercise.
Keep in mind that brachycephaly can be passed down to this mix, so they should be kept from overexerting themselves. We'll talk about that more in the section on health.
Training Help
Early potty training is recommended for best results with small dogs.
When potty training small dogs, some trainers recommend using indoor potty spots. These are similar to a cat litter box.
Bear in mind that tiny dogs like the Shichi can be late to potty train, and may continue to have accidents throughout their lives.
Crate training is also very useful for potty training.
Here's some good information on the benefits of training your dog at home.
Shih Tzu Chihuahua Mix Health
Here are the common health issues to be aware of in this mix. Keep in mind that the Shih Tzu Chihuahua mix can have health issues that occur in either of the parent breeds.
The Shih-Tzu has a flat face and is considered a brachycephalic breed. This results in breathing difficulty in the dog. Avoid situations where the dog can overexert herself, since this can cause serious breathing distress. Unfortunately, any Shih Tzu mixes can suffer from this.
Eye problems can occur in Shih Tzu dogs.
Kidney disease has been reported in Shih Tzu dogs.
The Shih Tzu is prone to Intervertebral Disc Disease. This is a painful condition caused by the disproportionately long backs and short legs of these dogs, and in severe cases can cause paralysis.
The Chihuahua's potential health issues include dental issues, birthing difficulties, and seizures, among others.
Lameness is another possible issue with both parent breeds in this mix.
Patellar luxation occurs when the kneecap is out of its normal position. This can occur both in the Chihuahua and Shih Tzu breeds, which have a predisposition for this.
Tracheal collapse is a common problem in small-breed dogs that have reached middle age.
Other issues that can occur with both breeds of this mix include eye problems, skin and ear inflammation or infection, and abscesses in the mouth. It is important to maintain good hygiene, cleanliness, and proper grooming to minimize or prevent these problems.
Grooming And Feeding
The length of the dog's coat will determine how often it needs to be brushed. A usual amount of brushing is 2-3 times a week if the coat is short.
If she takes after the Shi Tzu parent, then the coat will be longer and more wavy, and daily brushing is recommended. Fortunately, this dog does not shed much.
In terms of feeding this dog, give her high-quality dog food, in an amount ranging from 1/2 cup to 1 cup per day. Split this into two portions to give in the morning and evening.
It's recommended to give this dog a bath once a month.
Lifespan
The lifespan of this dog is 12-15 years, based on the lifespans of the parent breeds.
For more information on the health issues and recommended testing for the parent breeds, see this statement on the Shih Tzu and this on the Chihuahua.
Do Shih Tzu Chihuahua Mixes Make Good Family Dogs?
Both parent breeds of this dog are predisposed to quite a few health problems and structural defects, as mentioned. This puts us in the unfortunate position of being unable to recommend the Shih Tzu Chihuahua mix.
However, if you have your heart set on getting this mix, please consider going to a dog shelter and rescuing an adult dog.
Rescuing A Shih Tzu Chihuahua Mix
It can be very rewarding to rescue a dog from a shelter, whether it's a larger dog or a small dog like the Shih Tzu Chihuahua mix.
Many dogs are in great need of rescue, and shelters and humane societies are a good place to go to adopt a great dog.
Finding A Shih Tzu Chihuahua Mix Puppy
There is a terrible industry out there, known as the puppy mill, which treats dogs poorly. They are in the business of large-scale breeding, driven by profit and not the welfare of the animals.
All too often, puppies born in these breeding facilities live in overcrowded and unsanitary conditions. Any veterinary care is either minimal or completely lacking.
The large popularity of mixed and small dog breeds unavoidably extends into the business model of these breeding facilities who, as mentioned, only care about profit.
It is important to avoid supporting this industry, either directly or indirectly, such as through pet store purchases. Pet stores usually get their puppies from puppy mills, so avoid them. Shelters and rescues are much better places to go if you want a puppy.
Pros And Cons Of Getting A Shih Tzu Chihuahua Mix
Here are the cons of having this dog:
Numerous health issues which can be inherited from the parent breeds.
Their tiny size means they are delicate and special care should be taken when handling them.
Not well suited if you have small children or larger dogs, as they can hurt this dog without meaning to.
And here are the pros:
They are small dogs and can live in smaller homes, such as apartments.
The activity requirements are small.
These dogs have animated and colorful personalities.
They are loyal dogs.
Shih Tzu Chihuahua Mix Rescues
Here is a list of rescues for the Shih Tzu or Chihuahua dogs:
If you know of an organization that is not listed here, please add it in the comment section below.
Is A Shih Tzu Chihuahua Mix Right For Me?
There's certainly a lot of positive things about a Shih Tzu Chihuahua mix.
They have a feisty and endearing personality and are adorable little dogs.
However, because of small size and other issues as mentioned in the health section, this dog needs special care and attention.
Adopting this dog from a shelter is worthy of serious consideration. In a shelter you will know exactly what you are getting in the physical and temperament sense. And most importantly, you will be saving the life of a dog.
References And Resources
Encyclopedia Britannica
American Kennel Club
Duffy, DL, et al., "Breed differences in canine aggression," Applied Animal Behaviour Science, Volume 114, Issues 3-4, 2008
Nganvongpanit, K., et al., "Prevalence of and Risk Factors of Patellar Luxation in Dogs in Chiang Mai, Thailand, during the Years 2006–2011," Thai Journal of Veterinary Medicine, Volume 41, Issue 4, 2011
Christmas, RE, "Common ocular problems of Shih Tzu dogs," Canadian veterinary journal, Volume 33, Issue 6, 1992
Vannevel, J., "Familial renal disease in Shih Tzu puppies," Canadian Veterinary Journal, Volume 36, 1995
Kim, E., et al., "Major medical causes by breed and life stage for dogs presented at veterinary clinics in the Republic of Korea: a survey of electronic medical records," PeerJ, Volume 6, e5161, 2018
Priester, WA, "Canine intervertebral disc disease — Occurrence by age, breed, and sex among 8,117 cases," Theriogenology, Volume 6, Issues 2-3, 1976
Johnson, L., "Tracheal Collapse: Diagnosis and Medical and Surgical Treatment," Veterinary Clinics of North America: Small Animal Practice, Volume 30, Issue 6, 2000
Get Pippa's free dog training tips delivered to your inbox