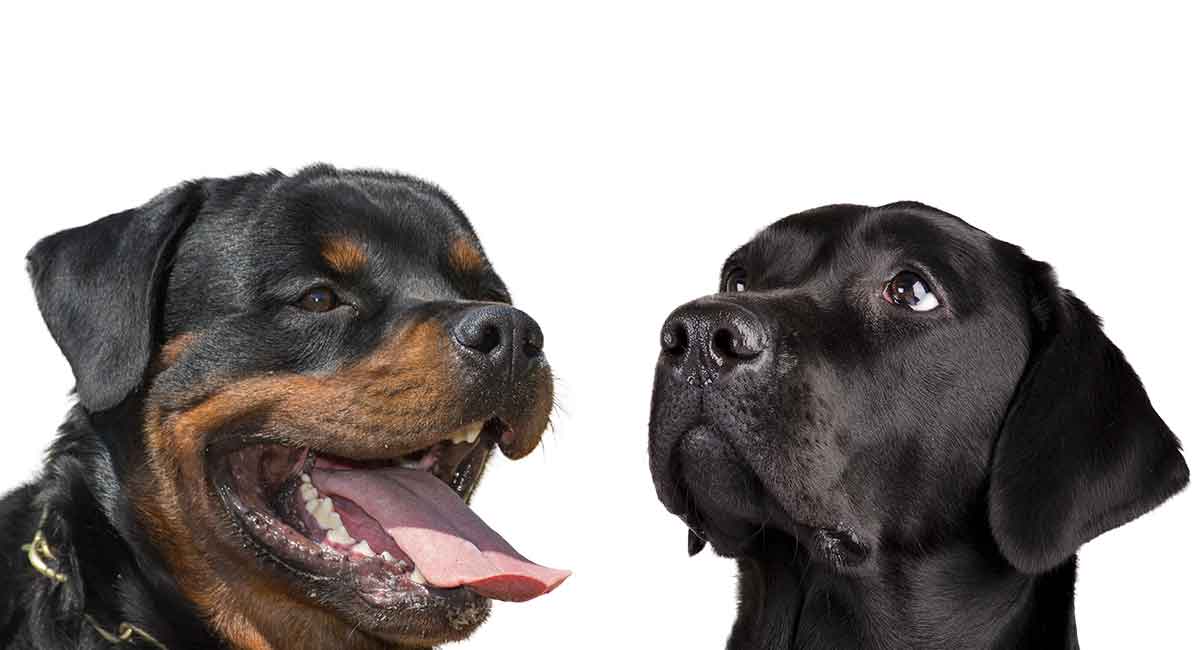 If you're trying to choose between the rottweiler vs Labrador and aren't sure who to turn to for advice, we've got you covered.
Picking between two intelligent, adorable and active dog breeds is tough, but it's not impossible.
Let's get started.
Picking Between the Rottweiler vs Labrador
The Labrador retriever vs rottweiler: How do you possibly choose?
Both breeds are known for their work ethic, cleverness and playful nature. So what does the majority say?
When it comes to popularity, the Lab is top dog.
The Lab is beloved for his family-friendly reputation and unwavering affection.
Sitting at number 1 out of 194 on the American Kennel Club's list of America's most popular dog breeds.
Still, you shouldn't count the rottweiler out.
In fact, he isn't too far behind his Labrador counterpart.
In the top 10, the rottweiler sits at number 8 out of 194 and is highly valued for his laid-back and gentle nature.
Both these breeds make excellent service animals for personal, military and police use due to their clever brains and eager-to-please attitudes.
But which of these breeds will make the best pet for your unique lifestyle?
Let's keep reading.
The Rottweiler or Labrador: Which Breed is Bigger?
Are you basing your choice on size?
When it comes to the rottweiler vs Labrador, their height isn't going to vary too much.
It's the weight of the two you should really take a look at.
For example, the Labrador retriever will typically grow to be around 22 to 25 inches tall and weigh anywhere from 55 to 80 pounds.
And while the rottweiler is close in height, standing 22 to 27 inches tall, he generally weighs quite a few pounds more than the Lab, with an average weight of around 80 to 135 pounds.
So, which breed is bigger? The muscular rottweiler takes the cake on size.
The Rottweiler vs Labrador Appearance
When it comes to comparing the appearances of the rottweiler vs Labrador, they couldn't look more different.
A seasonal shedder, the Lab is known for his thick, double-layered coat that comes in three solid colors, including: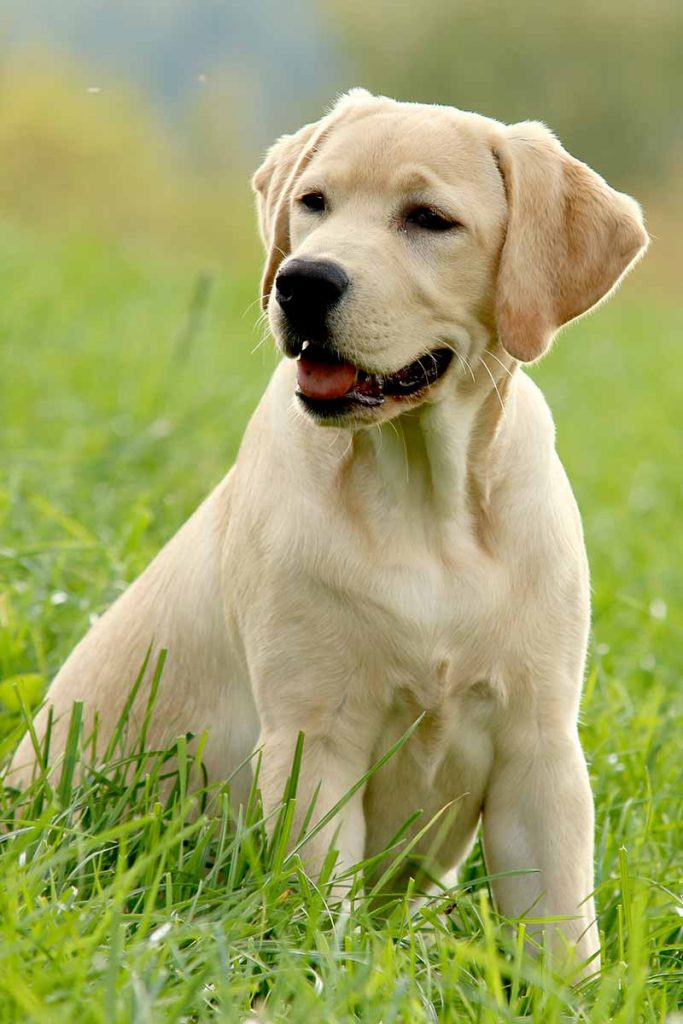 However, these colors come in different shades. For instance – the white Labrador,  or the Silver Lab.
The Lab has floppy ears; a happy, expressive face; wide eyes; and a long tail.
The rottweiler, on the other hand, is a muscular dog with a distinctive coat that is often black with brown patches usually on his chest, paws and muzzle.
The rottweiler is born with a long tail, but many breeders and owners choose to dock it.
Like the Lab, the rottweiler has floppy ears, alert eyes and an expressive face.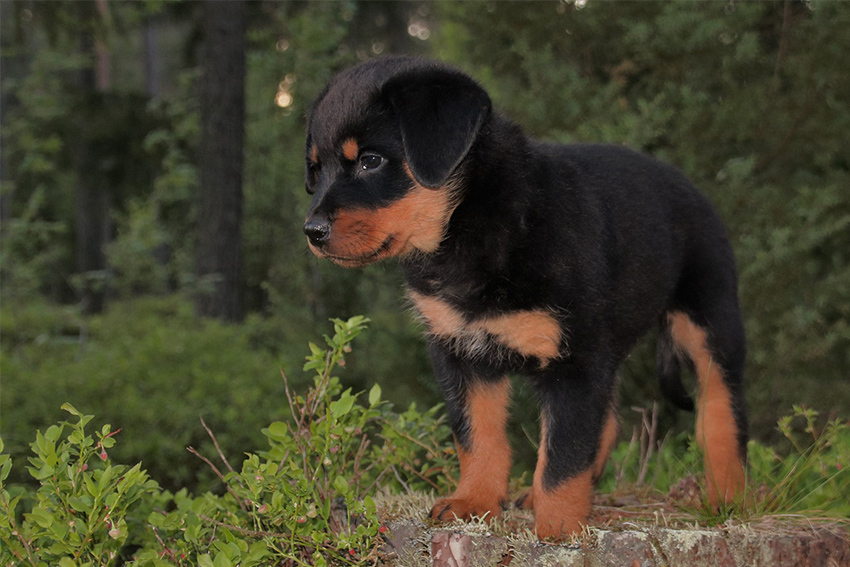 His sleek, shiny coat can come in four color varieties, including:
Overall Maintenance: The Rottweiler vs Labrador Grooming and General Care
There isn't much variation when it comes to grooming the rottweiler vs Labrador.
With similar coats, the grooming maintenance is going to be the same for either breed.
This means brushing a few times a week will help keep loose hair under control and help to keep both the Lab and the rottweiler looking their best.
Both breeds will also need their nails trimmed regularly and their ears cleaned consistently to keep them from developing infection due to wax or moisture buildup.
Who Is Noisier: The Rottweiler or Labrador?
Do you want a quiet dog?
Then you may want to stick with the Labrador.
He is a relatively quiet breed who only barks every now and then.
Mostly it's because he is excited, startled or playing.
The rottweiler, on the other hand, can be a pretty vocal dog who likes to talk back.
He uses his voice to express himself quite often, which many owners find charming and adorable.
However, others may find it bothersome and would prefer a less chatty dog.
Temperament and Personality Differences Between the Rottweiler vs Labrador
Who has the better temperament when it comes to the Rottweiler vs Labrador?
It all comes down to preference. With early socialization and obedience training, both of these dogs can have wonderful temperaments and make for excellent family pets.
However, it is important to keep in mind that the rottweiler may be banned in some regions due to his guarding history.
The rottweiler can also be known to be territorial and protective.
Aprospective owner should take special care to ensure this breed is well-socialized and trained.
Now, what about energy levels?
Are you into a super playful, excitable dog with puppy-like enthusiasm?
Or, do you want a dog who is calm and mild-mannered, but playful when he needs to be?
The Labrador is a very energetic breed who, although highly intelligent, is also a lot of work.
He needs a lot of training and attention in order to ensure his puppy-like ways don't get the better of him.
He can also be slow to mature. While this is fun for the young, active family, a Labrador may not be best for an owner who wants a dog who knows when to play but also knows when to relax.
If you are one such person, then the rottweiler may be the dog for you.
He is a playful, funny dog with lots of personality.
However, he knows when to settle down and take it easy.
Both breeds can be prone to chewing and other destructive behaviors if left to their own devices while bored.
Also, considering these breeds are so intelligent, they will need lots of training to keep them mentally sound.
A prospective owner should also note that both the Lab and the rottweiler are family-oriented and bond strongly with their people.
Intelligence in the Rottweiler vs Labrador: Which One is the Brainiac?
According to Stanley Coren's 1994 book "The Intelligence of Dogs," the Labrador is the seventh brightest canine around while the rottweiler ranks two behind him at number nine.
So, if you want the smartest of the bunch, the Lab is in the lead but barely.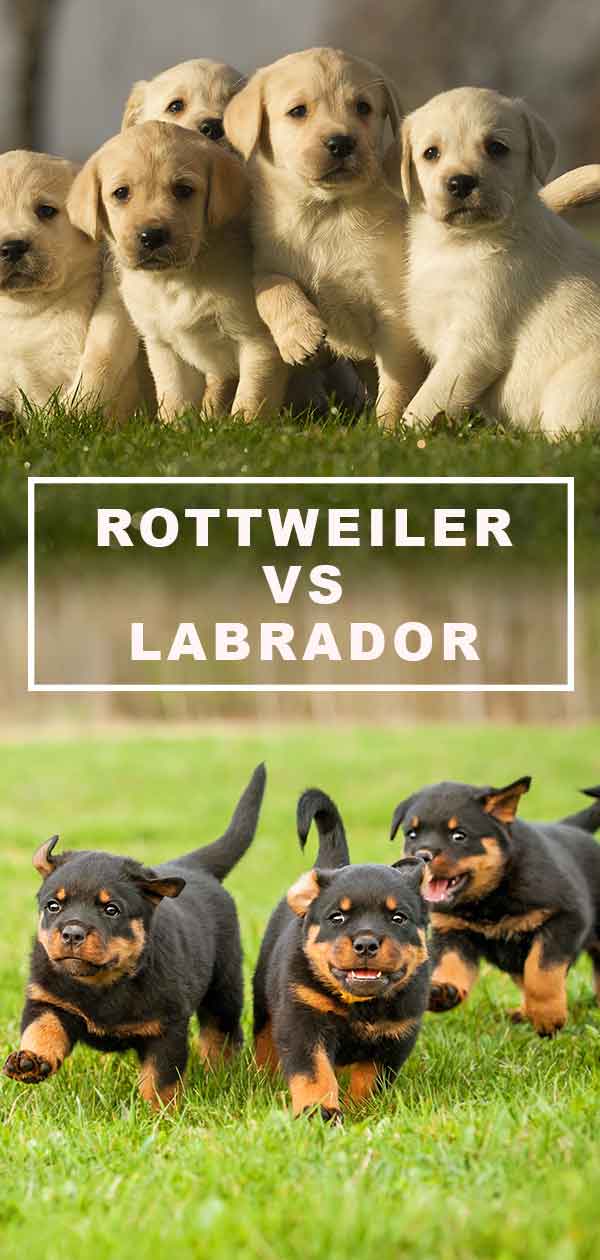 Training and Exercising the Rottweiler vs the Labrador
As we mentioned above, both the Lab and the rottweiler are energetic breeds.
They will thrive in active environments with owners who are able to train and exercise them on a daily basis.
Luckily, both the Lab and the rottweiler are eager to please and love to learn, which means they each make wonderful students.
Still, keep in mind that the Labrador is especially energetic and can be slow to mature.
And while his puppy-antics are adorable and fun, it could also be exhausting.
The Lab especially can be prone to destructive behaviors if not exercised or trained enough, meaning you'll want to stay on top of those daily walks and outings to the dog park.
The rottweiler is less high-energy than the Lab, but he still needs daily exercise to maintain a healthy body weight and a sound mind.
Health Issues and Life Span Comparison of the Rottweiler vs Labrador
All dogs are susceptible to genetic health issues.
With this in mind, it's important you consider what the rottweiler vs Labrador could be prone to before deciding which breed to get.
When it comes to life span, the Labrador lives longest on average, with a typical life expectancy of 10 to 12 years.
Still, Labs can be susceptible to a number of health concerns.
Including loose knee joints, heart disease, eye diseases, elbow and hip dysplasia, ruptured ligaments in their hind legs, cancer, epilepsy and chronic allergies.
The Lab is also more prone than other dogs to the gastrointestinal syndrome known as bloat.
Now let's take a look at the rottweiler.
With an average life span of nine to 10 years, the rottweiler is prone to hip and elbow dysplasia, aortic stenosis, entropion, cruciate ligament rupture, cancer.
Osteochondritis Dissecans, wet eczema cold water tail, juvenile laryngeal paralysis and polyneuropathy.
Depending on which breed of dog you go with, you may want to consider having him undergo early health screening.
Early health screening could give you a bit of foresight on what your dog may face health-wise in the future.
Which Breed Makes the Best Family Dog: The Rottweiler vs Labrador?
Do you have a brood of your own to worry about?
Choosing the best breed for a household with children can be nerve-wracking, so here is what you should know about the rottweiler vs Labrador.
The number one dog for families in the U.S. is the Labrador. This breed is gentle with the little ones, playful with other household pets and quite smart.
However, he is a rambunctious breed who could be a bit overwhelming for smaller children.
On the flip side, this dog is a quick study and loves to learn, meaning training away undesirable behaviors shouldn't be too tough.
But don't be disappointed if you were hoping we would say that the rottweiler makes the best family pet.
Remember, just because the Lab comes in first, according to the AKC, doesn't mean you have to pick him.
The rottweiler isn't far behind, after all, sitting at number eight.
The rottweiler, when properly socialized and trained, is renowned for his gentle nature and family-friendly behavior.
He is a natural comedian with loads of loyalty and love to go around. And, just like the Lab, the rottweiler gets along well with other household pets he is raised with.
Making the Decision: Picking Between the Rottweiler vs Labrador
Picking between the Labrador dog vs rottweiler is difficult. Each breed is special in its own way.
Both breeds are active, intelligent and social. They love family and get along well with most everyone as long as they are properly socialized and trained.
However, if you have small or more active children, you may want to go with the Lab.
If you are an outgoing family who loves adventure but knows when to take it easy, then the rottweiler would be a great fit for you.
Are you the owner of a rottweiler or a Labrador? Do you have advice for our readers who just can't decide between the two?
Let us know in the comments below.
References and Further Reading:
Ackerman, L., 2011, "The Genetic Connection; a Guide to Health Problems in Purebred Dogs"
Bley, T., et al., 2002, "Genetic Aspects of Labrador Retriever Myopathy," Research in Veterinary Science, Vol. 73, Issue 3, pgs. 231-236
Coren, S., "The Intelligence of Dogs," 1994
Hoffmann, G., et al., 2008, "Copper-Associated Chronic Hepatitis in Labrador Retrievers," Journal of Veterinary Internal Medicine
Howell, T., et al., 2015, "Puppy Parties and Beyond: The Role of Early Age Socialization Practices On Adult Dog Behavior," Dovepress, Vol. 6, pgs. 143-153
Hsu, Y. and Serpell, J.A., 2003, "Development and Validation of a Questionnaire for Measuring Behavior and Temperament Traits in Pet Dogs," Journal of the American Veterinary Medical Association, Vol. 223, No. 9, pgs. 1293-1300
Irion, D.N., et al., 2003, "Analysis of Genetic Variation in 28 Dog Breed Populations With 100 Microsatellite Markers," Journal of Heredity, Vol. 94, Issue 1
Get Pippa's free dog training tips delivered to your inbox