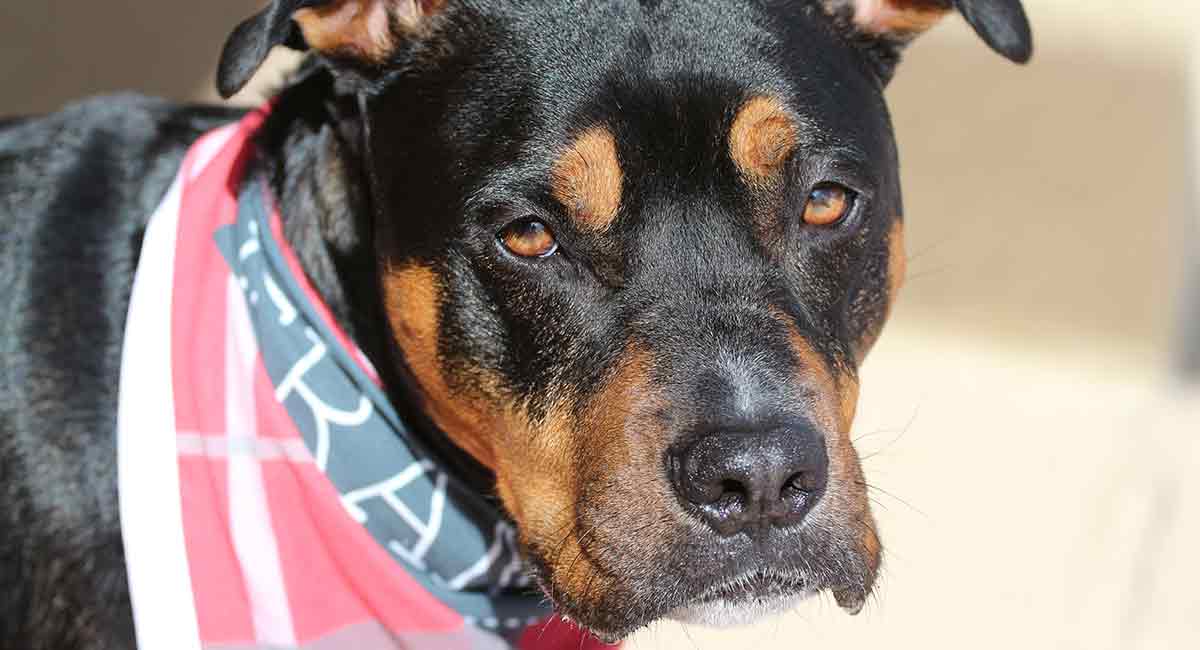 The Rottweiler Pitbull mix combines two breeds known for their loyalty, but also for their acts of aggression.
This mixed breed will grow between 17 and 27 inches tall, weighing 40 to 135 pounds as adults. They are generally a strong, loyal, people-oriented breed.
But, Rottweiler Pitbull mix dogs have to face criticism not just for their violent past, but for being 'designer' mixed breed dogs.
Which is a lot to consider for any would-be Pitweiler owner.
Rottweiler Pitbull Mix
The Pitweiler, a mix of two powerful, highly publicized breeds is sure to be divisive. Both breeds have dedicated fans who want to break down stereotypes.
Others feel these dogs are inherently dangerous and are not safe as pets.
We will have a look at the facts regarding both the Pitbull and the Rottweiler. But also what you could expect from a mix of the two.
Where Does the Rottweiler Pitbull Mix Come From?
As with many cross breeds, the exact origin of this mix is unclear. The parent breeds, however, both have a long, well-documented history.
The Rottweiler History
The Rottweiler is a herding breed which dates back for centuries. Perhaps even to the Roman empire.
In time, the dogs became associated with a German town named 'Rottweil'.
As the breed developed it was not only used to herd but also to guard flocks during the night which included fending off bears.
In 1907 Rottweiler breed clubs started appearing in Germany, then later in other countries.
The Pitbull History
The Pitbull's history stretches back to the 1800s in England. The Old English Bulldog was the foundation of the breed.
These dogs were used for 'bull baiting'. This is where one or two dogs were set on a bull for hours on end.
Later, it was deemed this sport was cruel and banned. As a result, terrier blood was introduced, and the dogs were used to kill rats for sport.
Later the dogs were used to fight one another.
It was important that the handlers could enter the ring and remove their dog at any point. So, dogs who showed aggression toward humans were culled.
This Isn't Their Only History
When Pitbulls came to America, they were embraced as a working and companion dog, enjoying a period in which they were known as the "All American Dog".
Sadly, the rise of underground dog fighting in America in the 1980's gave rise to unscrupulous breeders. They bred dogs for fighting and intimidating unwanted visitors to their establishments.
The sad result is that these dogs were often neglected, abused, poorly socialized and euthanized. 
While the Pitbull itself is a controversial breed, mixing breeds is also a hotly debated subject.
Purebred vs Mixed Breed Dogs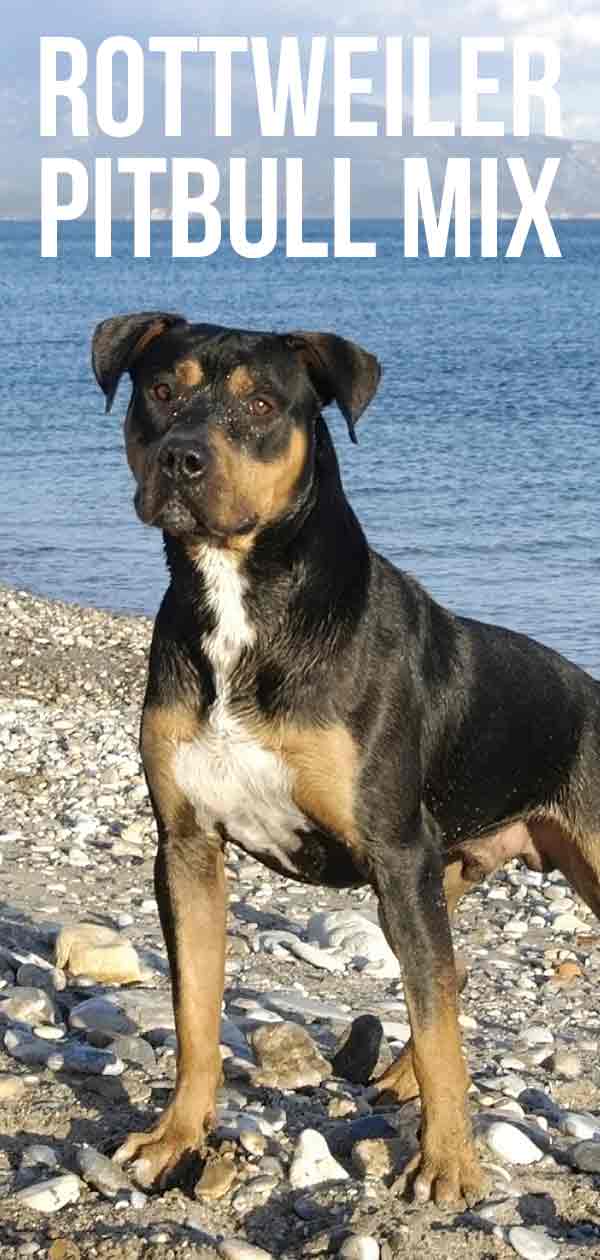 Fans of purebred dogs are concerned with keeping a breed's traits consistent and argue that the rise of mixed breeds results in dogs that are unpredictable, both in temperament and in health.
Sadly, the demand for some mixed breeds has given rise to puppy mills or farms which are dens of neglect and cruelty, based on the demand for 'designer dogs' without thinking about the animal's health and wellbeing.
Those who advocate mixed breeds feel that the adherence to breed standards can lead to inbred dogs that suffer terrible health and conformational issues such as brachycephaly, elongated backs, shortened limbs, enlarged heads and tiny bodies.
These issues can make normal activities such as breathing, sleeping, running and giving birth uncomfortable or even life-threatening.
On both sides of the debate, the responsibility to address and correct these issues lies with humans.
Breeders can choose to only breed from healthy dogs in humane conditions. Buyers can be sure to only bring puppies who have been bred responsibly into their homes.
Fun Facts About the Rottweiler Pitbull Mix
During World War 1, a Pitbull named 'Sargeant Stubby' rose to prominence and even earned himself a place in the infantry.
Over 18 months he saved many lives by alerting soldiers of incoming shells, tear gas and even the infiltration of enemy soldiers.
Rottweilers were one of the first breeds of dogs used in the rescue efforts after 9/11. Clearly, this is a testament to their bravery, loyalty and devotion to humans.
Rottweiler Pitbull Mix Appearance
As with any mixed breed, it is hard to predict exactly what a mix of these breeds will look like.
But, a closer inspection of both the parent breeds will give us some clues as to what we could expect.
Rottweiler Parent
The Rottweiler stands 24 – 27 inches in height and weighs from 80 – 135 pounds. They have a sturdy, muscular build.
Their coat is short and black with distinctive rust-colored points on the legs and face. They have a broad face and soft, forward hanging ears.
Pitbull Parent
The Pitbull ranges from 17 to 19 inches in height and weighs anywhere from 40 – 70 pounds.
They are stocky and muscular in build and have a large, broad head. Their eyes are wide set and their ears sit slightly pricked.
Mix Size and Colors
They come in just about any color. Although in the show world, dogs with mixed colors are preferred over solid colored dogs.
A mix of these two breeds will most certainly produce a strong, muscular dog with a big, broad head. However, size and color could vary quite a bit.
Rottweiler Pitbull Mix Temperament
Both these dogs have somewhat sketchy reputations – while owners and fans of the breeds point out that these dogs are loyal, intelligent, brave and people oriented.
But their strength, size and some bad reports have made some wary of both breeds.
Let's have a look at the facts to see if there is anything we should be concerned about.
Rottweiler Pitbull Mix Aggression
A study published in 2008 looked at various breeds and their levels of aggression toward strangers, owners and other dogs. Higher scores indicated higher aggression levels.
The Rottweiler scored high in stranger-directed aggression, moderately in dog-directed aggression, but relatively low in owner-directed aggression.
The Pitbull ranked as average in stranger-directed aggression and low in owner-directed aggression.
However, they did score quite high when it came to dog-related aggression. These statistics look positive. However, there is more to the story.
Rottweiler Pitbull Mix Attacks
A paper published in 2007 examined fatal dog attacks in the United States. While such attacks are rare overall, 41% of the attacks were by Pitbulls.
The next two breeds most commonly involved in fatal dog attacks were the German Shepherd and Rottweiler.
Of these attacks, 70% happened in the owner's yard or in the proximity of the yard, and often, the people killed were familiar with the dog. Sadly, many of the victims are small children and babies.
It is hard to pin down exactly why these dogs attacked, with many listed as 'unprovoked'.
The study suggests that aggressive behaviors displayed by the dog leading up to the attack were perhaps not understood by the victim. Particularly if the victims were infants.
Bite Strength
This study states that these breeds can generate up to 1800 psi when they bite. But this figure is debated by some experts.
Whatever the case regarding bite strength, these dogs are capable of inflicting serious damage.
So, while the Pitbull and the Rottweiler may not typically display aggression toward their owners, the truth is that if they do attack, the results can be fatal.
Training Your Rottweiler Pitbull Mix
You can reduce the risks involved in bringing one of these dogs into your home by properly training and socializing them. In fact, proper training and socializing cannot be stressed enough.
Here are links to articles that will help:
Both Rottweilers and Pitbulls are dogs that need plenty of exercise. That means more than just leaving them loose in the yard.
They need exercise which includes interaction and the opportunity to bond with their owners.
This is not only vital for their physical health (Rottweilers are known to get a little porky if left to their own devices) but also for their emotional health.
Rottweiler Pitbull Mix Health
The Rottweiler typically lives around 10 years, and the Pitbull can live up to 16 years of age. So your Rottweiler Pitbull mix could live anywhere between these ages.
The American Breed Clubs for the Rottweiler and Pitbull recommend the following health tests: hip evaluation (hip dysplasia), cardiac exam and ophthalmologist evaluation.
This tells us that Pitweilers are susceptible to these problems from both sides of the family.
Other issues to watch out for include: Elbow problems, thyroid problems and nervous system issues.
Being active, muscular dogs, both breeds will need to high-quality diet to keep up with their energy demands.
The Rottweiler has an undercoat on the neck and thighs. Whereas the Pitbull doesn't. So your Rottweiler Pitbull mix could inherit either trait!
Regular brushing and the occasional bath, depending on which side of the family your dog has taken after, will be enough to keep their coat shiny and healthy.
Do Rottweiler Pitbull Mixes Make Good Family Dogs?
There is a lot to like about the nature of these dogs, which is why they are both popular breeds despite the risks associated with them.
However, introducing a Pitweiler into your family warrants careful consideration.
If there are babies and young children around, you should ensure they are supervised at all times when with these dogs. Even if you feel your dog would never attack. This requires careful planning.
Similarly, the Rottweiler Pitbull mix should never be left alone with other animals, given the Pitbull's tendency to display aggression toward other animals.
Pitweilers suit responsible, experienced dog owners who know how to train a dog and thoroughly understand dog behaviors.
A home that is properly set up to house a dog safely and securely is also a must if you are considering one of these dogs.
Rescuing a Rottweiler Pitbull Mix
Head to most rescue shelters and you will find a staggering proportion of dogs looking for a new home have Pitbulls in them. So, you may be in luck finding a Rottweiler Pitbull mix.
Sometimes dogs are up for adoption due to behavioral issues, or because the previous owner mistreated them.
While this is not the dog's fault, the responsibility to care for an emotionally fragile yet physically powerful dog is a heavy one.
So, get a thorough history of the dog and weigh up if you are honestly up to the task.
Good rescue organizations will have this kind of information and will help you make a wise decision. There is some great information published by 'Pitbull Rescue Central' which will help you in your decision.
Finding a Rottweiler Pitbull Mix Puppy
Sadly, puppies in pet shop windows or up for grabs in the local classifieds are all too commonly the product of puppy farms or irresponsible backyard breeders.
At times, these dogs have suffered great emotional and physical abuse and neglect.
It is important that any pup you take home has come from a responsible breeder, has been raised in safe conditions, and has been allowed to learn from their mother and their littermates.
So, make sure you can visit the place your Rottweiler Pitbull mix puppy was raised and meet the parents.
The breeder should also be able to provide information about the health and temperament of the parent dogs.
Raising A Rottweiler Pitbull Mix Puppy
For reliable information on how to raise a happy and healthy puppy, here are some great resources:
Pros and Cons of Getting a Rottweiler Pitbull Mix
Cons
If one of these dogs does attack, they can cause severe injuries and at times fatalities.
These dogs need a lot of time so it's key they are socialized, trained properly and given plenty of exercise.
It is not safe for these dogs to be left unsupervised with children or other animals.
Pros
Are generally loyal to their owners.
Enjoy reasonably good health.
Have a short coat that does not require as much maintenance as other breeds.
Similar Rottweiler Pitbull Mixes and Breeds
If you like the temperament or the looks of Pitweilers, here are some similar breeds you might like to consider.
Bull Terrier and Miniature Bull Terrier
Rottweiler Pitbull Mix Rescues
Is A Rottweiler Pitbull Mix Right for Me?
There is plenty to love about the Rottweiler Pitbull mix. Both in their physical strength and athleticism and in the appealing nature they generally possess.
But, the risks and responsibilities involved in having one of these dogs cannot be ignored.
If you cannot properly train, supervise and house these dogs, especially if you have young kids and animals around, it might be worth considering some other breeds.
References
American Kennel Club (Rottweiler and American Staffordshire Terrier (Commonly known as Pitbull))
RSPCA Australia
Loewe C.L., Diaz, F.J., Bechinski, J. "Pitbull Mauling Deaths in Detroit" The American Journal of Forensic Medicine and Pathology, 2007  (Warning – if you want to check this reference, be aware that there are incredibly graphic images of actual victims in the paper)
Duffy, D.L., et al., "Breed differences in canine aggression" Appl. Anim. Behav. Sci. 2008
Beuchat, C "The myth of hybrid vigor in dogs…is a myth" The Institute of Canine Biology
Get Pippa's free dog training tips delivered to your inbox