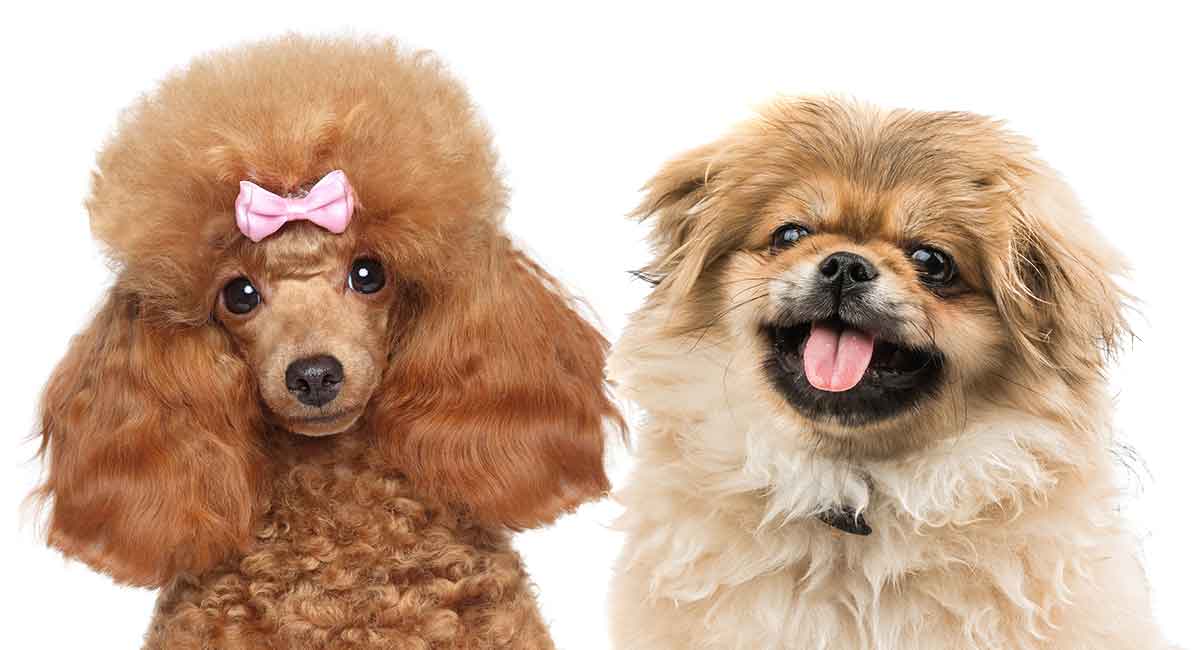 The Peekapoo dog is a cross between a Pekingese and a Poodle.
As both parent breeds are famed for their cute qualities already, this crossbreed has seen a lot of attention and popularity for some years now.
However, there is much more to a breed than just appearance.
There are a lot of important things to be aware of before purchasing a puppy.
Designer Dog Controversy
As this breed is a cross between two established purebred breeds, it is known as a designer dog.
Designer dogs such as the Peekapoo have come under a lot of scrutiny during recent years, with many concerns being raised about the general health of these crossbreeds.
There are also accusations that many of the breeders involved with designer dogs are inexperienced and motivated by greed.
Purebred vs Crossbred Studies
However, a study that took place in 2013, analyzing over 27,000 dogs of both purebred and crossbred backgrounds, found that purebred breeds were more at risk of certain genetic disorders.
Another study that took place in 2013 found that crossbred dogs live 1.2 years longer on average than their purebred counterparts.
This is suspected to be due to a concept called hybrid vigor, where increased genetic diversity leads to generally healthier dogs.
There are many misconceptions around crossbreeds, especially in comparison to purebred dogs.
We have an article that takes a deep look into these misunderstandings here.
Outcome Prediction
Advocates of pedigree dogs have also stated that it can be very hard to predict the outcome of a cross.
As the puppy could take after either parent in any aspect, unexpected traits could occur that may be undesirable to the owner.
Pedigree dogs, on the other hand, are a lot more predictable.
This is a true statement, but many owners enjoy this random aspect that comes with crossbreeding.
Breeder Regulations
Another big issue brought up is the concerns over the breeders of designer dogs.
Many believe that since there are fewer regulations on crossbred breeding, this could increase the chances that you may run into a bad breeder.
However, there still exist many bad breeders on the purebred side of things too, despite the higher regulations.
Regardless of whether you are buying a purebred or a crossbred dog, it's always recommended to check the trustworthiness of any given breeder beforehand.
Also check the health of the parent dogs as well as the puppy before purchasing.
So let's take a look at all the important information you will need to know for the Peekapoo dog breed.
We'll start with the origins of the parent breeds.
Origins of the Pekingese
The Pekingese holds its origins within Chinese royalty as a lapdog, along with many other flat-faced breeds that were held in high esteem during that time, such as the Pug and the Shih Tzu.
Before the 1860s, the Pekingese was completely unknown to western civilization.
It was only when British troops invaded the royal palaces during the Opium Wars that they were discovered and brought back to the West.
By the 1890s, they had reached America and quickly gained popularity due to their extravagant and cute appearance.
Origins of the Poodle
Poodles were originally bred to be waterdogs: a breed tasked with retrieving fallen ducks from the water during hunts.
With their unique curly coat serving as protection against the elements and their natural gift at swimming, they excelled at this activity.
Later on in history, they found a life within the lap of luxury.
Their dignified appearance attracted nobles around Europe.
Nowadays, they serve as companion dogs and live to entertain.
They are known as the national dog of France, but despite this, they actually originated within Germany.
What Is a Peekapoo Dog?
Like all other designer dogs, sometimes it can be hard to predict the outcome of a cross.
The Peekapoo could take after either parent or land somewhere in between with all aspects, such as size, temperament, and coat.
However, improving your knowledge of both parent breeds can help you get an idea of what to expect.
Size, Height, and Weight of a Peekapoo Dog
The Pekingese is a toy dog breed, meaning they are very small.
They only reach heights of to 6–9 inches and weigh up to 14 pounds.
Poodles, on the other hand, can be three distinct sizes: standard, miniature, and toy.
The standard is the largest of the three, and typically reaches heights over 15 inches. A male weighs in at 60–70 pounds, while a female will weigh around 40–50 pounds.
The miniature usually ranges in height from around 10–15 inches and weighs around 10–15 pounds.
The toy will be less than 10 inches tall and can weigh as little as 4–6 pounds.
Peekapoo Size
Depending on the size of the Poodle in the cross, the height and weight of a Peekapoo may vary.
However, the most common sized Poodles involved in this cross are miniature and toy.
This means that the Peekapoo full grown will range in height from about 6–15 inches and weight 10–14 pounds.
For a closer estimation, inquire about the height and weight of both parent dogs.
A healthy Peekapoo will fall within the ranges between their parents.
Characteristics of a Peekapoo Dog
Pekingese Parent
A distinct characteristic of the Pekingese is their flashy, and extravagant coat.
The coat is straight and longer around the face, creating a look similar to a lion's mane. It can come in a variety of colors.
The Pekingese is well-known for its flat face, which many find cute and appealing.
However, this characteristic can cause conditions that may be life-threatening.
We will take a look at these health issues later in the article.
Along with the flat face, they sport a stocky muscular body, heart-shaped ears, and the bulging eyes known for other flat-faced breeds.
Poodle Parent
The Poodle is also known for its luxurious coat.
Dense, curly, and naturally corded, it can either be kept long or trimmed down into something more manageable.
They have a strong muzzle, floppy ears, and intelligent eyes.
Depending on which parent the Peekapoo takes after, they may end up with either a straight or curly coat.
They could also inherit the "lion's mane" if they take after the Pekingese.
The Peekapoo dog could also have a flat face, a strong muzzle, or somewhere in between depending on who they take after.
Temperament of the Peekapoo Dog
The Pekingese is known to strongly attach to those within their family and have a loyal and loving personality.
However, they are also famed for their independence and stubbornness.
They may struggle to get along with strangers and be naturally wary of them.
The Poodle is a highly intelligent breed, always eager to please their owners.
They have a friendly temperament with other dogs and humans provided they have been socialized correctly.
They carry themselves with elegance and dignity and are also quite energetic.
As for the Peekapoo dog, if they take after the Pekingese, they may end up being rather stubborn and opinionated, which may cause behavioral problems and trouble training the dog.
Regardless of which parent they take after, they will always be a loving breed due to that trait being present in both breeds, provided that they have been trained and raised well.
Caring for a Peekapoo Dog
Peekapoos do well on high-quality dog food.
However, it is very important to keep a close eye on your dog's diet to ensure they remain at a healthy weight.
Do Peekapoos shed?
Depending on what kind of coat the Peekapoo has inherited from the parent dogs, the grooming requirements will differ.
If the coat is straight like the Pekingese, brushing for at least an hour a week will be enough to prevent their fur from matting and helps remove any loose hairs.
However, if the coat is curly and corded like the Poodle's, their coat must be brushed thoroughly down to the skin daily to prevent matting.
Peekapoo Haircuts
A possible choice to help deal with the significant grooming requirements is a Peekapoo haircut.
By trimming the coat down, either by a professional groomer or by yourself—if you are experienced—you can help lessen the workload to brushing just a few times a week.
It's also important to trim the Peekapoo's nails, to prevent discomfort caused by excessive length, and to brush their teeth regularly.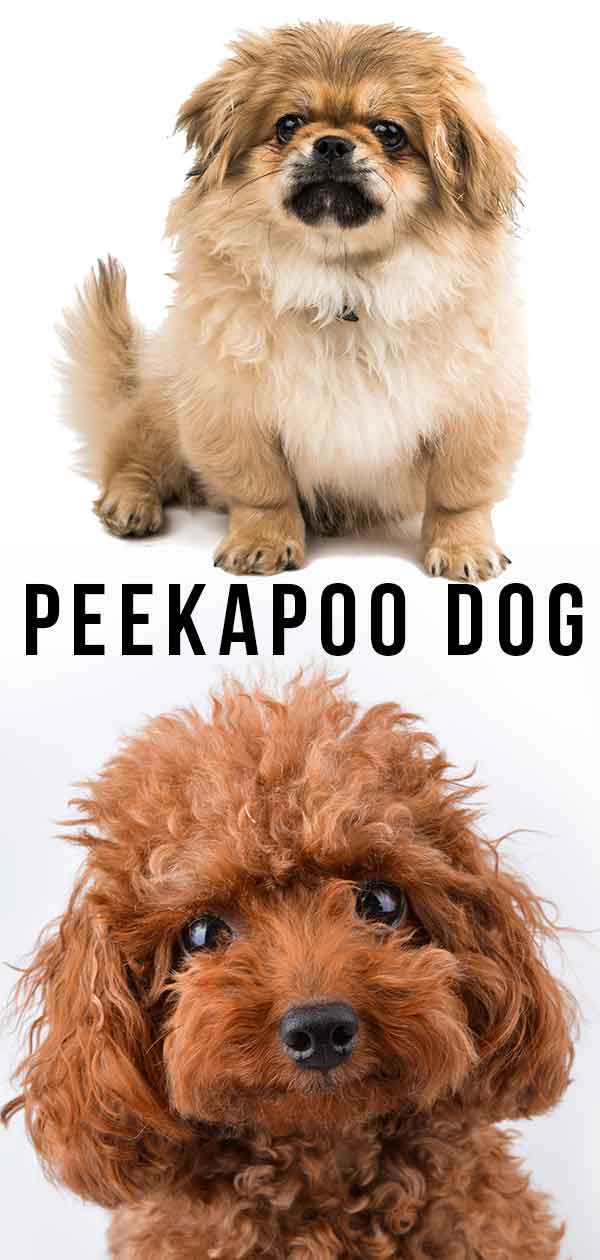 Health Issues of the Peekapoo Dog Breed
Sadly, both of the parent breeds are known to suffer from a variety of health issues that may present themselves within the Peekapoo dog.
Pekingese Health
The Pekingese is known as a brachycephalic breed.
This refers to breeds with a flat face.
Brachycephalic dogs have a shortened skull when compared with other breeds, and this compresses the nasal cavity, impeding the dog's ability to breathe.
This is known as brachycephalic airway syndrome.
Brachycephalic Airway Syndrome
Sufferers of this condition struggle to breathe, resulting in loud breathing, snoring, and intolerance of heat and exercise.
Anything that can apply extra stress on the dog's breathing can potentially be dangerous.
Therefore, if your dog is a sufferer of brachycephalic airway syndrome, it is recommended that you never take them out into hot weather, and also be sure to exercise them lightly.
It may be worth cutting their coat short during the summer to help with the heat.
It is also recommended to walk the dog with a harness rather than a leash, to avoid putting even more stress on the dog's breathing.
If untreated, brachycephalic airway syndrome can eventually lead to laryngeal collapse.
This is an incredibly severe condition that can quickly worsen the dog's breathing, which may lead to death in a short amount of time.
How to Avoid Brachycephalic Airway Syndrome
Unfortunately, it is unknown whether a puppy of this cross will suffer from this condition and to what degree.
However, we do not advise purchasing a Peekapoo that has a very flat face like the Pekingese.
Especially if it is breathing loudly, and its nostrils are not wide and free-flowing.
Instead, try and get a puppy of this cross that has a more pronounced muzzle on average.
This can help reduce the chance your new pet will suffer from this severe and possibly life-threatening condition.
Intervertebral Disc Disease.
The Pekingese is also at a higher risk of developing a serious condition called intervertebral disc disease.
This is a painful condition where one or more of the discs in the spine burst or rupture.
In severe cases, this can lead to incontinence or even paralysis.
Poodle Health
Poodles can suffer from hip dysplasia.
This is a painful developmental disorder where the hip joint does not develop correctly, leading to arthritis.
Both the Pekingese and the Poodle can suffer from patellar dislocation, also known as patellar luxation.
This is where the kneecap can slide out of place and cause sudden pain and lameness in the dog.
The Peekapoo could potentially inherit any of these conditions from their parents, especially those that have a chance to occur in both parent breeds.
Therefore it is very important to find a breeder who is trustworthy and can provide recently passed health evaluations for both parents.
Exercising and Training the Peekapoo Dog
The Pekingese is quite a calm dog and should do well with a short walk every day.
The Poodle, on the other hand, may require a significantly longer walk every day to suit their energy levels.
The Peekapoo could be more or less energetic depending on which parent they take after.
Testing them with different walk lengths can help gauge how much energy your dog has to spend!
As for training, the Pekingese has a reputation for stubbornness and independence that can sometimes make them quite a hassle to train.
However, the Poodle has quite the opposite reputation; being incredibly intelligent and friendly, they enjoy to learn and please.
Depending on which parent your Peekapoo takes after, they may be either easier or harder to train than your average dog.
The Ideal Home for a Peekapoo Dog
Peekapoos do best in caring families that can provide a safe environment for them to grow up in.
The home should be well air-conditioned and cool during the summer.
The heat can be dangerous if your Peekapoo has a flatter face.
A lot of indoor space for your Peekapoo to play when it is too hot outside can also be a big help.
Issues With Children
It's not recommended to house this dog with particularly small children, due to the fact that the Peekapoo is most likely going to be quite a small dog.
Small children who are still learning to play gently could possibly be too rough and harm the dog.
The Peekapoo may get along with other pets as long as they are socialized well from a young age.
They could also possibly suffer from separation anxiety.
Because of this, it's recommended that there is always at least one person within the house to keep them company, and if they need to be left alone it is only for short timeframes.
Finding and Purchasing Peekapoo Puppies
Peekapoos are one of the older of the designer dog breeds and remain fairly popular.
Therefore, finding a breeder shouldn't be as hard as it can be for other crossbreeds.
To find Peekapoo breeders, there are multiple avenues you may take.
Searching online can be a good way to browse potential breeders, and local methods such as newspapers can help too.
It is very important to locate a breeder who can be trusted.
Those recognized by established breeding societies and have positive feedback from past customers are usually your best chance at receiving a well bred, healthy puppy.
What to Look For at the Breeder
When you find a puppy from a breeder you think you can trust, it is important to check over the puppy before making any decisions.
Are they breathing loudly?
Are their nostrils pinched shut?
These are some telltale signs of brachycephalic airway syndrome.
It's also important to check over the parent dogs.
Make sure both can move without pain and lameness.
It's also important to check over the Pekingese parent, in particular, for the same issues that you have checked for in the puppy.
The breeder should also be able to provide recently passed health evaluations for the Poodle.
These can help prove that these issues will not be an issue within the puppy.
These include a hip evaluation, an ophthalmologist evaluation, a PRA optigen DNA test, and a patella evaluation.
If the Pekingese has had a recent general health check-up, that is ideal.
Similar Breeds
If you aren't sure this is the perfect breed for you, there are plenty of others you might want to consider.
Check out some similar breeds and mixes below!
Are They Right For Me?
However, potential owners must be aware of the possible severe health conditions within this breed and be prepared to possibly give special care and/or afford expensive vet visits.
They must also be able to provide a safe and cool environment for the dog and be able to take care of their significant daily grooming requirements if they choose not to trim their Peekapoo.
It is also important that you train the dog correctly from a young age.
If you are not an experienced dog trainer, puppy classes might be necessary.
Finally, this is not a breed that can be left alone for many hours within the day.
Families must be able to provide company for the dog as much as possible.
This is not a good dog for first-time owners.
Peekapoo Dog Summary
The Peekapoo has the potential to be a loving and playful family dog that can bring a lot of character to a household.
Only you can decide if a Peekapoo is right for you, but it is important to consider whether you have the time to put in to care for this breed.
Let us know any fun facts we missed about the Peekapoo in the comments below!
References
American Kennel Club
Bellumori, TP, et al, Prevalence of inherited disorders among mixed-breed and purebred dogs: 27254 cases (1995-2010) Journal of the American Veterinary Association, 2013
O'Neill, DG, et al, Longevity and mortality of owned dogs in England The Veterinary Journal, 2013
Monnet, E, Brachycephalic Airway Syndrome World Small Animal Veterinary Association, 2015
Karabagli, M, Brachycephalic Airway Syndrome in Dogs Istanbul University, 2012
Bright, RM, Laryngeal Collapse in Dogs, 2011
The Kennel Club UK
Priester, WA, Canine intervertebral disc disease – Occurrence by age, breed, and sex among 8,117 cases Theriogenology, 1976
Priester, WA, Sex, Size, and Breed as Risk Factors in Canine Patellar Dislocation Journal of the American Veterinary Medical Association, 1972
Witsberger, TH, et al, Prevalence of and risk factors for hip dysplasia and cranial cruciate ligament deficiency in dogs Journal of the American Veterinary Medical Association, 2008
Get Pippa's free dog training tips delivered to your inbox