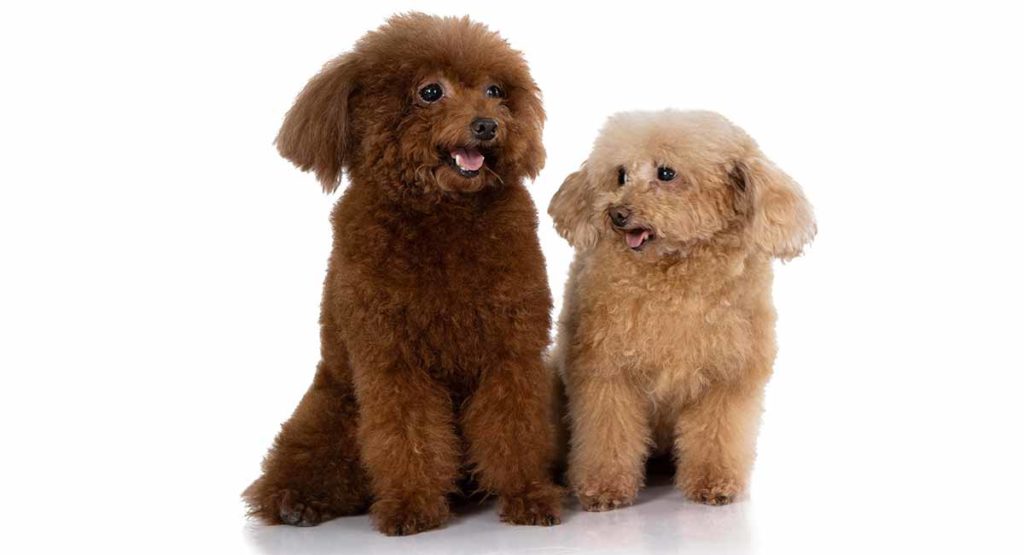 When it comes to Miniature Poodle colors, there is a lot to talk about! This breed comes in many colors, from white and cream to red and black Miniature Poodles.
Red and apricot are the latest colors to be recognized in purebred Miniature Poodles.
There are so many great colors for poodles, you might have trouble picking your favorite!
So, let's get started looking at the different shades.
We'll investigate similarities in differences of each color, what's common and uncommon in this breed, and unusual markings as well!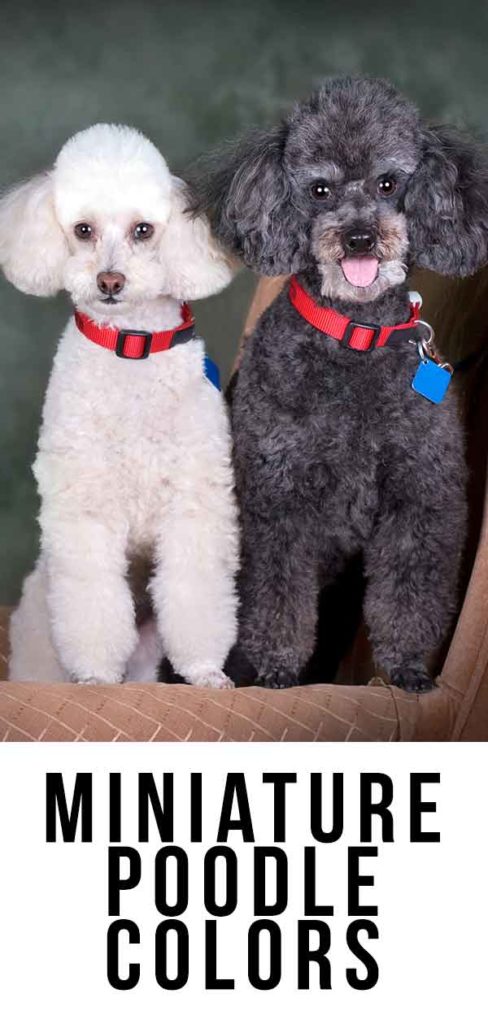 Coat and Defining Characteristics of the Miniature Poodle
Miniature Poodles are super cute. We love them not just because of their looks, though, but because of their intelligence and their sweet personalities.
Poodles have a double-layer coat of dense and curly or wavy hair on the outside, with a thick and woolly undercoat. When we picture a Poodle, we often think of that cute curl.
Their hair may even be set in tight, even cords. The skin underneath is usually pink, blue, silver or cream.
We also like that, although there is no such thing as a hypo-allergenic dog, poodles do tend to be low-shed.
That helps those that suffer from allergies, although of course there is no guarantee that a poodle will be completely safe for allergy sufferers.
The low shedding quality of the poodle is one reason that designer dog mixes often include poodles – so that you can have a shot at creating a hybrid that allergic people will react to less strongly.
Miniature Poodle Personality
Poodles were bred as retrievers – specifically, for retrieving waterfowl. That haircut they're famous for, with the extra fur around the legs and hips, was designed to protect their extremities in the water.
So these dogs have some qualities you would expect of retrievers. They are high-energy, lively, good jumpers, easily trainable and known for their intelligence. They are sensitive dogs without aggressive tendencies.
Poodles can be aloof and a bit shy, which means that socialization is important. They need mental stimulation and a firm but gentle hand.
And Miniature Poodles also require plenty of attention, since they may become anxious if separated from family for too long.
Miniature Poodles are 15 inches or under at the shoulders, with a minimum of 10 inches. Anything under that is considered a Toy Poodle; anything over would be a Standard Poodle.
By the way, these are not different breeds or varieties. The only difference between these types of poodles is size.
Poodle colors don't really affect their personalities, but they contribute to the all-around appeal of these little dogs for sure!
A Quick Look at Miniature Poodle Color Genetics
In all mammals, two pigments form the basis of hair color. Eumelanin is black, and pheomelanin governs red and yellow hair colors.
Other genes act upon these pigments to create a variety of colors and patterns. For example, there is a brown gene that turns black to brown, but does not affect red.
Also, there is a dilution gene that lightens coat color. It's not all straightforward, though. Gene inheritance theory can be quite complicated.
There is also an agouti gene that organizes black and red pigments. The agouti gene may be responsible for the sable pattern in Poodles.
Breed-specific genes and others also affect coat color, length, and texture in a number of different ways.
But when you're looking at color inheritance in dogs, you must look not just at the genes themselves, but they ways they interact and affect one another.
In Miniature Poodles, breeding has resulted in mostly solid, or "self" colors, but sabled Mini Poodles and parti dogs, with partial colors, do exist.
Poodle Colors: White, Black, Silver, and More
The most common color for Miniature Poodles is black.
However, you can find them in many colors, including white, silver, red, gray, cream, brown, blue, café-au-lait, and apricot.
Sometimes, you'll find varying shades of the same color family on a poodle, especially in the ear feathering and the tipping of the ruff.
Black, blue, gray, silver, white, and cream poodles may have black noses, eye rims, and lips, plus black or self-colored toenails and dark eyes.
Parti-colored poodles, in which the coat has two or more colors, are not desirable in pure-bred poodles of any size. But you will often see them in poodle mixes.
Brindle Miniature Poodles exist as well. There is also a particular marking called phantom coloring, which is not accepted by the American Kennel Club.
Genetically related to brindle dogs, phantom Miniature Poodles are more "sable" in coloring; that is, the coat is one color and the extremities and tips are black. The sabling tends to disappear with age.
Just remember that Mini Poodle colors may change over time. It is common enough, and you should know the dog's permanent coat color by about two years of age.
Black Miniature Poodles
Black Miniature Poodles are quite common.
These dark-colored dogs are true black, with no blue or silver tinting or any white, including in the hairs. The skin underneath is also black.
True black poodles will not fade in color. However, some black-appearing poodles that aren't actually true blacks will eventually fade to gray.
Silver, Gray, and Blue Miniature Poodles
Silver poodles are born black, then their hair color fades into a lighter color with black points.
By six weeks old, you should know if you have a silver poodle, and the coat turns completely silver over a year or two.
Basically, this is a diluted gray color.
Blue Miniature Poodles are a diluted or faded black, born black and then lightening up as a pup grows.
You should know by two years old if your dog will be blue. Generally, the outer coat is black, but root hairs are mixed in color, and amounts of color vary by age.
True blue poodles tend to have black points.
Poodles can be born gray and stay that way for life. But sometimes black Miniature Poodles fade into gray as they get older.
Brown, Café Au Lait, and Beige Miniature Poodles
Café-au-lait and brown Miniature Poodles often have liver (brown) colored noses, eye rims and lips, along with dark toenails and dark amber eyes.
Silver-beige poodles are born brown, and may likely have amber eyes and liver points. These are sometimes confused with café-au-lait colored dogs.
White and Cream Miniature Poodles
White Miniature Poodles are generally pure white, but some will be tinted with other colors such as apricot or beige.
Cream Miniature Poodles have a white inner coat, but the outer coat has more than 20 percent light brown hair.
Apricot and Red Poodles
Apricot Miniature Poodles may have black noses or liver noses, with eye rims and lips to match. Sometimes, they'll also have amber eyes.
True red Miniature Poodles will generally have black points.
Red Miniature Poodle dogs are rare. Their color appears to depend on a recessive gene in apricot poodles that appears to be separate, darkening apricot to red.
Red and apricot-colored dogs are the most recently bred and recognized colors of Miniature Poodles.
Miniature Poodle Grooming and General Care
Miniature Poodle grooming can be high-maintenance, especially if you keep your pup unclipped and furred.
Poodle hair is soft and grows continuously. It tends to be produced in waves.
A dog in that condition will need daily brushing so that it does not become matted. Poodles actually do shed, but the curly hair traps shed hair so it doesn't fall out much.
But that means matting is likely, which is why it requires so much care.
Tear-staining also occurs in Mini Poodles, and can be alleviated somewhat with proper grooming.
It may be easier for owners to keep their Mini Poodles clipped, with visits to the groomer every 4-6 weeks to maintain the short cut.
Miniature Poodle Colors
We hope you've now learned about all the beautiful colors that Miniature Poodles come in, and enjoyed doing so!
These dogs really are adorable with all that soft, curly hair. We love them!
What is your favorite Miniature Poodle color? We'd love to hear about it in the comments section below.
References and Resources
Evert, R. E. et al (2000). Identification of a premature stop codon in the maloncyte-stimulating hormone receptor gene (MC1R) in Labrador and Golden retrievers with yellow coat colour. Animal Genetics, 31(3).
Get Pippa's free dog training tips delivered to your inbox