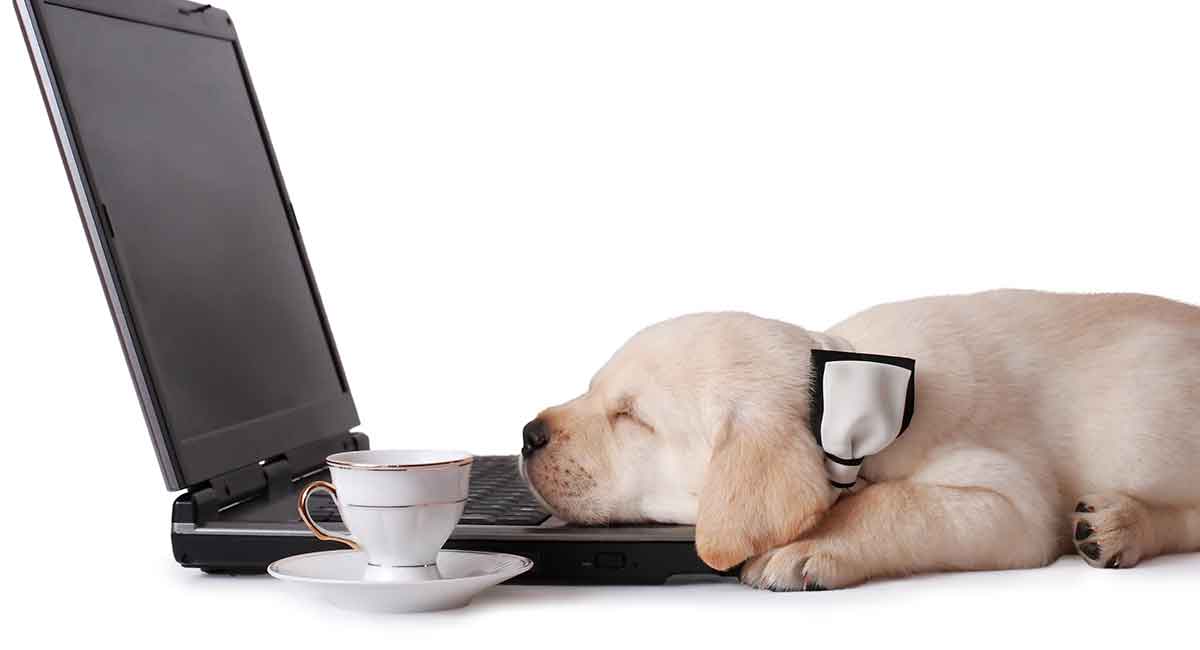 Before you take the plunge and adopt a Labrador Retriever, you should really consider the Labrador pros and cons.
Every dog has positive traits that can make them a joy to own.
But every dog can also have some negative aspects, and the Labrador Retriever is no different.
Taking a look at the pros and cons of Labrador ownership is very important before deciding to adopt one of these amazing dogs.
After all, it is extremely important to be aware of what exactly you're getting yourself into before adopting a specific type of dog.
No one wants to spend the time and energy on a puppy only to figure out that they really aren't right for their lifestyle.
To help you make an educated decision on whether or not to adopt a Lab, take a look at some of these pros and cons of Labrador Retrievers we've highlighted.
Labrador Pros and Cons – Personality
One of the biggest pros of owning a Labrador Retriever is their friendly, outgoing personality.
There is a reason that Labrador Retrievers are often chosen for service dog positions.
Their friendly and outgoing personality means that they make great family pets and can get used to a variety of social situations.
Of course, just like any breed of dog, early socialization and training play a large role in how friendly and accommodating a particular Lab is.
If a Labrador is not properly socialized, it is possible that they will not be terribly friendly, so this pro isn't exactly set in stone.
However, Labradors are known for being friendlier than many other dog breeds and have the potential to be very outgoing.
Labrador Pros and Cons – Energetic
However, this outgoing personality means that Labradors can be quite a bit more energetic than some other laid-back dog breeds.
They have a high exercise requirement and need to be walked daily.
Those with a lot of fenced-in land might not mind this requirement.
However, if you live somewhere where open space is not very accessible, this can be a significant problem.
Without the proper amount of exercise, Labradors can become destructive as they attempt to occupy themselves.
You really need to take a close look at your lifestyle to ensure that you have the time and the energy to exercise a Labrador Retriever like he needs to be.
Labrador Pros and Cons – Trainability
Labrador Retrievers are very smart dogs and can be trained quite easily no matter their sex.
They are usually very interested in pleasing their owners, which makes positive training techniques extremely effective, and they have a high desire to work.
This can be especially useful if you're planning on regularly taking your Labrador Retriever out in public, where training is essential to ensure that everyone is safe and comfortable.
Plus, this also means that you'll have to spend less time training your Labrador.
Though the high exercise requirements might edge out the amount of time this saves.
This is another reason that Labrador Retrievers are often chosen to be service dogs; they can just understand and perform more complex commands than some other dog breeds.
Labrador Pros and Cons – Boredom
This high intelligence does come with a consequence, however.
Labrador Retrievers require lots of mental stimulation throughout the day and easily become bored without it.
If your Labrador Retriever gets bored, they are more likely to be destructive and try to entertain themselves in ways that you might not appreciate.
Taking your Labrador Retriever on regular walks can curb this boredom, which makes them even more important.
Regular or even daily training can also be helpful.
Giving your dog the challenge of performing commands correctly and learning new things can help prevent boredom throughout the day.
If you don't have the time to train your canine every day or are commonly out of the house for long periods, puzzle toys can help.
But it is important to remember that these toys need to be refilled regularly.
If you aren't home to refill them, they will only last so long.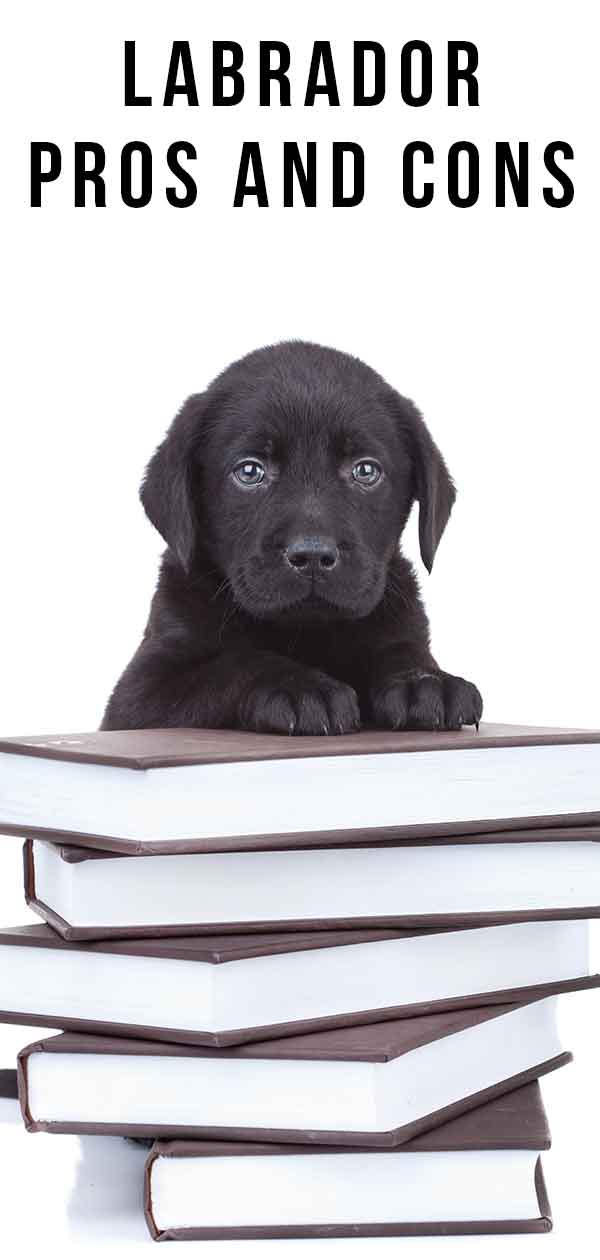 Labrador Pros and Cons – Soft Mouth
Biting is considerably common amongst dogs.
Even when they aren't trying to hurt you or be aggressive, some dogs can cause damage through play if not trained properly.
Labrador Retrievers, though, are different.
They were bred to retrieve fowl from lakes and fields.
This has led to them developing a "soft mouth."
In other words, they were bred not to bite down roughly, so that they would not damage the prey that they carried.
This translates into the average family Labrador Retriever as well.
They are far easier to train not to bite than some other dog breeds.
Many of them instinctually do not bite down hard, thanks to their heritage.
Labrador Pros and Cons – Shedding
Labrador Retrievers have a two-layer coat that allows them to be mostly waterproof.
While this is great for the sporting and playful side of a Labrador, it also leads to quite a bit of shedding.
Some Labradors shed more than others of course, but nearly all Labradors will shed quite a bit.
Regular grooming and brushing can keep the shedding to a minimum, but there really isn't anything you can do to prevent it from happening altogether.
If you plan on adopting this dog, we recommend investing in a good dog vacuum and planning on plenty of shedding.
Labrador Pros and Cons – Health
Labrador Retrievers are quite healthy when compared to other purebred dogs.
Of course, every breed has some health concerns, and the Labrador Retriever is no different.
This breed is prone to hip and elbow dysplasia.
Labrador Retrievers are also somewhat prone to idiopathic epilepsy.
Male Labradors are prone to muscular dystrophy as well.
But when compared to other dogs, the Labrador Retriever is extremely healthy despite these common health problems.
Plus, by screening any puppy you consider adopting and asking about their parent's health, you can decrease the chance of your Labrador puppy getting one of these conditions.
Labrador Retriever Pros and Cons
As you can see, many of the cons of owning a Labrador Retriever involve the amount of time they need.
For your Labrador to be healthy and happy, you simply must exercise him regularly, brushed daily, and mentally stimulated.
However, if you have the time to give, they make great family dogs with loving personalities and easy trainability.
References and Further Reading
Heynold. "Clinical, epidemiological and treatment results of idiopathic epilepsy in 54 Labrador Retrievers: a long‐term study." Journal of Small Animal Practice. 1997.
Smith, Gail. "Evaluation of risk factors for degenerative joint disease associated with hip dysplasia in German Shepherd Dogs, Golden Retrievers, Labrador Retrievers, and Rottweilers." Journal of the American Veterinary Medical Association. 2001.
Serpell, James. "Effects of breed, sex, and neuter status on trainability in dogs." Anthrozoos. 2015.
Maejima, Masami. "Traits and genotypes may predict the successful training of drug detection dogs." Applied Animal Behavior Science. 2007.
Bergman, Robert. "Dystrophin-Deficient Muscular Dystrophy in a Labrador Retriever." Journal of the American Animal Hospital Association. 2002.
Get Pippa's free dog training tips delivered to your inbox