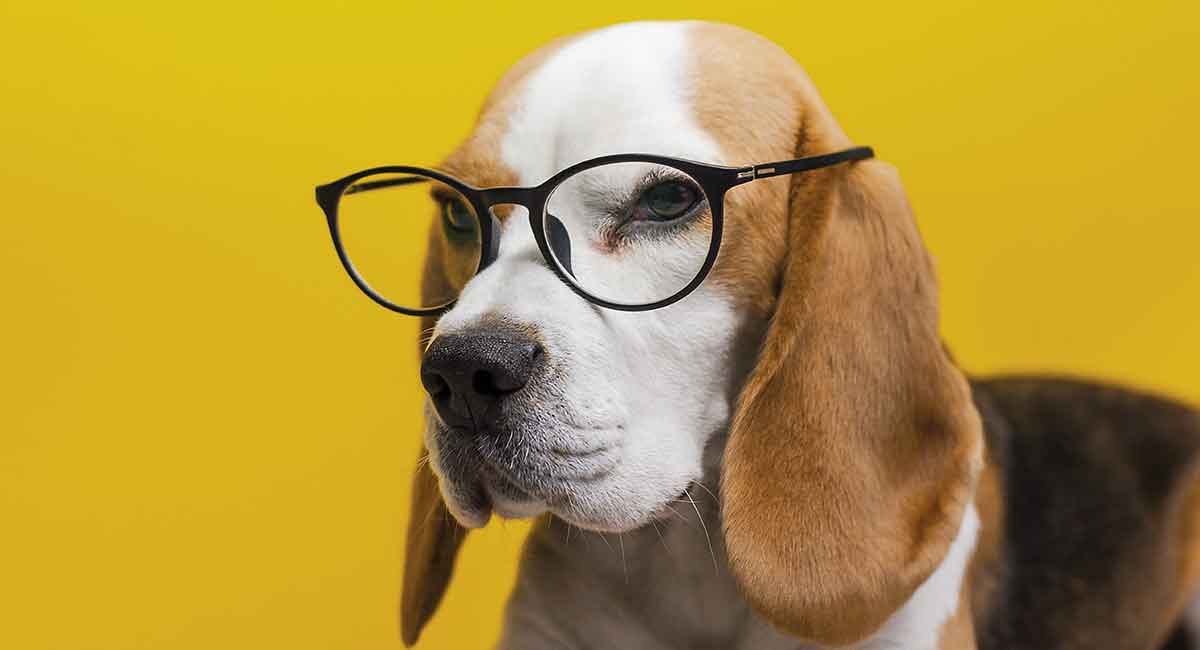 The Harrier Hound might look familiar.
In fact, the first time people see one of these medium-sized hounds they often ask, "Is that a big Beagle or a small Foxhound?"
Occasionally it even gets called a "Beagle Harrier" or "Harrier Beagle" by mistake.
But in fact, this outgoing, friendly dog is actually a breed all of its own.
It's a Harrier Hound, plain and simple.
The Harrier Hound is not well known, perhaps in part due to its similarity to these more popular breeds.
But this classic looking hound has plenty to offer.
So let's get acquainted with the Harrier Hound. And learn all of the good things can come in medium-sized packages too!
History of the Harrier Hound
The Harrier Hound has a long, rich history. They seem to have their origins in England, dating back in the 1200s.
Records on Harrier packs suggest they were used to hunt hares way back then.
Strangely enough, despite being an English dog, they are not currently recognized by the UK Kennel Club.
In the late 1800s, Harrier Hounds enjoyed something of a golden era. They were even more popular than Beagles at the time.
The in the 1800s, Harrier Hounds made their way to America.
It's thought that George Washington used Harriers to establish some of the "American" dog breeds we know today.
Size, Height, and Weight of the Harrier Hound
The Harrier Hound typically stands 19 to 21 inches at the shoulders and weighs between 45 and 60 lbs.
So, in all respects, this is a medium-sized dog.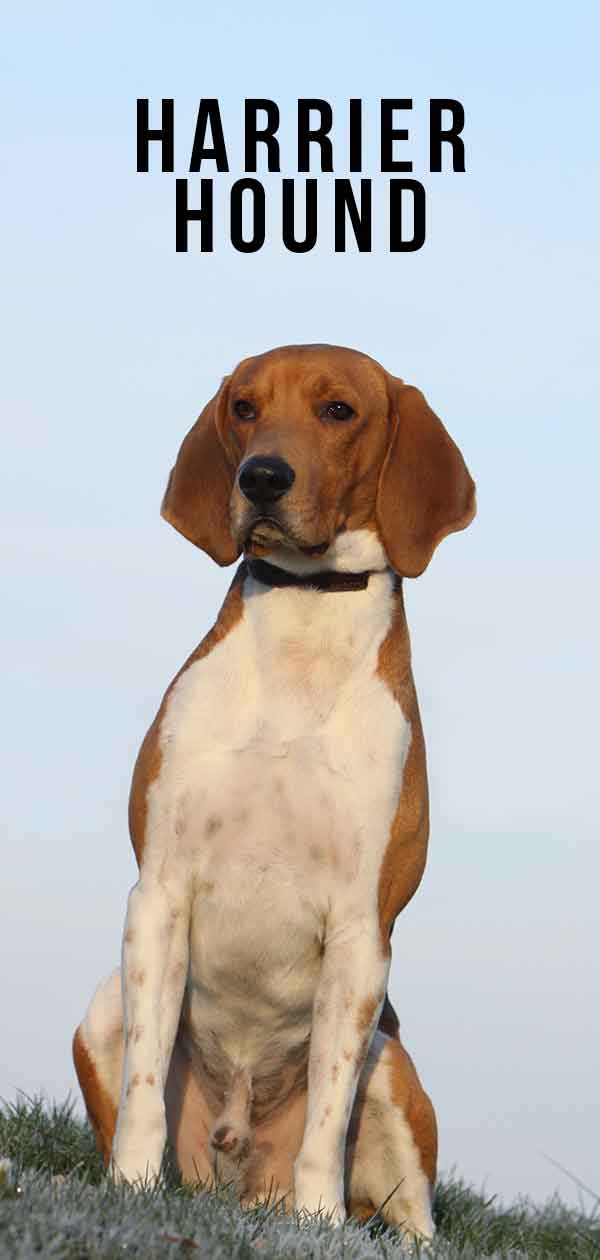 This sturdily built dog has unusually thick bones for a hound of its stature.
In appearance, a Harrier Hound is best described as a small Foxhound.
Coat and Defining Characteristics of the Harrier Hound
The Harrier Hound has a thick, short, and sleek coat.
Their coats come in all sorts of colors and the breed standard is quite liberal, stating that any color is acceptable.
However, most Harriers tend to sport a tri-colored coat (black, white, and tan) or a red and white coat.
The Harrier Hound has a classic hound dog look with a square, broad expressive face.
As such, they have an inherently friendly expression and those classic "puppy-dog" eyes.
Temperament & Behavior of the Harrier Hound
The Harrier Hound is amiable, outgoing, and eager to please, however, they were bred to work.
In other words, they are not content to laze about all day. If they are left to their own devices with not much else to do, they may see no other choice than to make some fun for themselves.
Which can be quite messy or sometimes even destructive.
Harriers are also very people-oriented. They love to be where you are "helping out" or just hanging out.
As such, if you're considering a Harrier Hound, you should think about how much time you can reasonably spend with your dog.
If you do have a busy schedule, at the very least your Harrier should have a doggy companion to spend their days with while you're out.
Harriers are scent hounds, which means they follow their noses. So, a securely fenced-in yard is a must.
Once a Harrier locks onto a scent, there is not much you can do to stop them from following it!
Harriers are also fairly vocal dogs, although you can train them to keep their vocalizations in check. But they still may not be as quiet as some other less vocal dog breeds.
One last thing worth mentioning is the Harrier's appetite. These dogs are known to be four-legged garbage disposal units! And even just after being fed will insist that they are not full.
Therefore, it's important to keep an eye on your Harrier's weight and if you notice your pooch chunking up, you may want to go easy on the treats.
Make sure any food you leave out is far from the reach of your Harrier—unattended food on the benchtop will be fair game as far as your Harrier Hound is concerned.
Grooming & General Care Requirements of the Harrier
The coat of the Harrier is low maintenance coat and requires only weekly brushing and the occasional wash with dog-friendly shampoo. This should keep your Harrier looking their best.
The Harrier has droopy ears with a velvety texture.
Since their ears are long and floppy, they'll need to be checked regularly to ensure they are free from infection.
As with any dog, you should monitor your Harrier's dental health and have their claws trimmed if they start getting too long.
Health Issues Associated with the Harrier Hound
In general, the Harrier Hound is a healthy breed with a typical lifespan of 12 to 15 years.
These dogs have only a few inherited problems. Like many other dog breeds, one of the risks is hip dysplasia.
Hip dysplasia is characterized by a loose hip joint, which can lead to joint and mobility problems in the hind legs of your dog.
Some cases are fairly mild, while serious cases can lead to severe pain and lameness.
Treatment will vary depending on the severity and in some cases, surgery can be required.
Other health issues have been reported in this breed but only a few cases. So, it is not known whether these are breed-specific issues or isolated cases.
Health screening is the best way to be sure your puppy is healthy.
Be sure to have your Harrier pup checked for eye disease and inquire about whether there have been any signs of thyroid disease in their lineage.
Exercise and Training Requirements of the Harrier Hound
Harriers are incredibly intelligent, paired with an eagerness to please their human family.
This means they are easy to train. In fact, training is a must to keep their busy minds engaged. However, be sure to only use positive reinforcement training.
As Harriers were bred as working dogs, they need daily exercise. If you're an active person, your Harrier dog will love going out on long walks or hikes with you.
A word of warning, if you do take your Harrier on a hike, you'll have to keep them on a leash. Otherwise, they are likely to take off in pursuit of a scent.
It's not uncommon for Harriers to dig. So, if it appears your Harrier has a penchant for excavation, make sure they receive plenty of training and attention.
Moreover, a designated digging area, such as a sand pit, might just save your garden.
If your Harrier Hound is not trained and exercised properly, bad behaviors can be expected, including excessive barking, digging, and general mischief.
Do Harrier Hounds Make Good Family Pets?
Harriers can definitely make great family pets thanks to their friendly nature, outgoing, fun personality and trainability.
However, be warned, their short coat is the only part of them that can be called "low maintenance".
They'll need a lot of your time, plenty of training, and a fenced-in yard.
So, if you are considering bringing one of these dogs into your family, it's best if someone around a lot of the time to keep your pooch company.
Or another canine companion would also do the trick.
Just be sure you have time for daily walks and that you're prepared to put time into training your dog.
How to Find and Pick Your Happy Healthy Harrier Hound Puppy
When you're looking for any new puppy, remember that buying from a pet shop or straight from an add online without visiting the breeder all too often means you are buying from a puppy mill.
Puppies from puppy mills are raised in miserable conditions since profit is the main concern.
So, your pup's health and behavior could be compromised.
Before you buy a puppy, make sure you visit the place your potential pup was born and raised. Meet the parents or at the very least the mother.
Enquire about the methods used to breed your puppy. This should include how many litters the pup's mother has had.
The UK Kennel Club will not register puppies if the mother has had more than one litter within a 12-month period.
While you might not be too concerned about whether your pup can be registered or not, this important standard might give you an idea of how draining it can be for a mother to raise her litter.
If it seems like the mother of your puppy has had more than one litter within a year, is she really being treated ethically?
In addition to doing plenty of research on the breeder, ask lots of questions about the health of the parent dogs.
If you feel uncomfortable with the answers the breeder gives you, then it is a good idea to look for another one.
As far as Harrier dog costs go, as with any purebred dog you can expect to pay into the thousands for a healthy, happy puppy from a reputable breeder.
Be suspicious of puppies that are being offered at bargain basement prices.
Harrier Hound Rescue Dogs
There is always a chance you could find one of these handsome dogs at a rescue shelter.
A rescue dedicated to the Beagle or the Foxhound might be a good place to start your search.
Since this is not a very well-known breed, there might not be a specific Harrier rescue organization near you.
Please be aware that sometimes the reason these hounds have found their way to rescue shelters is that they have suffered health or behavioral issues.
A lack of training and attention may have been what led to problems with this active, intelligent dog breed.
If you are interested in Harrier dog rescue, make sure you have the time, money and patience needed to care for a dog that may have a little baggage.
They will most likely need some extra time and help to get back on their feet—or paws—again.
Conclusion
The Harrier Hound is a handsome, intelligent dog with a happy, fun-loving disposition.
While they may have been overshadowed by their more famous cousins the Beagle and the Foxhound, this lovely breed of dog is worth considering.
If you're an active family or individual with plenty of time to spend with your canine companion, this could be the pup for you.
Just make sure you're prepared to bring your active pooch on plenty of adventures.
Have you met any Harrier Hounds lately? What did you think? If you have anything you'd like to share, we'd love to hear. Please drop us a line in the comments section below!
References and Further Reading
Sutter NB and Ostrander EA. 2004. Dog Star Rising: The Canine Genetic System. Nature Reviews Genetics.