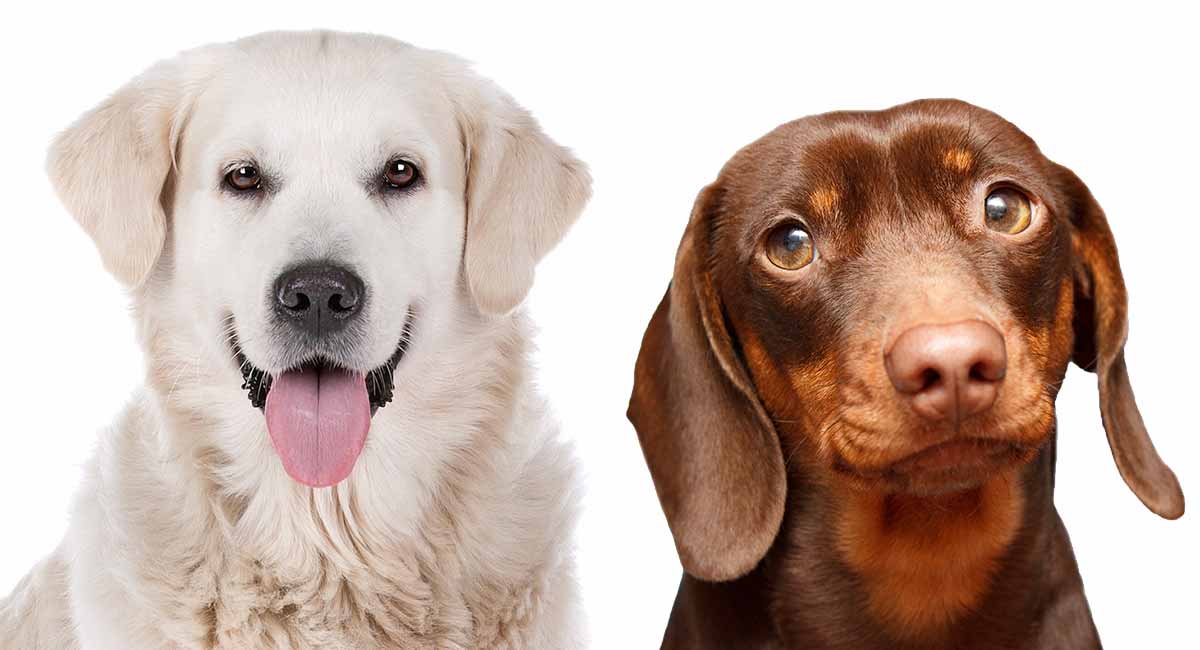 The Golden Retriever Dachshund mix combines two stalwarts of the popular breeds lists.
They are also known as Golden Doxes.
This mix is likely to be intelligent, energetic and social, but their physical appearance is highly variable.
Before bringing one home, it's also important to understand the health problems which can affect the offspring of either parent.
The Golden Retriever Dachshund Mix
The Golden Retriever Dachshund mix is one cute dog. And a Golden Dox puppy? Pretty much off-the-charts cute!
But before you fall in love with one of these adorable mixes, there are a few things potential owners should know when deciding on their next canine companion.
We'll take an in-depth look at the Golden Retriever Dachshund mix, including things like size, coat, health, temperament, and how to find the perfect puppy.
Let's start with a quick overview of Golden Dox history.
Where Does The Golden Retriever Dachshund Mix Come From?
A Golden Dox is the offspring of purebred Golden Retriever and Dachshund parents. These two popular breeds are often used in mixes.
The Golden Retriever originated as a game bird retriever in Scotland. The breed's appealing looks and sweet personality quickly made it a favorite among dog lovers around the world.
The Dachshund comes from Germany. Thanks to those short legs, it was used as a hunting dog for ground-dwelling animals. In fact, the name Dachshund means "badger dog."
The Golden Dox is part of the growing trend of designer mixed breed dogs.
Many people believe designer mixes are healthier than purebred dogs, but as we'll see shortly, the health of your individual Golden Dox depends on the health of both of its parents.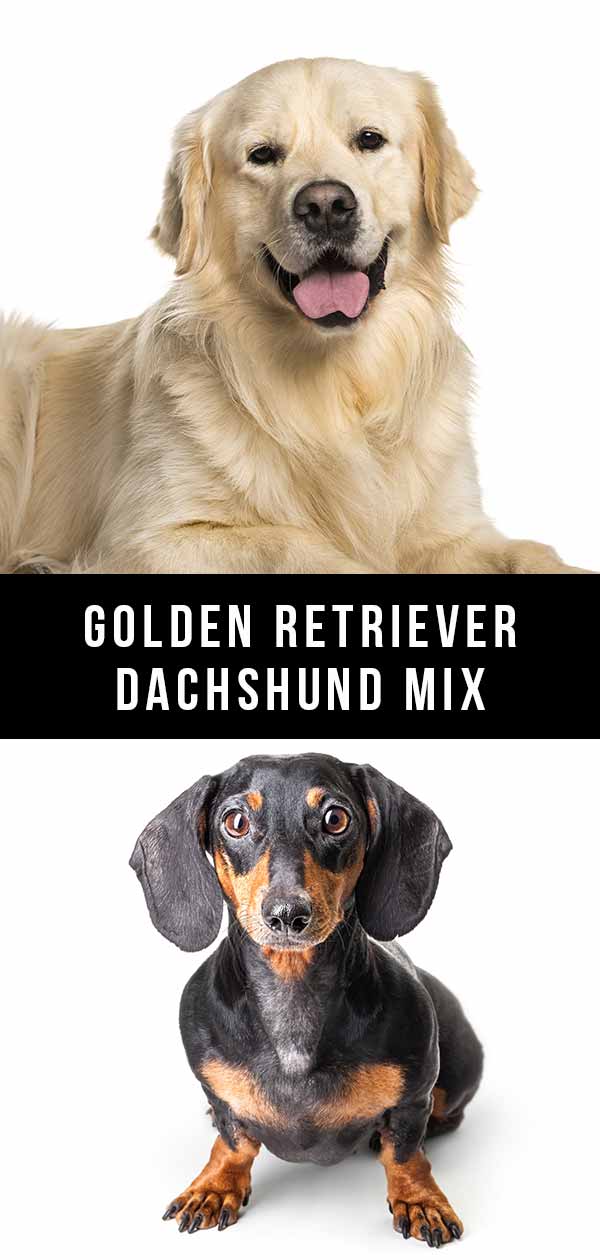 Fun Facts About The Golden Retriever Dachshund Mix
We don't know of any famous Golden Retriever Dachshund mixes, but both parent breeds have some well-known members!
Goldens have starred in many movies, including the many Air Bud and Snow Buddies films.
Dachshunds have made appearances in The Ugly Dachshund, The Secret Life of Pets, and Toy Story.
Golden Retriever Dachshund Mix Appearance
Fans of the Golden Dox often seek a dog with the compact Dachshund body type combined with the soft coat of a Golden.
What will your puppy look like when fully grown? It's important to remember that a mixed breed dog can inherit the characteristics of either parent breed, in any combination.
Let's look at each parent breed and then the mix.
Golden Retrievers
Golden Retrievers are medium sized dogs. Adult males weigh between 65-75 pounds and stand 23-24 inches tall at the shoulder.
Female Goldens are between 55-65 pounds and stand 21.5-22.5 inches tall.
The Golden has a medium length double coat that sheds seasonally and ranges from cream to reddish gold.
Dachshunds
The Dachshund can be either standard or miniature size. Standard Dachshunds range between 16-32 pounds in weight and 8-9 inches in height.
Miniature Dachshunds should weigh 11 pounds or under and stand between 5-6 inches tall at the shoulder.
The Dachshund has three coat types: smooth, longhaired, and wirehaired.
A wide range of coat colors and patterns are seen in the various Dachshund types, including solid, merle, brindle, piebald, and sable.
What about the mix?
Mix Appearance
Remember that mixed breed dogs can vary in size and coat color and type.
Generally, a Golden Dox is a small to medium sized dog that can weigh anywhere between 20-60 pounds.
A Golden Dox will usually have shorter than normal legs, but height can range from around 10-20 inches, depending on the individual dog.
Coat color and type can also differ among individual dogs quite a bit, given the variations found in the Dachshund.
Expect a somewhat dense medium length coat that will require regular brushing. A Golden Dox can inherit the classic Golden Retriever coloring, but other colors and patterns can occur as well.
Golden Retriever Dachshund Mix Temperament
The Golden Retriever and Dachshund have very different temperaments, and these personality types can combine in the mix in a variety of ways.
Let's look at each parent breed and how they impact the Golden Dox temperament.
Golden Retrievers
Goldens are well known for their friendly, affectionate, cheerful, and eager to please nature.
Gentle and loving, they make great pets for families with young children.
Dachshunds
The Dachshund has a bold, alert, and independent minded personality.
While individual dogs vary, some Dachshunds can be difficult to motivate during training, and can also be cautious with strange people and animals.
Mix Personality
Because your Golden Dox can inherit personality traits from both parent breeds, a puppy's future personality can be hard to predict.
Generally, owners report that their mixes are intelligent, energetic, and social.
If your individual dog inherits some of the feistier Dachshund traits, training and socialization will be especially important.
Let's look at training next!
Training Your Golden Retriever Dachshund Mix
Good training and socialization start in puppyhood and continue as your dog matures into an adult. Training any puppy can be a big job, especially one that has the bold Dachshund personality.
Both potty and crate training are important components of effective puppy training. You should also start socializing your puppy with other dogs and people. Organized puppy kindergarten classes are a great way to train and socialize your new Golden Dox.
Choose training methods that use positive reinforcement techniques. Rewarding good behavior and not punishing bad behavior are key to a happy and well-behaved dog.
Both parent breeds enjoy regular exercise, but there are some special considerations if your mix inherits the short legs and long back of the Dachshund.
A Golden Dox with the classic Dachshund body type can be vulnerable to injury during play and exercise. Running up and down stairs and jumping from high places can lead to leg and back injuries. We'll look more at the connection between health and body type in the Golden Dox coming up next.
Golden Retriever Dachshund Mix Health
Potential Golden Dox owners should be aware of health problems associated with the Dachshund's conformation.
The breed's body type makes it more prone to a serious spinal condition called intervertebral disc disease (IVDD) than other dogs. IVDD can lead to chronic pain, incontinence, and paralysis. Treatment varies depending on the severity, but surgery (or even euthanasia) may be required.
Other inherited health conditions common in the Dachshund include a leg joint deformity known as pes varus, epilepsy, and some eye and ear problems.
The Golden Retriever's body type makes it less prone to the spine and joint problems that are seen in the Dachshund. But Goldens can inherit hip and elbow dysplasia and certain eye and heart disorders.
Sadly, Golden Retrievers (particularly those bred in the US) are more at risk for developing certain cancers than other dog breeds.
Golden Dox Health
Being a mixed breed dog, the Golden Dox can inherit health issues from one or both parent breeds, especially if your dog inherits the Dachshund body type.
As a potential owner, it's important to understand these health risks and how they can impact the long-term care of your dog.
It's also good to learn how to find a healthy Golden Dox puppy. We'll tell you how to find a healthy puppy in the Finding A Puppy section below.
Golden Dox dogs can expect a lifespan ranging between that of the parent breeds, likely between 12 and 14 years.
Do Golden Retriever Dachshund Mixes Make Good Family Dogs?
The Golden Dox can make a good family pet.
Your mix can inherit the easygoing nature of the Golden, but even if your pup has the Dachshund feistiness, good training and socialization will help.
Families with very young children may want to avoid Dachshunds and Dachshund mixes, given their vulnerability to injury and, in some cases, a tendency to nip.
Rescuing A Golden Retriever Dachshund Mix
Can you rescue a Golden Dox?
While it can be a challenge to find an adoptable designer mixed breed dog, it is possible to find one, especially if you want an adult dog.
We'll talk more about rescue a little bit later in this article.
Finding A Golden Retriever Dachshund Mix Puppy
Chose a reputable breeder when searching for your Golden Dox puppy.
You may see one of these cute puppies for sale online or in a retail pet store. Avoid buying a puppy from these places, as many of them come from large scale "puppy mill" breeding operations.
Work with a responsible breeder who tests all their dogs for inherited health problems. Testing can come in the form of physical exams performed by veterinary specialists or DNA testing.
All test results should be shared with you and with an established canine health registry like the Orthopedic Foundation for Animals.
Keep in mind that even the best breeder can't guarantee that your Golden Dox puppy won't ever develop a future health problem like IVDD or cancer.
Raising A Golden Retriever Dachshund Mix Puppy
What goes into raising a happy and healthy Golden Dox puppy?
As we mentioned, good training and socialization are important for any new puppy.
Feed your puppy a quality diet and get her used to regular grooming.
Besides brushing, grooming should also include ear cleaning, nail trims, baths, and tooth brushing.
Floppy eared puppies like the Golden Dox can be prone to ear infections, so ear cleaning is important.
Golden Retriever Dachshund Mix Products And Accessories
You'll also be eager to go shopping for toys and other supplies for your new best friend.
What will you need to get started? Here are some essentials:
Interactive and chew toys
Food, treats, bowls
Crate, playpen, gate
Collar, harness, leash
Housetraining pads
Grooming supplies
Dog bed
Pros And Cons Of Getting A Golden Retriever Dachshund Mix
Potential health issues may be the biggest reason not to choose a Golden Dox as your next pet.
The amount of time and money that goes into caring for a dog with a health problem like IVDD or hip dysplasia can be considerable.
Choosing a responsible breeder as well as a dog with longer legs and a shorter back than a purebred Dachshund can help.
A healthy Golden Dox can be a great pet. They are energetic, friendly, and playful.
Similar Golden Retriever Dachshund Mixes And Breeds
If you decide against a Golden Dox for health reasons, what are some other breeds and mixes to consider?
Golden lovers can find Goldens mixed with small breeds with fewer health issues than the Dachshund, such as the Poodle, Chihuahua, and Pomeranian.
Love the perky personality of the Dachshund? You can choose a similar breed with a healthier conformation, like the Beagle, Cairn Terrier, or Miniature Schnauzer.
Golden Retriever Dachshund Mix Rescues
Rescuing a homeless Golden Dox can be a great option for people seeking an adult or special needs dog.
Check with your local animal shelters to see if they have any dogs they have identified as Golden Doxes. You can also perform a targeted search on websites like Petfinder.
Breed specific rescue groups for both the Golden Retriever and the Dachshund are also a good resource. Be sure to let them know you are interested in a mix.
Let us know of any other rescues in the comments!
Is A Golden Retriever Dachshund Mix Right For Me?
Will your next canine companion be a Golden Dox? It's easy for this cute little mix to win the heart of any dog lover, but is it the right choice for you?
Dachshunds and Dachshund mixes are appealing, but those short legs and long backs come with some very real health concerns.
They can be a good choice for informed owners who are aware of the risks, but there are healthier alternatives to consider, too.
Remember to choose a responsible breeder who health tests their dogs and take extra care during play and exercise to avoid injury.
Enjoy your new best friend!
References and Resources
Packer, R.M.A., Seath, I.J., O'Neill, D.G., et al. DachsLife 2015: An Investigation of Lifestyle Associations with the Risk of Intervertebral Disc Disease in Dachshunds. Canine Genetics and Epidemiology, 2016.
Kobayashi, S., Mori., H., Kamijo, K., et al. Morphological Analysis of Pes Varus in Dachshunds. Journal of the Japan Veterinary Medical Association, 2012.
Health Screenings for the Parents of a Litter. Golden Retriever Club of America.
Tonomura, N., Elvers, I., Thomas, R., et al. Genome-wide Association Study Identifies Shared Risk Loci Common to Two Malignancies in Golden Retrievers. PLoS Genetics, 2015.
O'Neil, D.G., Church, D.B., McGreevy, P.D., Thomson, P.C., Brodbelt, D.C. 2013. Longevity and mortality of owned dogs in England. The Veterinary Journal.
Get Pippa's free dog training tips delivered to your inbox