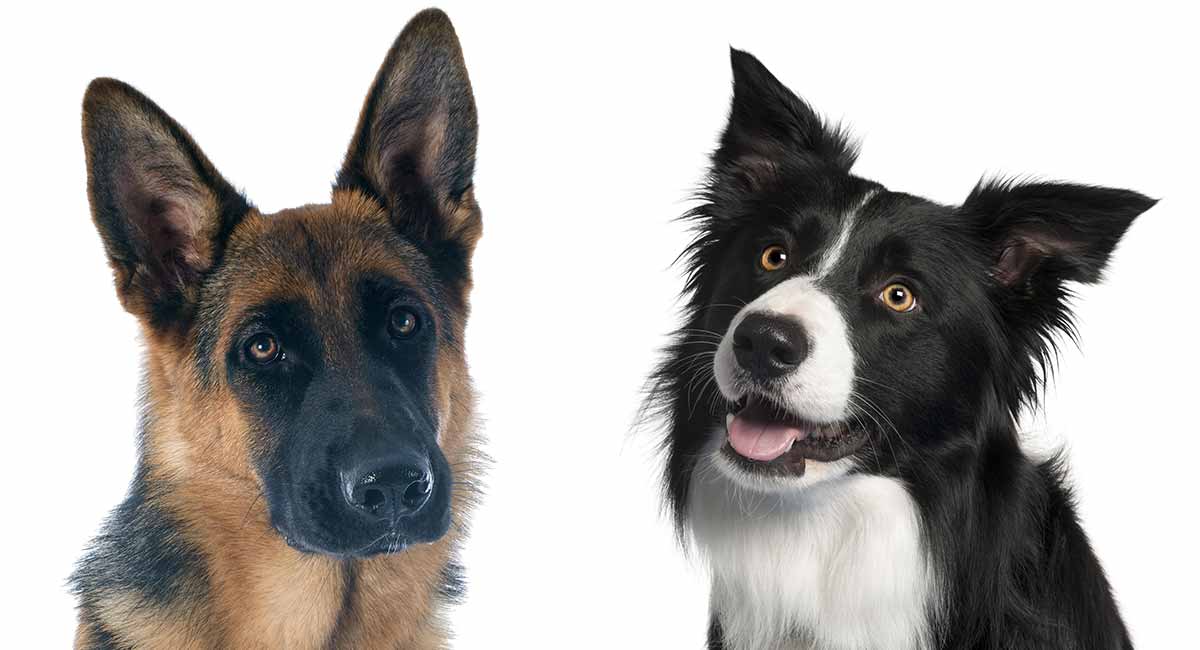 German Shepherd-Border Collie mixes are highly intelligent, highly energetic dogs.
Nicknamed Shollies, the German Shepherd Border Collie mix is smart, trainable, and really needs something to do, so it settles best with families with lots of time for advanced training and working trials.
Where Does The German Shepherd Border Collie Mix Come From?
The Shollie has been increasing in popularity over the past twenty years, but no one knows exactly how they came to be recognized. Designer dog breeds also increased in popularity twenty years ago, so they were probably part of that larger evolution.
The German Shepherd Border Collie mix is descended from two highly energetic herding breeds.
German Shepherd Origins
As the name implies, German Shepherds were originally bred in Germany to herd sheep. They tended to vary in appearance and temperament from district to district.
In the late 1800s, a German officer named Captain Max von Stephanitz decided to create the ideal herding dog and to develop a breed standard. Thus, the modern German Shepherd was born.
Since then German Shepherds are frequently used as police dogs, in search and rescue, and as drug-sniffing dogs, because they are so intelligent and highly trainable.
Border Collie Origins
The Border Collie was also bred to herd sheep, this time in Great Britain. They were descended from a cross between Roman herding dogs and Viking herding dogs. They needed to be agile, because they ran up and down the highlands all day, running after the sheep.
Border Collies are usually ranked first in intelligence among breeds of dogs. They are also extremely athletic. However, this intelligence combined with their high energy means if you don't give them something to do, they will find something to do and you might not like what they come up with.
The German Shepherd Border Collie Mix Today
The German Shepherd Border Collie mix (Shollie) is becoming quite popular due to their intelligence and loyalty. German Shepherds and Border Collies have many of the same traits. Therefore, it's likely your Shollie will be alert, loyal, smart and very energetic.
German Shepherds are notorious for hip dysplasia. But the Border Collie is a relatively healthy breed, only mildly prone to hip dysplasia, epilepsy, and collie eye anomaly. Hopefully, your mixed breed will inherit none of these conditions, but there is no guarantee which traits will be passed down to a mixed breed.
Fun Facts About the German Shepherd Border Collie Mix
German Shepherds are one of the few dogs with the word "dog" in their name. This was to differentiate between the shepherd (the person) and the four-footed herding being (the dog).
Two German Shepherds have stars on the Hollywood Walk of Fame: Strongheart and Rin Tin Tin. Rin Tin Tin was so popular that the success of his films saved Warner Brothers from bankruptcy.
Border Collies have also appeared in films, most notably in the movie Babe.
A Border Collie named Chaser is reputed to be the world's smartest dog. She knows the names of 1,000 objects.
Many celebrities have owned Border Collies, including James Dean, Anna Paquin, Jon Bon Jovi, Ethan Hawke, James Franco, and Tiger Woods.
German Shepherd Border Collie Mix Appearance
The Shollie usually looks more like a German Shepherd than a Border Collie, so much so that they can be mistaken for a purebred German Shepherd.
Shollies often weigh between 70–80 pounds. Males can reach heights of 29 inches in length, females being a little smaller.
They have medium to long coats and are usually a combination of black, brown, white and/or tan. The tail is less bushy than the German Shepherd, and their coats are thicker. They shed a lot, so be prepared to brush them daily.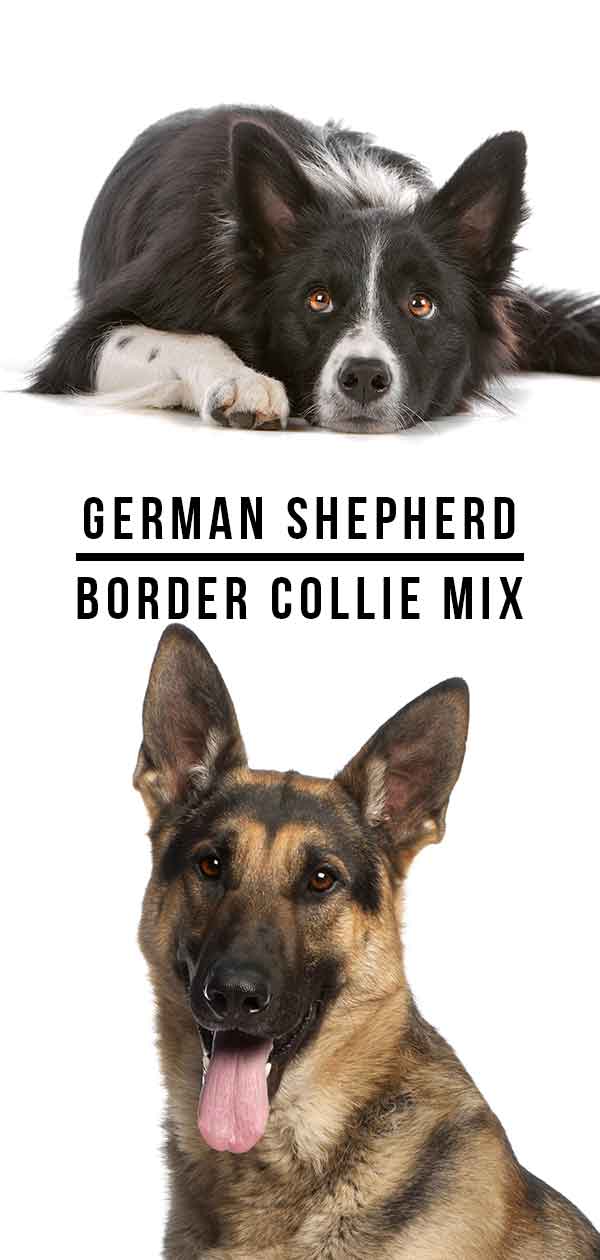 German Shepherd Border Collie Mix Temperament
German Shepherds and Border Collies share so many traits. As a result, we can accurately predict the temperament of the mix.
Your Shollie will be a loyal, affectionate, smart and focused dog. And they will have an unbelievable amount of energy.
A German Sheperd Bordie Collies is a great hiking or running companion. They will also enjoy competing in agility, flyball, or obedience trials.
They are not content to lie on the couch all day. If they get bored, they get destructive.
Both the German Shepherd and the Border Collie were bred specifically to herd livestock. This makes them very easy to train, often learning commands with just one repetition.
However, it also means many of their modern descendants still have a high herding drive. They will chase anything that moves unless you convince them not to.
They will herd your cats, your neighbors, your children, etc. And both antecedent parents have a tendency to be shy with strangers, so it's important to socialize them well when they are puppies.
Training Your German Shepherd Border Collie Mix
German Shepherds can be aloof and very much a one-person dog if they aren't socialized well as puppies. And Border Collies can be neurotic and skittish if they are not socialized well.
A mix may inherit either or both of these traits. It is extremely important to socialize your Shollie, lest they become a neurotic dog who is anxious about leaving your home.
All puppies need to be properly socialized. During the ages of three weeks up until three months, puppies are like human infants. They are figuring out what's scary, who can be trusted, etc.
The more experiences you expose them to, the more confident and unflappable they will be as adults.
An excellent way to start socializing your German Shepherd Border Collie mix puppy is to bring them to puppy class. They will become accustomed to riding in a car, meeting new people and new dogs, and most importantly, developing a strong bond with you.
German Shepherd and Border Collies are among the smartest breeds around. They are eager to learn anything you want to teach them.
They excel at canine obedience trials, agility, flyball, herding, search and rescue—the list is endless. However, there is a downside.
Your Shollie is going to be extremely smart and will require a lot of exercises and mental stimulation to keep them out of trouble. They can get bored easily.
A bored Shollie may become obsessive and destructive. They are happiest when they have a job to do.
For more advice on training your Shollie puppy, visit our dog training guides.
German Shepherd Border Collie Mix Health
German Shepherds are most genetically prone to hip dysplasia, bloat, and degenerative myelopathy (where there is a slow paralysis of the dog's hindquarters).
Border Collies are relatively healthy but can be prone to hip dysplasia, collie eye anomaly and epilepsy.
In a Shollie, hopefully, the healthier profile of the Border Collie will prevail in your dog, but it's not a guarantee. It's important that you ensure breeders have done proper testing and exams on their breeding stock as mixed-breed dogs can inherit the genetic disposition to disease.
The most important thing you can do to help your dog avoid or manage hip dysplasia is to make sure they maintain a healthy weight. Any extra weight puts extra pressure on the joints and exacerbates any problems.
The life expectancy of German Shepherd Border Collie mix is somewhere between 13–15 years.
Do German Shepherd Border Collie Mixes Make Good Family Dogs?
If you want an intelligent, active companion, the German Shepherd Border Collie mix could be the perfect dog for you.
Both of the antecedent breeds are very loyal and affectionate, and with good socialization, they are good with children.
German Shepherd Border Collie mixes do require some dedication and work. However, if you are willing to work with them, they can be a wonderful addition to your family.
Just be sure to make them a part of your family and give them plenty of exercise and stimulation and they will be a great family pet.
Rescuing A German Shepherd Border Collie Mix
Rescuing an adult dog or an older puppy is a great idea. These dogs are in need of caring and loving homes.
Some people believe that rescue dogs were surrendered because of behavioral problems, but that's not necessarily the case. A dog is a big responsibility that some people are just not ready for.
If you do decide to rescue a German Shepherd Border Collie mix, check with both Border Collie and German Shepherd rescue groups. They are likely to have mixes as well as purebred dogs.
Additionally, they have likely done temperament testing and can advise you on whether a particular dog is likely to be a good fit for your family.
Finding A German Shepherd Border Collie Mix Puppy
Since the designer dog movement really came into its own, it may be possible to find a German Shepherd Border Collie mix puppy. Be sure to search for responsible breeders near you.
No breeder who really cares about their dogs is going to ship them to someone they have never met. It's very traumatic for a dog to be stuffed into a crate and then transported halfway across the country.
Many of these dogs are likely to come from puppy mills, which should be avoided. They are cruel to the dogs, and their environments lead to health problems in the puppies because they are being raised in cramped and unsanitary conditions.
When you adopt a puppy, you should be able to meet the puppy's parents, who are ideally onsite. You can observe the parents and also ask for proof of proper genetic health testing and veterinary exams.
To find a puppy, you can search in classifieds and on local websites but exercise caution. If you can, get referrals from friends and family members to find responsible breeders.
It might take you a while to find that perfect puppy, but it'll be worth it when you do.
For more help on finding a puppy, here is our puppy search guide.
Raising A German Shepherd Border Collie Mix Puppy
Raising a puppy is a huge responsibility that will bring you much joy and satisfaction. There are many issues you are undoubtedly worried about: potty training, chewing, teaching basic obedience.
Socializing your puppy is the most important part of raising a healthy and happy adult dog. Take your puppy to puppy class and introduce them to friends and family. Give them a lot of different experiences so that they approach the world with curiosity instead of fear.
Our site will provide you with great information on the training and raising of your puppy.
German Shepherd Border Collie Mix Products And Accessories
Since your German Shepherd Border Collie mix is likely to be active and athletic, you'll want a variety of toys to keep them entertained. Refer to our site for some recommended toys that will keep your Shollie happy and interested.
Make sure you also choose the perfect name!
Pros And Cons Of Getting A German Shepherd Border Collie Mix
Cons:
Needs a lot of time to exercise or can become destructive
Can be shy with strangers
Since both antecedent parents are herding breeds, they have a high prey drive and enjoy chasing anything that moves
Pros:
Very loyal
So smart you can train them to do almost anything.
Eager to learn
Ideal hiking or running companions
Perfect for dog sports such as agility, flyball, or herding
Bonds easily and is very affectionate
Similar German Shepherd Border Collie Mixes And Breeds
There are many ways to combine German Shepherds and Border Collies with other breeds. Here are a few other dogs to consider:
Border Collie Pointer mix
German Shepherd Golden Retriever mix
Border Collie Husky mix
Be sure to look into both of the breeds that contribute to the mix you are considering. A mix may have all or none of their parents' traits.
German Shepherd Border Collie Mix Rescues
There are many German Shepherd rescues that you can look into. They are likely to have mixes as well as purebred dogs.
German Shepherd Rescues
US
Canada
UK
Border Collie Rescues
US
Canada
UK
Please leave a comment below if there are rescues we can add to our list.
Is A German Shepherd Border Collie Mix Right For Me?
A German Shepherd Border Collie mix is a wonderful dog. They are smart, loyal and affectionate.
However, they are definitely "Type A" personalities. If you want a dog to do fun activities with, such as hiking or agility, they will be a good fit for you.
They will not be a good fit if you are someone who just wants to relax with a dog lying by your feet. Consider the type of person you are and how much time you will be able to spend exercising and training your dog.
References and Resources
Coppinger, L., and Coppinger, R. 2014. "Dogs for Herding and Guarding Livestock." Livestock handling and transport.
Corral, C. 2018 "Canine hip dysplasia: aetiology and treatment." The Veterinary Nurse.
Gonzalez, A., Martinez, M. F., and Rosado, B., et al. 2019. "Association between puppy classes and adulthood behavior of the dog." Journal of Veterinary Science.
Howell, T. J., King, T., and Bennett, P. C. 2015. "Puppy parties and beyond: The role of early age socialization practices on adult dog behavior." Veterinary Medicine Research.
Krzeminska, P., Gogulski, R., and Aleksiewicz, R. 2018. "Genetic markers of canine hip dysplasia." Medycyna weterynaryjna.
Lengyel, K. 2018. "Online database of Canine genetic disorders now available." American Veterinarian.
Lord, K., Schneider, R.A., Coppinger, R. 2016. "Evolution of Working Dogs." The Domestic Dog.
McMillan, F. D., Duffy, D. L., and Serpell, J. A. 2011. "Mental health of dogs formerly used as 'breeding stock' in commercial breeding establishments." Applied Animal Behaviour Science.
Get Pippa's free dog training tips delivered to your inbox