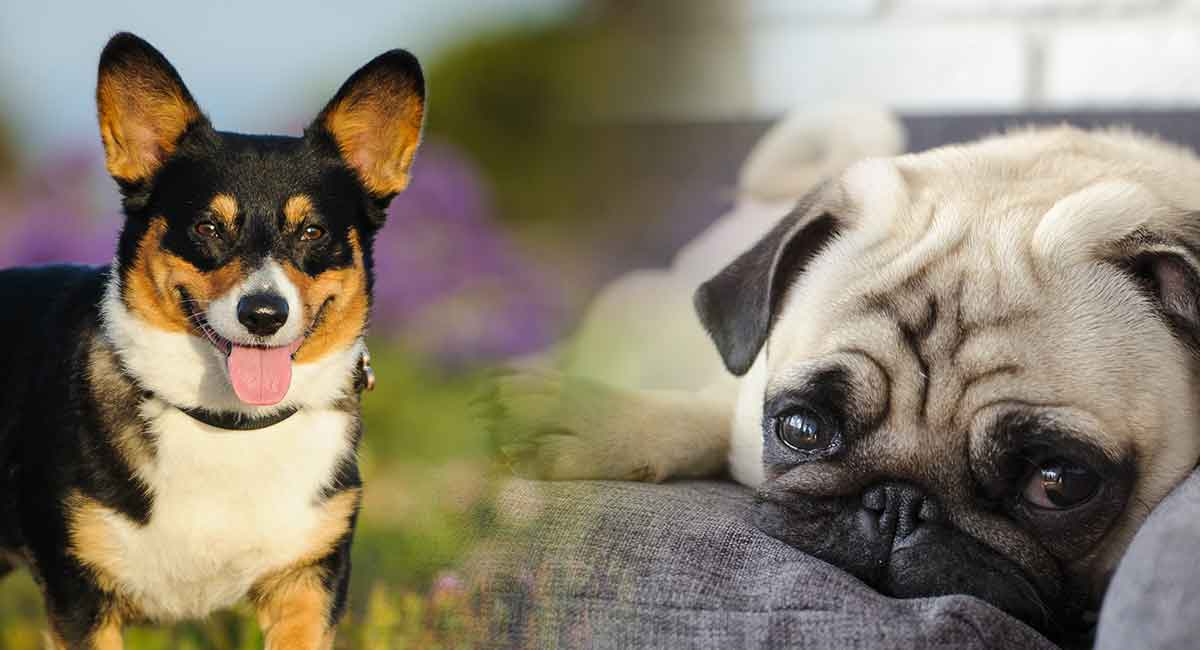 The Corgi Pug mix combines two of the most popular small dog breeds around: the Welsh Corgi and the Pug.
This results in a small cross that grows to between 10 and 13 inches tall, weighing from 14 to 30 pounds when fully grown.
This mix comes in a variety of colors, but unfortunately has some serious health issues to be aware of.
From the Pug side, this mix can inherit brachycephalic health issues. And from the Corgi side, the cross can be prone to problems with their short legs.
Where Does the Corgi Pug Mix Come From?
The Corgi Pug mix is the result of cross-breeding the Welsh Corgi with the Pug.
The Corgi was developed as a tough working dog herding cattle in the Welsh countryside.
The Pug, on the other hand, was bred solely as a companion mainly for the wealthy.
So, what can you expect from this mixed breed?,
Like most designer dog breeds, we know little about how it originated.
However, we do know the history of the two parent breeds which gives us a greater understanding of this relatively new hybrid dog.
The Corgi
The Welsh Corgi is believed to have developed during the 1100s after the British monarch of the time, King Henry I, invited master weavers from Flanders, to live and work in southwestern Wales.
They accepted the invitation and established farms bringing with them their small herding dogs.
These sturdy, short-legged dogs were known as "heelers". They would bite the heels of cattle and sheep to keep them moving and were the foundation of the Welsh Corgi we know today.
The Corgi is now mainly kept as a companion dog and a firm favorite with Queen Elizabeth II.
The Pug
The Pug is traced back to ancient China some 2000 years ago and is considered one of the world's oldest dog breeds.
Chinese Emperors favored these flat faced dogs and regarded them highly even giving them mini palaces complete with guards!
Anyone caught abusing or stealing a Pug was severely punished.
During the 1500s, Dutch Traders returning from China smuggled these cute little dogs out of the country and introduced them to Europe.
The breed entered the USA after the American Civil War where they remain a popular choice of pet.
Controversy
In the canine community, there is an ongoing debate surrounding the breeding of mixed breeds.
Supporters of the purebred claim that these so-called designer dogs have unpredictable traits. As such, potential owners are not sure what to expect in terms of appearance and temperament.
However, many believe that mixed breeds are healthier as their larger gene pool makes them less likely to inherit genetic conditions. This is what's known as hybrid vigor.
Fun Facts About the Corgi Pug Mix
A Corgi Pug mix is sometimes known as a Porgi.
The word corgi comes from the Welsh language, "Cor" meaning dwarf and "gi" meaning dog.
Famous owners of Pugs include George Clooney, Gerard Butler and Jessica Alba.
Corgi Pug Mix Size
It is not easy to predict the likely outcome of a mixed breed. This is because a puppy may inherit more traits from one parent breed than the other or a mixture of both.
We need to look closer at the Corgi and the Pug to have some idea how they combine.
Both parent breeds are similar in height. So, a Corgi Pug mix is likely to stand between 10 to 13 inches tall.
If your Corgi Pug mix resembles the Corgi parent more, it is likely to be stockier and heavier than if it had taken after the Pug.
This mixed breed can weigh anywhere between 14 to 30 pounds.
Corgi Pug Mix Appearance
So, what does the Corgi Pug mix look like?
With any mixed breed, it is difficult to predict the outcome of their physical appearance.
This designer dog may have the short legs and long back of the Corgi. In addition, it could inherit the flat face and round protruding eyes of the Pug. These are traits that may cause severe health problems which we look at in more detail later.
Coat Colors
Their dense straight coats are usually short or medium in length, and possible colors include:
If your Corgi Pug mix takes after the Pug, then they will have their famous black face mask. White markings are possible from the Corgi.
The tail might resemble the Pug by curling over the back or bushy like the Corgi.
Corgi Pug Mix Temperament
The Corgi Pug mix inherits many endearing personality traits from both sets of parents which make them loyal, loving and affectionate companion dogs.
This mixed breed is good with children. However, it must be remembered that the Corgi has a strong herding instinct. He sees his family members as part of his herd or flock.
Therefore, if he sees a young child running, he may try to cut off their path and nip at their heels.
Separation anxiety is another issue familiar with this breed leading to possible destructive behavior and excessive barking. If you and your family are out all day, then this is probably not the right dog for you.
Training Your Corgi Pug Mix
You should start training and socialization as soon as your puppy enters your home. This will ensure he grows up into an obedient, friendly and well-adjusted adult dog.
Exposing your young pup to as many adults, children, dogs and animals as possible in various environments teaches him to cope with different situations.
Both the Corgi and the Pug are intelligent dogs. They love to please, so training your Corgi Pug mix should be quite straight forward.
Be aware though that both sides have a stubborn streak along with the Pug's mischievousness so may present a challenge at times!
Positive reinforcement methods work best for this breed, keeping sessions short but fun to maintain their attention.
But potty training requires patience as smaller dogs take longer than larger breeds. You could consider using a crate. This provides your little pup with a safe, secure place to curl up. It is also invaluable for housebreaking as no dog likes to soil where they sleep.
Exercise Requirements of the Corgi Pug Mix
The energy levels of your Corgi Pug mix depend on which parent they take after. Usually, two walks per day of around 20 minutes is enough.
However, if your pup is more like the Corgi, they may have higher activity requirements due to the Corgi's working dog past.
Avoid exercising during hot weather if your Corgi Pug mix has the flat face of the Pug as they are prone to breathing issues and over-heating.
A home with air conditioning is therefore essential for this type of dog.
If your mixed breed has the short legs of the Corgi, care must be taken not to injure the joints or back. So, do not let your pup jump off obstacles like furniture or run up and down steps or stairs.
With any of the mentioned traits, it is not advisable to take your Corgi Pug mix swimming as they may encounter difficulties.
Corgi Pug Mix Health
Unfortunately, this adorable mix risks inheriting some severe structural health issues from both parent breeds. Two major ones are the flat face of the Pug and the shortened legs of the Corgi.
Let's start by looking at the health issues of the Pug.
The Pug
The flat face of the Pug may be appealing but due to their compressed noses, are unable to breathe efficiently causing brachycephalic airway syndrome.
This respiratory condition makes exercising difficult especially in hot weather where they are prone to overheating.
Serious cases can lead to severe difficulties in breathing. This requires immediate veterinary attention, possibly leading to death if left untreated.
Health conditions also common in the Pug include:
Skin issues
Eye problems
Birthing issues
Spinal problems
Pug Dog Encephalitis (PDE)
Patellar luxation
Legg-Perthes Disease
Hip and elbow dysplasia
The Corgi
The other issue that may affect your Corgi Pug mix is achondroplasia. This is caused by the Corgi's shortened legs.
Although their short legs may look cute, they risk significant problems in the joints and back. These include elbow or hip dysplasia and arthritis.
The long-backed Corgi is prone to intervertebral disc disease (IVDD). This is where the nerves of the spinal cord are compressed causing severe pain and may require surgery in some cases.
Other Corgi health problems include:
Eye conditions
Von Willebrand's disease
Canine epilepsy
Impact of These Issues
As a potential owner, it is vital that you seriously consider the impact of these structural health issues that could affect the quality of life for your Corgi Pug mix.
A responsible breeder provides health clearances for both the Corgi and Pug parents.
The lifespan of the Corgi Pug mix is between 12 to 15 years if they are looked after properly.
Care of the Corgi Pug Mix
Fortunately, the grooming needs of the Corgi Pug mix are not too high. They require a good brush just once a week. More frequent brushing is necessary during the shedding seasons.
If your mix inherits the skin folds of the Pug, these require regular cleaning to prevent skin infections.
As part of your grooming routine, brush their teeth often. It's important also to ensure their ears are kept clean and their nails trimmed before they become too long.
It is vital you feed your Corgi Pug mix a healthy, balanced diet of top-quality dog food. Your dog's diet should take into consideration their age, size, build and activity level.
Both the Pug and the Corgi breeds love to eat so keep a close eye on calorie intake to prevent obesity.
Do Corgi Pug Mixes Make Good Family Dogs?
This mixed breed makes a loyal and loving companion who gets along well with children and other animals.
However, we cannot recommend a Corgi Pug mix as a pet due to the high risk of inheriting severe structural health issues that affect their quality of life.
You may, however, consider adopting an older dog from a rescue center instead of buying a puppy.
Rescuing a Corgi Pug Mix
Adopting a dog is cheaper than buying a puppy from a breeder. In addition, it has the advantage that you can have your chosen pup on a trial period before making a final commitment.
Finding this hybrid may be difficult though. So, contact shelters that rescue Corgis or Pugs as they are more likely to have a Corgi Pug mix.
Finding a Corgi Pug Mix Puppy
When looking for a Corgi Pug mix puppy only go to a reputable breeder who is knowledgeable about the breed. They should provide health test clearances for both parent breeds and their offspring.
Avoid buying from pet stores and puppy mills as these animals are kept in inhumane conditions and often have behavioral or health issues.
Read our puppy search guide to help you find the perfect pup.
Raising a Corgi Pug Mix Puppy
Raising a puppy is an enjoyable experience but can prove hard work.
Read our puppy care and training guides for easy to follow instructions and advice on everything you need to know.
Corgi Pug Mix Products and Accessories
This mixed breed is energetic and intelligent, so provide toys to keep him occupied.
As a pup who loves comfort, they need a cosy bed.
Pros and Cons of Getting a Corgi Pug Mix
Looking at the pros and cons of a Corgi Pug mix might help you decide if this is the right pet for you.
Cons
Severe structural health issues in both breeds
Require special care
Herding instinct
Not suitable for families with young children
Stubborn streak
Pros
Highly intelligent
Loyal and loving
Coat easily maintained
Similar Corgi Pug Mixes and Breeds
We cannot recommend this mixed breed due to potential health issues. You may want to consider similar but healthier alternatives instead such as:
Corgi Pug Mix Rescues
Here are various Corgi and Pug rescue centers where you may find a mixed breed to adopt. If you know of any other organizations, please list them in the comments box.
USA
East Coast Corgi Rescue
PugHearts of Houston
UK
Welsh Corgi Rescue
Pug Welfare and Rescue Association
Australia
For Paws Corgi Rescue
Pug Rescue and Adoption
Canada
Pembroke Welsh Corgi Rescue
PugaLug Pug Rescue
Is A Corgi Pug Mix Right For Me?
The Corgi Pug mix is sweet-natured, loyal and loving. These are all qualities which make them an excellent companion dog.
However, because of the possibility of inheriting structural health issues that affects their quality of life, they require special care.
We have provided the facts and suggest that you look at healthier breeds before making a final decision.
Do you have a Corgi Pug mix dog? Share your stories!
References and Resources
Get Pippa's free dog training tips delivered to your inbox