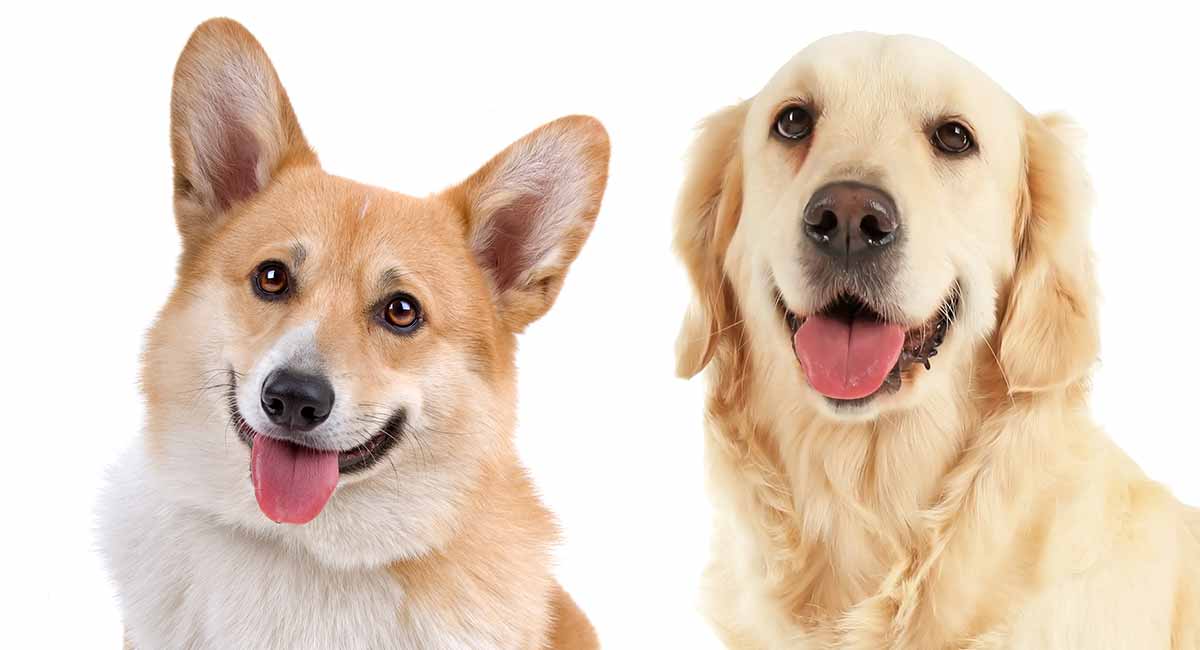 The Corgi Golden Retriever mix usually combines the most distinctive characteristics of these two much-loved breeds – flowing locks and stumpy legs.
As with many "designer dog" breeds, these pooches have made plenty of fans.
How they might look and behave can be very variable, so it's important to meet both parents before committing to a puppy.
Where Does the Corgi Golden Retriever Mix Come From?
At this point, it is worth mentioning the controversy that surrounds mixed breed dogs.
Also called designer dogs or, less graciously, mutts, these dogs are the result of crossing two established breeds to create a hybrid.
Sometimes this is done with practicality in mind, other times it is done in the pursuit of a dog that is just plain cute.
Sadly, the popularity of these designer breed dogs has led to the rise of puppy farms or puppy mills, where pups are bred in bulk and both mothers and pups suffer inhumane conditions.
This is one reason some people are unhappy with the popularity of mixed breeds.
Unpredictable Mix
Others are concerned that the resulting dogs are unpredictable and that the work that has been put into breeding high-quality purebred dogs is being undermined.
Those that advocate for mixed breed dogs point out that many purebred dogs also suffer as a result of breed standards and a limited gene pool.
This can result in dogs that are lame or have breathing difficulties, skin infections, joint problems, and issues giving birth.
They argue that the introduction of new genes in the form of crossbreeding makes for healthier dogs who live fuller lives.
It is not really known how the Corgi x Golden Retriever started.
But we do know a fair bit about the histories of the Corgi and the Golden Retriever.
Corgi History
The Corgi first appears somewhere between the 10th and the 12th century.
Part of the Spitz family, it made its way to the British Isles from Scandinavia.
It appears they were bred with local herding dogs, leading to the Corgis we are familiar with today.
In the late 1800s and early 1900s, the Corgi was separated into the two varieties we have today: the Pembroke and the Cardigan Corgi.
Golden Retriever History
There is some conjecture as to when the Golden Retriever first appeared, but the generally accepted theory is that the first emerged in the mid to late 1800s.
The breed originated on the estate of Lord Tweedmouth in the highlands of Scotland.
These dogs were the result of a cross between a yellow-colored retriever and a Tweed Water Spaniel, a breed now extinct.
It was bred as a hunting and retrieving dog that could handle Scottish weather conditions.
The breed was first recognized by the Kennel Club (UK) in 1911 and later in the US and Canada.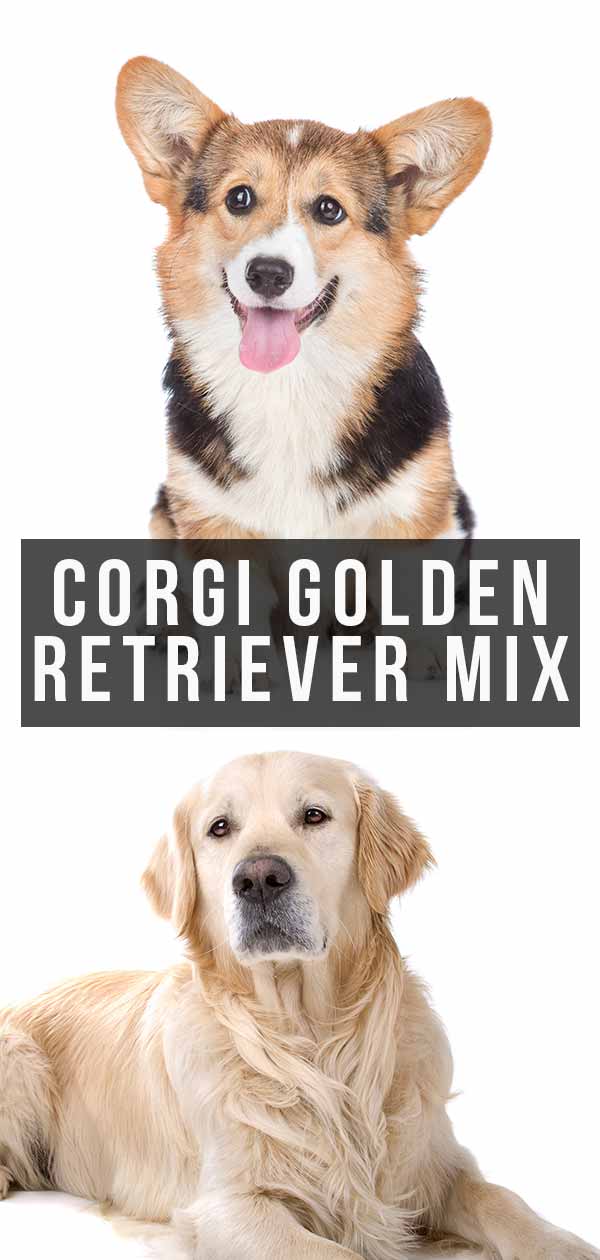 Fun Facts About the Corgi Golden Retriever Mix
Corgis have a royal connection, as the Queen of England is a big fan.
The royal family had a breeding program until recently.
Interestingly, the royal Corgis were not always as exclusive as one might expect of aristocratic dogs.
Apparently, a liaison between a Dachshund and a Corgi resulted in some royal designer dogs – Dorgis.
The Golden Retriever may not have royal connections, but it does have acting chops.
Thanks to their biddable nature and good looks, they make great animal actors.
Just some of the movies where you can see a Golden Retriever in action include Air Bud, Homeward Bound, and You've Got Mail.
Corgi Golden Retriever Mix Appearance
Corgi Appearance
The Corgi is a small dog with squat legs.
It stands around 10–12 inches and should weigh no more than 30 pounds.
The Cardigan Welsh Corgi has a long tail, while the Pembroke's tail is traditionally docked.
This practice is outlawed in many places.
Some Pembrokes are born with a naturally short or nonexistent tail due to a genetic condition passed on through the breed.
Both types of Corgi have thick coats and fox-like faces, although the Pembroke tends to have a slightly more refined face and build than the Cardigan.
The Pembroke comes in red, sable, fawn, black, and tan, sometimes with white markings.
The Cardigan comes in merle, black and tan, black and white, brindle, sable, and red, along with some white markings.
Golden Retriever Appearance
The Golden Retriever is a larger dog, standing 21–24 inches at the shoulder.
Their crowning glory is their luxurious golden coat, which can vary from a light to a deep golden color.
The coat is shorter around the face and feet and feathers out around the tail and abdomen.
Goldens have friendly, intelligent eyes and a broad skull with floppy ears.
They are an athletic, well-balanced dog in structure.
Mixed Appearance
As with any mixed breed, it is impossible to predict exactly how these breeds will combine.
Most crosses result in a dog that is not as squat as the Corgi yet significantly shorter than the Golden Retriever.
Especially when mixed with a Corgi of a similar color to a Golden, these mixed dogs will often retain a golden-colored coat and end up looking something like a dwarf Golden Retriever.
Corgi Golden Retriever Mix Temperament
The Golden Retriever is known for its friendly, outgoing nature – easy to train and eager to please.
Aggression is not typical of the breed.
As they were bred as a working dog, they should be given activities to keep them both mentally and physically active.
Corgis were also originally working dogs and were used in various capacities on farms such as guarding, herding, ratting, and hunting.
They, too, are intelligent dogs who like to be kept busy.
Corgis have a reputation for being nippy and aggressive, and some studies have shown they are one of the more aggressive breeds.
In part, this could be down to their background as a herding and hunting dog.
Temperament of the Mix
A mix of these two breeds will bring together a little from both dogs.
It can't be said whether the trainable nature of the Golden or the independent attitude of the Corgi will shine through.
One thing both these dogs have in spades is intelligence and a need to be kept active.
Bearing this in mind will go a long way in planning how best to train your dog.
Training Your Corgi Golden Retriever Mix
In this mix, the size of the Golden Retriever and the Corgi's tendency to nip need to be taken into account.
Consistency and patience in training will be required.
Socialization Is Important
It is also important to pay heed to proper socialization.
This goes for all dogs but particularly if you have a dog that tends to be a little less outgoing.
It is important that you observe your dog when exercising them, as the long back and short limbs of the Corgi can lead to joint and back problems.
If you notice any discomfort, it is worth taking your pooch to the vet for a checkup to make sure everything is OK.
Corgi Golden Retriever Mix Health
The average lifespan of a Corgi is around 12 to 15 years.
The Golden Retriever will, on average, live 10 to 12 years.
Golden Retrievers are susceptible to elbow and hip dysplasia, eye and heart disease, and cancer.
The disproportionately long back and short legs of the Corgi are a result of dwarfism.
Corgis are also susceptible to degenerative myelopathy, a condition which affects the spine, along with cancer, intervertebral disc disease, and eye problems.
Even if you would like a crossbred dog, it is important to have both parents tested for known health issues, as conditions shared are just as likely to be passed on to pups as they would in a purebred.
Special care needs to be taken for the spine and joints of Corgi x Golden Retrievers, as the elongated back of these dogs can lead to problems.
Exercise and Grooming for Your Corgi Golden Retriever Mix
This is one area in which your new dog will be decidedly high-maintenance.
Exercise
Both Corgis and Golden have a long history as working dogs, and their modern descendants still have energy and stamina in spades.
Allow at least an hour a day to exercise your Corgi Golden mix.
Look for agility and working trials as well, to engage their mind as well as their muscle!
Grooming
Both Golden Retrievers and Corgis have thick double coats for protection against the elements whilst working outdoors.
There's no avoiding that a Golden Corgi mix dog is going to shed a lot, and blow their coat twice a year.
To prevent mats and tangles, release dirt and debris, and save your furniture from the worst of the shed hair, brush them at least twice a week.
Do Corgi Golden Retriever Mixes Make Good Family Dogs?
While there is a lot to like about these dogs, the health conditions that come along with the long back and short legs of the Corgi cannot be ignored.
While this is somewhat diluted, thanks to the introduction of the Golden Retriever, the dwarfism of the Corgi leaves these dogs more susceptible to joint and back issues.
Similarly, the independent, nippy nature of the Corgi should be considered.
Mixing with a Golden Retriever could result in a dog with these characteristics in a bigger body.
Rescuing a Corgi Golden Retriever Mix
Rescuing a dog can be a highly rewarding experience.
Many who have rescued a dog say they feel that the dog seems eternally grateful for the second chance.
It is worth bearing in mind that some dogs that have been rescued suffered terrible abuse in their former lives or suffer health conditions the previous owner could not handle.
Make sure you have an honest discussion with the rescue organization to ensure you have the skills and environment needed to care for a dog that might have some special needs.
Finding a Corgi Golden Retriever Mix Puppy
When looking for any puppy, avoid pet stores or buying a puppy online without visiting the premises at which the puppy was born and raised.
Sadly, puppy mills, in which puppies are bred and sold with no heed to the health and welfare of the puppies or their parents, are still prolific.
Pros and Cons of Getting a Corgi Golden Retriever Mix
Cons:
There is a chance these dogs will suffer some back and joint problems
Not a low-shedding dog – their coat will require regular care
Intelligent and active, therefore, high maintenance
Pros:
Active dogs that would make good company for walks and other adventures
A more manageable size for those with a smaller home
Loyal and intelligent
Similar Corgi Golden Retriever Mixes and Breeds
Due to the risk of spinal and joint issues in this mix, we cannot recommend them. Unfortunately, even mixes like the Shiba Inu Corgi mix, or Corgi Lab mix can contain the same problems.
Of course, if you like the mix, look out for one you can rescue.
If you have your heart set on a puppy, then here are some other breeds you might like to consider.
Corgi Golden Retriever Mix Rescues
Here is a list of breed rescues for the Golden Retriever, the Corgi, or the mix.
If you know of any other rescue organizations that specialize in these dogs, feel free to let us know in the comments section below.
Is a Corgi Golden Retriever Mix Right for Me?
Thanks to their distinctive looks and beguiling personality, this is a mixed breed that many find appealing.
However, the issues that the squat limbs of the Corgi bring to the mix cannot be ignored.
While we cannot recommend getting one of these dogs as a pup, there are plenty of rescue organisations that may have one of these mixes who are keen for a second chance.
Let us know your experience with this mix in the comments below!
References:
Rooney, N.J., Sargan, D.R., "Welfare Concerns Associated with Pedigree Dog Breeding in the UK" Animal Welfare, 2010
Beuchat, C., "The Myth of Hybrid Vigor in Dogs is… A Myth" The Institute of Canine Biology (Accessed online 28/6/2019)
Golden Retriever Club of America
Pembroke Welsh Corgi Club of America
Mayflower Pembroke Welsh Corgi Club
The Cardigan Welsh Corgi Club of America "The Illustrated Standard of the Cardigan Welsh Corgi"
"Queen 'Hit Extremely Hard' by the Death of her Beloved Last Royal Corgi" The Telegraph (Accessed online 28/6/2019)
RSPCA "What are the Animal Welfare Issues with Docking Dog's Tails?" (Accessed online 28/6/2019)
Ott, S.A., Schalke, E., von Gaertner, A.M., Hackbarth, H., "Is There a Difference? Comparison of Golden Retrievers and Dogs Affected by Breed Specific Legislation Regarding Aggressive Behavior" Journal of Veterinary Behavior, 2008
Stafford, K.J., "Opinions of Veterinarians Regarding Aggression in Different Breeds of Dogs" New Zealand Veterinary Journal, 1996
Parker, H.G., "An Expressed Fgf4 Retrogene Is Associated with Breed-Defining Chondrodysplasia in Domestic Dogs" Science, 2009
Get Pippa's free dog training tips delivered to your inbox