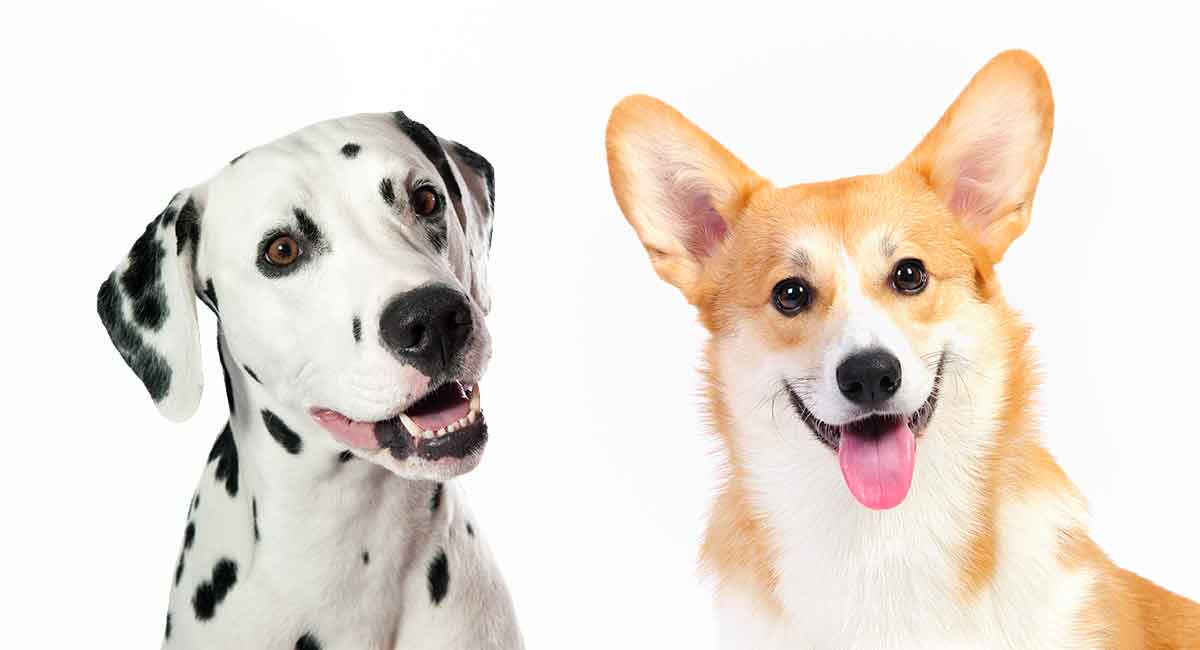 The Corgi Dalmatian mix is a curious combination. With the regal Corgi and the dignified Dalmation as parents, these spotty little dogs are sure to capture some attention when they head off for their daily walk.
The smart, bold, yet affectionate Corgi has won fans the world over (including the Queen of England!)
In combination with the intelligent and dignified Dalmatian, there are plenty of great traits that this crossbreed stands to inherit.
But as with any crossbreed, there is a level of uncertainty that comes along with a Corgi Dalmatian mix.
Before we talk more about what we can expect from a Corgi Dalmatian mix, let's have a look at the controversy that surrounds all cross breeds.
Designer Dog Controversy
Those who advocate for purebred dogs claim that crossbreeds (or the less dignified term mutts) are overpriced, unhealthy, unpredictable, and bred in unhealthy conditions.
On the other hand, one study published in 2011 found that the health issues inherent in many purebred dogs is one of the main animal welfare issues that concerns veterinarians.
While we won't have time to discuss all the claims regarding crossbred dogs in this article, you can read more about it here.
However, it is worth briefly mentioning some of the evidence regarding genetics and dog breeding.
Due to the genetic diversity of a first generation cross, there is a level of unpredictability that comes with these dogs.
However, it is this genetic diversity that also means crossbred dogs are less likely to suffer the large range of health issues that purebred dogs can inherit.
Dalmatian Example
An example of this can be found in a paper published in 2015, which discusses the issue of excessive uric acid production in Dalmatians.
This problem can lead to life threatening urinary tract stones.
Crossing the purebred dog with other breeds similar in appearance to a Dalmatian, then crossing back to Dalmatians was found to be an effective way to eliminate the disease from the dogs.
After some generations of crossing back with Dalmatians, the offspring were genetically indistinguishable from pure Dalmatians.
However, when one of these Dalmatians was registered with the UK Kennel Club, some members of the breeding community were not at all happy.
Purity vs Health
It seems the battle line over the purity of the breed versus the health of the animal is clearly drawn.
It is up to each individual to decide on which side of the debate they sit.
If you would like to read more about the genetics involved with purebreds and crossbred dogs, have a look at this article.
What Is a Corgi Dalmatian Mix Like?
Seeing as Corgis and Dalmatians are such different breeds physically, there is some variation in how a Corgi Dalmatian mix might look.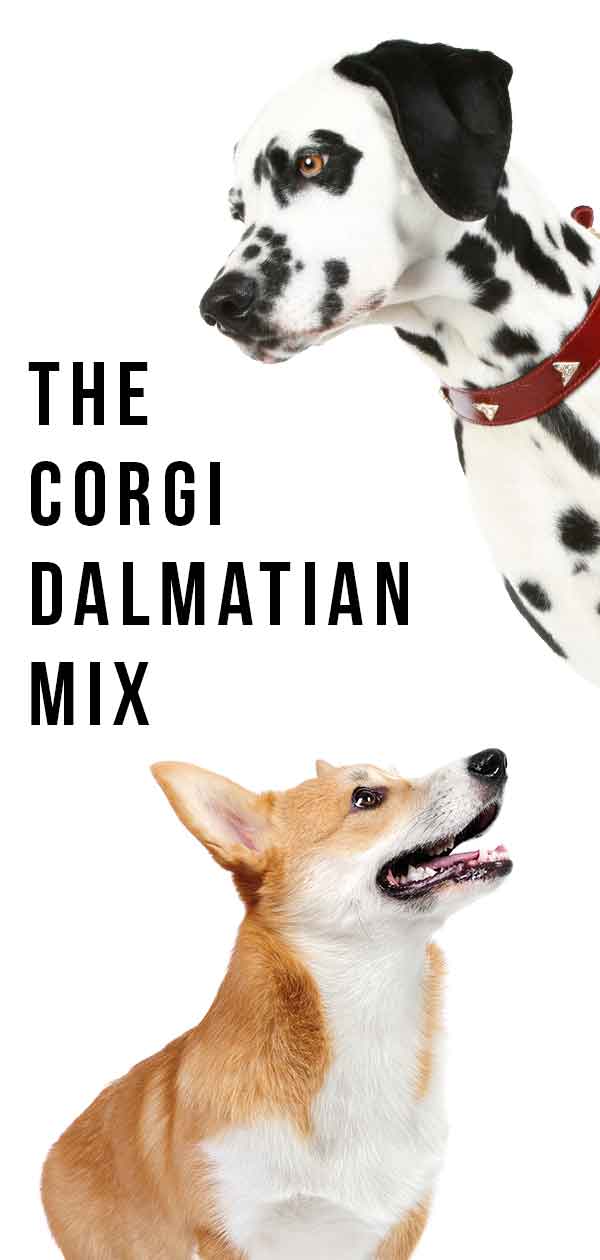 While we can't say exactly what a Dalmatian Corgi mix will be like, learning about the characteristics of both breeds will give us some insight into what features they may inherit.
Remember that the mix could inherit a trait from either parent or end up somewhere between the two.
Coat and General Appearance
Dalmatian Coat
Without a doubt, the Dalmatian is one of the most distinctive dogs as far as looks go.
Their starring role in the movie 101 Dalmatians also went a long way in securing their spot as one of the most recognizable dogs around.
While the black-spotted Dalmatian is probably the most commonly seen variety, Dalmatians can also have liver-colored spots.
The coat is short and dense.
A healthy Dalmatian's coat will be attractive, shiny, and glossy.
Interestingly, Dalmatian puppies do not have spots!
They appear as the puppy matures.
Corgi Coat
The Corgi, on the other hand, has a dense double coat.
This means they have a fine undercoat covered in an outer layer of coarse fur.
There are a couple of varieties of Corgis.
The Pembroke Welsh Corgi comes in red, sable, fawn, or black and tan.
They will often have white markings on the face and on the extremities.
The Cardigan Welsh Corgi comes in the additional colors of brindle and blue merle (which is gray and black marbled).
Like the Pembroke, the Cardigan can also have white points, and can have any mixture of the colors listed above.
Another way to tell the difference between a Pembroke and a Cardigan Corgi is the tail.
The Pembroke Corgis don't have one!
Dalmatian Corgi Mix Traits
As you can imagine, the mix of the spotty Dalmatian and the colorful Corgi could result in any manner of colors in a Corgi and Dalmatian mix!
However, you will often find that the spots of the Dalmatian parent are prominent, even if the coat is a little thicker like a Corgi's.
Dalmatians have floppy, long ears.
The Corgi's ears, whilst large, stand upright.
A Corgi Dalmatian mix can end up with either of these ears, so you will have to meet your puppy to find out.
Size
Aside from fashionable spots, the Dalmatian is a stately looking dog.
Standing between 19 and 23 inches at the shoulder, they are statuesque and athletic in build.
A healthy Dalmatian should weigh anywhere between 34 and 71 pounds.
Corgis, on the other hand, are quite possibly the complete opposite of the sleek and muscular Dalmatian, physically speaking.
Corgis are short and stumpy.
However they do not lack in agility and athleticism.
In fact, they were bred to herd cattle!
The Corgi will stand around 12 inches at the shoulder and can weigh up to 34 pounds.
The Cardigan Corgi tends to be a little bigger than the Pembroke.
Often, a Corgi Dalmatian mix will inherit the stumpier legs of the Corgi.
This means that most of the offspring would be classed as a medium-sized dog.
Temperament and Behavior
Both the Corgi and the Dalmatian are active, intelligent dogs, so any mix of the two will not be lacking in the smarts department, potentially making them one of the best corgi mixes.
Dalmatians can be sensitive.
Introducing new or unfamiliar situations gradually with positive reinforcement is the best way to handle this trait.
Perhaps due to this sensitivity, Dalmatians are very loyal to their owners but can be a little shy with strangers.
Both Pembroke and Cardigan Corgis love being active and will enjoy playing with their families.
Don't be fooled by their stature, they will happily go for a jog or a hike too.
Corgis are easily trained and very loyal.
While they are agreeable in temperament, they still make good guard dogs, and their big bark belies their small size!
Exercise and Training Requirements for a Corgi Dalmatian Mix
These two breeds have a somewhat similar temperament.
As a result, as long as you train your puppy well through the use of positive reinforcement, give your dog regular exercise and socialization, you are sure to have a loyal, fun loving companion.
Dalmatian Needs
Being such an athletic dog, Dalmatians need to have plenty of exercise to stay physically and mentally healthy.
A long hike or a jog is a great way to keep your Dalmatian in tiptop condition.
And be warned, if your Dalmatian gets bored, they are likely to leave a trail of destruction behind them.
Corgi Needs
It is vital that Corgis are well socialized.
They will thrive on regular interaction with other dogs.
Along with regular trips to the dog park, enrolling them in some group training classes is also advisable.
While Corgis love to be active, just remember that their little legs might not keep up with a bike.
Also, running up and down stairs can pose issues for their elongated backs.
Grooming and General Care of the Dalmatian Corgi
If your dog has taken after their Corgi parent, a daily brush will help keep their coat in good order and prevent fur dropping all over the house (and your clothes!)
During shedding season, regular baths will also help manage the shedding.
Just make sure their coat is completely dry before you brush them.
Health Issues and Special Needs of the Corgi Dalmatian Mix
As with many purebred dogs, both breeds do have some weaknesses that can pose health risks.
Despite being strong, athletic dogs, Dalmatians can be prone to deafness and cardiac arrhythmias.
As mentioned earlier in this article, they have also been known to have a problem with excessive uric acid production, leading to potentially life-threatening urinary tract stones that need to be surgically removed.
The cross with a Corgi may eliminate some of these concerns.
If your pooch has taken after their Corgi parent, they could have stumpy legs and a long back.
If this is the case, take their back into consideration when playing with them.
Who Is a Good Match for a Corgi Dalmatian Mix?
These dogs would be a great pet for active individuals and families who have time to train and play with these bright, active dogs.
Keep them well socialized and train them appropriately, and they will make affectionate, loyal, and well-behaved companions.
How to Pick a Puppy
Being a mixed breed, there are no registered breeders or clubs for the Corgi Dalmatian mix.
As with any puppy you buy, try to meet the parents of the puppy and check the conditions in which they have been born and raised.
Happy, healthy parents usually mean happy, healthy puppies.
Your breeder should have performed health testing on the parents and puppies.
Be sure to ask for their health certificates.
Other Corgi or Dalmation mixes
Not quite sure if the Corgi Dalmation mix is right for you? You might like to take a look at these other mixes that include the Corgi or the Dalmation
Conclusion
The Corgi Dalmatian mix is a truly unique dog.
Underneath its stumpy, spotty appearance is a smart, loyal, and sensitive dog that will make a fun loving and loyal companion for individuals and families that are prepared to give it the love and attention it needs.
Have you ever met a Corgi Dalmatian mix?
Or do you have one living with you right now?
Tell us about your experiences in the comments section below.
References
American Kennel Club
Beuchat, C. "The Myth of Hybrid Vigor is… a Myth" The Institute of Canine Biology
Yeates, J.W., Main, D.C.J., "Veterinary Surgeons Opinions on Dog Welfare Issues" Journal of Small Animal Practice, 2011
Farrell, L.L., et al "The Challenges of Pedigree Dog Health: Approaches to Combating Inherited Disease" Canine Genetics and Epidemiology, 2015
James, T.N., "Congenital Deafness and Cardiac Arrhythmias" The American journal of Cardiology, 1967