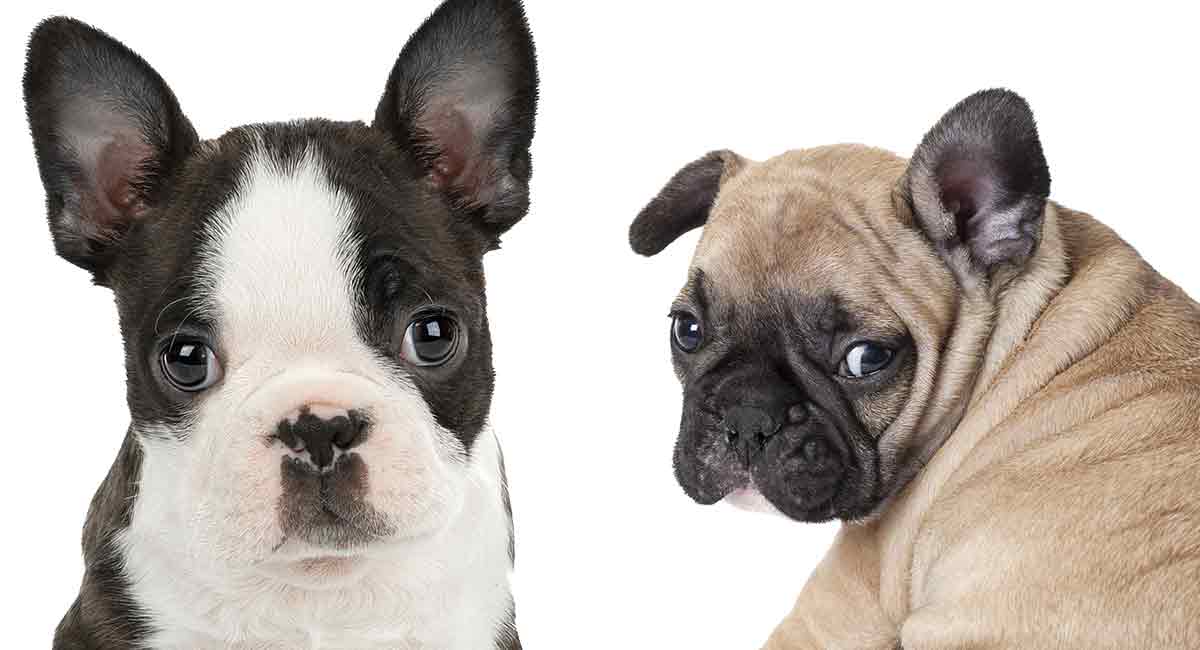 When it comes to the Boston Terrier vs French Bulldog, the two are very popular breeds. They both have a large following of fans.
Both dogs are small, flat-faced, and have similar temperaments. They are clever, outgoing and can have a stubborn streak!
But, there are some key differences between the Boston Terrier vs French Bulldog.
Let's take a closer look at both breeds to find out if one will make a better pet for you. Or whether these dogs should be avoided for health reasons.
Boston Terrier vs French Bulldog History
The Boston Terrier's ancestors were originally bred to be fighting dogs.
But, a dog named Judge was sold to an American man, William O'Brien, who brought him back home to Boston.
Over generations, the breed was developed into the smaller and sweeter-tempered pet we see today.
As for the French Bulldog, they actually trace their history back to England rather than France.
Ancestors of the breed were originally the mascot of a city called Nottingham. But when the skilled lace makers of the town found their jobs threatened, they moved to France along with their dogs.
Here's where the breed was fully developed and became known as the French Bulldog.
So Boston Terrier vs French Bulldog history – which do you think is more interesting?
Boston Terrier vs French Bulldog Appearance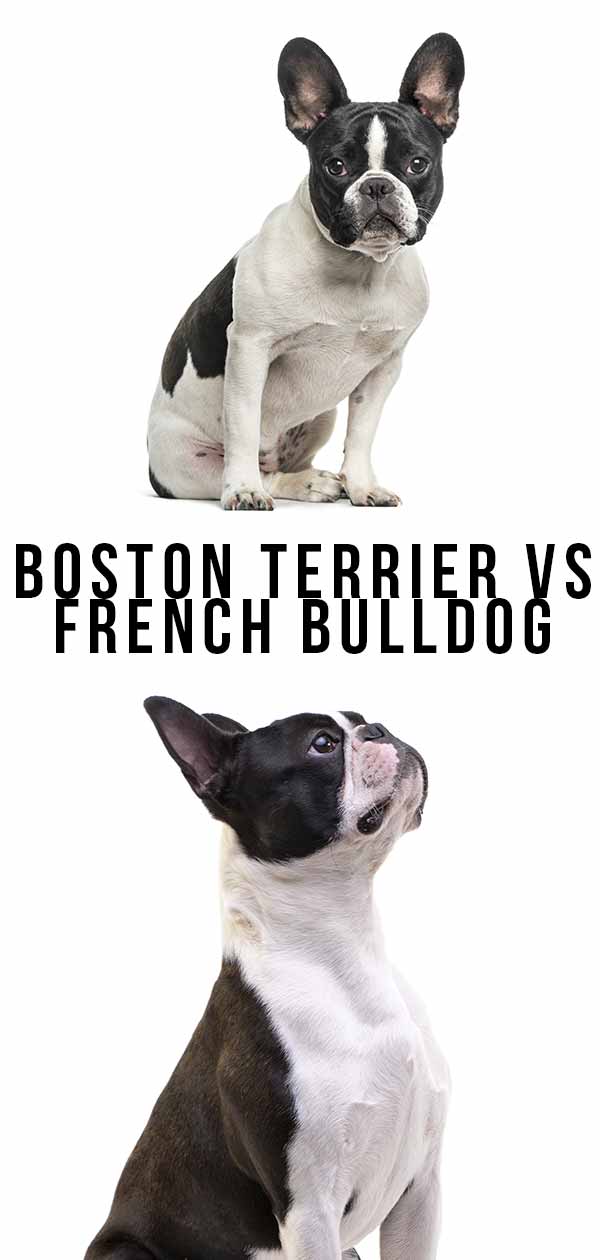 While both breeds share many physical traits, they are still distinctly different from one another.
Let's take a closer look at the Boston Terrier vs French Bulldog appearance.
Boston Terrier vs French Bulldog Size
The Boston Terrier hits heights of between 15-17 inches and an average weight of twelve to twenty-five pounds.
French Bulldogs are smaller at an average height of eleven to thirteen inches. But they are distinctly more heavyset for their size. A healthy Frenchie will usually weigh in at 20-28 pounds.
Physical Traits
When it comes to the appearance of the Boston Terrier vs the French Bulldog, they both share a flat face with large prominent eyes. Both possess large erect ears, with the Frenchie's appearing more rounded than the Boston Terriers bat-like ears.
Frenchie's tend to have more skin wrinkles than the Boston Terrier. Especially on the face and back.
Both have a short tail that is set low and may be either straight or screwed.
Coats and Colors
As for their coats, the Boston Terrier and French Bulldog each have short and smooth fur. But, they do differ in coat colors and patterns.
The Boston Terrier's coat may be:
Regardless of what color and pattern your Boston Terrier may have, they should also have white markings on the face, chest, and legs.
What About Frenchies?
Frenchies may have a lot more variation in their coats. Common colors and patterns are below:
Combinations of the colors can also exist. White markings and/or a black facemask may also be present.
Boston Terrier vs French Bulldog Temperament
The Boston Terrier is a friendly, outgoing dog with an intelligent mind. They have quite a stubborn streak. So, they need a patient owner with lots of time and energy to invest in training.
French Bulldogs are similarly tempered. Smart and funny, but with the potential to be even more stubborn than the Boston Terrier.
Both tend to be comfortable with kids and other pets provided that they have been socialized from a young age.
Boston Terrier vs French Bulldog Training
While both breeds are very intelligent and can easily pick up new commands and commit them to memory, as previously described, they can be quite stubborn.
To properly train a Frenchie or a Boston Terrier, your biggest hurdle is getting them interested in being trained in the first place!
Positive, reward-based training is a great way of keeping both breeds invested in training. Just be sure to not overdo it on the treats.
An important thing to keep in mind about both of these breeds is that while they pick up new commands quickly, they can be particularly slow to housebreak.
It may take a few months of potty training before you can be comfortably sure they won't eliminate in your home.
Obedience and Socialization Training
Remember that obedience training and socialization is vital for any breed. It helps ensure they grow into controllable and polite dogs.
You must never skip training a dog. If you are struggling to train a Frenchie or a Boston Terrier, hire a professional.
Boston Terrier vs French Bulldog Exercise
Boston Terriers are a little more energetic than the Frenchie in most cases. So, they will have higher exercise requirements.
A Boston Terrier will need one to two walks a day. With some extra play if they still have some energy to spare.
French Bulldogs can do well on just a single daily walk or play session.
But, it is important to never take these breeds out for exercise in hot weather.
Let's look at this a little closer.
Exercising Brachycephalic Breeds
Due to their flat faces, both of these dogs struggle to breathe. Hot weather can exacerbate this, quickly leading to overheating. Boston Terrier vs French Bulldog – both breeds struggle in this category.
In times of hot weather, it is recommended to exercise a French Bulldog or Boston Terrier indoors in a well air-conditioned home.
Strenuous exercise should also be avoided with these breeds. As their breathing will be unable to keep up.
Finally, the French Bulldog should never be unsupervised near deep water. They cannot swim due to their heavyset body and short legs and are at a high risk of drowning.
Boston Terrier vs French Bulldog Health
Unfortunately, both of these breeds suffer from serious health issues.
Structural Health Issues
One of these is a structural health problem that is present in both the Boston Terrier and French Bulldog.
This is the flat-face that both breeds are known for. While it's seen as a cute trait to many, it brings a lot of health risks.
Brachycephalic Airway Syndrome is a serious condition brought on by this structural problem. It is where a short muzzle causes the compression of the nose, hampering the dog's breathing ability.
This is why flat-face breeds are known to be noisy breathers. They are struggling to take proper breaths due to their compressed noses. This leads to intolerances for both heat and strenuous exercise.
Along with this, it can lead to laryngeal collapse. This is where the dog's ability to breathe quickly worsens. It can be fatal without prompt treatment.
Other Flat-Faced Problems
Flat-faced breeds like the Boston Terrier and the French Bulldog also have to face:
Eye disease
The inability to give birth naturally
Skin infections
Dental problems.
Other Health Problems
Additionally, the Boston Terrier is at risk of:
Patellar Luxation
Congenital Deafness
Glaucoma
Cataracts.
French Bulldogs contend with the following health conditions:
Patellar Luxation
Intervertebral Disc Disease
Pulmonic Stenosis
Congenital Deafness
Cataract
Distichiasis
Entropion
Retinal Dysplasia.
So, in the Boston Terrier vs French Bulldog health debate, both struggle with similar, serious issues.
Boston Terrier vs French Bulldog Lifespan
The Boston Terrier has an expected lifespan of 11-13 years. While the Frenchie has a lifespan of 10-12 years.
Check out the longest living breeds in this article.
Grooming and Feeding Boston Terrier vs Frenchie Bulldog
Let's take a look at the Boston Terrier vs the French Bulldog general care requirements. As both breeds have a short sleek coat, their grooming needs are low. A weekly brush is usually satisfactory for both.
But, the Boston Terrier does shed a little more than the Frenchie. The French Bulldog and the Boston Terrier do well on high-quality food.
Consult your vet to come up with a diet plan to ensure you are feeding them all the nutrients they need.
These two breeds may benefit from food specifically made for brachycephalic dogs. Such foods are easier to pick up with their short muzzles and easy to chew if they have dental issues.
Which Breed Makes a Better Pet?
Sadly, we can't really recommend either breed as a family pet due to the health concerns they both share.
The risk for severe debilitating health conditions is just too high. So, consider a healthier breed instead of a Boston Terrier or French Bulldog.
If your heart is set on either breed, we would advise rescuing an adult over buying a puppy. This way, you can see exactly what you are getting beforehand.
Both breeds need well air-conditioned homes, with a caring and loving family who can keep them comfortable.
Which breed do you prefer? What do you think about the health issues of each one? Let us know below!
More Guides
If you've enjoyed this comparison, you might also want to find out about some other great breeds!
References and Resources
Monnet, E, 'Brachycephalic Airway Syndrome', World Small Animal Veterinary Association, 2015
Karabagli, M, 'Brachycephalic Airway Syndrome in Dogs'

, Istanbul University, 2012

Bright, RM, 'Laryngeal Collapse in Dogs'

, 2011

British Veterinary Association, 'Health and welfare of brachycephalic dogs'
O'Neill, DG, et al, 'The epidemiology of patellar luxation in dogs attending primary-care veterinary practices in England Canine Genetics and Epidemiology'

, 2016

Hansen, HJ, 'A Pathologic-Anatomical Interpretation of Disc Degeneration in Dogs'

, Acta Orthopaedica Scandinavica, 1951

Strain, GM, 'Aetiology, prevalence and diagnosis of deafness in dogs and cats'

, The British Veterinary Journal, 1996

Maggs, DJ, et al, Slatter's 'Fundamentals of Veterinary Ophthalmology – Fourth Edition

, Elsevier Health Sciences, 2007

Gough, A, et al, 'Breed Predispositions to Disease in Dogs and Cats'

, John Wiley & Sons, 2018

Bell, J, et al, 'Veterinary Medical Guide to Dog and Cat Breeds'

, CRC Press, 2012

Priester, WA, 'Sex, Size, and Breed as Risk Factors in Canine Patellar Dislocation'

, Journal of the American Veterinary Medical Association, 1972
Get Pippa's free dog training tips delivered to your inbox