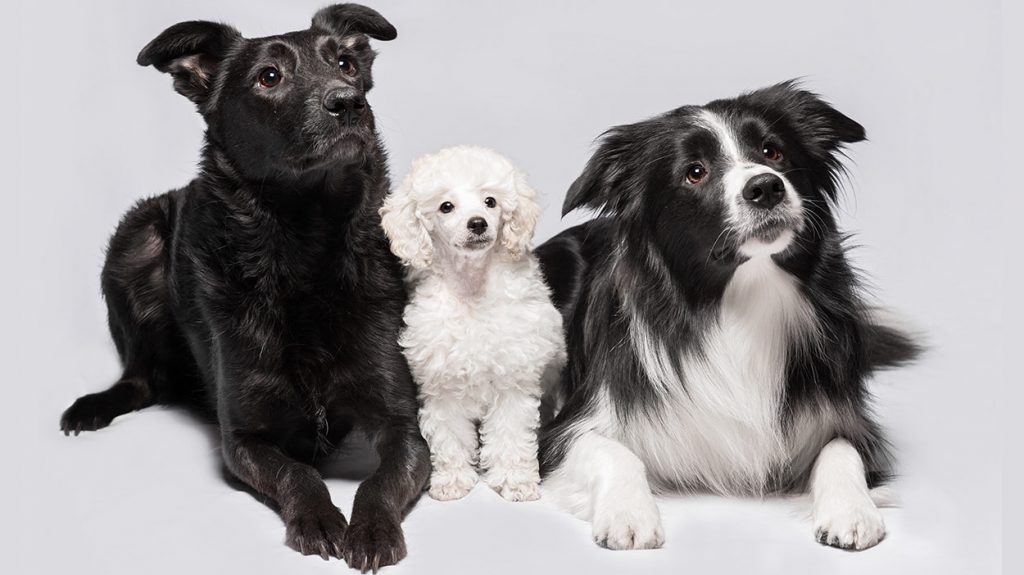 Welcome to our guide to the Bordoodle!
The "Bordoodle" is a cross between the Border Collie and Poodle. Other names for this breed include the Borderdoodle, Borpoo, and Border Poodle.
They are mid-sized, friendly, social, and relatively easy to care for. These features make them a popular choice for a family dog.
We'll go over everything there is to know about the Bordoodle. But first, let's take a look at the controversy surrounding "designer dogs."
Designer Dogs
The Bordoodle is what you could consider a "designer dog" — that is, a mixed breed that has been purposefully crossbred by humans to achieve a certain combination.
In the dog owner community, there is an ongoing debate over the ethics of these so-called designer dogs.
Some claim that breeders are "playing God" and interfering with the natural process.
Others express concern about the unpredictability of crossbreeds. They argue that purebred dogs are much more predictable and consistent.
Still others claim that crossbreeding has significant benefits, often pointing to the hybrid vigor phenomenon.
It is true that crossbreeding can at times help to minimize some inherent genetic health concerns that some purebred breeds have. At the same time, crossbreeding can open up the possibility for a whole new set of potential health problems.
In the battle of purebred vs. mutt, nobody is really right or wrong.
Both sides make some valid points, and this is a debate that will likely continue for many years to come. If you are on the fence about crossbred dogs, some perspective might be healthy.
Bordoodles And Other Crossbred Dogs
One thing to keep in mind is that every dog breed was crossbred at one point in history, with or without human intervention.
In the end, the characteristics of any dog – purebred or mutt – will depend on a mix of genetics, breeding techniques, and the environment it is raised in.
Genetically, dogs will always take on many of the characteristics of their parents.
With purebred dogs, this is fairly predictable as each parent shares similar genes. With mixed breeds, however, there will always be some level of unpredictability.
In a crossbreed like the Border Doodle dog, you never quite know what the final mix of genetic traits, behaviors, and health concerns may be.
You could end up with a pup that has mostly Border Collie characteristics, or a dog with primarily Poodle characteristics – or anywhere in between.
This is an important concept for dog owners to understand. If you want a very predictable outcome, a purebred may be a better choice.
If you are considering the Bordoodle, it's wise to first understand the characteristics of the parent breeds.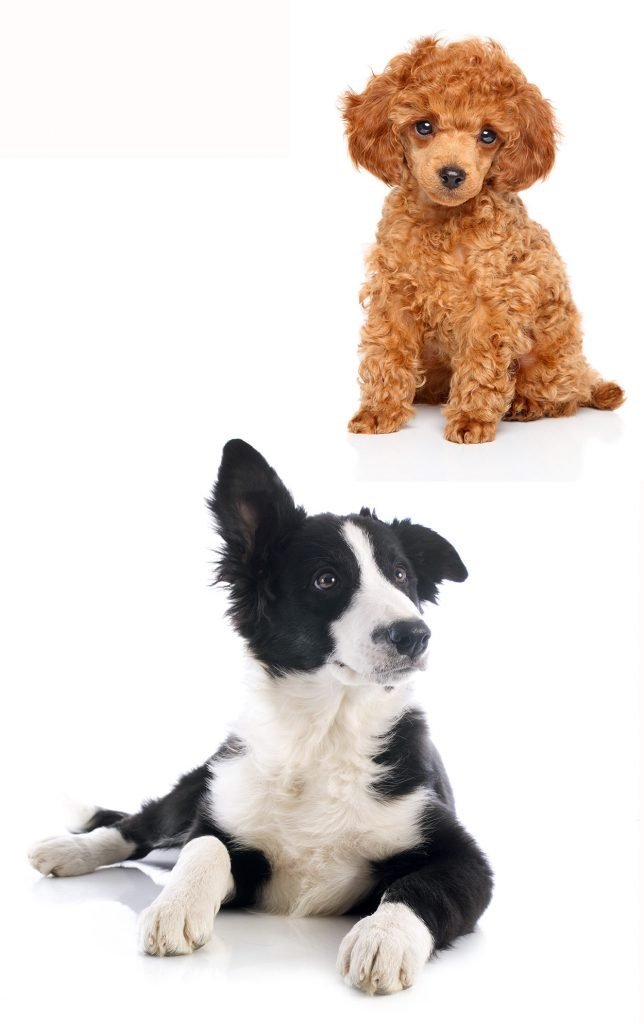 Origin Of The Border Collie
The Border Collie has a long and rich history dating all the way back to the times of the Roman Empire.
It is thought that Roman soldiers invading Britain brought with them herds of livestock, using herding dogs to keep the animals in check. Roman herding dogs were depicted as large, heavy-boned breeds known as skilled herders with a protective nature.
Later, as the Roman empire began to crumble, Viking invaders laid siege in Britain. They, too, brought with them livestock and herding dogs.
Viking dog breeds were much smaller, quicker and more agile than their Roman counterparts.
The cross between these two breeds – small, quick, Spitz-style Viking dogs and larger, aggressive Roman dogs – resulted in the earliest incarnations of the Border Collie.
The Border Collie quickly became known throughout Europe as the most skilled herding dog of all. Their popularity exploded as shepherds learned of their skill and determination as herders.
Today, Border Collies remain popular, both as working dogs and family pets.
They ranked #38 out of 192 in the AKC Breed Popularity Rankings, as of the time of this publication.
Origin Of The Poodle
The Poodle originated in Germany, with the first records of the breed dating back more than 400 years. It got its name from the German word pudelin, which loosely translates to "splashing in water."
As the name suggests, the Poodle was bred for use as a retrieving water dog. Hunters used Poodles to fetch wounded waterfowl. The breed built a reputation as a skilled retriever.
This history as a retriever actually led to the Poodle's signature flamboyant haircut.
Hunters would shave many areas of the Poodle to allow them to swim faster, but they left tufts on the chest, hips and joints to protect from the cold.
The breed slowly transitioned from a working retriever to a luxury domestic dog.
It grew very popular among French nobles, leading to the eventual adoption of the Poodle as the National Dog of France.
The Standard Poodle was the first incarnation of the breed, which was later bred down to the Miniature and eventually the Toy Poodle.
Today, the Poodle is a popular family and show dog, coming in at #7 of 192 in the AKC's Breed Popularity list.
Origin Of The Border Collie Poodle Mix
The Border Collie cross Poodle mix originated in the United States, although the exact date is unclear.
It's thought that breeders sought to breed an ultra-intelligent dog, and they couldn't have picked better parent breeds. The Border Collie and Poodle are the #1 and #2 smartest dog breeds in the world, respectively.
Bordoodle Dog Characteristics
The Bordoodle is a midsized breed. A Bordoodle full grown will typically range from 30 to 60 pounds. At a height of 12-22 inches, they are fairly short for their weight class.
When you look at a Bordoodle, it's pretty easy to identify the parent breeds.
They typically take on the basic build and face structure of a Border Collie, but have the curly, soft hair that's reminiscent of a Poodle's coat.
Border Collie x Poodle Coat
The Border Doodle's coat is medium-to-long, soft and curly. Picture a Border Collie's coat with the signature patterns on face and chest, and then add relaxed, wavy curls.
Coat coloring can vary. Black and white is common, as are various shades of brown and grey. Shades of red and blue are possible, but rare.
Border Collie Poodle Grooming And Care
Despite their relatively long coat, the Bordoodle is actually fairly low maintenance.
Shedding levels are typically low-to-moderate, and a simple weekly brushing will suffice in most cases.
Border Doodles have rich natural skin and hair oils that will help to keep their coats shiny and healthy.
To protect the oils, bathing should be restricted to an as-needed basis.
If your furry friend gets dirty and smelly, by all means give him a bath. However, this is not a breed that requires weekly bathing.
Standard grooming routines should be followed with this breed.
This includes tooth brushing several times a week, nail trimming every other week, and frequent ear checks for dirt and debris.
Bordoodle Temperament
Bordoodles are extremely intelligent dogs that are eager to learn and please their owners. They enjoy having a task to do, although they are not typically hyperactive.
Border Doodles are known to be very friendly, sociable dogs that are eager to meet everyone in the room and become the center of attention.
They are rarely aggressive, unless they are protecting their family.
The Bordoodle's friendly, loyal nature has made it a popular choice for families, senior citizens, and dog lovers worldwide.
They do well with children, so long as they are properly socialized and the children know to be gentle with the dog.
This is an incredibly intelligent breed, so if training is the goal, the Bordoodle is sure to impress.
Bordoodles are both smart and eager to please their owners, which makes for an ideal mix for trainability.
Border Doodle Energy And Exercise Needs
The Bordoodle is a moderate activity breed. They certainly enjoy being active, but they are not hyperactive and will typically be content spending most of their day inside.
Bordoodles are not usually prone to boredom or destructive tendencies when left alone, making them a good choice for apartment dwellers. Two moderate distance walks per day will probably suffice for this breed.
However, keep in mind that Border Collies have a higher activity level and love to run.
If you happen to get a Bordoodle with more Collie characteristics, you may need to exercise your dog more than the average Bordoodle.
Border Collie Doodle Health Concerns
Borderdoodles are typically healthy pups, although there are a few conditions that they are genetically predisposed to.
Hip and elbow dysplasia is relatively common in this breed. This is a genetic condition, and treatment options are minimal.
Dogs with hip dysplasia can typically lead happy lives, but they are more prone to hip pain, arthritis and other ailments later in life.
Progressive retinal atrophy (PRA) and other eye issues are relatively common, as well.
This can lead to trouble seeing and eventual blindness, but usually does not affect the dog's quality of life too much.
Epilepsy, a neurological disorder that can cause seizures, is also seen often in this breed.
This condition can usually be identified in puppies.
Many health conditions can be tested for and potentially identified at a very young age.
Reputable breeders will test their breeding stock for genetic disorders and health concerns.
Ideal Home For Border Doodle Puppies
Border Poodle puppies are friendly, easy-going dogs, which makes them a good choice for a wide range of people. They are great with children, adults and senior citizens alike.
They are also relatively easy to care for, and do not require as much exercise as many breeds.
This is an appropriate breed for those living in apartments.
Although separation anxiety is always a possibility with any breed, most Bordoodles are okay with being left alone.
So, this should be an appropriate dog for those who work full-time.
This is also a great breed for active owners who enjoy training their dogs.
Bordoodles make excellent show dogs and can be trained to complete a variety of impressive tricks and behaviors.
How To Find Border Collie Poodle Mix Puppies
If you're looking for a Border Collie and Poodle mix, there are a number of ways to go about it.
You can either find a puppy, or look for an adult dog to adopt.
When it comes to puppies, it's important to find a reputable breeder.
You can search for Bordoodle puppies in your area, but be sure to also look into the background and reputation of the breeder, if possible.
A reputable breeder will know his or her craft well, and take good care of their dogs.
They will also likely conduct health tests on their breeding stock to help minimize the potential for health issues.
You can search Google to find breeders in your area. Keep in mind that the Bordoodle puppy price is not cheap – it can cost $2,000 or more to buy a puppy from a reputable breeder.
Border Collie Poodle Mix Rescue
We wholeheartedly encourage rescuing/adopting dogs, when possible.
It can be tough to find a Bordoodle rescue opportunity, but they are out there.
Check with your local shelters, and look for relevant clubs in your area.
Keep in mind that when you rescue a dog, you're never going to be quite sure what kind of dog you'll end up with.
You will not be able to tell how the dog has been treated by previous owners, and how that treatment may affect the dog's future behavior.
Do you have a Bordoodle? Let us know about your baby in the comments!
Make sure you also check out our helpful naming guides for your new puppy!
References
American Kennel Club
Genevois, J. P., Remy, D., Viguier, E., Carozzo, C., Collard, F., Cachon, T., Fau, D. Prevalence of hip dysplasia according to official radiographic screening, among 31 breeds of dogs in France. Veterinary and Comparative Orthopaedics and Traumatology, 2008.
Hülsmeyer, V., Zimmermann, R., Brauer, C., Sauter‐Louis, C., Fischer, A. Epilepsy in Border Collies: clinical manifestation, outcome, and mode of inheritance. Journal of veterinary internal medicine, 2010.
Vilboux, T., Chaudieu, G., Jeannin, P., Delattre, D., Hedan, B., Bourgain, C., André, C. Progressive retinal atrophy in the Border Collie: a new XLPRA. BMC veterinary research, 2008.
Get Pippa's free dog training tips delivered to your inbox