A Border Collie Australian Shepherd mix dog is also known as a Border Aussie.
These breeds share some common characteristics, but they are still two distinct types of dogs with their own charms and talents.
A Border Aussie mix will result in a dog that is intelligent, hardworking and focused on any job given to them.
So, be prepared. This is not a dog for a lazy person! Let's find out more about them, and what kind of home would suit them to a tee.
Where Does The Border Collie Australian Shepherd Mix Come From?
As with most mixed breeds, it is difficult to know where and when they first appeared. But we know plenty about the parent breeds.
Border Collie Beginnings
The Border Collie had its beginnings on the border of England and Scotland.
It is thought that its ancestors were the Bob Tailed Sheep Dog, the Bearded Collie and the Harlequin Collie.
In the late 1800s, a farmer named Adam Telfer bred two of his "working Collies".
One of the pups he kept and named "Old Hemp." Old Hemp came to be the great-great granddaddy of the modern Border Collie.
Australian Shepherd Beginnings
The Australian Shepherd is a breed that was used for many years to herd livestock in Europe around the Pyrenees Mountains.
The breed made a stopover in Australia when these European herders immigrated with their flocks to Australia.
During this time, these dogs were most likely bred with the Border Collie and the Australian Cattle dog.
When the developing breed made its way to America, it was refined and perfected into the dog we know today.
Purebred Versus Mixed Breed Debate
As we can see, both breeds histories involve the mixing of other breeds to create a dog which was best suited to the intended purpose.
However, these days, there is much argument over whether breeds should be mixed.
Some feel that the purity of pedigree dog breeds will be muddied or lost completely if cross breeding continues.
Other detractors warn that mixed breeds are unpredictable.
Still others point to the popularity of "fashionable" mixed breeds as the reason we see so many cruel puppy farms appearing.
But on the other hand…
However, advocates for mixed breeds point out that the inbreeding which can happen in pedigree lines has led to dogs with shocking conformational defects and high frequencies of inherited illnesses.
They also point to research which indicates that the genetic variation introduced when a breed is crossed can lead to healthier dogs that suffer less inherited health problems. Hybrid vigor is real.
Wherever you sit on this issue, the most important thing for you to determine is that any puppy you buy has been bred responsibly and raised kindly.
Fun Facts About The Border Collie Australian Shepherd Mix
While the names "Fly" and "Rex" might not ring a bell, the movie Babe most likely does.
Fly and Rex were the names of the Border Collies that played a significant role in the movie, which was a runaway success both critically and in the box office.
There is also a talented Australian Shepherd pooch—named "Magic"—who rose to fame in the 1990s as a world-class "disc dog."
Magic performed frisbee tricks in front of thousands of people at major sporting events.
Border Collie Australian Shepherd Mix Appearance
The parent dogs are somewhat similar in appearance already. A mix of these two is likely to yield something akin to either of the parent breeds.
Border Collie Appearance
The Border Collie stands between 18 and 22 inches and weighs between 30 and 55 pounds.
The most recognizable color is black and white.
But they also come in
blue and white
chocolate and white
red and white
blue merle
and tricolor (black, tan, and white).
Their coat can either be rough, long, and a little wavy, or smooth, short, and coarse.
A Border Collie is a well-balanced, athletic dog.
They have an intelligent expression, with bright eyes and responsive ears. And their face tapers to a fine muzzle.
Australian Shepherd Appearance
The Australian Shepherd stands 18 to 23 inches and weighs between 40 and 65 pounds.
They are a well-balanced dog, slightly longer than they are tall. And they're sturdy without being heavy set.
Australian Shepherds have a medium-length coat which can be straight or wavy. The coat is shorter around the head, ears, and the bottom of the legs.
They come in blue merle, black, red merle and red. All variations can come with or without white markings and/or tan points.
Some may have piercing blue eyes, or even one brown and one blue eye.
Border Collie Australian Shepherd Mix Temperament
Similar to appearance, a mix of temperament is expected from both parent breeds.
In a Border Collie Australian Shepherd Mix, the more outgoing personality of the Border Collie may help balance out the Aussie's tendency towards aggression.
Border Collie Temperament
The Border Collie is known as a dog that is friendly, eager to please, born to work, and easy to train.
They are also known to be loyal. And while they have a strong instinct to herd, they should not be aggressive or shy.
Just be wary if you allow them to "herd" the family.
It could prove problematic as they get older, especially if they decide a nip is needed to keep the herd in.
Australian Shepherd Temperament
The Australian Shepherd is similarly a loyal, intelligent dog, born to work.
According to a study published in 2006, the Australian Shepherd is more likely to attack strangers than some breeds. Although they are not likely to attack their owners.
The Australian Shepherd also scored higher than other breeds when it came to dog-related aggression.
However, with proper socialization, these tendencies need not become an issue.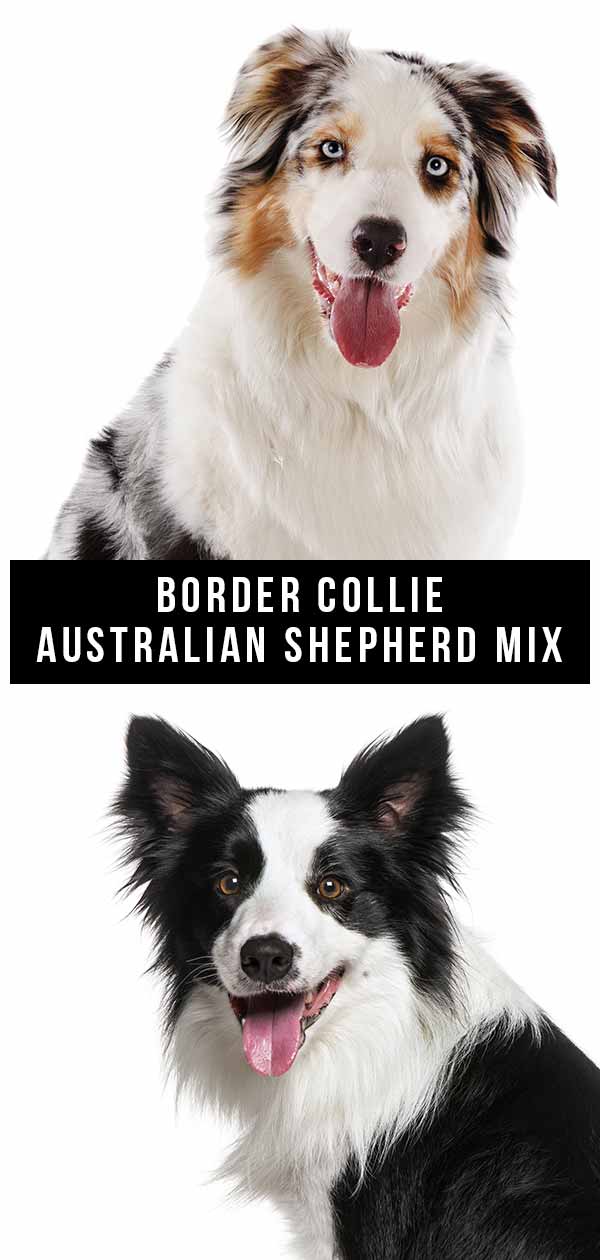 Training Your Border Collie Australian Shepherd Mix
Potty and crate training, along with socialization, are all basics that you should teach your puppy no matter what breed they are.
Given the tendency of the Australian Shepherd to be shy around strangers and other dogs and their aggressive potential, it is of special importance to properly socialize them.
You cannot guarantee that the more outgoing nature of the Border Collie will come through.
To prevent this mix's herding instinct to nip whenever smaller pets or kids start running about, train them to come to you for a treat instead.
As far as exercise, the question is not whether one of these dogs will keep up with you, but if you can keep up with them!
Make sure they have plenty of daily exercise that keeps them physically and mentally active.
Border Collie Australian Shepherd Mix Health
Sound conformation has been important in the development of the Border Collie and the Aussie with both being working breeds.
This mix can inherit health problems from either parental breed, especially if both breed parents are susceptible to the same condition.
Border Collie Health
This dog is susceptible to a few genetic disorders that can be fatal:
a nerve disorder known as CL
an immune disorder known as TNS
and an eye disorder known as CEA.
Tests are available for these disorders. So, you must ask your breeder about them.
Some other problems that crop up in this breed are
elbow and hip dysplasia
eye disorders, sensory neuropathy
MDR1 drug resistance
vitamin B12 deficiency
hearing problems
and epilepsy.
You can find more information about health testing and conditions affecting the Border Collie at the Pastoral Breeds Health Foundation.
Australian Shepherd Health
As for the Australian Shepherd, conditions to watch out for are
autoimmune thyroiditis
some cancers
eye problems (such as CEA as with the Border Collie)
elbow and hip dysplasia
and MDR1 drug sensitivity.
They may also be susceptible to allergies. While not life-threatening, it can lead to itchy skin, which will impact on the dog's quality of life.
For more detailed information about the health of the Australian Shepherd, you can find information at the Australian Shepherd Health and Genetics Institute.
Border Collie Australian Shepherd Mix Lifespan
The Border Collie and the Australian Shepherd can both be expected to live into their mid-teens.
Therefore, we can expect the average lifespan of a healthy mix to be in similar.
Regardless, they both need proper care from a loving owner to make sure they achieve their full potential.
Border Collie Australian Shepherd Mix Grooming
Depending on the type of coat they inherit from their parents, this mix may require anything from an occasional grooming schedule consistent with Australian Shepherds, or the weekly groom required by Border Collies.
Do Border Collie Australian Shepherd Mixes Make Good Family Dogs?
Border Aussies can make great family pets if your family is active and interested in spending time training and exercising a highly intelligent, work-oriented dog.
If you want a dog that will sleep all day and be happy with a quick meet and greet when you get home after work, this is not the dog for you!
You will need a well-fenced yard, and time for long walks, training, and exercise sessions every day.
Rescuing A Border Collie Australian Shepherd Mix
Giving a dog a second chance is a rewarding experience. While adult dogs often need rescuing, pups sometimes need rescuing too!
Make sure you have an honest conversation with the organization you rescue your dog from.
Some rescue dogs may have suffered abuse, neglect or may have some health or behavioral problems, which prompted their previous owner to hand them over into someone else's care.
While these aren't reasons not to rescue a dog, they are things to consider before adding a new member to your family.
Finding A Border Collie Australian Shepherd Mix Puppy
The best way to find a puppy that has been bred and raised responsibly is to visit the breeder in person.
As mixed breed dogs continue to rise in popularity, there is always the risk they have been bred in a puppy mill to meet the demand and make some fast cash.
However, this does not mean that all mixed-breed pups came from a puppy farm.
But being diligent in checking out the breeder will ensure that you do not inadvertently support this cruel trade.
Avoiding Puppy Mills
Puppies in the pet shop window have all too often been born in a puppy mill.
While they look just as cute as any other pup, buying from this source only encourages this inhumane practice.
The sad truth is, pups raised in puppy mills often suffer health and behavioral issues as a result of the neglect they have experienced.
Similarly, if you are looking online, never have a pup shipped to you without visiting the premises.
Visit the place they were bred in-person to ensure the breeder is not hiding a puppy mill behind a flashy looking website.
Raising A Border Collie Australian Shepherd Mix Puppy
A Border Collie mixed with an Australian Shepherd is going to be a high energy dog with lots of smarts.
So, you will need to be on top of your game when raising and training them.
Feel free to have a look at some of our care and training guides for some helpful hints and tips.
Pros And Cons of Getting A Border Collie Australian Shepherd Mix
Cons
High energy and needs plenty of exercise
Will get bored if alone for long periods
Strong herding instincts
Pros
Loyal and dedicated
Very hardworking
Intelligent and therefore easy to train and teach tricks to
Similar Border Collie Australian Shepherd Mixes And Breeds
Border Collie Australian Shepherd Mix Rescues
Here is a list of rescue organizations for the parent breeds or mixes. If you know of any other great rescue organizations, please let us know in the comment section below.
US
UK
Canada
Australia
Is A Border Collie Australian Shepherd Mix Right for Me?
A Border Collie Australian Shepherd mix is a great dog for an active family who would love a dog to play, train, and exercise with every day.
You will also need to be armed with a good brush to keep that coat in check!
Make sure you have time to invest in your relationship with one of these dogs, as they don't take well to being left alone.
Also, don't be alarmed if your Border Collie Australian Shepherd mix decides to round you up on occasion.
Remember, this is what these dogs were bred to do! You will need to train them patiently if this becomes problematic.
References And Resources
All About Border Collies. (Accessed 2019). "Living With Border Collies." United States Border Collie Club.
The Australian Shepherd Club of America. (Accessed 2019)."Diseases and Defects."
Australian Shepherd Health and Genetics Institute. (2019). "Ask The Experts."
Bloeme, P. and Perry, J. (2008) "Disc Dogs! The Complete Guide." Hyperflite.
Beuchat, C. (2014). "The Myth of Hybrid Vigor in Dogs is…A Myth." The Institute of Canine Biology
The Border Collie Club of Queensland. (Accessed 2019) "History of the Border Collie."
Border Collie Club of Victoria. (2005). "Extended Breed Standard of the Border Collie."
Duffy, D. L., et al. (2008). "Breed Differences in Canine Aggression." Applied Animal Behaviour Science.
Lowe, J. K., et al. (2003). "Linkage Mapping of the Primary Disease Locus for Collie Eye Anomaly." Genomics.
Pastoral Breeds Health Foundation. (Accessed 2019).
Weissl, J., et al. (2011). "Disease Progression and Treatment Response of Idiopathic Epilepsy in Australian Shepherd Dogs." Journal of Veterinary Internal Medicine.
Wilton, A. (Accessed 2019). "Health from a Researcher's Point of View." Border Collie Club of Victoria.
Get Pippa's free dog training tips delivered to your inbox