The Black Irish Wolfhound is an absolutely stunning variation of the well-loved giant breed!
And the beautiful black coat adds a touch of mystery and elegance to an already dignified and proud breed.
Irish Wolfhounds are both large in size and personality, and the black-coated variation of this breed is no different!
In this article, we will take a detailed look at the Black Irish Wolfhound. We'll tell you everything you need to know to know about this magnificent breed.
What Are the Genetics Behind the Black Irish Wolfhound?
To get things started, let's learn more about the genetics behind the black coat color and how it came to exist in this breed.
Gaining some knowledge of the topic can help you a lot when conversing with breeders about possible coat colors.
Basically, every puppy receives one gene designating their possible coat color from each parent. For example, one parent may pass down the gene for a black coat.
However, only one of these genes can be expressed and will, therefore, decide the color of your dog's coat. Will he be a black Irish Woldhound?
But which of the two genes will be expressed? This is not totally random and there are some basic mechanics behind it.
Which Genes Will Be Expressed?
More precisely, you may remember from Biology classes in school that any gene will be either dominant or recessive.
Dominant genes always beat out recessive genes. This means the dominant gene associated with coat color will be the one expressed in your puppy.
In other words, if a black-coat gene is dominant and the brown-coat gene is recessive and both are passed down, your puppy will have a black coat.
So, to end up with a black coat, your puppy will need to have the black-coat gene along with a recessive gene. That way there is no interference from other dominant genes.
And this is how the Black Irish Wolfhounds gets its color!
Now that we've gotten that out of the way, let's move onto what you need to know about the breed itself!
Black Irish Wolfhound Appearance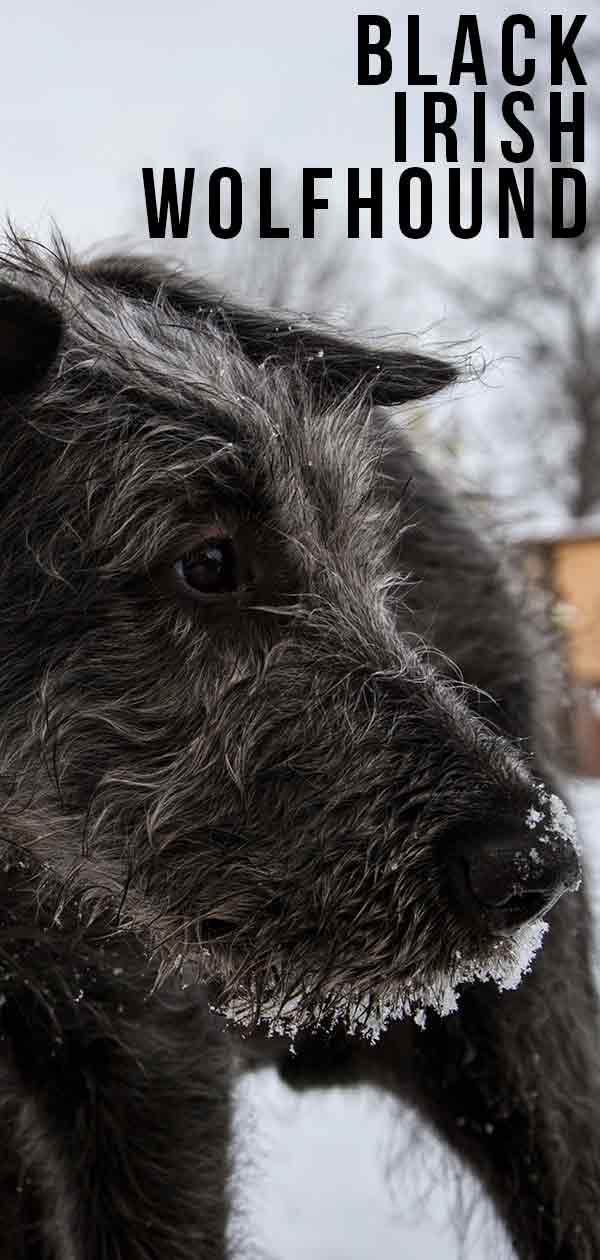 The first thing you'll probably notice about the Black Irish Wolfhound is their huge size. Dogs of this breed commonly exceed 30 to 32 inches in height.
And with a stunning black coat, this just helps to attract even more attention! However, the Black Irish Wolfhound coat can still sport various shades of color throughout.
The black color is usually most prominent on the back and chest but can fade to gray around the legs, tail, and face.
White markings can also appear sometimes and are common around the face and chest of these dogs.
The coat itself is wiry and rough with a soft undercoat.
It's important to note that there are no other significant physical differences between Black Irish Wolfhounds and other members of the breed besides color.
So your dog's will be the same coat type as an Irish Wolfhound of any other color!
Black Irish Wolfhound Temperament
First, there is no marked difference in temperament between Black Irish Wolfhounds and Irish Wolfhounds of different colors.
As previously mentioned, the only difference is their coat color. And as you probably guessed it, the Irish Wolfhound coat color will not have any influence on the behavior of your dog.
However, you still might hear people make this claim. Some believe Irish Wolfhounds have a unique temperament compared to other members of the breed.
Or that they simply act in a very unique way.
But these claims have not been backed by science, and no links between the coat of the black Irish Wolfhound and their temperament have been found.
A Breeder Is Telling Me This
The idea may have even stemmed from superstition. So, if a breeder is making this claims, you may want to steer clear.
Best case scenario, they are simply misinformed, which probably isn't ideal since a good breeder should be an expert on the dogs they breed.
Worst case, they're just employing a marketing tactic to charge more and/or drum up more interest.
As with other members of the Irish Wolfhound breed, the black version is just as dignified and gentle, with a lovely easy-going attitude.
Of course, it's still possible for this breed to have a negative temperament.
That's why it's so important to train and socialize you Black Irish Wolfhound early and continuously throughout their life to encourage a positive and friendly temperament.
Exercise and Training Requirement of the Black Irish Wolfhound
Regardless of how well you train your pup, the breed has a few strong instincts that may require special attention.
The Irish Wolfhound may be excessively wary and defensive of other dogs and strangers, especially if they are not socialized properly from a young age.
Therefore, proper socialization is particularly important with this breed.
Black Irish Wolfhounds may also have a strong instinct to chase small animals, including cats, rodents, or birds. And if they catch their target, they can potentially display aggression.
For this reason, it's important to always keep your dog on a leash unless you're sure the area is secure.
Black Irish Wolfhounds also have a tendency to engage in destructive behavior if they are left alone for too long or become bored.
So, be sure you are fulfilling their daily exercise requirements and never leave them alone in the house for too long.
Black Irish Wolfhound Health
Unfortunately, Irish Wolfhounds are prone to a multitude of health issues. Thankfully, the black coat color does not bring with it any additional health concerns.
However, there are some coat-related health concerns associated with this breed that you should be aware of.
Merle Color
Merle dogs are patterned with splotches of color and usually have white patches of fur. The white color is owing to a complete lack of pigment.
If pigment-free patches exist in or around the ears of your dog, they can cause deafness in one or both ears.
The merle pattern has also been linked to various ocular disorders, such as microphthalmia, which is characterized by eyes that are much smaller than usual.
In severe cases, the defect can lead to severe visual problems or even blindness.
Therefore, you should avoid purchasing a merle Irish Wolfhounds owing to the potential health risks.
Other Common Issues
If you have your heart set on a Black Irish Wolfhound, this particular issue shouldn't be a problem. But you should also be aware of other common health conditions found in this breed, including
bloat
dilated cardiomyopathy
aspiration pneumonia
epilepsy
hip dysplasia
progressive retinal atrophy
von Willebrand's disease
elbow dysplasia.
Owing to the significant health concerns within this breed, it is important to ensure that you choose a trustworthy breeder to have the best chance of receiving a healthy puppy.
Also, ensure your puppy does not have any excessive white spots or other colors in their coat.
Finding a Black Irish Wolfhound Puppy
Try to find a breeder recognized by reputable breeding societies and/or has plenty of positive reviews from previous customers. Both are good signs of a trustworthy breeder.
A responsible breeder should also be able to demonstrate the health of both parents and of the puppy too.
Be sure to ask for evidence of health evaluations and genetic testing for both parents.
All Colors are the Same
It's also important to note that there is no significant difference in the health of Irish Wolfhounds versus the black version of this breed.
The Black Irish Wolfhound is predisposed to the same conditions of every other dog within the breed regardless of coat color.
If a breeder claims that Black Irish Wolfhounds are the healthiest variation of the breed, this simply isn't true and you should avoid this breeder.
The only exception is the merle Irish Wolfhounds, as we explained earlier.
You can find more information on purchasing a puppy here.
Similar Breeds
Perhaps the Black Irish Wolfhound isn't the ideal breed for you. If you like this pup but need something slightly different, maybe you'll prefer some of the similar breeds below. 
Black Irish Wolfhound: A Graceful Giant Breed!
So there you have it! Hopefully, we've covered everything you need to know about the black variation of this lovely breed.
In summary, the Black Irish Wolfhound is just a normal Irish Wolfhound with a black coat.
Do not trust any breeder that claims Black Irish Wolfhounds have other distinct physical characteristics, are healthier, or have a unique temperament.
If you are thinking of purchasing a Black Irish Wolfhound, be sure to consider their size and your current family situation.
You must be able to accommodate them comfortably and provide all their exercise and grooming needs.
This breed requires a lot of company and does not take well to being left alone for long periods of time.
So in addition, consider whether your family will be around the home enough to keep this breed happy.
Have you ever owned a Black Irish Wolfhound? What did you think of the breed?
Let us know below!
References and Further Reading
Rawlings CA. 2018 Incisional Gastropexy to Prevent and Treat Canine Gastric Dilation-Volvulus Connections. Compendium: Continuing Education for Veterinarians.
Gough A, Thomas A, and O'Neill D. 2018. Breed Predispositions to Disease in Dogs and Cats. Third edition. John Wiley & Sons.
Greenwell CM and Brain PH. 2014. Aspiration pneumonia in the Irish wolfhound: a possible breed predisposition. Journal of Small Animal Practice. DOI: 10.1111/jsap.12269
Casal ML et al. 2018. Epilepsy in Irish Wolfhounds Journal of Veterinary Internal Medicine.
DOI: 10.1111/j.1939-1676.2006.tb02832.x
Krontveit RI et al. 2010. A prospective study on Canine Hip Dysplasia and growth in a cohort of four large breeds in Norway (1998-2001). Preventative Veterinary Medicine. DOI: 10.1016/j.prevetmed.2010.09.015
Urfer SR, Gaillard C, and Steiger A. 2007. Lifespan and disease predispositions in the Irish Wolfhound: A review. Veterinary Quarterly. DOI: 10.1080/01652176.2007.9695233
Kirberger RM and Stander M. 2007. Incidence of canine elbow dysplasia in South Africa. Journal of the South African Veterinary Association. DOI: 10.4102/jsava.v78i2.290
Dea CO. 2014. The Prevalence of Ocular and Auditory Problems in Homozygous Merle Dogs Szent (thesis). István University.
Strain GM et al. 2009. Prevalence of deafness in dogs heterozygous or homozygous for the merle allele. Journal of Veterinary Internal Medicine. DOI: 10.1111/j.1939-1676.2008.0257.x
Get Pippa's free dog training tips delivered to your inbox