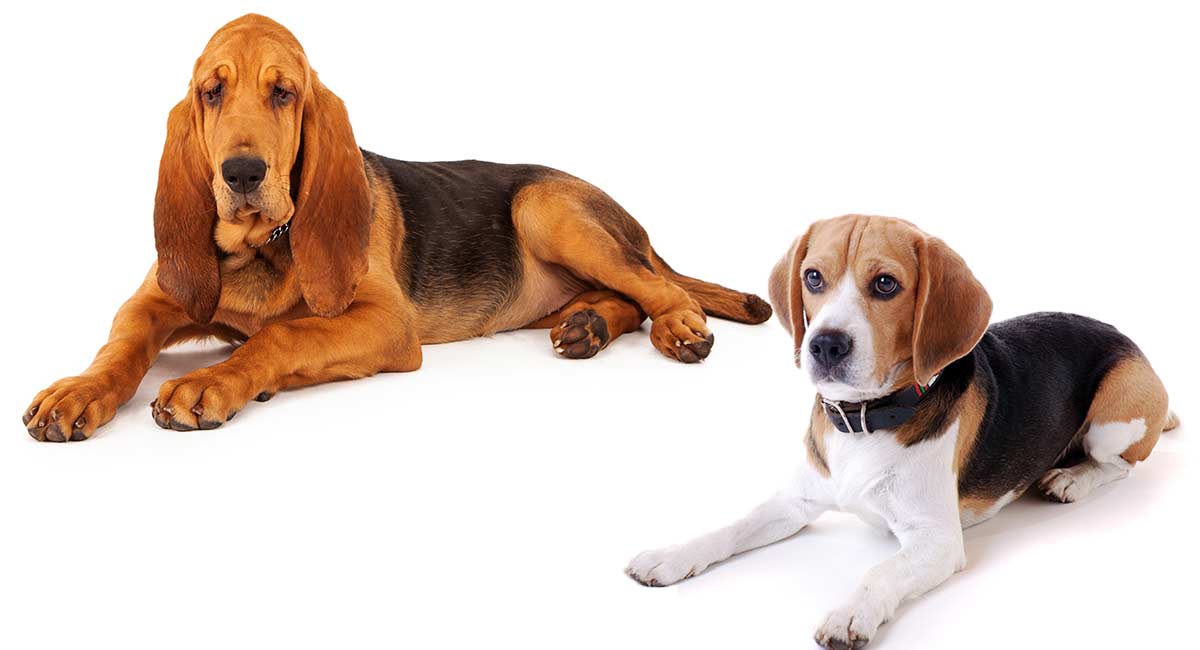 Welcome to the complete guide to the Beagle Bloodhound Mix!
If you're looking for the king or queen of scent hounds, then look no further than this impressive dog!
After all, this hybrid's sniffer comes from two of the best hunting and tracking breeds in the world!
In this guide, we'll dive into where the Beagle Bloodhound mix comes from, including the history of both parent breeds.
Then we'll look at how your dog may look and act, some health concerns to watch out for, and how to select your Beagle Bloodhound mix puppy.
But first, it's important to know that the Beagle Bloodhound mix is a designer dog breed. So what's with all this controversy surrounding hybrid dogs?
Designer Dog Controversy – Pros and Cons of Hybrid Dogs
There is a common misconception that mutts are the product of inbreeding (breeding dogs back to their parents or to siblings).
Another misconception is that mutts are frequently afflicted with health problems, more so than purebred dogs.
To address the first misconception, inbreeding does create health problems, yes, but the truth is that inbreeding occurs in both purebred dogs and mutts.
This practice is strongly discouraged but is sometimes used by breeders to achieve a certain coat, color, or some other desired trait.
Find out more about how creating future generations using dogs from separate families produce the healthiest hybrid offspring here.
To address the second misconception, any dog, regardless of their breed, is more likely to be born unhealthy if they are the offspring of unhealthy (or related) breeding stock.
Crossing unrelated and healthy dogs can greatly increase the chances of healthy offspring, as does the use of genetic testing of breeding stock.
For additional information, check out this article.
What is a Beagle Bloodhound Mix?
Just as the name suggests, the Beagle Bloodhound is a mixed breed dog that results from crossing a purebred Beagle with a purebred Bloodhound.
This dog will absolutely follow its nose, and with gusto! They may also howl a lot and have quite an independent nature.
We'll learn more about some expected tendencies of a Beagle Bloodhound mix later in this article, but for now, let's take a look at where the parents come from!
Origins of the Beagle
Beagles are an ancient breed whose true origins are a bit of a mystery.
It's thought by some that the Beagle's ancestors can be traced to pre-Roman empire Europe, where small hound dogs were used for hunting game like wild hares and rabbits.
These "foot hounds" were employed primarily by hunters who did not wish to hunt on horseback—after deer or foxes, for instance—and could keep up with their dogs without being astride a horse.
Beagles did not make their way to America until after the Civil War ended, but their usefulness as rabbit hunters had certainly not diminished by then.
Their popularity as rabbit hunters soared in America just as much as it had across the Atlantic.
The American Kennel Club (AKC) recognized the Beagle as a member of the Hound group in 1885.
Today, Beagles still make excellent hunting partners!
They are especially popular in the Appalachian region, where they are commonly used for raccoon and possum hunting, in addition to rabbit hunting!
Origins of the Bloodhound
Similarly to the Beagle, the Bloodhound's history is a bit obscure.
Historians estimate that the modern Bloodhound was developed in England and France roughly 1,000 years ago.
It's thought that early strains of the breed were developed in Constantinople, now known as Istanbul.
It's generally accepted that the Bloodhound is the oldest scent hound in existence, with its genes being responsible for the development of numerous other hound breeds.
Bloodhounds were eventually exported to America, where the AKC accepted the Bloodhound as a member of the Hound group at the same time that it began registering Beagles, in 1885.
Today, Bloodhounds are still regarded as the best scent-hunting hounds in the world.
Their powerful noses are still used by police officers, search and rescue teams, and a host of other service sectors.
Isn't it amazing that a dog's incredible sense of smell has yet to be surpassed by technology?
Bloodhound Beagle Mix Temperament
It's hard to say for sure how a hybrid puppy will look when they're born, and even harder to predict what their personality will be like.
They may have the looks of one parent and the temperament of the other, or they may look and act totally like one parent. They may even have a nice mix of both parent's traits.
When it comes to a Bloodhound Beagle mix, you may have a dog that is friendly, outgoing and wants to be around you most of the time (like the Beagle).
Or you may end up with a dog who is a bit more independent, with more of a working mindset (like the Bloodhound).
Both breeds are generally easy-going when they're off duty, so to speak, but it may be harder to get a Beagle-Bloodhound mix who has the work ethic of a Bloodhound to relax and be social.
Additionally, if a mix has some particularly strong Beagle genes, then he may not want to be left alone for long.
Escape Artists
As a breed who is used to working alongside their master for hours on end, Beagles just don't like to be shut up, especially without you around!
If you will need to keep a Beagle mix penned up for any amount of time, we recommend that you enclose the containment area with at least a five-foot-tall fence.
Chicken wire or some other impermeable layer at the bottom can be used to prevent digging.
Did we mention that Beagles can be adamant diggers, too? And they may howl if they're upset or if they've scented something they'd like to chase after.
Bloodhounds may also "bay" or half-howl, half-bark when they've scented something interesting, so a Beagle-Bloodhound hybrid is probably going to howl or bay a bit.
You won't have to worry too much about barking at strangers, though.
Both Beagles and Bloodhounds are usually friendly toward people and other animals (as long as they don't want to chase that particular animal, that is).
With that being said, you won't be able to let the hybrid run freely (off-leash), either. Both Beagles and Bloodhounds are known for following their noses pretty much anywhere.
If they're really onto something, they're not likely to listen to you calling them to come back!
Temperament Traits
Speaking of not listening, some Bloodhounds are rather headstrong and can get set in their ways and some Beagles are the same.
Therefore, it's best that to start obedience training as early as possible.
All in all, the Beagle Bloodhound mix is an active breed who enjoys lots of activity and things to keep their minds engaged.
A large yard and plenty of play time (especially if you aren't going to give him a job) are essential.
Finally, due to their potential to grow rather large, the Bloodhound Beagle mix should be supervised when playing with small children or individuals who aren't super steady on their feet.
How Big Will Your Bloodhound Beagle Mix Get?
Based on the Beagle's and Bloodhound's average heights and weights, the possible size range of the hybrid is rather wide.
Small Beagles mature to 13 inches or less at the shoulder, and standard Beagles reach 13 to 15 inches at the shoulder when fully grown.
Bloodhounds, meanwhile, typically reach 23 to 27 inches tall.
So with the above measurements in mind, a Bloodhound Beagle mix might be less than 20 lbs, between 20 and 30 lbs, or somewhere between 30 and 110 lbs.
And as we said, that's quite a size difference!
You'll need to be prepared for a small or large dog, although their size may be more predictable if their parents are on the small or large end of either breed's standard.
Beagle and Bloodhound Mix Color and Coat
A Beagle Bloodhound mix is going to be a hound-colored dog!
Meaning, they're going to be solid or some combination of black, tan, liver, red, white, brown, bluetick, or lemon. They may also be bicolored or tricolored.
Beagle Bloodhound Mix Grooming and Care Requirements
Beagle Bloodhound mixes may inherit the Beagle's short, thick, and high-shedding double-coat, or they may inherit the Bloodhound's short, dense, and moderately shedding coat.
Regardless of whether they inherit a double-coat, a Beagle Bloodhound mix should be groomed weekly to help control hair fall.
Furthermore, the hybrid may or may not inherit the Bloodhound's tendency to emit a strong "doggy" odor. If they do, then regular bathing can help reduce the smell.
Beagle Bloodhound Mix Health
Dogs of mixed breeding are prone to developing health problems common in their parent breeds.
Beagles Bloodhound mixes are typically prone to eye conditions, ear problems, skin conditions, and hip dysplasia.
Also, regardless of whether a dog is purebred or mixed, they may develop health problems due to age such as joint problems, skin conditions, and progressive vision loss.
To learn more about the diseases and health conditions that commonly affect Beagles, refer to this article on Beagles as well as these articles on Beagle mixes here, here, and here.
To learn more about the diseases and health conditions that commonly affect Bloodhounds, you can refer to this article on Bloodhounds.
Drooly Dogs
One more thing to consider is that most Beagles do not drool much, if at all, but Bloodhounds tend to drool… a lot!
According to veterinarian Lynn Buzhardt of the VCA Animal Hospitals, giant dog breeds like Bloodhounds have a "drooping" facial appearance.
This extends to their lips and jowls, are not able to hold saliva in their mouths because of their anatomy.
Therefore, they seem to be constantly drooling.
So, a Beagle Bloodhound mix may drool a little or a lot, depending on their facial structure.
Since there are some health conditions which can be identified with genetic testing prior to the birth of a Bloodhound Beagle mix.
We recommend purchasing a puppy whose parents have been tested for any of the aforementioned diseases which have DNA testing available.
Beagle Bloodhound Mix Training and Exercise Requirements
Since both Beagles and Bloodhounds are working dogs, a Beagle and Bloodhound mix is going to be a pretty active dog.
If you want a lap dog that doesn't need much more activity than a walk each day, then this breed is not for you.
However, if you're looking for an awesome hunting, tracking, or service partner, this dog could be perfect for you!
If you won't be using a Beagle Bloodhound mix for work, though, then it will be imperative that you take them out for some play time as well as a couple of long walks each day.
They will not thrive if they are shut in the house for most of the day, so an enclosed area is a must.
A fence will also let them self-exercise without the risk of them chasing after a bunny, squirrel, or other small animals.
With the above points in mind, we don't recommend letting this mix off leash in an open and/or public area.
They are prone to follow their noses without much regard for where their nose takes them!
What is the Lifespan of a Beagle Bloodhound Mix?
Beagle Bloodhounds have a life expectancy of 10 to 15 years.
Choosing Your Bloodhound Beagle Mix Puppy
Make sure that you do your homework before taking home your Beagle Bloodhound mix puppy.
You should only purchase from a responsible breeder who regularly performs genetic testing on their breeding stock.
This helps to prevent the reproduction of health problems or physical deformities and who houses all of their dogs in an appropriate and clean manner.
Be wary of anyone who will not give you a thorough tour of their facility or who has ill or otherwise unhealthy dogs.
Any puppy that you buy should be lively, vibrant, and free from any physical ailments or temperament issues.
Cost of Beagle Bloodhound Mix Puppies
The price of a Beagle Bloodhound mix puppy depends on the availability of puppies.
Other factors include whether or not the purebred parents are show-quality (first-generation mix only), generation of the mix, and how much money the breeder has invested into their puppies.
Generally speaking, a Bloodhound Beagle mix might cost you a few hundred dollars.
However, if one or both of the parents are champion hunters or trackers, for example, you can expect to pay more.
Beagle Bloodhound Mix Rescue Dogs
Looking for a full-grown Bloodhound and Beagle mix, or want to adopt a puppy instead of buying one from a breeder?
If your answer is "yes" to either of those questions, you could start by looking at your local humane society or even getting in touch with a Beagle or Bloodhound-oriented rescue service.
Some breed-specific rescues occasionally get a mix of the breeds with which they typically associate.
Is the Beagle Bloodhound Mix the Right Dog for You?
Before making the decision to bring a Beagle Bloodhound hybrid dog home, you should consider a few things.
Both Beagles and Bloodhounds are scent hounds with incredibly strong noses.
This means they can be rather independent dogs who are prone to wandering off after some scent, with a tendency to ignore their owner's calls for them to come back.
Therefore, Beagle Bloodhound mixes aren't great candidates for off-leash time, unless they're in an enclosed area.
The area should preferably be at least five feet tall and with some kind of blockade along the bottom of the fence, as Beagles are great escape artists.
Bloodhounds may also be rather work-focused and can be a bit "meh" about spending time with family.
Beagles, however, love to spend time with their people and do not want to be left alone for long—this quality is what makes them such talented escape artists.
Both breeds prefer plenty of exercising and are not suitable for small homes or fairly inactive families.
They like to have a job to do, a child to play with, or something to sniff out… otherwise, they may become destructive to your property!
Just be sure to supervise play time with children, as this dog has the potential to grow quite large!
Beagles and Bloodhounds are both susceptible to hip dysplasia, but an active lifestyle may prevent an early onset of this condition.
Furthermore, your Beagle Bloodhound mix will have a dense coat which may have two layers and will definitely shed a fair amount.
The mix may also inherit the Bloodhound's tendency to have a "doggy" odor, so be prepared to give them regular baths.
Don't forget that a Beagle Bloodhound mix may inherit any of the Beagle and/or Bloodhound's health problems. Genetic testing can help to identify potential issues.
Last but not least, this breed may howl like a Beagle, bay like a Bloodhound, or something in between.
They're not likely to bark much, but if he's upset, then the howling or baying may be a little loud for your neighbors, should any of them live nearby!
Do you have a Beagle Bloodhound Mix or are you thinking of taking one home? We'd love to hear all about it in the comments.
References and Further Reading
Get Pippa's free dog training tips delivered to your inbox