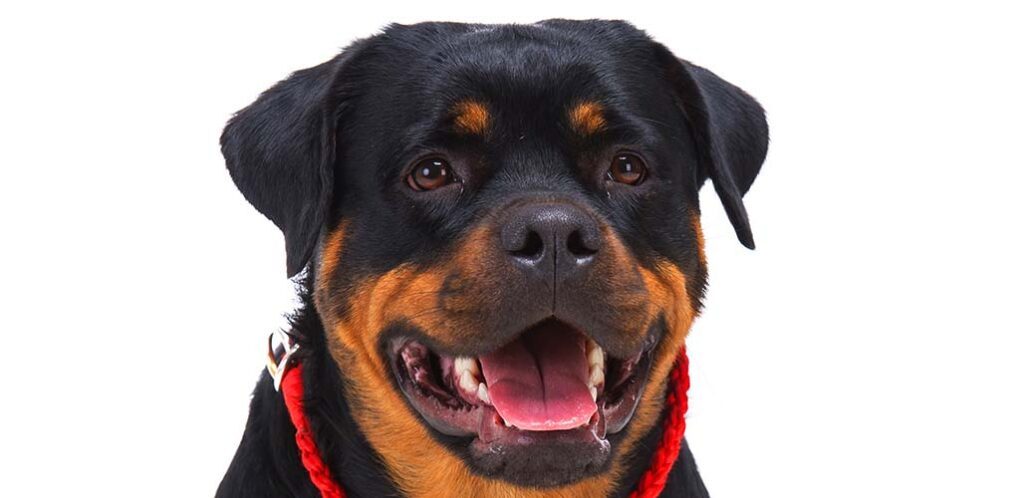 Our complete guide to your 1 year old Rottweiler takes a closer look at growth, size, and health, to ensure your puppy has the best development possible.
A one year old Rottweiler won't yet be at their full adult size, but they will be close to it! As large dogs, this breed can take anywhere from 1.5 to 2 years to reach their full size. But, growth rates after the 12 month mark will be much slower than before. At this age, your Rottweiler will still have plenty of puppy energy, but a great training routine will offer an outlet for this!
1 Year Old Rottweiler
A one year old Rottweiler is not yet considered an adult. So, your Rottie will still be curious, energetic, and playful, like any other puppy! The larger a dog breed is, the longer it will take them to reach adulthood and finish their development. In the case of Rottweilers, it can take as long as two years to reach their adult size.
Of course, the change from puppyhood and adulthood won't be immediate. Instead, it will be a gradual process. But, at 12 months, your Rottie will still be growing and developing. And, there's plenty you can do to help make sure this is a smooth and healthy process!
1 Year Old Rottweiler Size
Rottweilers will grow up to be very large dogs. At their adult size, they will be somewhere between 22 and 27 inches tall, weighing anywhere from 80 to 135 lbs. So, as you can see, there is quite a range between the typical largest and smallest Rottie sizes.
Rottweilers will do most of their growing in the first six months of their life. After that period, their development will be slower, and less noticeable. At 1 year old, most Rottweilers will be at, or very close to, their adult height. So, you can expect them to be somewhere between 20 and 27 inches tall.
Females are usually smaller than males, so you can use this to help predict how much growing your pup has left. If you have a 1 year old female Rottie that is 23 inches tall, she likely won't grow much more. But a 23 inch tall male could grow several more inches over the next year!
How Much Should a 1 Year Old Rottweiler Weigh?
Though Rottweilers might be at their adult height by 1 year old, it's very unlikely they'll be at their true adult weight! Over the next year, you can expect your Rottie to bulk out, packing on muscle and weight as they finish growing. Though, bigger doesn't necessarily mean better – it's still important to ensure your Rottie is a healthy weight for their size, and that they are not overweight or obese.
As a general rule, females will still be smaller and lighter than males. A 1 year old female Rottweiler will likely be somewhere between 75 and 95 lbs at one year old. But, a male will likely be larger, perhaps around 95 to 125 lbs.
It's hard to say exactly what weight is healthy for a 1 year old Rottweiler, since this number can vary from one dog to the next. As a general rule, as long as you can feel but not see your Rottie's ribs, they are at a healthy weight. If you cannot feel their ribs, they may be overweight. The best place to seek advice on this topic for your individual dog is your trusted veterinarian.
How Much Food Should A 1 Year Old Rottweiler Eat?
The correct amount of food for Rottweilers at one year old will vary, because it will depend a lot on your dog's size. At one year old, Rottweilers should still be eating puppy food, but their food will usually be divided between two meals a day rather than three or four.
Take a look at the guidelines on your puppy food packaging if you're unsure about how much your Rottie should be eating. But remember that these guidelines are only suggestions. They won't be right for every Rottie! So, you might need to adjust the amount your dog has. Your veterinarian is a great source for advice, and can help you calculate the exact calories that your Rottie needs based on their weight.
It's also likely that you'll have a solid training routine by this point. Positive reward training methods are great for building on your bond with your Rottweiler. But, it's important to subtract training treats from your puppy's daily calorie allowance to ensure they're not over-eating, as obesity can increase your dog's risk of certain health issues.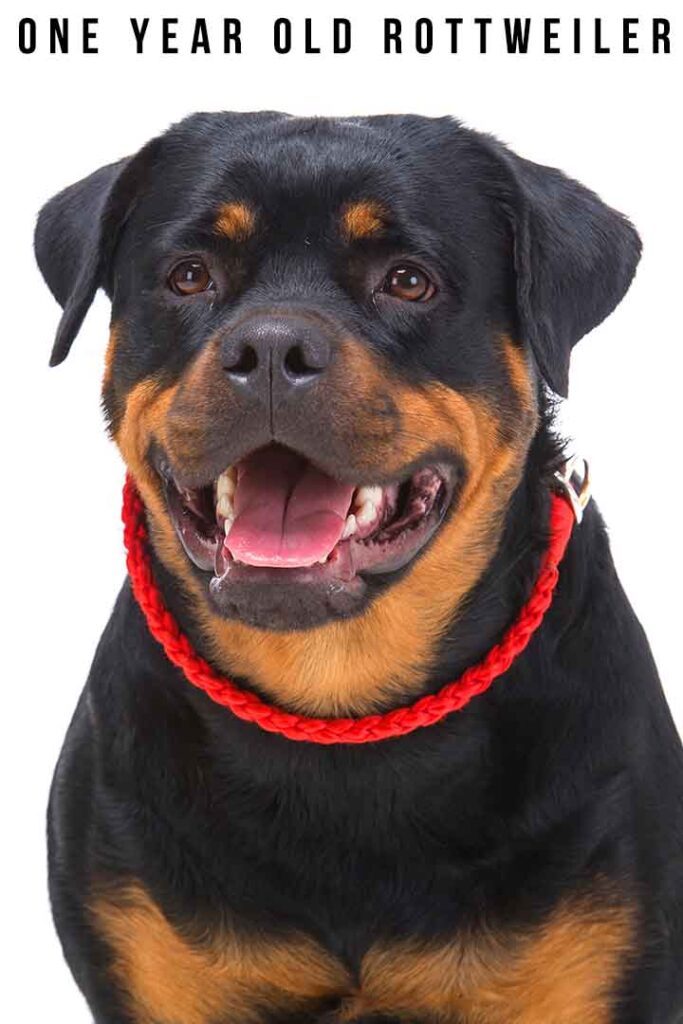 Best Dog Food for a 1 Year Old Rottweiler
A one year old Rottweiler is not finished growing yet. And, they might not finish growing for another 12 months! So, they will likely still be eating puppy food. The best puppy food for Rottweilers will have ingredients that can support their growth over the next year. This can include things like a real protein source, omega fatty acids, and important minerals and vitamins.
The best puppy food for one Rottweiler might not be the best option for another. For instance, your Rottie puppy might have dietary intolerances, or might just hate the flavor of some proteins! So, don't be concerned if you're giving your Rottie a different food to other owners, as long as your food choice has a good balance of nutrients.
Some owners also prefer giving their Rottie a homemade diet. But, if you are choosing to do this, it's a good idea to work with your veterinarian to ensure you aren't missing out on any important nutrients. Nutritional deficiencies can be dangerous for your pup's development and overall health!
How to Train a 1 Year Old Rottweiler
If your Rottie puppy has been with you since 8 weeks, it's likely you'll be well on your way with training. By 1 year old, most Rottweilers will be fully potty trained, well socialized, and will have made a good start on obedience training. But, if this isn't the case for you, there's no need to panic! Despite the saying, old dogs can learn new tricks, and at 12 months, your Rottweiler is still very much a puppy who is open to learning!
Rottweilers are affectionate and loyal dogs that form very strong bonds with their owners. So, positive reward methods are likely to yield the best results in training. Especially if your Rottie is also very food motivated! Since Rottweilers will grow up to be very large dogs, and will be close to their adult size at this age, obedience training is important. It ensures your Rottie won't accidentally hurt anyone (including small children) by jumping up, or even not anticipating their own size!
You can take a look at our online training courses for further tips and guidance when it comes to training, including recall and loose leash walking!
1 Year Old Rottweiler – A Summary
Has your Rottweiler puppy reached that 12 month milestone recently? Do you think they're nearing their adult size yet, or do they have a lot more growing to do? We would love to hear more about your Rotties in the comments!
Readers Also Liked
References and Resources
Get Pippa's free dog training tips delivered to your inbox