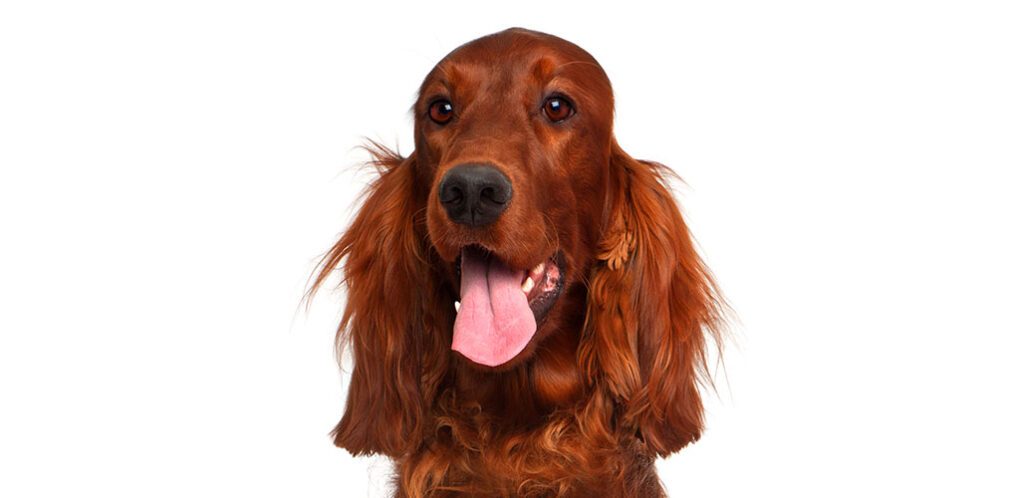 Our complete guide to the 1 year old Irish Setter covers your dog's basic care needs, and how to know if they're hitting the right milestones for their age, including size and training!
The Irish Setter is an energetic, intelligent, and outgoing dog breed that can make a wonderful addition to an active home. At 1 year old, your Irish Setter will still be growing and learning, but there's plenty you can do to support their best development. Choosing the right food and measuring the right meal sizes will go a long way to encouraging their best health. But, providing the right types and amount of training and exercise are just as important!
About the Irish Setter
Irish Setters are large, active dogs that thrive in a loving environment that keeps them busy. One of their most popular traits is their soft coat which ranges in shades of red. But, equally loved is their affectionate, playful temperament.
Irish Setters have worked alongside people since the 1800s, where they used their keen sense of smell to help their humans locate game birds on hunts. On finding birds, the Setter would lie down to alert their owners. Modern Irish Setters are still often used as gundogs, but many have also found success in the show ring, and as family companions.
1 Year Old Irish Setter Size
Thanks to breed standards and owner experiences, it's easy to give a general prediction about Irish Setter sizes at 12 months! Females will often be smaller than males, but both sexes will grow to be large dogs. At 1 year old, an Irish Setter will usually stand somewhere between 24 and 26 inches.
It's important to note that there are a wide range of factors that can influence the speed at which a dog grows. So, depending on their experiences and genetics, some dogs can take much longer to reach their full size than others. At 1 year old, some Irish Setters will be larger than others. This means you should take online estimates with a pinch of salt. It's not necessarily a cause for concern if your Irish Setter doesn't quite meet, or has already exceeded, predicted sizes.
How Much Should a 1 Year Old Irish Setter Weigh?
Like height, weight can vary from one Irish Setter to the next, even at 12 months old. All dogs grow at different rates, even amongst the same breed. Females are generally lighter than males, but there are plenty of factors that can influence your dog's weight. For instance, feeding them more will usually mean they are heavier (even though this can mean they are overweight rather than an optimal weight).
As a general idea, 1 year old Irish Setters will weigh somewhere between 55 and 65 lbs. But, some may fall outside of these boundaries. Ultimately, your dog's weight and size shouldn't matter as long as your Setter is healthy.
Is my Irish Setter a Healthy Weight?
Because dogs can be such different sizes and weights even at the same age milestones, it's hard to know whether your dog is at its optimal weight. The best source for advice in this area is your veterinarian. They can do a proper examination of your dog to ensure they are eating the right amount, and don't need any adjustments.
However, there are also some ways you can find out at home, if you are unable to get to the vet soon. Irish Setters are slim, muscular dogs that should lead an athletic lifestyle. When you feel their sides, you should be able to feel their ribs. However, their ribs should not be overly prominent. If you are struggling to feel any definition, your Setter may be overweight. But, if you can feel all of your Setter's ribs prominently, you may need to increase their food.
Be sure to consult your veterinarian before changing your dog's diet, to ensure you are doing so in the healthiest, safest way. They may be able to identify other issues contributing to the weight and size issues in your dog.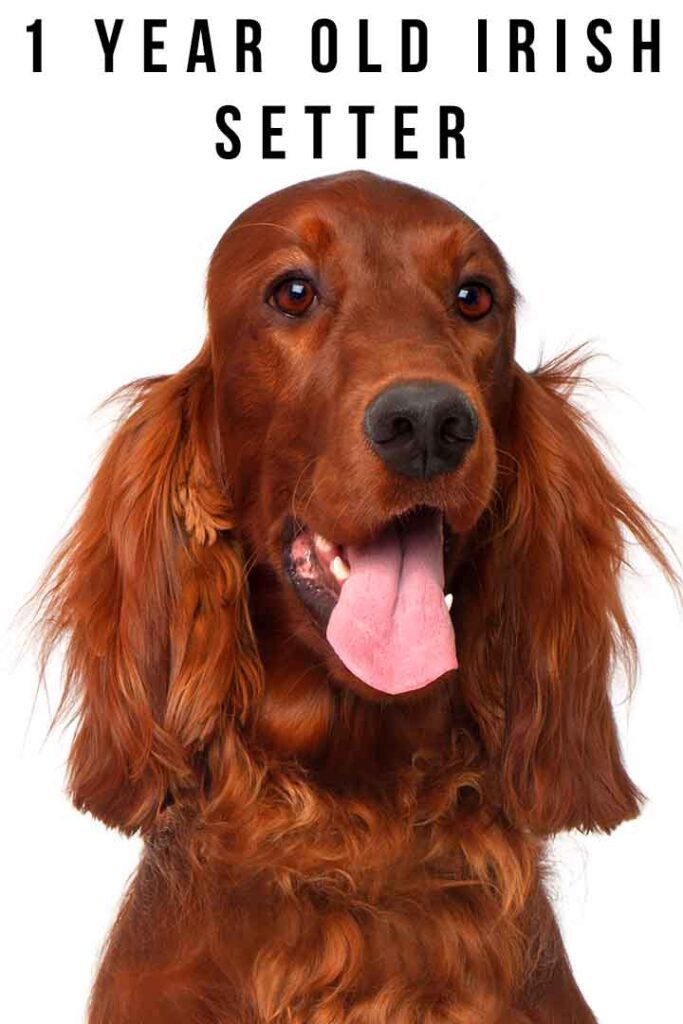 When Do Irish Setters Stop Growing?
The Irish Setter is a large breed. So, they will usually stop growing somewhere between 12 and 18 months. However, their growing will be at its fastest when they are younger. So, by 12 months old, your Irish Setter will be very near their adult height and weight.
Because of this, it may be harder to recognize any changes in your dog's size. But, you can continue weighing them and measuring them to monitor this. You will still notice some small changes up to around 18 months old, if not a little later.
How Big Do Irish Setters Get?
Irish Setters are a large breed, so they will take longer to reach their adult size and weight than some other breeds. As we've already mentioned, male dogs tend to be a little larger than females. According to the Irish Setter AKC breed standard, this is what you can expect from their adult size:
Males: around 27 inches tall, weighing up to 70 lbs
Females: around 25 inches tall, weighing up to 60 lbs
However, these statistics are not a hard and fast rule. So, some males will be smaller than this, and some females could well exceed the above limits! There's no problem when this happens, as your dog's size won't necessarily impact their suitability as your companion. But, it could impact their ability to become a show dog!
There are plenty of factors that can influence you dog's weight, including the age they're neutered or spayed, the size of their parents, the quality of diet they have, and the amount of food they eat.
How Much Food Does a 1 Year Old Irish Setter Need?
Just as weight can vary, the amount of food that your Irish Setter needs at 1 year old will vary. It can depend on your dog's adult size, exercise levels, and so on. Because of this variation, a great place to start is by looking at the food guidelines on most dog food packaging.
These guidelines won't be right for every dog. So, keep an eye on your Setter's weight and adjust the guidelines as needed. If your dog seems to always be hungry, or if their ribs are very prominent, increase the amount slightly. If you begin to struggle feeling your Setter's ribs, or notice considerable weight gain, work with your veterinarian to decrease this amount in a healthy way.
At 1 year old, your Irish Setter will most likely be eating two meals a day. But, you may also choose to use up a portion of their food throughout the day during training.
The Best Food for 1 Year Old Irish Setters
At 12 months old, Irish Setters will not be finished growing. So, many veterinarians will recommend keeping them on a puppy food for at least another 6 months. Over this time, your puppy will grow slightly more and will really start filling out. But, they may need more food at 12 months than they did at earlier ages.
There are plenty of puppy foods designed for breeds that grow up to be large dogs. It's important to choose a balanced, nutritious food. If you're struggling to pick from all of the options out there, your veterinarian is a great source of advice. And, at any point if you choose to change brands, make sure you transition to the new food slowly, over at least a week, to be gentle on your dog's stomach.
How Much Exercise Does a 1 Year Old Irish Setter Need?
Too much exercise too young can have a negative impact on your Setter's joints. However, a 12 month old Irish Setter is very nearly at their adult size. When fully mature, Irish Setters will need at least an hour's exercise every day. In fact, many thrive with more than this amount. They'll enjoy hiking, running, swimming, and even dog sports, like agility and rally. You can get really creative.
Some veterinarians may recommend waiting until 18 months to remove any limits with your Setter's exercise. But, as a general rule, a 12 month old Irish Setter will be perfectly fine having an hour's exercise. And, just as important as exercise is mental stimulation. So, don't neglect this in your daily routines!
Training a 1 Year Old Irish Setter
Training can offer your Setter some small amounts of exercise, but will also provide a lot of mental stimulation. It's very likely that you will have already started on training your Setter. But, if you haven't, it's never too late to start. And, at 12 months, your Irish Setter will be a pretty large dog. So, obedience training is a must.
Irish Setters respond well to positive reward training. And, as your Setter ages, you can work on more complex tasks, like walking to heel and perfecting your recall in all situations. Remember to subtract any training treat calories from your dog's daily food allowance to prevent weight problems discussed earlier.
Do You Have a 1 Year Old Irish Setter?
At 12 months old, your Irish Setter will be growing in confidence, energy, and size! But, there's still plenty you can do to support their continued development, since many Irish Setters won't be fully grown until 18 months.
We would love to hear about your Irish Setters in the comments below!
Readers Also Liked
References and Resources
Get Pippa's free dog training tips delivered to your inbox