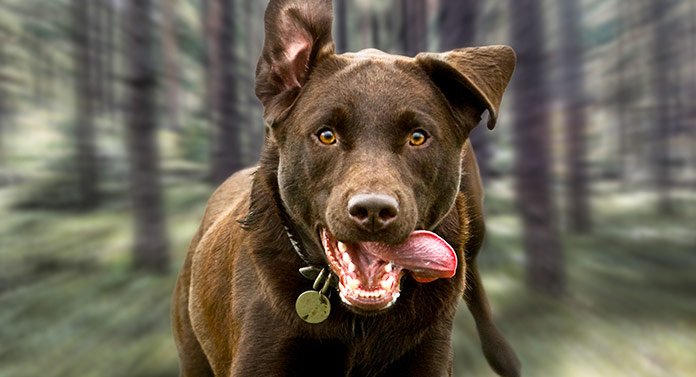 Why are dogs reactive?
Dogs can have inappropriate, extreme, or out of proportion negative reactions to a wide range of trigger situations.
Reactivity is a result of dogs forming a negative association with the thing they react to.
Understanding the emotions underlying reactivity are the key to managing it, and changing a reactive dogs outbursts.
Why Are Dogs Reactive?
In this article, we take a look at what it means when a dog is reactive, and whether reactive dogs can be cured.
We're going to answer the questions
Take all together, the answers help us understand why some dogs are reactive, and what to do about it.
What Is A Reactive Dog?
To understand why dogs are reactive, it helps if we can first define what "reactive" means in the first place.
Unfortunately however, this isn't terribly straight forward.
In fact, there aren't any standard, widely accepted criteria for diagnosing reactive dogs.
So rather than having clear parameters, "reactive" tends to be shorthand for any dog who has over the top reactions to mundane things.
But there are a lot of triggers and reactions which can fit under that umbrella, and we'll see exactly how diverse they are in a minute.
But first, there is one thing experts can agree upon.
Reactivity isn't aggression
Reactivity is often mistaken for aggression.
But reactive dogs aren't angry. They're not bullies and they don't want to fight.
Reactive dogs are frightened and uncomfortable. Because they think (rightly or wrongly) that something in their environment poses a threat to their safety.
Let's look at some examples of what kinds of things those can be.
Triggers Of Reactive Behaviors In Dogs
Dogs can perceive all kinds of things as threatening or dangerous.
Some of the most common triggers of reactive dogs are:
people, especially strangers
other dogs
noises, especially sudden, loud ones like thunder and fireworks
vehicles, especially loud or unfamiliar ones
particular surfaces, such as ultra-smooth tiles
and open riser steps.
Some dogs who have been poorly socialized as puppies have very generalized reactivity towards a wide range of encounters . Such as reactivity to all strangers, or all other dogs.
A common form of reactivity is known as leash reactivity. This describes dogs who react badly to seeing other dogs when they're on the leash.
And some dogs display reactive behaviors only in very narrow or surprising situations. For example towards people in baseball caps.
What Does Reactivity Look Like?
We tend to think of a reactive reaction as being wild, out of control, and over the top.
But there are lots of more subtle signs that your dog is frightened or uncomfortable.
These dogs are being reactive too, and sometimes spotting those subtle signals can be the best route to preventing them escalating into big, difficult to control behaviors.
Here are some behavioral signs that indicate fear or discomfort, and why dogs use them.
Reactive behaviors
Why dogs do them
Barking
Bearing teeth
To say "go away! you're making me uncomfortable!"
Bolting to the end of the leash
Trying to escape
Hiding
Literally trying to get away from what's frightening them
Whining
Tail tucking
Folding their ears back
Appeasement behaviors to say "I'm no threat to you, you can leave me alone"
Destroying household items and furniture
Pacing
Compulsive eating (especially of non-foodstuffs, like dirt)
Displacement activities - creating a physical release for nervous energy
Trembling
Shaking
Panting
Yawning
Drooling
Licking lips
Swallowing
These behaviors are all outside a dog's conscious control, but show us they're feeling anxious. They are triggered by signals from the same part of the brain which releases the "fight or flight" hormone, cortisol.
But why do dogs develop these unhappy reactions to everyday things in the first place?
Why Are Dogs Reactive?
This varies, and can start as early as puppyhood.
It's thought that distressing experiences in the period immediately after being born can predispose some puppies to being more fearful throughout their whole lives.
Then as they start to grow, puppies are initially very receptive and trusting of new experiences, until they reach about 12 or 16 weeks old.
This important period of development is called the socialization window.
Positive associations made before 12 weeks old are likely to be carried with them throughout their whole lives. But anything they encounter for the first time after the socialization window has closed may make them frightened and uncomfortable.
Finally, reactivity triggers can be created at any time in a dog's life by a bad experience.
An obvious example is if a dog is hurt by another dog, or a person. This can trigger reactivity to other dogs and people generally, or just dogs and people who share specific physical characteristics with their attacker.
Some triggers are even set up entirely by accident, or can be misdirected.
For example a dog who cuts their paw pad on broken glass whilst preoccupied by the sight of a hot air balloon, might end up reactive to hot air balloons.
Are Some Dogs More Reactive Than Others?
Reactive behaviors are one of the biggest obstacles to enjoying time with our dogs. And they're a common reason why dogs are relinquished to animal shelters.
So looking for patterns in dog reactivity is a busy area of research.
At the moment, it's probably fair to say that we still have more questions than answers, but here are some interesting trends which have started to emerge.
A possible neurological basis
Some researchers have proposed that a high degree of emotional reactivity to lots of situations might have a hardwired neurological basis in some dogs, akin to Intermittent Explosive Disorder in people.
This kind of reactivity can be managed. But the pathways which underlie it can't be completely undone.
And it may be possible that puppies could inherit it from their parents.
A genetic basis in toy breeds
There's also some evidence that toy breeds might be more prone to reactivity as an unintended genetic consequence of their size.
Toy breeds including Chihuahuas, Miniature Dachshunds, Maltese, Toy Poodles, and Yorkshire Terriers regularly score highly for fear and anxiety in breed behavior studies.
They also have very specific growth factor genes, which cause their small size.
Researchers have suggested that the growth factor genes might also alter temperament, in some way that is not yet understood.
Other breed predispositions
Some other specific connections have been found between particular breeds, and a high frequency of reactivity.
For example, Poodles and Wheaten Terriers have a high prevalence of noise reactivity, which increases with age.
Neuter status
One small scale study of German Shepherd Dogs, found that spayed females were more likely to be reactive than unspayed females, or males regardless of neuter status.
Color
And in Korea, fawn colored Korean Jindo dogs have been found to be significantly less fearful and reactive than white colored Jindos.
These early indicators of a link between reactivity and neuter status or color are fascinating, and hopefully they will be investigated more thoroughly in the future.
Socialization
We've already touched on the importance of socialization for preventing reactivity developing, but it fits in here as well.
Dogs socialized to a wide range of experiences as puppies are more likely to react confidently to those experiences as adults.
This is the single biggest way in which we dog owners can shape our dog's reactivity.
Reactive puppies
We've seen that a puppy's early experiences are vital for building their confidence, and preventing reactivity.
But does it mean that reactive puppies are likely to grow up into reactive dogs?
Puppy behavior is not generally a good predictor of adult behavior.
And a nervous puppy's emotional reactions can be changed more easily than a grown up dog's.
And on that note, now let's take a look at whether dog reactivity can be fixed.
Can Reactive Dogs Be Cured?
This article is primarily about why dogs form reactive behaviors in the first place.
Treating them is a whole book in its own right!
But we've got space to take a look at some of the strategies which might be involved.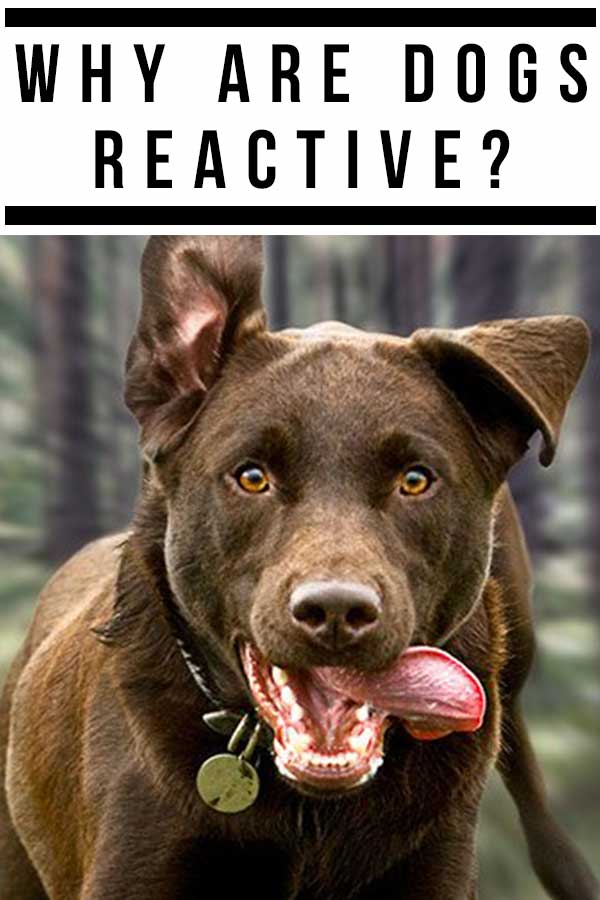 Treating reactivity
Every reactive dog is its own unique case.
So they need their own, tailored plan for overcoming their emotional reactions.
Reactivity is rooted in feeling of fear and discomfort. So treating it usually focuses on changing how the dog feels about the trigger, rather than training them to act in a new way.
Classical conditioning
Classical conditioning is the psychological term for changing how a dog responds to a stimulus.
It works by associating the trigger with something positive instead – usually edible treats, but a game with a favorite toy works too.
The trainer starts with a very mild version of the trigger, such as thunder sounds played at low volume, or walking on a leash with other dogs visible far off in the distance, and gives the dog treats so that they start to associate the appearance of their trigger with a positive experience (receiving treats).
Then the trainer gradually makes the trigger louder, or brings it closer, delivering more treats every time.
The ultimate goal is for a once-reactive dog to end up with warm and happy feelings when they encounter the thing which used to trigger their reactive behavior, because they now associate it with good things happening.
When dogs have complex or deeply ingrained reactive behaviors, a qualified force-free behaviorist may be best placed to plan a course of classical conditioning therapy.
Calming clothes
Using clothes to change reactive behaviors is gaining a lot of interest. Not least because it promises very quick results.
Examples include 'calming caps' which obscure dogs' vision, and acupressure vests which hug their torso.
However, acupressure vests have achieved mixed results in clinical trials, with the most recent evidence suggesting that they don't change noise reactive dogs' emotional responses.
Drug therapies
In some cases, vets and behaviorists might recommend medicines to treat reactive dogs.
Reconcile is an anti-anxiety medication commonly prescribed for reactive dogs. It contains fluoxetine – the same active ingredient as Prozac for people.
Over the counter remedies such as Adaptil can also help manage short term reactive behaviors, such as noise reactivity during Independence Day celebrations.
Why Are Dogs Reactive – Summary
Dogs become reactive to certain stimuli, or triggers, if they have not been socialized to them, or they have had a bad experience with them.
There's no clear cut definition of reactivity, but spotting the signs of a mild negative emotional reaction can be key to preventing it escalating into extreme reactivity.
If you're concerned that your dog is behaving in a reactive way, ask your vet or a qualified force-free behaviorist for help.
References & Further Reading
Duffy & Serpell. Dog breeds and their behavior. Domestic Dog Cognition and Behavior. Springer Press. 2014.
Dreschel & Granger. Physiological and behavioral reactivity to stress in thunderstorm-phobic dogs and their caregivers. Applied Animal Behaviour Science. 2005.
Haug. Canine Aggression Toward Unfamiliar People and Dogs. Veterinary Clinics of North America: Small Animal Practice. 2008.
Kim et al. Effects of ovariohysterectomy on reactivity in German Shepherd dogs. The Veterinary Journal. 2006.
Kim et al. Behavioural reactivity of the Korean native Jindo dog varies with coat colour. Behavioral Processes. 2010.
Overall et al. Phenotypic determination of noise reactivity in 3 breeds of working dogs: A cautionary tale of age, breed, behavioral assessment, and genetics. Journal of Veterinary Behavior. 2016.
Pekkin et al. The effect of a pressure vest on the behaviour, salivary cortisol and urine oxytocin of noise phobic dogs in a controlled test. Applied Animal Behavior Science. 2016.
Sherman et al. A test for the evaluation of emotional reactivity in Labrador
retrievers used for explosives detection. Journal of Veterinary Behavior. 2015.
Westereng Handegard et al. Noise reactivity in standard poodles and Irish soft-coated wheaten terriers. Journal of Veterinary Behavior. 2020.
Get Pippa's free dog training tips delivered to your inbox