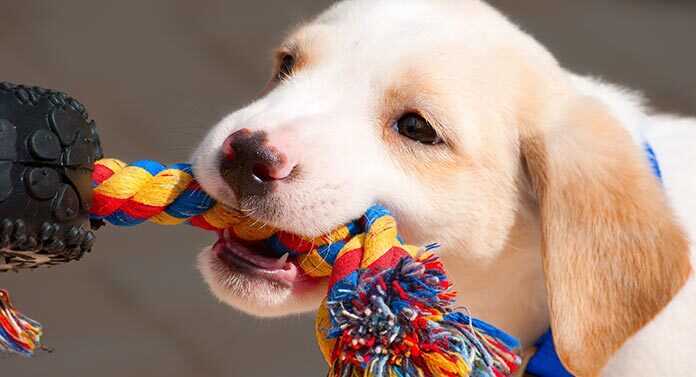 The best tug toys for dogs are durable and easy for you both to hold on to.
Whether you are looking for small or large options, there are some great choices on the market at the moment.
We've collected a few of the best tug toys for dogs in this guide, to make your choice easier.
And the time to buy couldn't be better, because we are constantly finding new brilliant uses for the game of tug!
Products included in this article were carefully and independently selected by the Dogsnet team. If you decide to make a purchase from one of the links marked by an asterisk, we may earn a small commission on that sale. This is at no extra cost to you.
The best tug toys for dogs in training
There's only one thing your dog loves more than playing, and that's playing with you!
When you are training your dog, you need high value rewards.
And while food works well, there is nothing that will hold your dog's focus like a good game of tug.
What are the best tug toys for dogs?
Different dogs have different needs when it comes to toys.
Some dogs can tear toys apart a lot more quickly than others. Others prefer to hang on to a loop, or an easy to hold handle.
To make the choice a bit easier, we have divided our list of tug toys into sections.
Let's take a look at some great options when it comes to the best tug toys for dogs of every type!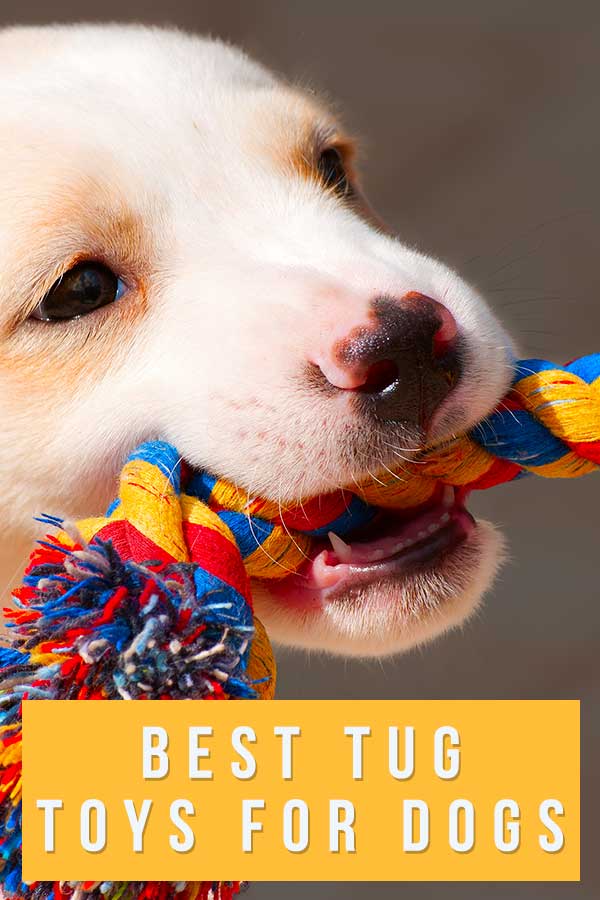 Tug toys for strong dogs
For strong dogs, you may need a more tough tugging dog toy.
Many dogs take their natural prey instinct out on their toys, and can be quite rough.
So you need a strong toy to match your strong dog.
When it comes to tough tug toys for dogs, there's no brand as recognizable as Kong.
Kong Tug Toy
This Kong tug toy* has a comfortable handle, and stretchable rubber for the more intense play sessions.
It's a great choice of durable toys for your hard playing dog.
Indestructible dog tug toys
If your dog chews everything apart in mere hours, you need an indestructible tug toy.
Kong Extreme Tyre Toy
That's where a Kong Extreme tyre toy* comes in.
The Extreme line is made of ultra durable rubber that is designed for intense play.
Kong tyre toys are a great bonding toy with your larger dog.
Most reviewers say that it holds up to aggressive chewing, and the rubber is pliable enough to be comfortable on their teeth.
Tug toys for large dogs
If you're looking for larger and thicker breeds, like German Shepherd or Pitbull tug toys, look for something with some length.
Larger and stockier dogs tend to have powerful jaws, and it's a good idea to have some space between them and your hand if they get over excited.
Tug toys with handles are a safe choice that will make playing with your dog enjoyable for both of you.
Chuckit Tug Toy
This Chuckit toy has a natural rubber ball* with a long handle for tugging.
It can also serve as a chew toy, a throwing toy and works in medium ball launchers as well.
GoughNuts Tug Toy
Another very popular toy is the GoughNuts Tug Toy*.
Their main priority is both safety and fun for your large dog.
So they created a highly durable product that keeps your hands separate from your dog's jaws.
Rope tug toys for dogs
Rope tug toys for dogs are a classic choice.
Sturdy braided ropes made of durable cotton help to exercise your dog while also cleaning their teeth.
Rosewood Tug Toy
While some larger dogs can unravel a rope tug toy, there are sturdy ones on the market that can withstand a lot of play*.
A tug ball dog toy is another style of rope toy for your dog to enjoy.
It gives them a ball to grasp when they're tugging, which reduces wear on the rope when larger dogs play.
Tug Toy with Treat Ball
This toy is another great choice*, and you can put treats in the ball for your dog.
Tug toys for small dogs
S-shaped tug toys are a great option for small dogs.
The design makes play time with owners and other dogs easy and enjoyable, and less susceptible to crowding or aggression.
West Paw Bumi Toy
This West Paw Bumi toy* can extend to twice its length when your dog pulls on it.
And it won't lose its shape!
The Bumi is a strong toy that can withstand avid chewers. It even bounces!
Small dogs are higher energy than their size lets on.
So when they play, they need an interactive toy that engages them.
Playing with tug toys
Once you have chosen your top tug toy, then there are a few good ground rules to follow for co-operative play.
Tugging is a natural activity for dogs, and is a great way to expend energy.
While it may be tempting to get a tether tug dog toy and let your pup tucker itself out, tug toys can be a great way to play and bond with your dog too.
But it's important to remember that when you play a game like tug-a-war with a dog, there must be boundaries.
Monitor your dog's body language.
If their tail is wagging, your dog is having fun. But don't let them get over excited!
Best tug toys for dogs
Choosing the best tug toys for dogs in your home will largely be a matter of your pup's preference.
Know how your dog likes to play, and the style of toys that they enjoy.
And that it is sturdy enough to stand up to their method of playing.
But more than anything, make sure you both have fun!
Affiliate link disclosure: Links in this article marked with an * are affiliate links, and we may receive a small commission if you purchase these products. However, we selected them for inclusion independently, and all of the views expressed in this article are our own.
Readers Also Liked
Get Pippa's free dog training tips delivered to your inbox