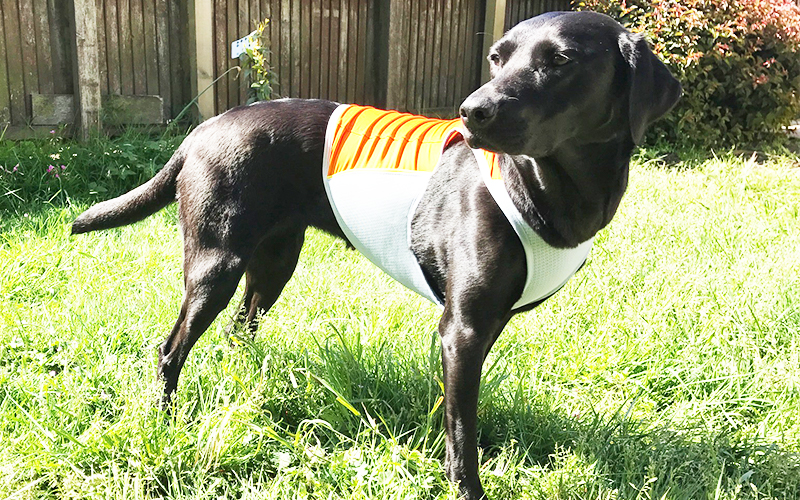 Welcome to our Ruffwear Cooling Vest Review. Looking at the Ruffwear Jet Stream Cooling Vest.
Giving you a guide to how it works, how to use it and whether it might suit your dog. As well as letting you know when you might prefer the Ruffwear Swamp Cooler instead.
Do Dogs Need Cooling Vests?
Overheating is a potential problem in working dogs during warm weather.
Dogs suffer from heatstroke in the same way that people do. Heatstroke is fatal in up to half of all dogs diagnosed, so it is very important to keep your dog cool, especially when he or she is exercising in warm weather
One problem for dogs is that they don't sweat through their skin and must rely on panting to cool themselves.
Panting works well up to a point but is not as efficient a cooling mechanism as sweating in very hot conditions during hard exercise.
Which is why sensible dogs take to the shade in the mid-day sun.
If your dog is hunting, competing in agility, or accompanying you on hikes during warm weather, you need to take sensible precautions to keep him safe.
Including avoiding exercise during the hottest part of the day.
A cooling vest is an additional precaution that will help your dog stay cool and many people involved in dogs sports are now using cooling vests of one kind or another
How Does a Cooling Vest Work?
The vest absorbs water so you put it onto your dog while they're wet.
The water in the vest then gradually evaporates.
This evaporation works just like sweating and cools the dog until the vest is dry.  You can then rinse and repeat as often as necessary.
What is the Ruffwear Cooling Vest with Jet Stream?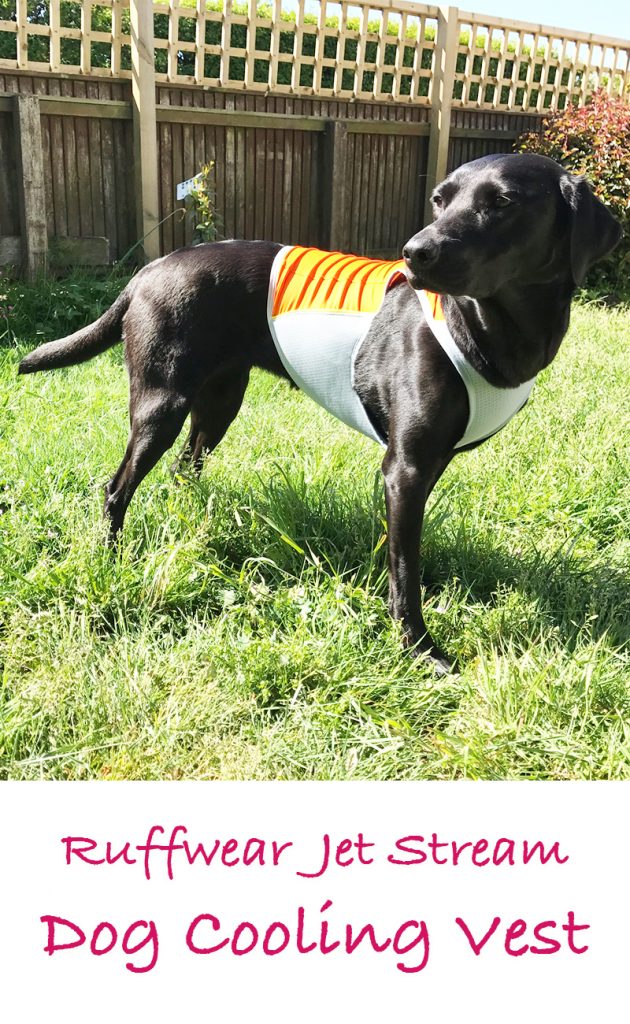 The Ruffwear Jet Stream Cooling Vest is a close-fitting vest designed to cool dogs down in hot weather.
The vest is held under the tap or soaked until wet – and then wrung out before being put on the dog.
The dog steps into two holes for the front legs and then vest zips up along the back.
The back of the vest comes in either 'salamander orange' (bright orange) or 'blue lagoon' (a pale blue). Whilst the underneath of the vest is a grey colour.
Putting on the Ruffwear Jet Stream Cooling Vest
The Ruffwear vest was easy enough to soak and wring out under the tap.
The grey underneath of the vest is very slightly padded to retain water, whilst the coloured back of the vest is stretchy lycra.
I did feel slightly bad about putting a cold, damp, vest on my black Labrador before she was actually hot and whilst we were still at home – but she didn't seem to mind!
The dog needs to have feet put into leg-holes in this vest, so if your dog doesn't appreciate her feet being held or placed into clothing, this may not be the right vest for her.
What's Different About the Jet Stream Ruffwear Dog Vest?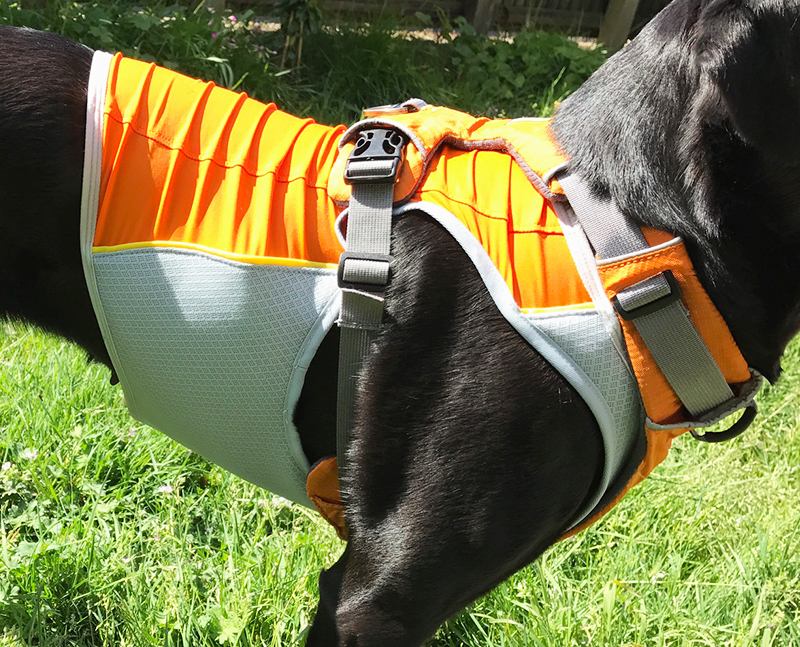 I use a harness with my black Labrador and one reason I was attracted to the Ruffwear Jet Stream because it is made of thin material and sits close to the skin.
I hoped I would be able to put my dog's harness on, over it.
Many other cooling vests are a bulkier design and it would be hard to use them with a harness.
We also do a lot of dog sports and I need a dog vest which enables my dog to move freely and to be her usual athletic self.
A vest which is lightweight, and which is not bulky or liable to get caught up when she is running about.
I was really pleased to see the Ruffwear Jet Stream met all these requirements.
My Ruffwear Front Range harness fitted well over the cooling vest, without even needing to be adjusted.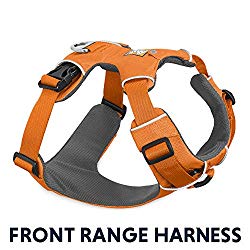 Using the Ruffwear Jet Stream Cooling Vest
I tried out the Ruffwear Jet Stream on a hot day in an open field.
My Labrador did not seem to notice the cooling vest and ran with usual freedom of movement.
The lycra material moved with her body and the fit was snug – and effective, due to that (since the damp material is then held close to the dog's skin).
Being snug, it also did not get caught up on any undergrowth.
My dog did still pant whilst wearing the Ruffwear Jet Stream, but it was noticeably less than she would have, without the vest.
She had more energy to continue training than she usually has, at that temperature.
The Ruffwear Jet Stream not only cools the dog down but looks "cool" too.
I don't think anyone glancing at it, would have realised that it was a cooling vest.
Should I buy a Ruffwear Jet Stream Cooling Vest?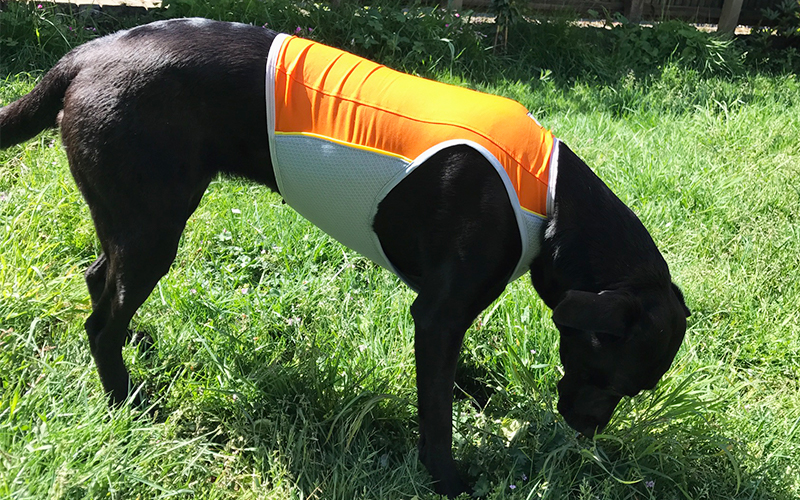 Your dog will need to step into this vest and place her front feet through the leg holes.
So if your dog dislikes her feet being touched or manipulated, you might prefer a vest which is put on over the head instead – check out the Ruffwear Swamp Cooler Cooling Vest instead.
There are currently only two colours available for the Jet Stream, and it would be good to see a wider choice available.
But if you are looking for a cooling vest that is minimal in appearance, stylish, suitable for dog sports and can be worn underneath a harness.
I would really recommend the Ruffwear Jet Stream Cooling Vest.
Stay safe in warm weather
Remember, you need to exercise caution when working dogs in warm temperatures. Some dogs are more sensitive to heat than others, but all dogs can suffer from heatstroke
Talk to your vet and to experienced dog handlers to make sure you keep your dog safe.
It's also important to remember that some breeds of dog should never be allowed to exercise hard in warm weather.
That includes all the brachycephalic (short-skulled or flat-faced breeds) because they are unable to cool themselves efficiently.
References and Further Reading
Gordon L DVM. 2017 Hyperthermia and heatstroke in the working canine. Urban Search And Rescue Veterinary Group
Bruchim Y et al. 2006.Heat Stroke in Dogs: A Retrospective Study of 54 Cases (1999–2004) and Analysis of Risk Factors for Death. Journal of Veterinary Internal Medicine
Get Pippa's free dog training tips delivered to your inbox