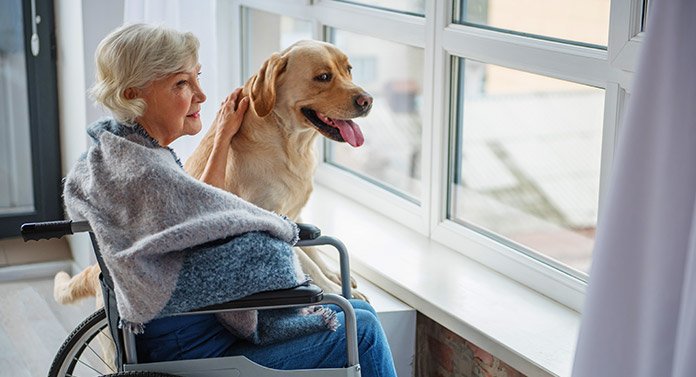 What is a therapy dog?
Therapy dogs are animals used to support and reduce stress for hospital patients, university students, and children with special educational needs.
Other roles include to improve communication skills, and to increase motivation, focus, and confidence.
Anyone can train a therapy dog. But they most often work through official organisations. Therapy dogs do not have the same enhanced legal rights as service dogs.
Therapy Dog FAQS
Here are some questions we often hear about therapy dogs.
You can click the links above to jump straight to the answers. Or, you can keep scrolling to read our full guide.
Let's get started by answering the question on everyone's lips: what is a therapy dog?
What is a Therapy Dog?
Whether you're hoping to train your own dog as a therapy dog, or have only just stumbled across the term, many people are trying to find out exactly what a therapy dog is.
Take a look at this therapy dog definition:
A therapy dog is any dog that is trained to provide support and comfort to patients in a number of settings. Official therapy dogs must be registered with an official organisation.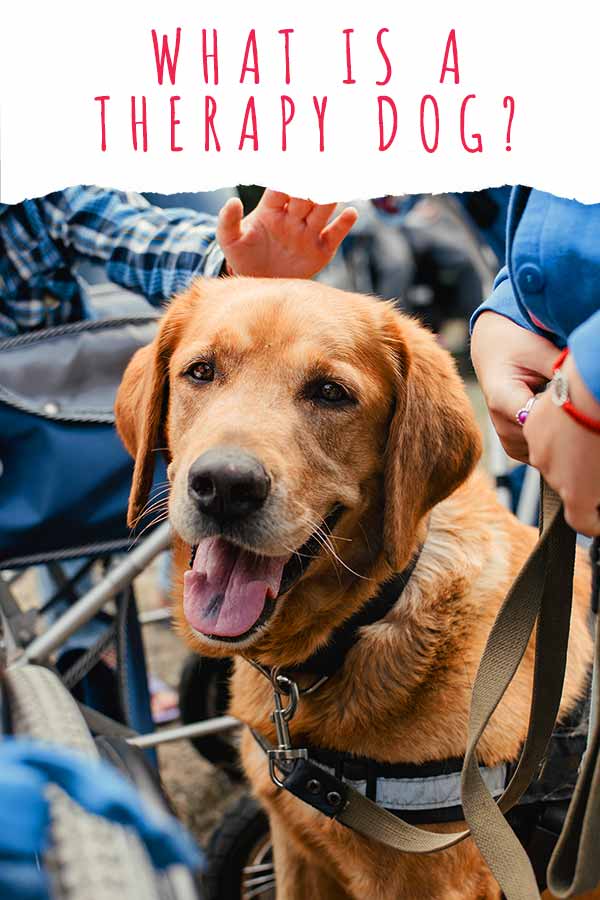 There are three common types of therapy dog: therapeutic visitation dogs, animal-assisted therapy dogs, and facility therapy dogs.
These different types will work in different settings, although all three work alongside their handlers with the goal to provide comfort and support to their clients.
What Are Therapy Dogs Trained to Do?
The main goal of a therapy dog is to provide support, comfort, and confidence to the people they are helping.
As we've learned, handlers must register their therapy dogs with an official organisation.
But, there are hundreds of organisations across the US. And, each one of them has a different set of procedures and practices when it comes to therapy dog training.
So, it's important to do your research. Find out exactly how an organisation screens, evaluates, and instructs their therapy dogs before you try to register your dog with them.
As a basic minimum, therapy dogs will need general obedience training. Dogs that jump up, bark, or run into people don't usually reduce stress!
They'll also need to be very well socialized, so they never show aggression to any type of person in any situation.
Who Can Train a Therapy Dog?
There are no strict rules about who can train a therapy dog. Which is why so many people hope to train their own dog for this role.
But, a lot of therapy dogs will work closely with their handler to provide support to patients.
Therapy dogs go to environments such as schools, hospitals, universities, nursing homes, and other clinical settings to provide support and help to people that need it.
This is very different to an emotional support dog. They will only support a specific individual.
Anyone can train a therapy dog, but the specific training program they should follow will depend on the organisation you'll be using to certify your dog.
Their guidelines and rules will vary.
Therapy Dog vs Service Dog
Many people believe that therapy and service dogs fall into the same category, but they have very different responsibilities.
Handlers train service dogs to offer support and carry out specific tasks for individuals with disabilities. The dog's work and training is directly related to its handler's disability.
Therapy dogs, instead, will visit a number of different people. Handlers train them to offer general support and comfort in a clinical setting.
Therapy dogs are not trained to carry out specific tasks. They will never go home with someone who they are offering support to.
Different Rights
As well as their training and responsibility, service dogs and therapy dogs have different rights in the public world.
Service dogs have full public access rights. So, they can accompany their handlers into places where dogs are normally banned, such as restaurants, planes, and stores.
Most of these places will not allow therapy dogs. Under the ADA, they do not have the same legal rights as service dogs.
However, the rules may vary depending on where you are. So, check with local authorities about where your therapy dog can and can't go.
What Qualities Do Therapy Dogs Need?
As we know, therapy dogs need to be registered and certified with an official organisation.
This organisation may want to carry out an assessment or suitability test before you can train your dog.
The requirements will vary depending on the organisation you use.
But, there are some general traits that all therapy dogs need.
They must be friendly to everyone, never acting in aggression.
Therapy dogs must have basic obedience training.
They must be calm in all new situations.
Must enjoy human contact, including petting or hugging.
They must be patient with children, who may not know the proper ways to handle a dog.
They must be able to work and stay calm around other dogs or distractions.
A stable temperament is a must.
Do you think your dog fits with these requirements?
What are the Best Therapy Dog Breeds?
There are no restrictions on which dog breeds can become therapy dogs. As long as your dog has the right temperament and training, and you can find an organisation to accept them.
Here are some breeds that are friendly, people-loving, and trainable:
Labrador Retrievers
Golden Retrievers
Poodles
Poodle mixes, like the Labradoodle and Cockapoo
Lhasa Apso
Shih Tzu
Cocker Spaniels
Can you think of any others that would be a great addition to this list? Tell us in the comments box!
Do Therapy Dogs Really Help People?
It's easy to be skeptical about therapy dogs. Especially the big claims that they can help people with their communication skills and motivation.
But, there are plenty of studies that investigate the evidence.
Studies have suggested that therapy dogs were successful in reducing stress in health care professionals, but had the same result for health care patients.
They have been shown to improve and support communication skills in adults, as well as reading and writing skills in children, particularly those that previously struggled with these skills.
Therapy dogs have reduced stress in university students.
And, they've been used to improve focus and motivation among preschool children.
So, therapy dogs can really help people. There are plenty of other studies on this topic available online if you want to learn more.
Can I Train My Dog to be a Therapy Dog?
Are you considering training your dog to be a therapy dog? It can be a very rewarding process.
If your dog sounds ideal for this role, have a look at therapy dog organisations near you.
They'll carry out a suitability assessment for your dog, and show you the training required.
Let us know about your experiences with therapy dogs in the comments!
Readers Also Liked
References and Resources
Get Pippa's free dog training tips delivered to your inbox