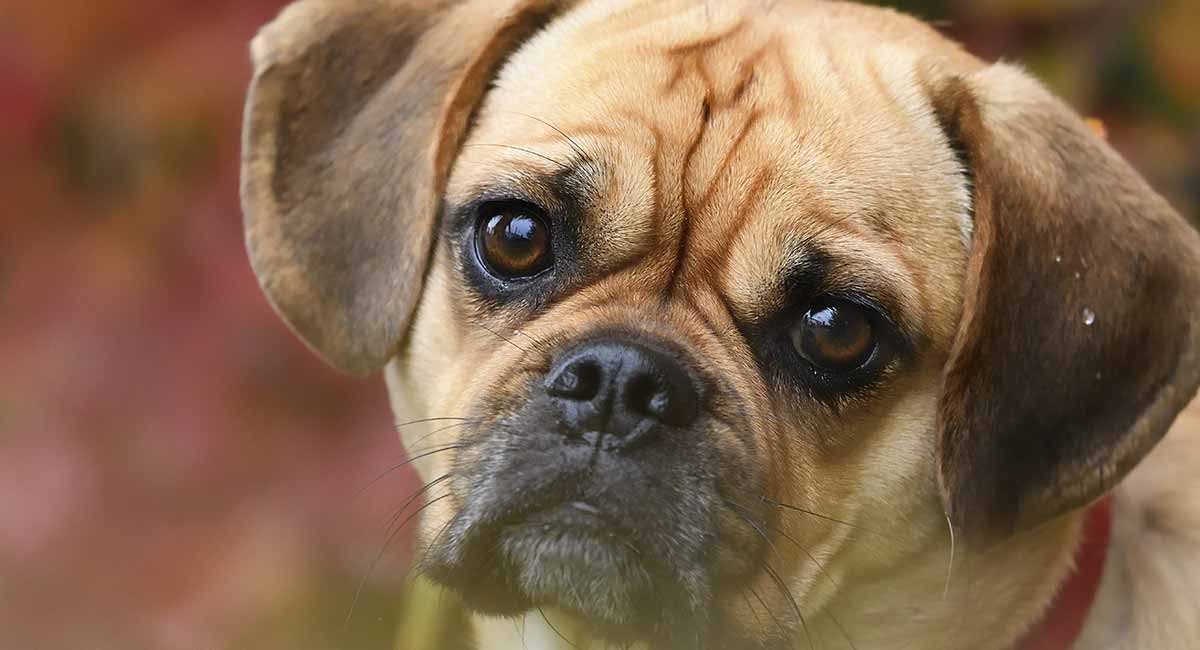 One of the more popular crossbreeds, the Puggle is a mix between the loving Pug and the curious Beagle.
This hybrid will weigh from 14 to 30 pounds, and can grow up to 15 inches.
However, the flat face and screw tail of the Pug parent can bring with it some serious health issues, including eye issues, breathing problems, and spinal issues.
So let's take a look at whether the Puggle makes a good family dog.
What This Article Covers
With both purebred breeds already causing many dog lovers to swoon from their cute appearance, it's no wonder that this crossbreed has only been becoming even more popular lately!
However, there are much more important things to worry about when purchasing any dog and the Puggle is no exception.
In this article, we will be taking a detailed look at everything you need to know about the Puggle, from their trainability to their health issues!
Where Does The Puggle Come From?
The Puggle was first created in the 1980s within America by a man named Wallace Havens, and the breed was quickly registered with the American Canine Hybrid Club.
However, it wasn't until the early 2000s that the Puggle's popularity soared, along with designer dogs as a whole.
Puggles were one of the first designer dog breeds to really capture the imagination of the public and they have enjoyed their fair share of popularity since!
To get further background on this breed, we will have to take a look at the histories of the parent breeds you that you can better understand what makes a Puggle!
Origins of the Pug
The Pug joins other breeds such as the Shih Tzu and the Pekingese as one of the ancient dogs of China.
In Ancient China, flat-faced dogs were bred and developed as elegant companions to the Emperor and other members of the Imperial Court.
They were much respected and were kept as a closely guarded treasure from outsiders. The Pug was one of them and they enjoyed a life of luxury for centuries.
However, within the 15th century, the Pug was finally introduced to the rest of the world by Dutch traders who returned with dogs of the breed.
Its strange appearance at the time soon earned it the adoration of many and with time Pugs became the popular breed we see today.
Origins of the Beagle
As for the Beagle, they found themselves as a working breed, a far cry from the regal and lazy life of the Pug!
The true origin of the Beagle is subject of much discussion.
However, what we do know is that there were reports of small pack hounds being present within the UK long before the Romans invaded in 55BC.
Jumping forward to the 1500s, many English hunters employed the ancestors of the Beagle within their hunts.
The Beagle was commonly used to hunt and track rabbits and hares, whilst other larger breeds handled bigger prey.
In modern times, the Beagle is now commonly kept as a companion dog. However, they can still be used as a working dog, in hunting and other roles such as scent detection.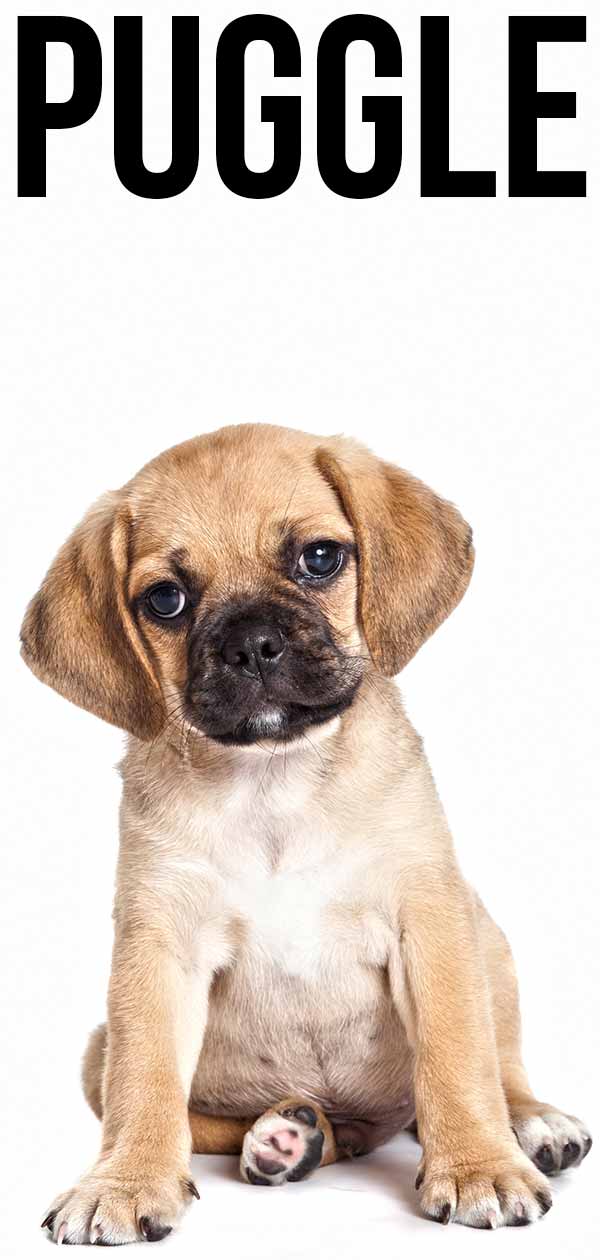 Fun Facts About The Puggle
Celebrity Puggle owners include Jake Gyllenhaal, Sylvester Stallone, and Kelly Osbourne!
Both the Pug and the Beagle are commonly used in designer dog mixes
The Pug and the Beagle are both popular purebred breeds in their own right; the Pug places 32nd and the Beagle at 5th in the AKC's popularity rankings.
Puggle Appearance
The Puggle may take on aspects of either parent breed, meaning that it is difficult to guarantee anything about their potential appearance, temperament, or health issues.
However, by looking at the parent breeds we can offer estimations as to what to expect!
A general range of height you may expect to see in the Beagle is around 10-15 inches. As for their weight, anywhere within 14-30 pounds may be possible!
Facial Features
As for physical characteristics, the Puggle may either have the strong muzzle of the Beagle, the flat-face of the Pug, or somewhere in between.
Similarly, their ears may be long and hang by the sides of the face like the Beagle, or short and at the top of the head like the Pug.
The Puggle's eyes may be bulging and prominent, and it's possible for the tail to either be coiled or straight. A black facemask may or may not be present.
Coats
Their coats are likely to be short and close to the body but may be either hard or soft in feel.
Potential colors and patterns include:
Fawn
Black
Black/White/Tan Tricolor
Blue Tricolor
Tan/White Bicolor
Lemon/White Bicolor
Red/White Bicolor
Chocolate.
Dilutions and variations of these colors are also possible.
Puggle Temperament
The Pug and the Beagle differ in temperament and personality significantly, so Puggles can be hard to estimate in this respect.
If they take on the best of both breeds, then you'll find your mix to be a friendly, energetic, and playful breed. However, that is a big if!
Potential Temperamental Issues
It's important to understand the potential temperamental issues that may surface in this breed.
If they do occur within your Puggle, they don't catch you by surprise and you should be able to deal with them before they become a real problem!
Firstly, as you may have already heard, the Beagle can sometimes be notoriously stubborn and independent. The Pug can also be stubborn, but not to the degree of a Beagle!
This is a trait that may be inherited by your Puggle, so it is something you should be ready for if it occurs.
Stubbornness can make training and just generally keeping your dog obedient a challenge.
Your Puggle may require a firm owner to properly keep them controlled if this trait appears within them.
Potential Instinctive Behaviours
Another thing to keep in mind about the Puggle is that they may inherit the strong hunting instincts of the Beagle.
Beagles are very strong scent hounds, who cannot pass up an interesting scent.
Many Beagles can become completely unresponsive once they are in their "hunting" mode.
They may also run off or chase small animals that they see as prey, which can get them into all kinds of trouble.
Preventing This
To prevent any issues arising from these potential instinctive behaviors in your Puggle, it's important to take some preventative measures.
Keep your mix on the leash whilst outside and do not let them off it unless you know you are in a well-secured area.
And by well-secured, we mean really well-secured! Some Puggles can be excellent escape artists!
Curbing Aggression Traits
Finally, some Beagles can be predisposed to developing aggression, including bite attempts.
To prevent this from ever being a problem within your Puggle, training and socialization from a young age is key.
Firm ownership so that your dog knows that you are the boss can also curb aggression.
It can also be worth ensuring that the Beagle parent has never had any problems with aggression.
This is because the risk of aggression developing in the Puggle rises if the parents are also aggressive.
Training Your Puggle
Now that you know of the potentially severe behavioral problems that may be present within the Puggle, you should have a better understanding of how important training from a young age is.
Properly training and socializing your pup from a young age is key to ensuring that they grow up to be a polite and controllable dog.
While the Puggle can be naturally stubborn and independent which can make training difficult, patience and firmness alongside positive reward-based training will win out in the end.
Here are some of our guides on training a puppy!
Don't Give Up!
If you find that you are struggling, it may be a good idea to hire a professional trainer.
Whatever you do, don't skip or give up on training your Puggle!
This will lead to negative behaviors forming that will be much harder to break later in life. It can also increase the chances of aggression developing within your dog.
Exercising Your Puggle
How much you should exercise your mix is dependent on a few factors.
Firstly, the natural energy levels of Puggles can vary significantly. Some Puggles may be content with just a short walk or two every day, whilst others need to run around and play for an hour or two every day, alongside walks!
You may need to gauge out your Puggle's energy levels yourself. Start with walks, and if it seems content, that might be all they need.
If after walks they still seem to have boundless amounts of energy, try some outside play in a secure area and see how they do!
Their muzzle length is another factor that must be taken into consideration. If your Puggle has a very short muzzle, this can hamper their natural breathing (more on this in the next section).
In such cases, it can be dangerous to exercise them too strenuously.
Therefore, if your pup is showing troubles breathing efficiently and has a shortened muzzle, exercise should be kept to walks and light play.
Puggle Health
Unfortunately, this mix is prone to serious health conditions.
Due to the Pug being involved within this cross, it is possible for Puggles to inherit a shortened muzzle.
The shortened muzzle and generally flat-face of the Pug is a conformational defect that brings with it a multitude of health issues.
Dogs with these characteristics are known as brachycephalic.
Brachycephalic Airway Syndrome
The most serious of the health issues that come with being a flat-faced breed is Brachycephalic Airway Syndrome.
This is a condition where due to the shortening of the muzzle the nasal cavity is compressed, severely hampering the breathing of the dog.
You may have heard that some Puggles can sometimes snore, snort, and breathe loudly. This is due to them struggling to breathe properly through their nose.
If left untreated, Brachycephalic Airway Syndrome can eventually lead to an incredibly serious condition called Laryngeal Collapse.
This is where the dog's breathing can suddenly worsen further and it can be fatal if not treated immediately.
Issues With Exercise
This inability to breathe efficiently also causes dangerous intolerances for both heat and strenuous exercise.
Therefore, if your Puggle has a shortened muzzle we would recommend housing them in a cool, well air-conditioned home and not taking them outside during hot weather.
They should be exercised indoors on such days.
Other Health Issues
Other issues that can be the result of being a Brachycephalic breed include:
Skin folds that are prone to irritation and infection
Spinal issues due to screw tails
Problems giving birth naturally
Easily irritated and infected eyes.
Other Issues
Along with the health concerns presented by the possible structure of the Puggle, this cross may also be at increased risk of the following health conditions:
Patellar Dislocation
Epilepsy
Hip Dysplasia
Musladin-leuke Syndrome
Hypothyroidism
Due to the severe health concerns of this cross, if your heart is set on the Puggle we would recommend ensuring that you only purchase puppies with a longer muzzle than average for the cross to help reduce the health risks brought with being a brachycephalic breed.
The expected lifespan of this breed is between 10-15 years.
Puggle's do well on high-quality dog food, however, care must be taken to avoid overfeeding them.
Obesity can be a real problem in this cross and can further worsen any health problems that may be present.
Puggle Grooming
As for grooming, a thorough brushing 2-3 times a week to remove dead hair is usually enough for this breed.
However, if skin folds are present within your Puggle, we would recommend cleaning them out regularly to avoid any infections or irritation occurring.
As with any breed, trimming their nails regularly is necessary to prevent discomfort. Teeth should be brushed frequently to avoid any dental problems.
Do Puggles Make Good Family Dogs?
Sadly, we cannot recommend this cross due to the high risk of health issues.
The structural health issues this cross may potentially carry can severely affect a Puggle's quality of life.
If your heart is truly set on this breed, we would recommend looking at rescuing an adult dog rather than purchasing a puppy from a breeder.
Rescuing a Puggle
Adopting a Puggle from a rescue center comes with its pros and cons.
On the good side, most dogs within rescue are adult dogs whose health issues or behavioral problems are obvious.
If any are present, they will be fully explained to you by the staff and how you can expect it to affect you and your family at home.
However, a lot of dogs end up in rescue because they do have these health and behavioral issues. So you may need to be prepared for this!
If you find a Puggle you would like to adopt, you will be interviewed by staff to find whether you will be a good fit for the dog.
You will be asked questions about your current family situation and the time and effort you will be able to devote to the dog. House visits may also occur.
From here you will be either allowed or denied adoption of the dog.
Finding a Puggle Puppy
When purchasing a puppy, your priority should always be to find a trustworthy and reputable breeder.
This goes doubly so for breeds with a high amount of health risks such as the Puggle.
Sadly, there are a lot of bad breeders out there who would happily sell you a puppy with poor health and behavioral problems.
These breeders trade the welfare of their litters for more efficient sales, leading to these places being informally nicknamed "puppy farms".
Your priority should be to avoid these breeders at all costs.
It's also important to avoid buying puppies from pet shops, as such places commonly buy their stock from the puppy farms we just described.
Finding Responsible Breeders
Instead, you should try and find a breeder who has recognition from one or more established breeding societies and ideally positive feedback from previous customers.
A trustworthy breeder should be able to prove the genetic health of their puppies, allow you to see the parent dogs, and speak honestly about their lines of Puggles.
Raising a Puggle Puppy
The task of raising a mischievous puppy into a mature and polite adult can sometimes seem like an insurmountable task, even to the most experienced dog owners!
Luckily, we have some resources and guides that can help. Check below!
Puggle Products and Accessories
If you decide to take on the task of owning a Puggle, there are some products and accessories you may need to help make your life easier!
We would heavily recommend purchasing a harness over a leash for this breed. Leashes can put extra stress on the Puggle's already compromised breathing. Here are some recommendations on harnesses.
Quality grooming tools can help your pup always look at their best.
Finally, eye protection can be a good idea if your mix has the bulging and prominent eyes of the Pug.
Pros and Cons of Getting a Puggle
Here is a quick summary of the good and bad of this cross!
Pros:
May potentially be a lovely and friendly companion dog
Tends to be friendly and polite with both strangers and other dogs if socialized well
Grooming requirements are reasonable
Can be good with children
Cons:
Severe health risks, including structural health problems
Can be an escape artist, requires well-secured areas
May be too energetic for its own health issues
Notoriously stubborn
Potential aggression problems
Similar Breed Mixes and Breeds
As this cross has severe health risks, we would heavily recommend looking at similar but healthier breeds before coming to any decisions. Here are a few to get started:
Puggle Rescues
While rescue groups dedicated to this breed certainly are rare, there is one we recommend known as Puggle & Friends Rescue and Transport.
They cover the entirety of the USA and Canada, so if you are looking to adopt within these countries, they are certainly worth a look!
Failing that, you may find a Puggle within rescue centers devoted to the parent breeds. See below for some places to start.
UK:
US:
Canada:
Australia:
If there is any more you would like to add to the list, let us know below!
Is a Puggle Right For Me?
Only you can answer that question.
However, we would heavily recommend that you look at other similar mixes and breeds first.
The Puggle has a high risk of suffering from severe health issues that limit its quality of life.
If your heart is truly set on this breed, consider whether you have the family situation to accommodate them. You may also need to prepare for expensive vet bills in the future.
What do you think of this cross? Have you ever owned a Puggle?
Let us know below!
References and Resources
American Kennel Club
Monnet, E, 2015,

Brachycephalic Airway Syndrome

World Small Animal Veterinary Association.
Karabagli, M., 2012,

Brachycephalic Airway Syndrome in Dogs

Istanbul University.
Bright, RM., 2011,

Laryngeal Collapse in Dogs

.

Priester, WA, 1972, 

Sex, Size, and Breed as Risk Factors in Canine Patellar Dislocation

 Journal of the American Veterinary Medical Association.
Patterson, EN., 2007,

Clinical Characteristics and Inheritance of Idiopathic Epilepsy

Tufts' Canine and Feline Breeding and Genetics Conference.
Richardson, DC, 1992,

The Role of Nutrition in Canine Hip Dysplasia

The Veterinary Clinics of North America: Small Animal Practice.
Siracusa, A, et al, 2017, Musladin-leuke syndrome's beagle: First Italian report, Veterinaria.
Lee, WM, et al, 2001,

Primary hypothyroidism in dogs is associated with elevated GH release

The Journal of Endocrinology.
Duffy, DL, et al, 2008,

Breed differences in canine aggression

Applied Animal Behaviour Science.
Get Pippa's free dog training tips delivered to your inbox