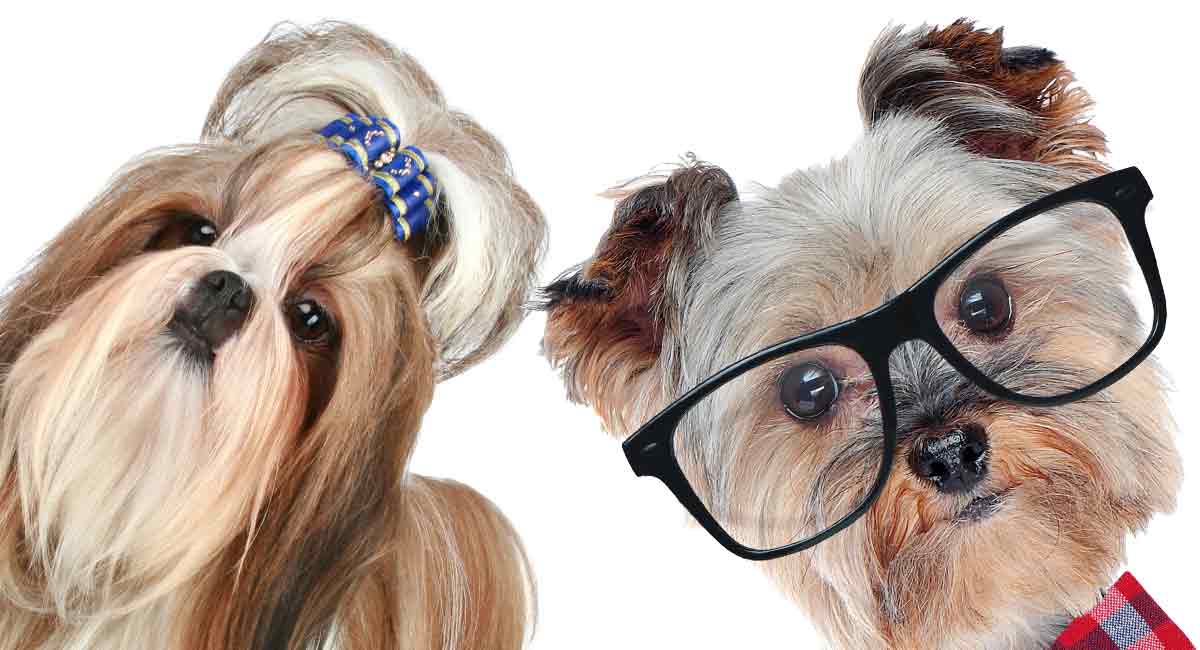 Shorkies are an adorable crossbreed with Shih Tzu and Yorkshire Terrier parents.
These dogs are growing in popularity and might someday become a breed in their own right.
If you love small dogs, I'm sure you see why!
There's no doubt these fluffy dogs are beautiful, and it's easy to fall in love with them.
Is a Shorkie the right breed for you? Let's find out!
Where Does the Shorkie Come From?
Shorkies are a recent breed that's only begun increasing in popularity over the past decade. Especially with the rising interest in teddy bear breeds! 
Though this crossbreed has roots in the United States, it's more popular in Europe, particularly in the United Kingdom and Ireland.
Shorkies aren't purebred, because they are not registered with the Kennel Club.
Instead, most Shorkies come from one Shih Tzu parent and one Yorkshire Terrier parent.
For this reason, most of what we know about Shorkies comes from what we know about their parent breeds.
Shih Tzus were bred to be pampered lap dogs, which has given them a strong attachment to their families.
Yorkshire Terriers, although now popular pets, were bred as hunting dogs to control rat populations.
These breeds were combined mostly for looks and because their parent breeds shed minimally.
Good breeders will also use this opportunity to lessen the health concerns in the Shih Tzu breed.
Fun Facts About the Shorkie
Shorkies are absolutely lovable!
One furniture shop in Florida has their very own Shorkie in the store to greet customers and keep employees company.
They say some customers even stop by just to see him!
It's no wonder—who can resist that cute face?
In 2008, Kerry Washington recommended that the Obamas adopt a Shorkie puppy, speaking with pride about her own pup.
Shorkie Appearance
Shorkies weigh between 4-16 pounds and are about 5-9 inches tall. They're quite muscular for a tiny breed, with short, thin legs.
They have a rounded skull and a short muzzle, typically with darker facial hair around their snout.
Shorkies have cute little triangle ears and thin, curly tails.
Their coats can be straight or wavy, depending on which parent they happen to take after.
They come in many color varieties as well—black, tan, brown, white, red, or a mixture of these colors.
Many litters will have a variety of unpredictable colors.
Shorkies are known for their double-layered coat, which requires daily maintenance to avoid mats.
Their long coat is usually cut short for easier grooming and that adorable, teddy bear look.
Shih Tzu Yorkie Mix Temperament
Shorkies are a combination of two lapdogs. As such, they're incredibly clingy and develop separation anxiety easily.
They shouldn't be left alone for long stretches of time. Lonely Shorkies can develop problematic barking and chewing habits.
That said, they're very loving and excellent for those who love a good cuddle!
From their Yorkie ancestors, Shorkies inherit big personalities and the tendency to be fussy. Check out this article to see what the Shih Tzu temperament is like.
They know what they like and what they don't. This can lead to problems with small children when not supervised properly.
Children should always be educated on how to handle dogs appropriately. Shorkies can live in a limited space such as an apartment. Healthy Shorkies also love exercise.
However, beware that your Shorkie hasn't inherited breathing difficulties or intolerance to heat, as Shih Tzus are known for these health issues.
Shorkies also love to bark, which can be difficult if you have many neighbors close by.
Training Your Shorkie
Shorkies are incredibly intelligent. Their stubbornness can make them difficult to train using traditional methods. Keeping them interested with high-value treats is a must. You can find our training guide here for more information.
Socialization is important for Shorkies, as they can be distrusting of strangers. The more socialization, the better, but be sure to watch out for signs of discomfort.
Don't let young children or other dogs, for example, be too rough. Shorkies are tiny and can be easily injured. They might even snap in self-defense.
When house training your Shorkie, think: reward, reward, reward. Rewards make training easier, so you don't fall prey to that stubborn streak. Here is our potty training guide.
Shorkies also do well with crate training.
When it comes to exercise, remember the Shih Tzu lineage. Breathing difficulties and heat intolerance are common health problems Shih Tzus face.
You want to be sure your Shorkie hasn't inherited any of these. Make sure they have a lengthy muzzle and wide open nostrils.
A healthy Shorkie is energetic and will love the quality time a good walk or some playtime brings. We recommend 30-60 mins of exercise a day.
Shorkie Health
The goal of any new breed is to lessen the problems the parent breeds have. However, the Shorkie breed isn't quite there yet.
They have many of the same health problems as Shi Tzus and Yorkshire Terriers, including those listed below.
Brachycephalic Airway Syndrome
Dental Disease
Glaucoma
Hypocalcemia
Hypomagnesemia
Lens Luxation
Liver Problems
Patellar Luxation
Portosystemic Shunt
Renal Dysplasia
Shorkies are prone to conformational defects. Simply put, these are the consequences of a dogs head or body being too large, or too small.
In Shorkies, this can cause breathing issues which are mainly inherited from their Shi Tzu parent.
Their short muzzle causes this, and their small size only compounds the issue.
Risks include respiratory issues, inability to cool down in the heat, and not being able to tolerate much exercise without losing breath.
Patellar Luxation, or the kneecap moving out of place, is another risk in breeds this small.
And like Yorkies, Shorkies are prone to teeth problems due to their tiny mouths.
Caring For Your Shorkie
Shorkies should be brushed daily to avoid matting. For convenience, many owners choose to take their Shorkie to the groomer regularly and keep their fur cut short.
Although you might find this brush guide for Yorkies useful!
Your Shorkie will also need to be bathed and have their nails trimmed regularly.
We recommend a Shorkie eat high-quality dry kibble, as this helps decrease their chances of developing teeth issues.
Their daily food intake should be split into 2-3 meals throughout the day.
You can expect your Shorkie puppy to live around 12-15 years.
Do Shorkies Make Good Family Dogs?
Shorkies are built for family life. They are lovable and attached to their families to the extreme.
However, families with small children will want to be careful with this breed. Their small stature means they can be hurt when handled roughly.
As with any dog, there's a chance of them becoming aggressive if they feel abused.
Ideally, Shorkies belong in families of adults who have lots of time to spend with their clingy new family member. Or, with families who have older children who have been taught to handle them accordingly.
It may also be best to rescue an adult Shorkie, as they have many health risks.
You can better know what to expect when adopting an older dog, compared to the unpredictability of puppies.
Rescuing a Shorkie
When adopting a rescue dog, you will have a better idea of their temperament and any health issues they may have.
This is especially important when adopting a mixed breed, as it could have traits from either parent, making its nature less predictable.
You might have to do some searching when looking for a new breed like this, however.
Checking shelters in your area is a good place to start, but rescues can be another valuable option.
Finding a Shorkie puppy
Mixed breeds are growing ever more popular in recent years. As more celebrities adopt mixed breeds, they are in the public eye more frequently.
If you're also looking to adopt a puppy, you can find our search guide here.
While looking for your new puppy, keep in mind that not all breeders have the best intentions. In order to avoid puppy mills, don't buy from pet stores. Instead, go straight to a reputable breeder.
Puppies from a good breeder should be vetted, up to date on vaccines and dewormed. They should be on flea preventative and generally look healthy.
Puppies should not be taken home before they are eight weeks old. You should be able to see the family, including both parents, and the environment the puppies are being raised in.
The Shih Tzu parent must have clear breathing even after exercise, a long muzzle for the breed and wide open nostrils that have never required surgery.
Failure of a breeder to provide this is a red flag as they may be hiding bad conditions.
Raising A Shorkie Puppy
For general care, see our puppy care guide. We also have tons of training guides!
Shorkie Products and Accessories
Below are some great products and accessories you can buy for your Shorkie today!
Make sure you also get lots of name inspiration!
Pros and Cons of Getting A Shorkie
Shorkie Cons
Shorkies have the potential for many health problems due to their small size and the breathing issues that come with the Shi Tzu face shape.
They can also be clingy and aren't well suited for those who are away from home for long periods of time.
Their stubbornness makes them difficult to train with traditional methods.Add to that, they aren't well-suited for families with small children.
They also tend to bark frequently. This could be a problem for those who want a quiet household or have neighbors close by.
Shorkie Pros
This is a loving breed that is happy to be at their owners' side.
They can act as alarm systems, barking when someone unfamiliar enters the home.
Healthy Shorkies are well suited for an active lifestyle while being small enough to enjoy life in an apartment as well.
Breed Comparisons
If you like the sound of smaller dogs like the Shorkie, check out some of our breed comparisons!
These are a great way to see which one really is the best dog for you!
Similar Breeds
Shorkies may come with health problems, mostly due to their Shi Tzu ancestry.
If you are looking to eliminate some health risks, here are some similar, healthier breeds:
Yorkshire Terrier
Borkie (Beagle/Yorkie)
Corkie (Cocker Spaniel/Yorkie)
Snorkie (Miniature Schnauzer/Yorkie)
Shorkie Rescues
There are many Yorkie and Shih Tzu rescues, where you may find Shorkies available.
You can also search your area for small dog rescues. If you know of any rescues not on our list, please comment below and let us know!
Shorkie Rescue USA
Shorkie Rescue UK
Shorkie Rescue Canada
Shorkie Rescue Australia
Is A Shorkie Right For Me?
Shorkies are best suited for families with older children or adults.
If you don't mind their barking or their stubborn streak and can avoid leaving them alone for long stretches of time, Shorkies can be lovable and rewarding companions.
However, they have the potential for several concerning health issues. Those who want to take less risk in this department may want to look at healthier breeds instead.
Do you have a Shorkie at home? Let us know in the comments!
References and Resources
Christmas, R. Common ocular problems of Shih Tzu dogs. The Canadian Veterinary Journal. 1992.
Collins et al. Inherited Defects in Pedigree Dogs. The Veterinary Journal. 2009.
Hoppe et al. Progressive nephropathy due to renal dysplasia in shih tzu dogs in Sweden: A clinical pathological and genetic study. Wiley Blackwell. 1990.
Kimmel et al. Hypomagnesemia and hypocalcemia associated with protein-losing enteropathy in Yorkshire terriers: five cases (1992-1998). Journal of the American Veterinary Medical Association. 2000.
Kyler et al. Prevalence of dental disorders in pet dogs. University of Veterinary and Pharmaceutical Sciences. 2005.
Tobias et al. Association of breed with the diagnosis of congenital portosystemic shunts in dogs: 2,400 cases (1980–2002). Journal of the American Veterinary Association. 2003.
Get Pippa's free dog training tips delivered to your inbox