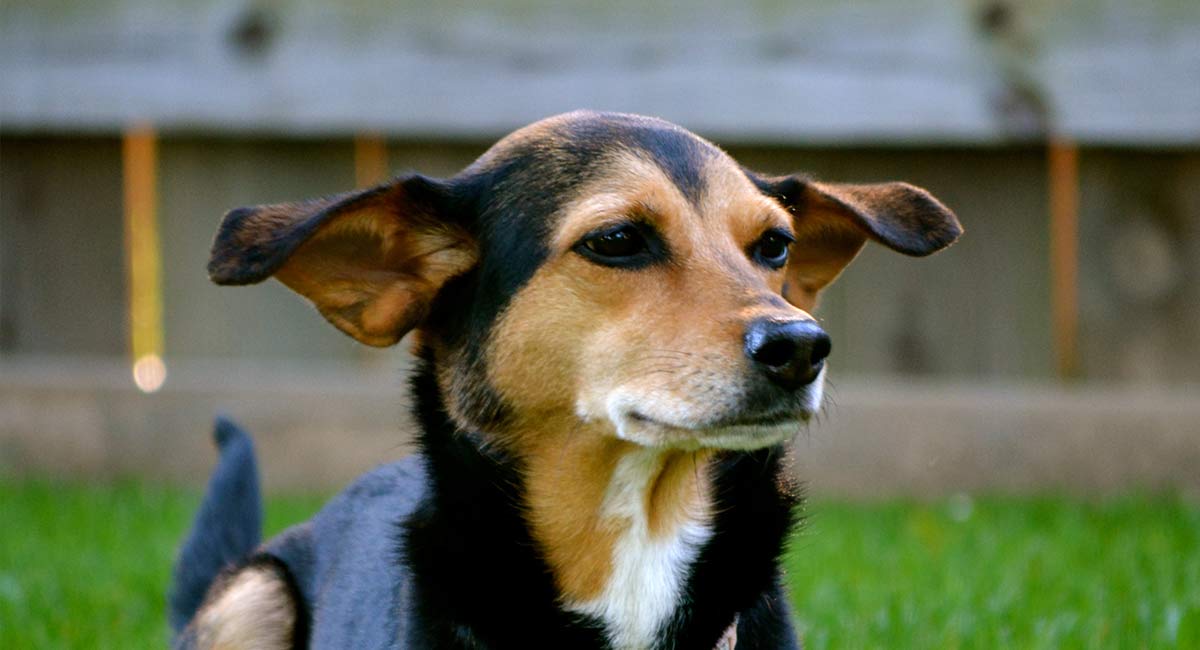 Have you been considering bringing a Meagle into your home? You aren't alone!
Beagles are one of the United States' most popular dog breeds, and the country's most popular hound.
Miniature Pinschers, often affectionately called Min Pins or Mini Pinschers, are one of Europe's most popular toy breeds and aren't exactly unknown or unpopular in the United States either.
In the past several years, the mix of these two popular breads, the Meagle, has also taken its own share of popularity.
In this handy guide, we'll tell you everything you need to know to find out if this designer dog breed is right for you.
What Are Designer Dogs?
First, let's talk about what exactly "designer dog" means.
Designer dogs are intentional mixes between two purebred dogs of different breeds or the offspring of two dogs of the same mix.
Arguably, the best known example of a designer dog is the Labradoodle, the mix between the Labrador Retriever and Standard Poodle.
Advantages of mixed breeds
The most obvious advantage of this is to create a new breed with a mix of traits of the two parent breeds.
However, there are also huge health advantages.
Because of the inbreeding required to breed purebred dogs and the resulting lack of genetic diversity, these dogs are often unhealthy, with predispositions to numerous conditions.
Mixed breeds, however, are inheriting from two distinct gene pools, making them less likely to inherit the health problems of either side.
Disadvantages of mixed breeds
Of course, this comes at a price. Just like health issues that are present on only one side are less likely to be inherited, so are any other traits that only one parent breed has.
This means that the size, temperament, exercise needs, and other features of mixed breed dogs can be hard to predict, with the possibility to display the traits of either parent breed or a mix of the two parent breeds.
Of course, mixes of two similar breeds are easier to predict, but care should be taken when mixing two similar breeds, as they often have overlapping health conditions.
Just like with other traits, when the two parent breeds have predispositions to the same trait, the mix breed is no less likely to inherit it than a purebred.
But we're here to talk about a specific mixed breed, the Miniature Pinscher Beagle mix, so let's get started.
Miniature Pinscher Beagle Mix History
To get a thorough understanding of the Beagle Pinscher mix, we first need to look at the dog's origins, starting with the origin of each the Min Pin and the Beagle.
Miniature Pinscher Origin
The exact origins of the Miniature Pinscher aren't clear, but we do know that the breed dates back several centuries.
It is often assumed that Miniature Pinschers are simply miniature versions of the Doberman Pinscher, analogous to the Miniature Poodle and Poodle.
But breed historians actually believe that the breed descends from the Daschund and the Italian Greyhound, with possible contributions from the German Pinscher.
Beagle Origin
The Beagle's history is also a bit unclear.
Similarly sized scent hounds date as far back as ancient Greece, while the term "Beagle" was used as a catch-all term for small scent hounds beginning in the medieval times.
The Beagle as we know it today began when British hunters began interbreeding various scent hound breeds, starting in the mid-1800s, to revive the dwindling numbers of small hounds.
Meagle Origin
As for the Meagle itself, the Min Pin Beagle mix is part of the designer mix breed trend of the past couple of decades.
Like with most of these mixes, we can't know for sure exactly when or where the first intentional Beagle and Miniature Pinscher mix occurred, so let's move on to what we do know.
Min Pin Beagle Mix Size
As we've already said, mixed breed dogs can inherit their features from either side, so to determine a possible size range for the Meagle, we must look at the size of the the Miniature Pinscher and the Beagle.
Miniature Pinscher Size
Min Pins can range in height from around 10 to 12.5 inches and weigh just 8 to 10 pounds.
Beagle Size
Beagles are a bit larger, generally between 13 and 15 inches in height and 20 to 30 pounds in weight, though it's not uncommon for Beagles to be smaller.
A smaller version called the Pocket Beagle is also known to exist.
Meagle Size
Based on those sizes, we can expect a Meagle to be between 10 and 15 inches in height and between 8 and 30 pounds in weight.
That's quite a range, but the average Meagle will probably fall somewhere close to the middle, with Meagles towards either extreme being possible, but less common.
Additionally, if the particular Beagle and Miniature Pinscher being bred are close in size, it is more likely, but not guaranteed, that their Min Pin Beagle mix puppies will grow to be a similar size.
Beagle Pinscher Mix Coat and Grooming
Like the Miniature Pinscher and Beagle, the Mini Pinscher Beagle mix has a dense, smooth, and hard coat that lays close to the body.
It will be short to medium length and generally straight, though a slight wave is not unheard of in the Miniature Pinscher and Beagle Mix.
The Min Pin and Beagle mix may inherit the Beagle's double coat which thickens in the colder weather.
In this case, the Min Pin Beagle mix will shed seasonally, though it will otherwise be a light to moderate shedder.
Weekly brushing will remove loose hair and encourages a healthy coat.
Only occasional bathing is necessary, generally only needed if the dog gets dirty outside or gets into something it shouldn't.
Meagles, especially particularly small ones and ones without a double coat, can be susceptible to the cold and may benefit from sweaters, coats, and blankets during the winter.
Meagle Temperament and Behavior
Both the Miniature Pinscher and the Beagle are famous for their big personalities, so don't let the small size of the Beagle Pinscher mix fool you into thinking it will be demure and soft spoken.
On the contrary, the Miniature Pinscher Beagle mix is an outgoing, assertive breed that loves to play.
The Min Pin and Beagle mix loves its family and dislikes being left alone for long hours.
A bored or lonely Meagle can become quite destructive.
The Beagle is a friendly, pack-oriented breed that loves to meet new people, but may be a bit shy at first, while the Miniature Pinscher is fearless and alert, though wary of strangers.
Whichever side a Mini Pinscher Beagle mix takes after, it makes an excellent alarm dog as it will bark, in either delight or concern, at new people.
Don't count on the Beagle and Miniature Pinscher mix as a guard dog, though.
In addition to the possibility of inheriting the Beagle's sweet, friendly disposition, the Miniature Pinscher and Beagle mix descends from two very food-motivated breeds, and its affection can be easily bought with a few treats.
The Min Pin Beagle mix tends to be gentle and affectionate with their loved ones, but enjoys rambunctious play.
Small children may be too rough, however, for the Beagle Pinscher mix, so they are best with older children, teens, and adults.
The Miniature Pinscher Beagle mix is generally a talkative dog and may howl or bay.
Meagle Exercise and Training Requirements
The Mini Pinscher Beagle mix is an active breed that needs at least two 30-minute walks a day.
They also enjoy running and playing outside, and greatly benefit from a fenced in yard in which to do so.
The Beagle and Miniature Pinscher mix can also be quite skilled at escaping, though, so fences should be at least five feet tall and descend several feet into the ground to stop the dog from digging underneath.
A run with a cover over it can prevent even the most escape-prone Miniature Pinscher and Beagle mix from getting out.
Training
The Min Pin and Beagle mix is intelligent, but has an independent streak that can make them difficult to train.
Because the Beagle Pinscher is so food-oriented, treats are a valuable reward for training.
Once trained, commands need to be practiced continually throughout the Meagle's life to ensure consistent and immediate response.
The recall command is especially important as the Min Pin Beagle mix will have a stronger than usual scent drive and may be single-minded in following it.
For the same reason, the Meagle should be kept on a leash whenever it's outside of a building or dependable fence.
The breed's social nature means they need an exercise companion and playmate, whether a human or another dog.
Starting socialization with both dogs and humans and training early are essential to grow your Min Pin Beagle mix into a healthy and well-behaved dog.
Meagle Health
Just like any other trait, mixed breed dogs can inherit health problems from either parent breed, so it's important to look at common illnesses in both breeds to have an accurate idea of the health problems the mixed breed may face.
Beagle Health
According to the Orthopedic Foundation for Animals (OFA), hip dysplasia is one of the most common health problems for Beagles, impacting nearly a fifth of the breed.
Hip dysplasia is characterized by an improperly formed hip joint which causes the joint to grind during movement and can cause pain and mobility issues for affected dogs.
Hypothyroidism, when the thyroid fails to produce adequate hormone, is also common among Beagles.
Hypothyroidism can also be linked to several other health problems faced by Beagles, including skin, eye, and nervous system conditions.
The disease is also linked to diabetes and obesity, which in turn can result in health problems like cardiac disease.
Epilepsy, a disorder where seizures occur without any apparent external cause, is common among Beagles.
Eye Conditions
Glaucoma and corneal dystrophy are the most common eye conditions in Beagles.
Glaucoma is a group of eye disorders characterized by their damage to the optic nerve, which leads to a gradual loss of vision and may eventually result in complete blindness.
Corneal dystrophy occurs when naturally occurring substances from the body, like cholesterol and fat, are deposited in the cornea, impairing vision.
Miniature Pinscher Health
Miniature Pinschers are disproportionately likely to experience various dental diseases, which can be linked to an increased risk of cardiac and nervous system disease.
Careful oral healthcare is essential in minimizing the risk.
Cataracts and glaucoma are both frequently seen in Miniature Pinschers. Cataracts occur when the lens clouds, obstructing vision.
Blood Disorders
Min Pins are also particularly vulnerable to the blood disorders hemolytic anemia and thrombocytopenia.
Hemolytic anemia occurs when the blood lacks sufficient levels of red blood cells, while thrombocytopenia occurs when the number of platelets in the blood is too low.
Joint Issues
Joint related issues are common in Miniature Pinschers, including patellar and elbow luxation, in which the joint moves out of place.
Legg-Calve-Perthes disease, also called hip necrosis, which occurs when the joint doesn't get adequate amounts of blood and leads to joint damage and arthritis.
Intervertebral disk disease, also called cervical (dry) disk, a degenerative disk disorder, is relatively common as well.
Other Problems
Miniature Pinschers are at risk for hypothyroidism, diabetes, and obesity.
Epilepsy is also relatively common.
Finally, Miniature Pinschers are particularly vulnerable to skin conditions like sebaceous adenitis, color dilution alopecia, and mange.
Meagle Health
Out of all of these conditions, there are relatively few that the Beagle and Min Pin have in common. But that doesn't mean that the Meagle won't inherit those which don't cross over.
However, potential Min Pin Beagle mix owners need to consider these conditions, and the 10 to 16 year expected lifespan of the Meagle, before committing to a Beagle Pinscher mix.
The Miniature Pinscher Beagle mix may be especially prone to hypothyroidism, diabetes, obesity, epilepsy, glaucoma, and joint problems.
Of course, they are at risk for any health problem common to either parent breed, though their chances of inheriting any one of those problems are significantly less than purebreds.
Choosing Healthy Meagle Puppies
Choosing a healthy Min Pin Beagle mix is the first step in ensuring that the Miniature Pinscher Beagle mix lives a long and healthy life.
To do so, only adopt a Mini Pinscher Beagle mix from breeders who have had their breeding dogs examined for possible genetic conditions.
The Orthopaedic Foundation for Animals (OFA) recommends that Beagles are evaluated for Musladin-Lueke Syndrome, hip dysplasia, eye conditions, cardiac problems, and thyroid disease.
Miniature Pinschers should be tested for patellar luxation, thyroid problems, eye conditions, Legg-Calve-Perthes disease, MPS VI, and cardiac issues.
You should also be able to interact with the mother and all available Miniature Pinscher Beagle mix puppies.
They should all seem healthy and well-cared for.
The mother should be at least two years old and should be the larger parent, usually the Beagle, to ensure a healthy pregnancy.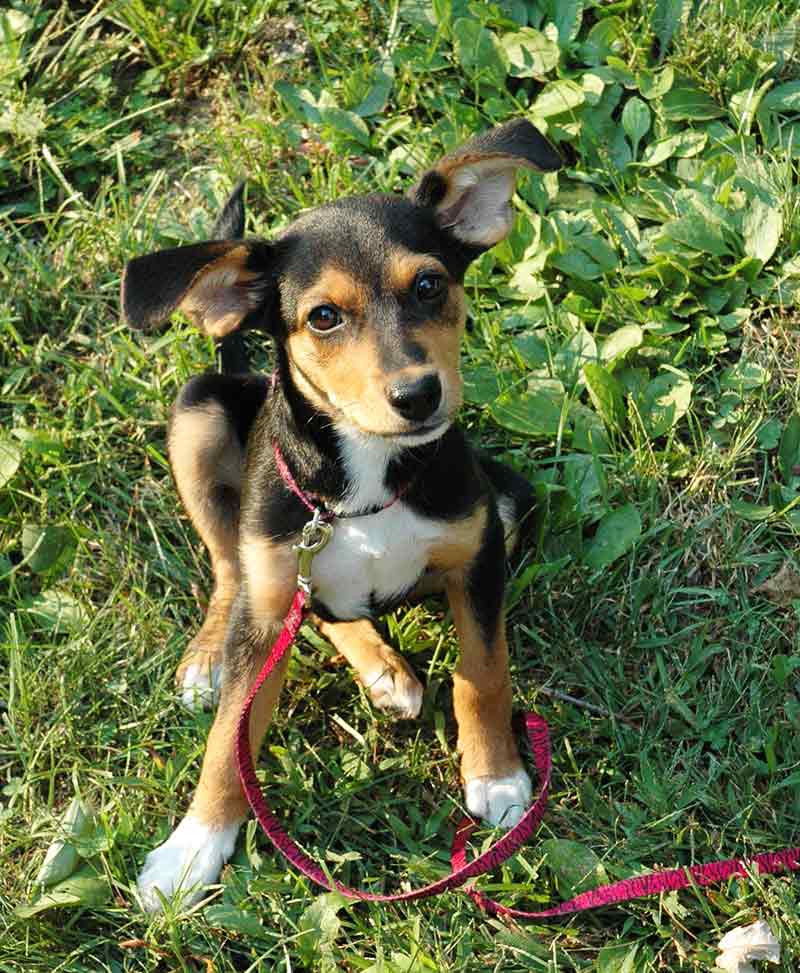 The Meagle as a Family Dog
After all this discussion, are you charmed by the Beagle and Miniature Pinscher mix?
Many people are, but the Min Pin and Beagle mix isn't the right dog for everyone.
Because they tend to be independent and can be difficult to train, the Miniature Pinscher and Beagle mix requires experienced dog owners.
The Min Pin Beagle mix also requires an active family that can give it lots of attention in order to keep the dog both physically and mentally healthy.
However, the Miniature Pinscher Beagle mix can quickly lose patience with young children who want to play too rough.
Last, the Beagle Pinscher mix can easily become anxious if left on its own for too long, so they are best for homes in which someone is around most of the time or multiple dog households.
If you meet all of those requirements then the Miniature Pinscher Beagle mix just might be right for you!
References and Further Reading
Miller, S., A. Hohenhaus, & A. Hale. 'Case-control study of blood type, breed, sex, and bacteremia in dogs with immune-mediated hemolytic anemia.' Journal of the American Veterinary Medical Association, 2004
Bastien, B., A. Patil, & E. Satyaraj. 'The impact of weight loss on circulating cytokines in Beagle dogs.' Veterinary Immunology and Immunopathology, 2015.
Bergknut, N., et al. 'Incidence of intervertebral disk degeneration–related diseases and associated mortality rates in dogs.' Journal of the American Veterinary Medical Association, 2012.
Bingel, S. & W. Riser. 'Congenital elbow luxation in the dog.' Journal of Small Animal Practice, 1977.
Credille, K. et al. 'The effects of thyroid hormones on the skin of Beagle dogs.' Journal of Veterinary Internal Medicine, 2008.
Daems, R. et al. 'Grossly apparent cartilage erosion of the patellar articular surface in dogs with congenital medial patellar luxation.' Anubis Veterinary Clinic for Companion Animals, 2009
Gelatt, K. & Mackay, E. "Prevalence of primary breed‐related cataracts in the dog in North America." Veterinary Ophthalmology, 2005.
Graham, K., C. McCowan, & A. White. 'Genetic and Biochemical Biomarkers in Canine Glaucoma.' Veterinary Pathology, 2016.
'Legg-Calve-Perthes.' Orthopedic Foundation for Animals.
Lohi, H. et al. 'Expanded Repeat in Canine Epilepsy.' Science, 2005.
Mellersh, C. 'The genetics of eye disorders in the dog.' Canine Genetics and Epidemiology, 2014.
The American Kennel Club
Get Pippa's free dog training tips delivered to your inbox