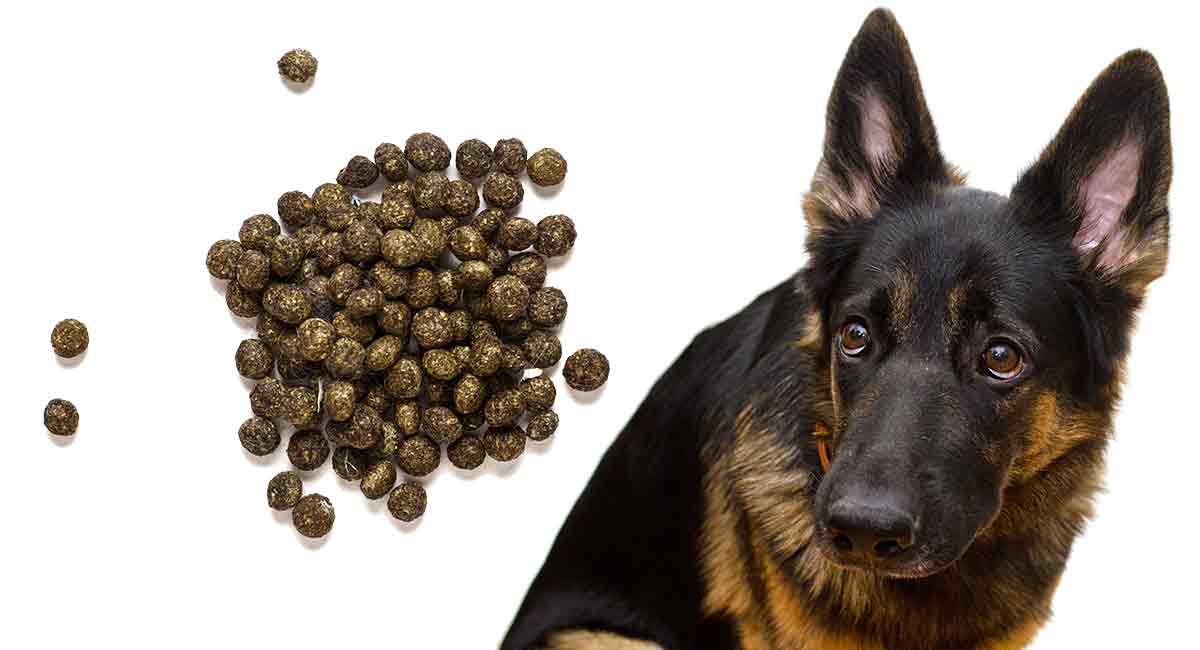 "My dog ate rabbit poop!" Not words an owner wants to have to say.
But don't worry, although disgusting this horrible habit isn't the worst one they could pick up.
Let's take a look at what the risks are, and what to do when it happens.
Is It Safe For My Dog To Eat Rabbit Poop?
Rabbit poop is different than the droppings of other animals.
Rabbits produce two kinds of digestive substances: small brown waste pellets and cecotropes, which are soft, shiny droppings that the rabbit eats to obtain essential nutrients.
Since rabbits usually consume cecotropes as soon as they exit the body, it's much more likely that your dog has eaten the small pellets that rabbits leave behind as a final waste product.
Eating a small amount of rabbit poop is generally not harmful to dogs.
However, certain parasites can be passed on to dogs from rabbits. This can happen when your dog eats rabbit poop, as well as if your dog eats rabbit meat.
In fact, eating rabbit meat infested with certain parasites can be much more harmful to your dog than eating rabbit poop.
Luckily, the most common type of parasite found in dogs that have eaten rabbit poop (coccidia) is not harmful to a dog's health.
Dogs with coccidia in their gastrointestinal tract have a condition called coccidiosis. Coccidiosis does not normally cause diarrhea or any other kind of problem in most dogs.
Occasionally, young puppies or adult dogs in poor health may suffer from gastrointestinal distress caused by a coccidia infection.
My dog ate rabbit poop – What should I do?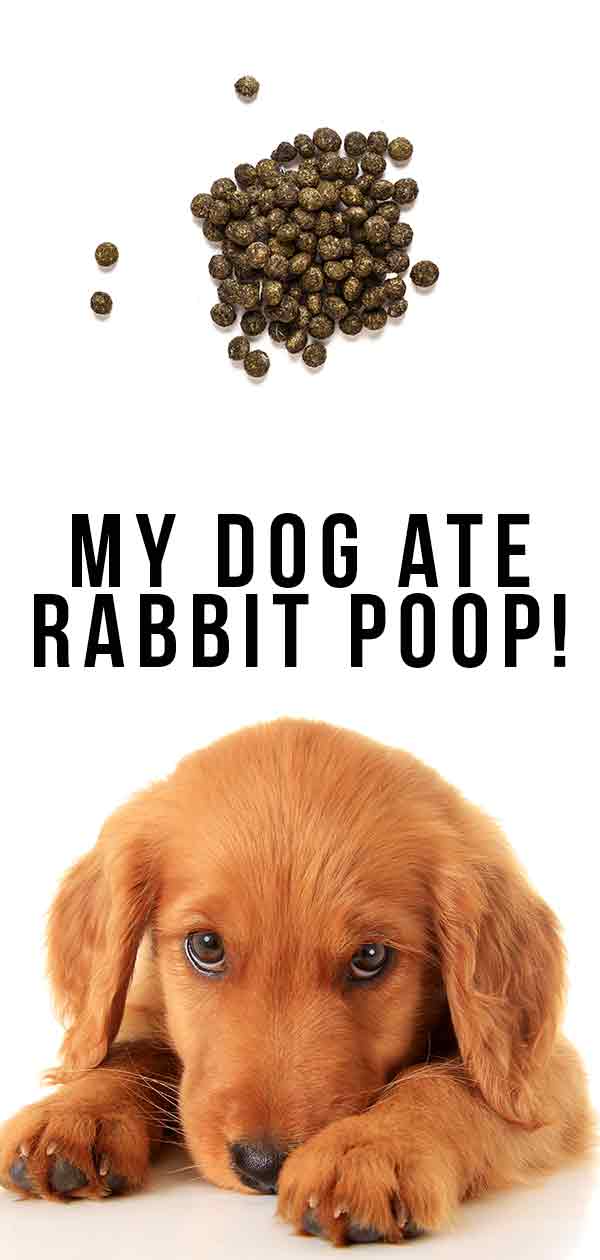 Eating a small amount of rabbit poop does not necessarily mean an emergency visit to the veterinarian's office.
You can monitor your dog for any signs of gastrointestinal distress, such as vomiting and diarrhea, especially if your dog is very young or has any health problems.
Your vet can check a sample of your dog's stool for coccidia, but the presence of coccidia is usually harmless in dogs.
Be sure to remove rabbit droppings when you find them. This includes domestic rabbit poop in the house as well as wild rabbit poop in the yard.
If you discover your dog has eaten rabbit poop, speak to a vet or canine behavior specialist about ways you can prevent your dog from eating any kind of feces in the long term.
What Symptoms Will My Dog Show If They Have Eaten Rabbit Poop?
Most dogs will show no symptoms or signs of illness after eating rabbit poop.
If your dog should develop a case of coccidiosis that is severe enough to cause symptoms, you can expect to see
vomiting
diarrhea
abdominal pain
dehydration.
Take your dog to the vet if your dog is experiencing these symptoms.
What is the Best Treatment For Coccidiosis?
A course of antibiotics that contain sulfa is the most common treatment for coccidiosis. Severe cases may require other medicine, as well as fluids for dehydration.
Consuming rabbit meat infected with other kinds of parasites can cause a different set of symptoms than coccidiosis.
For example, tularemia (or rabbit fever) is a bacterial infection that can be passed to your dog directly from rabbit meat or through a tick bite.
Dogs with tularemia may exhibit a number of symptoms including
fever
swollen glands
lethargy
loss of appetite.
Keep this in mind if your dog spends a lot of time outdoors and comes into frequent contact with dead rabbits or raw rabbit meat as well as rabbit droppings.
Why Would My Dog Want To Eat Rabbit Poop?
So why does my dog eat poop?
This is a common question for many dog owners. Whether it's their own poop or the feces of another animal, poop-eating is common canine behavior.
The technical term for eating feces is coprophagia. There are many reasons for coprophagia, some are biological, and some are behavioral.
Physical reasons for poop eating include dietary deficiencies or the inability to absorb nutrients from food.
Behavioral causes are more common and can include stressors like
confinement
isolation
separation anxiety.
Is there anything about rabbit poop that makes it any more attractive to dogs than the poop of other animals?
Cecotropes are rich in nutrients, but since rabbits tend to consume them right away, it is unlikely that dogs have many opportunities to seek them out.
How To Stop My Dog From Trying To Eat Rabbit Poop?
There are many things you can do to prevent your dog from eating rabbit poop.
If you have a pet rabbit, be sure to clean up any droppings it may leave when it is loose around the house.
Your house rabbit's litter box should be kept in its cage, away from the dog.
Are there wild rabbits that live in your garden or neighborhood? Clean up any rabbit droppings you find in the yard and keep your dog on a leash when out for walks.
Dog behavior experts recommend teaching your dog the command "leave it" to discourage poop eating.
Be sure to talk to your veterinarian if you suspect that your dog's poop eating has a physical, rather than behavioral, cause.
My Dog Ate Rabbit Poop
It's a fact of life…dogs sometimes eat poop!
So, if you discover that your dog has eaten some rabbit poop, don't worry.
For the majority of dogs, ingesting rabbit poop is not harmful. Most dogs will show no signs of illness after eating rabbit poop.
Sometimes, rabbit poop may contain the parasite coccidia. But in most cases, it will not harm your dog's health.
Just be aware that a very young or weak dog may develop coccidiosis, a coccidia infection that can be treated with antibiotics.
Does your dog eat rabbit poop? Tell us your prevention tips in the comments below!
References and Further Reading
McKeown D, Luescher A, and Machum M. 1988. Coprophagia: Food for Thought. The Canadian Veterinary Journal. PMCID: PMC1680886.
Georgi JR et al. 1987. Tapeworms. The Veterinary Clinics of North America Small Animal Practice. DOI: 10.1016/S0195-5616(87)50003-1
Meinkoth KR et al. 2004. Naturally occurring tularemia in a dog. Journal of the American Veterinary Medical Association. DOI: 10.2460/javma.2004.225.545
Simnett KI et al. 1961. The influence of diet on the vitamin B12 activity in the serum, urine and faeces of rabbits. British Journal of Nutrition. DOI: 10.1079/BJN19610068
Varga I. 1982. Large-scale management systems and parasite populations: Coccidia in rabbits. Veterinary Parasitology. DOI: 10.1016/0304-4017(82)90122-4
Get Pippa's free dog training tips delivered to your inbox