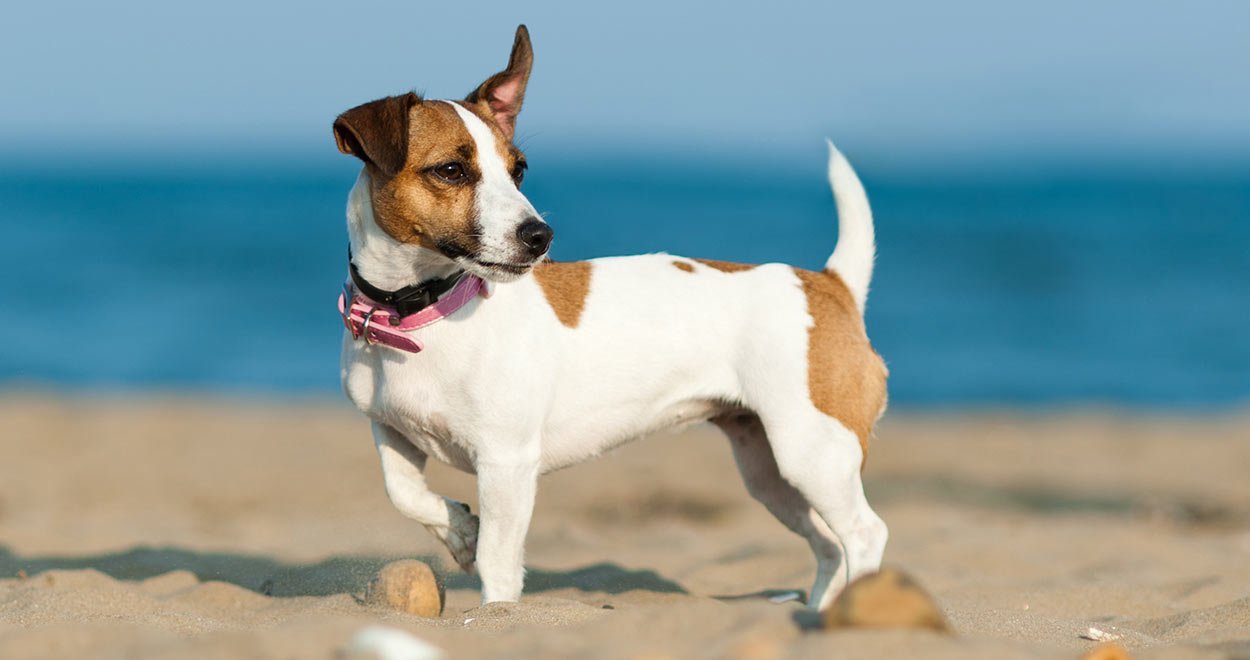 "My Dog Ate Plastic! What Should I Do?"
If Your Dog Has Eaten A Plastic Toy, Bag Or Even Part Of His Bed, Then You Are Going To Be Worried. 
But Try Not To Panic. 
In This Article We Will Talk You Through When To Contact The Vet, And What Might Happen Next. 
The last time I took my cat to the veterinarian's office, I listened in as an exasperated owner described her reason for being there: her dog ate a peach pit.
In detail she described the agony her poor dog was in, as well as the trauma of surgery (not to mention the expense) that was about to come.
Why do dogs eat strange, non-edible items like plastic, rocks, and even peach pits?
Dogs are curious creatures that think nothing of chewing, gnawing, and even swallowing whatever enthralling objects they come upon.
Some breeds like Labrador Retrievers and Dobermans are notorious nibblers, especially as young pups.
Oftentimes your dog will ingest something naughty, but if the item is small or innocuous enough, the consequences are scant.
If the item gets lodged in the throat, stomach, or intestines however, it's an entirely different story.
My dog ate plastic – what happens now?
My dog ate plastic…
One study of canines that required surgery after eating non-food items, found that plastic, stones, and rubber objects were the most commonly ingested.
Dogs are omnivores meaning that they can eat both plants and meat.
Given our present topic, it's also obvious that they can and will eat just about anything else they find attractive.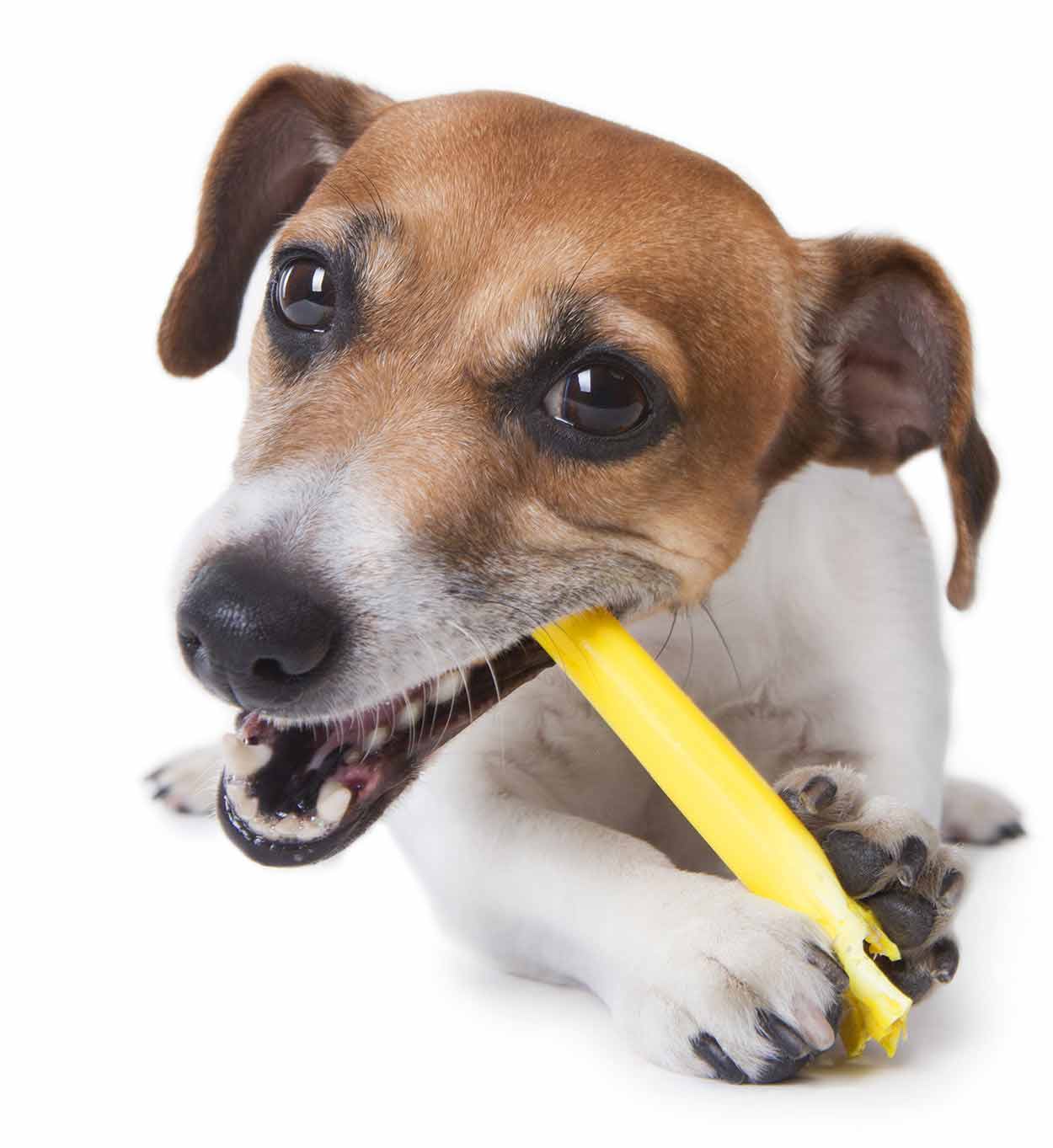 But aside from random curiosity or indiscriminate hunger, there are other, troubling reasons why dogs would eat non-food items such as plastic.
Experts use the term pica to describe a condition in which animals, humans included, eat odd things other than food.
Various reasons have been put forth as to why animals do this: a lack of certain nutrients, anxiety, a behavioral or mental issue, etc.
In fact, animals suffer from anxiety disorders, such as Obsessive Compulsive Disorder, just as humans do.
The term Canine Compulsive Disorder (CCD) is used to describe a type of debilitating anxiety in dogs.
But if a dog eats plastic or a dog swallowed plastic, do we simply have to infer his motivation for doing so since we can't very well ask him?
My dog ate plastic – why did he do that?
There are lots of reasons dogs eat plastic, from accidental swallowing while chewing to genuine enjoyment of the taste or feel.
If your dog eats plastic repeatedly, you will want to have your vet check out your pooch in order to rule out a possible medical cause for his unwanted eating habit.
No doubt your vet has heard it all: my dog ate hard plastic, my dog ate plastic wrap, my dog ate sharp plastic, my dog ate a plastic bag, my dog ate a plastic toy, the plastic-munching possibilities are endless!
Test results may indicate an illness or deficiency, even a digestive problem.
If this is the case expect your vet to recommend an appropriate course of treatment or a change in diet to address nutritional deficiencies.
If there is no biological reason, such as pica, found for your dog's plastic predilection, there may be a behavioral root to the issue.
My dog eats plastic – what can I do about it?
It may be as simple as incorporating more stimulating activities and bonding time into Fido's routine.
Bored dogs, like bored kids, have an uncanny knack for getting themselves into mischief!
If your dog eats plastic bag or eats plastic toy because it's simply a learned behavior, the answer to the problem is two-fold: hide the plastic and redirect your dog if he does find plastic.
Prevention not intervention is the best way to go when it comes to ensuring that your dog steers clear of pesky plastic-related problems.
Although it might seem like a chore to round up all of the indoor and outdoor plastic items that your dog might find attractive and decide to chew or swallow. It's infinitely better than seeing your dog suffer through a potentially life-threatening situation.
My dog ate plastic…. I think!
If you're not sure, always err on the side of caution and assume he did.
There are also some signs you can look out for.
Symptoms that your dog has swallowed a plastic object and requires medical assistance include loss of appetite, abdominal tenderness, dehydration, vomiting, lethargy, and/or change in bowel movement.
If you suspect any of these situations has occurred: dog swallowed plastic toy, dog swallowed plastic cap, dog swallowed plastic wrapper, dog swallowed plastic bag, call your vet immediately for professional advice.
What to do if your dog eats plastic?
Contact the vet immediately.
Do not try to induce vomiting – the plastic could do more harm on the way back up than it did on the way down.
When your dog has accidently swallowed a plastic object the array of treatment options vary.
The simplest remedy involves inducing vomiting to remove the unwanted item.
If this is not an alternative, your vet may decide it's safe to attempt pulling the item from your pooch's throat, likely under sedation.
If an x-ray confirms that the item has entered your dog's stomach, then non-invasive endoscopy may be performed.
This procedure involves snaking a long tube down into your dog's throat and into place so that it can pull the object from the stomach.
It is considered to be a low-risk procedure and is done after your dog has been anesthetized.
If necessary, a CT scan or ultrasound will be used to make a determination as to whether invasive surgery is needed.
If the plastic item has coursed on through the stomach and into the intestines then invasive surgery may be performed in order to prevent an intestinal obstruction and subsequent issues.
Does the type of plastic my dog ate matter?
Any type of plastic can be dangerous if eaten.
Unfortunately the number of plastic items surrounding us in our everyday lives is seemingly endless.
Plastic bottle caps, bags, and toys are ubiquitous and pose a threat to our pooches if ingested.
But pet parents also need to be aware of the not-so-obvious sources of plastic that can put our animals in harm's way as well.
As one study showed, even articles specifically made for dogs can be dangerous, sometimes even deadly.
In the case of an adult Beagle, her owner took her to the vet due to symptoms of dehydration, lethargy, and vomiting.
A mass of plastic bits was found in the dog's stomach but the source was unexpected: the pieces were from the dog's own bed covering.
Sadly, the home is not the only place your pooch can and will come upon potentially lethal plastics.
The outdoor environment is litter-ally covered in discarded items, many of them plastic.
Beaches and dog parks are not only popular doggie habitués they're frequent dumping grounds for trash like plastic bottles and bags.
One study of beach litter found that plastic litter was the most frequently occurring source of pollution.
The best defense is to be aware of your dog's surroundings, and to steer him away from any potential plastic treats!
If you don't manage keep him away, then you need to get straight to the vet.
My Dog Ate Plastic
If your dog ate plastic, it's a big cause for concern.
The first thing to do is to ring your vet and make an appointment to see them as soon as possible.
If you think they have eaten plastic but aren't sure, there are signs you can look out for. But ultimately, it's better to be safe than sorry and to take your pup to the vet to be checked over just in case.
Has your dog ever made the unwise decision to nibble or swallow a bit (or a lot) of plastic? If you have experience with this situation, we'd be interested to hear about your experience in the comment section below.
Resources