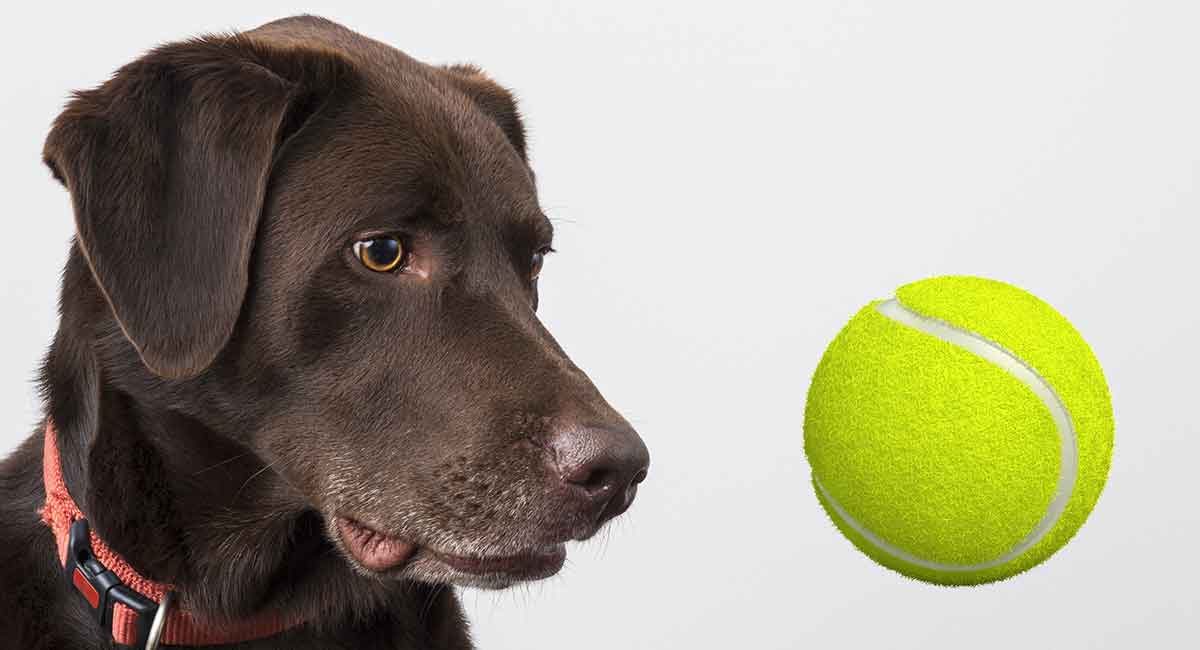 My dog ate a tennis ball! What should I do? 
Welcome to our informative guide explaining what to do if your dog eats a tennis ball.
Dogs love nothing more than a fun game of fetch with a tennis ball.
Tennis balls can provide hours of fun, they're inexpensive to buy, have huge bounce, and are easy to see and catch.
Unfortunately, dogs and tennis balls are not always a perfect match, and there are some potential health risks you should be aware of as a dog owner.
So what happens if your dog eats a tennis ball?
If you see your dog eating a tennis ball, it could have serious consequences including choking or causing a blockage.
Failure to act immediately could be dangerous for your beloved pooch, so it is vital you get them to the vet quickly.
Here, we'll look at some of the hazards to dog associated with tennis balls s and what you can do to make sure your pet can safely play with their favorite toy.
What Are the Risks If My Dog Ate a Tennis Ball?
One of the main problems with tennis balls is that big dogs like Golden Retrievers and German Shepherds have large mouths!
Therefore, their jaws powerful enough to wrap around the whole toy and break it in half within minutes!
So, what would happen if my dog ate a tennis ball and swallowed it?
If your dog swallows half of or a whole tennis ball, this could cause a blockage requiring surgery which is both painful and potentially fatal, and expensive.
Alternatively, a tennis ball lodged in your dog's throat could block of their airway, causing your dog to choke to death.
Should I be concerned if my dog ate tennis-ball rubber?
If your dog ate tennis-ball rubber, again this could cause blockages requiring surgery.
What Will Happen if My Dog Swallowed Tennis Ball Fuzz?
Many dogs will happily chew and shred the yellow-green fuzz around a tennis ball but if they swallow it, this can be dangerous for your pooch.
It's not possible for the swallowed fuzz to be broken down in your dog's stomach or intestines.
So like any other foreign body, it can cause a blockage which again could require surgery.
Is it OK for My Dog to Chew a Tennis Ball?
If your dog continually chews on tennis balls, there is a potential risk they will wear down teeth enamel, a process known as "blunting."
The fuzz on a tennis ball is designed to be sturdy for hard use on the tennis court so is very abrasive.
As the dog plays with the ball, dirt and sand are also accumulated making the coating even more abrasive.
The American Veterinary Dental Society state that dogs allowed to chew on tennis balls will wear down the front cheek teeth (premolars) along with the back teeth.
This is because the fuzz has a sandpaper effect.
However, it would require your dog to do a significant amount of chewing and gnawing over an extended period of time to do any considerable damage to their teeth.
What Should I Do If My Dog Ate a Tennis Ball?
If you think your dog has swallowed a tennis ball, it's best to take your dog to the vet immediately.
Let your dog's vet know you're on the way so that they can prepare for your pet's arrival.
If your dog is left untreated, there could be fatal consequences.
My dog ate a tennis ball and is throwing up – what should I do?
Vomiting is often a sign of a blockage, so your dog will require veterinary treatment.
If your dog has a blockage, they may display the following symptoms:
Nausea – drooling or licking their lips continuously
Vomiting – especially continuous
Loss of appetite
Abdominal pain
Lethargy
Dehydration
Depression
Diarrhea or constipation
Fever
Weak pulse
Extreme behavioral changes
If your dog shows signs of any of these symptoms, take them to the vet immediately.
Upon arrival, your dog will be given a physical examination and x-rays will be taken.
Once the vet has discovered the location of the tennis ball, they'll decide whether to let the ball pass naturally, use endoscopy to remove it or perform surgery.
The treatment will also depend on the age, size, and symptoms of your dog, along with their medical history.
If your dog has surgery, they will require hospitalization for a few days to administer fluids, pain relief medication, and antibiotics along with round-the-clock supervision.
Your vet will give you an after-surgery care plan for your dog once they return home.
Are Tennis Balls Toxic to Dogs?
Tennis balls are made by gluing two halves of molded rubber together, filling the ball with air, before dipping it into glue and attaching the abrasive fuzz.
There are strict regulations for tennis ball materials since they are for humans use in the sport and are therefore not toxic.
However, there are no government standards for pet toys, and many of these are made outside of the US so could contain harmful substances.
A study in 2009 discovered that many tennis balls made for dogs had traces of lead, with other pet products containing one or more toxic chemicals.
It's up to owners to check the label of pet toys to ensure they contain no harmful substances for their dogs.
How Can My Dog Play Safely With a Tennis Ball?
There is no need to stop your dog from playing with a tennis ball if you take the necessary precautions to keep them safe.
Only let your dog play with tennis balls under supervision;
Do not let your dog chew tennis balls;
Throw out any worn or dirty balls;
Only allow your dog to carry one ball in their mouth at a time;
When playing ball with your dog, insist that they fetch, return, and releases the ball immediately.
My Dog Ate a Tennis Ball – Final Thoughts
If your dog ate a tennis ball, it's vital that you get them to the vet for treatment immediately.
Only let your dog play with a tennis ball while supervised and never allow them to chew one or have more than one in his mouth at a time.
Ensure your dog will releases the tennis ball immediately when asked.
It ideal to have a ball bigger than a tennis ball for your dog if they could potentially swallow one, especially large breeds.
Be sure to check that it contains no harmful substances.
If you follow these safety measures, your dog will be at an advantage when playing with tennis balls!
Do you have any experience with your dog eating a tennis ball? We'd love to here your story in the comments section below.
References and Further Reading
Becker M, Edwards S, and Massey RI. 2010. Toxic chemicals in toys and children's products: limitations of current responses and recommendations for government and industry. Environmental Science & Technology.
Boag AK et al. 2005. Acid‐Base and Electrolyte Abnormalities in Dogs with Gastrointestinal Foreign Bodies. Journal of Veterinary Internal Medicine.
Thompson HC et al. 2012. Esophageal foreign bodies in dogs: 34 cases (2004–2009). Journal of
Veterinary Emergency and Critical Care.
Woodward TM. 2012. Bonded Sealants for Fractured Teeth. Topics in Companion Animal Medicine.