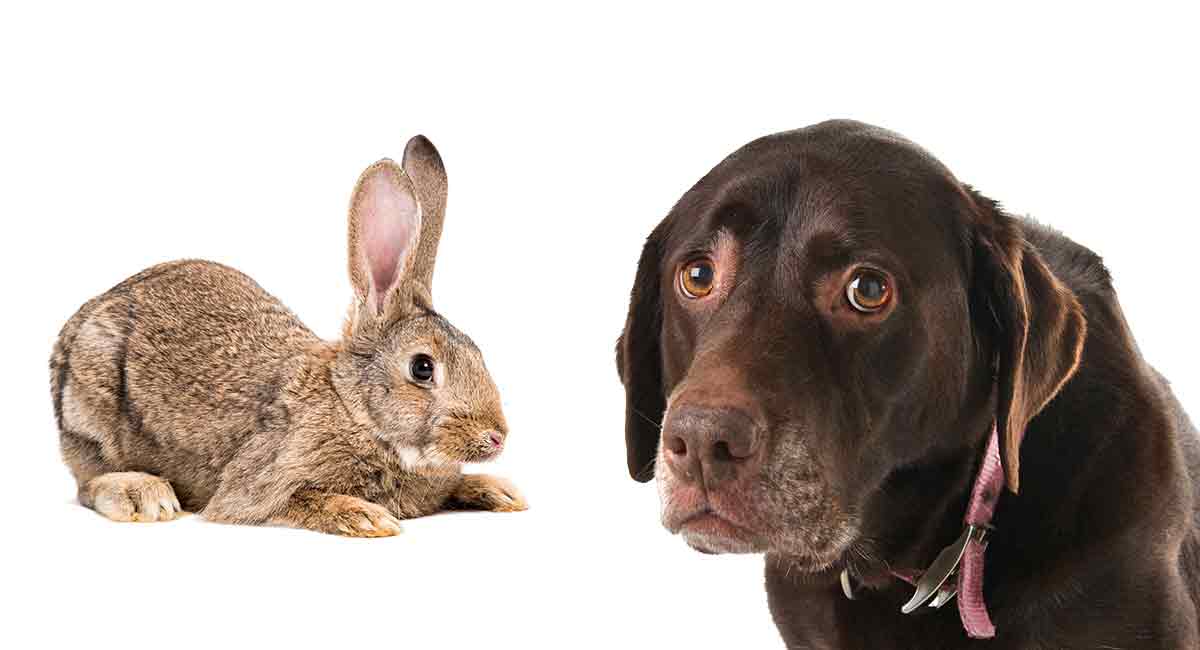 What should you do if you discover "my dog ate a rabbit"?
Domestic dogs diverged from grey wolves between 13,000 and 17,000 years ago. So, most dogs still have predatory instincts and view small animals as prey.
When you're out walking with your dog and they spy a rabbit on the run, their natural impulse will compel them to chase.
And if they catch the unlucky bunny, it's quite likely that they'll want to devour some or all of it.
In this article, we'll find out if there are any harmful effects if your dog eats a rabbit.
Is It Safe If My Dog Ate a Rabbit?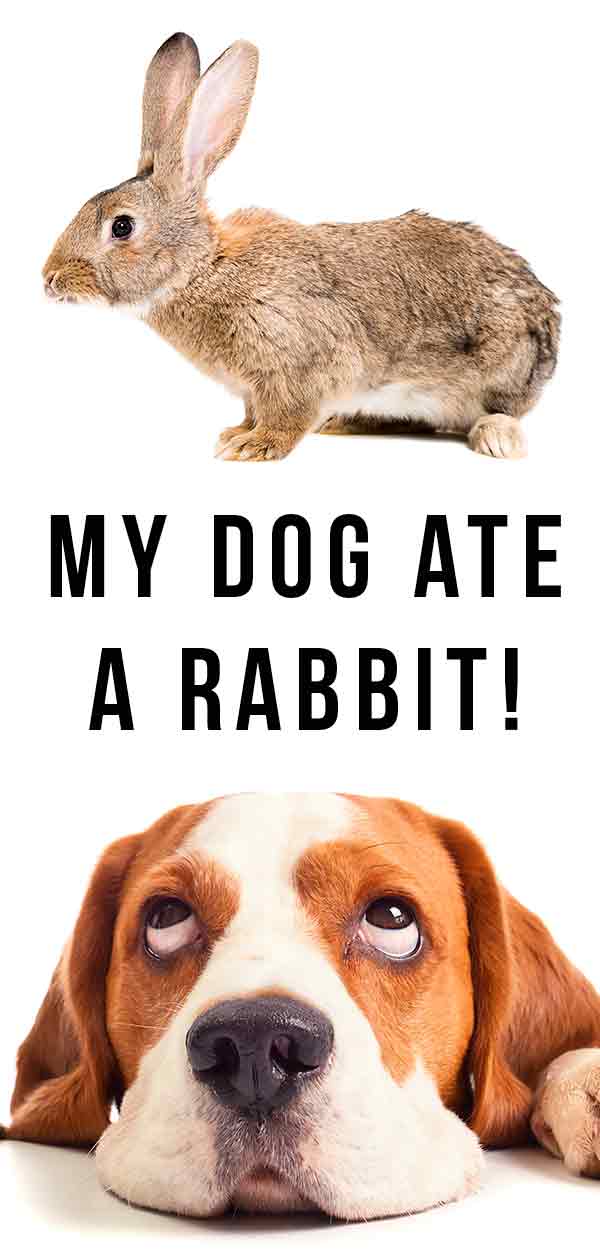 Selective breeding, particularly over the last two hundred years, has created approximately 340 purebred dog breeds.
While the dogs we see today are vastly diverse, some digestive traits may have been unaffected by domestication and are similar to those of their wolf ancestors.
So the good news is that eating a rabbit probably won't make your dog sick. After all, many dog foods contain rabbit meat for protein.
However, wild rabbits can carry parasites and other diseases that could pose problems for your pooch.
Tapeworms
If your dog eats an entire rabbit, they could possibly become infected with a tapeworm.
These nasty parasites are long, flat, and segmented, with a head that attaches to your dog's intestinal wall.
Dog owners often find out their pet has tapeworms when they notice segments in their dog's feces.
These segments contain numerous tapeworm eggs and look similar to grains of rice.
Fleas and Ticks
Rabbits can carry fleas and ticks, which could be passed on to your dog.
It should also be noted that dogs can commonly get tapeworms from eating infected fleas, which may have been on the rabbit.
Ticks and fleas can also carry serious bacteria, like tularemia.
Tularemia
Tularemia is also referred to as rabbit fever since they are the animal most commonly involved with outbreaks of this disease.
The disease is caused by the bacterium Francisella tularensis.
Although uncommon in dogs, they can contract tularemia by killing or eating an infected rabbit or from ticks that may carry the bacteria.
Humans can also get Tularemia from rabbits.
Rabies
Although highly uncommon, there is a risk of your dog getting rabies from a live, wild rabbit. The disease is contracted through the blood or saliva of an infected animal.
But as long as your dog is up-to-date with their vaccinations there is no cause for concern.
Is It Safe For My Dog To Eat Rabbit Droppings?
It's certainly not unusual for dogs to eat rabbit droppings.
Rabbits eat frequently and tend to poop a lot.
Since these pellets are so small, your dog is sure to spot and devour them before you've had a
chance to stop them.
For most dogs, eating rabbit poop will present no health risks.
However, some dogs have a sensitive digestive system and may get an upset stomach if there are changes to their diet.
If they're not used to eating rabbit pellets, your dog may start showing signs of discomfort.
This could be a sign of a coccidia infection. Your vet should be able to detect the parasite in your dog's stool.
Although highly contagious for rabbits, this form of the intestinal tract infection will not harm your dog.
Rabbits actually produce two different kinds of feces.
The pellet type is the most common and is primarily made up of undigested grass and hay.
Believe it or not, eating these droppings may actually have some benefits for your dog.
Not only are they high in fiber, rabbit feces and urine also contains high concentrations of vitamin B12.
However, if your dog is eating a lot of rabbit droppings that means there are rabbits in your area.
So while eating rabbit poop probably won't hurt your dog, you should make sure they wear a flea and tick collar.
My Dog Ate a Rabbit – What Should I Do?
If your dog ate a rabbit and isn't showing any signs of illness, chances are they'll be just fine.
But if you're concerned, contact your dog's vet to ask their opinion.
Any signs of gastrointestinal problems like vomiting, diarrhea, or weakness will warrant a trip to the vet.
There's also a good chance the vet will suggest giving your dog a tapeworm deworming medication.
What Symptoms Will My Dog Show If They Have Eaten a Rabbit?
If your dog has eaten a rabbit and shows any of the following symptoms you should take them to the vet immediately.
Symptoms of Tapeworms
It can be disturbing to see tapeworms crawling out of your dog's anus.
You may also see dried white or cream colored segments on the surface of fresh feces or stuck to their fur under the tail.
If you notice your dog is scooting their bum along the ground or another rough surface, they're probably trying to alleviate the irritation caused by tapeworms. Other signs include
vomiting
diarrhea
lethargy
distended abdomen
in severe cases, weight loss.
Symptoms of Fleas and Ticks
Excessive scratching, licking, and biting, are sure signs of fleas and ticks.
Others include
hair loss
scabs
pale gums
flea dirt or droppings in your dog's coat.
Symptoms of Tularemia
Thankfully tularemia in dogs is rare.
Nonetheless, symptoms of the disease to watch out for include
fever
enlarged and painful lymph nodes
eye discharge
abdominal pain
depression.
Symptoms of Rabies
Rabies is also rare but it's worth knowing the symptoms. They include
paralysis of the throat and jaw muscles
foaming at the mouth
disorientation
lack of coordination
paralysis of the hind legs
loss of appetite
fever
weakness
seizures.
Symptoms of an Adverse Reaction to Rabbit Droppings
If your dog has a sensitive stomach and eats too many rabbit droppings they may start to show signs of nausea such as
vomiting
drooling
loss of appetite
lethargy.
If they continue to vomit or vomits any blood, take your dog to the vet immediately.
Why Would My Dog Want To Eat a Rabbit?
The ancestors of domesticated dogs are wolves, which is where they get their prey drive from.
It may be hard to imagine, but the descendants of your fluffy pooch that now has dinner delivered straight to their bowl once had to compete for food in the wild.
Their need to chase is what made them good hunters.
Instincts are genetic so although they can sometimes be redirected or slightly diminished, it's unlikely they'll ever stop entirely.
While all dogs have this instinct to a certain degree, some breeds were specifically developed to hunt.
Breeds That Were Born to Hunt Rabbits
Beagles
The Beagle is the quintessential hunting dog and has been the most popular hound dog breed for years.
They are the perfect size for chasing rabbits through brush cover.
Basset Hound
The Basset Hound is built low-to-the-ground, and although known for being mild-mannered, they can be stubborn when on the trail of a scent.
Only the Bloodhound has a more accurate nose.
Dachshund
Speaking of being built low-to-the-ground, the Dachshund was originally bred to chase badgers out of their holes but has no qualms about tracking rabbits instead.
Jack Russell Terrier
The Jack Russell Terrier has an excellent sense of smell and they're good at flushing unsuspecting bunnies out of the brush.
How To Stop My Dog From Trying To Eat a Rabbit?
Trying to stop a dog from doing what comes naturally to them can be an uphill battle.
However, there are some things you can do to help keep your dog from eating a rabbit.
The most immediate way to keep your dog from chasing rabbits is to put them on a leash.
Redirection training is another option.
Although redirecting your dog's attention is easier said than done, you're actually using their strong sense of smell to distract them.
When you're out walking your dog, bring along their favorite treats that way if they become diverted, you can use the treats to regain their attention and reward them.
This will take some practice as their prey drive is so strong.
Teaching your dog the recall command is an obedience training staple.
Start out in a place your dog in a situation where there are few distractions.
Choose a word and only use it when they are coming towards you—this will establish a link between the word and the action of coming to you.
Make sure to reward them when they respond properly.
My Dog Ate a Rabbit
If your dog eats a rabbit or rabbit droppings, you may want to contact the vet, especially if they show any unusual symptoms like vomiting or diarrhea.
Although eating a rabbit may not adversely affect your dog, it's probably not a behavior you want to see continue.
It can be horrifying to watch your sweet pet turn into a cunning killer.
Some breeds, in particular, have a very strong prey drive and chasing gives them a great deal of pleasure.
Teaching your dog the redirection and the recall commands work best if taught from a young age.
Bear in mind that trying to change thousands of years of genetic instinct can be a daunting task.
Has your dog ever eaten a rabbit? Tell us about your experience in the comments below.
References and Further Reading
Fédération Cynologique Internationale (FCI)
Verginelli F et al. 2005. Mitochondrial DNA from Prehistoric Canids Highlights Relationships Between Dogs and South-East European Wolves. Molecular Biology and Evolution. DOI: 10.1093/molbev/msi248
Vanak AT et al. 2009. Dogs Canis familiaris as carnivores: their role and function in intraguild competition. Mammal Review. DOI: 10.1111/j.1365-2907.2009.00148.x
Bosch G et al. 2015. Dietary nutrient profiles of wild wolves: insights for optimal dog nutrition? British Journal of Nutrition. DOI: 10.1017/S0007114514002311
Georgi JR et al. 1987. Tapeworms. The Veterinary Clinics of North America Small Animal Practice. DOI: 10.1016/S0195-5616(87)50003-1
Meinkoth KR et al. 2004. Naturally occurring tularemia in a dog. Journal of the American Veterinary Medical Association. DOI: 10.2460/javma.2004.225.545
Simnett KI et al. 1961. The influence of diet on the vitamin B12 activity in the serum, urine and faeces of rabbits. British Journal of Nutrition. DOI: 10.1079/BJN19610068
Varga I. 1982. Large-scale management systems and parasite populations: Coccidia in rabbits. Veterinary Parasitology. DOI: 10.1016/0304-4017(82)90122-4
Spady TC et al. 2008. Canine Behavioral Genetics: Pointing Out the Phenotypes and Herding up the Genes. American Journal of Human Genetics. DOI: 10.1016/j.ajhg.2007.12.001
Get Pippa's free dog training tips delivered to your inbox